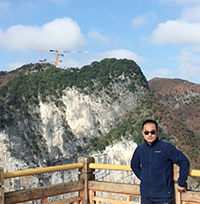 Chao Liu. Institute of Resources and Environment, Henan Polytechnic University, Shiji Road 2001, 454003 Jiaozuo, China.
Chao Liu graduated in Geology at China University of Geosciences (Wuhan) in 2012 and received a Ph.D. degree in Palaeontology and Stratigraphy from the same university in December 2017. From April 2018 to May 2021, Chao worked as Associate Researcher Fellow at the State Key Laboratory of Biogeology and Environmental Geology, China University of Geosciences (Wuhan). He moved to Henan Polytechnic University in June 2021, and has been working as Associate Professor in the Institute of Resources and Environment. His research focuses on biostratigraphy, carbonate sedimentology, geochemistry and climate change of the late Palaeozoic.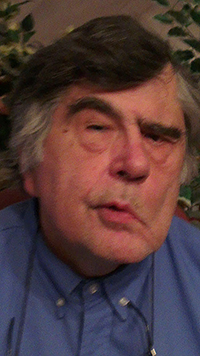 Daniel Vachard. 1 rue des Tilleuls, 59152 Gruson, France.
Daniel Vachard is 75 years old. He is retired from the CNRS (French Scientific Investigation Center) and University of Lille (France). His topics are the micropalaeontology of the smaller foraminifers, fusulinids, and calcareous algae, and their biostratigraphy, palaeoecology and palaeobiogeography. He has largely contributed to the Givetian to Triassic stratigraphy, and especially the Carboniferous and Permian stratigraphy, in France, Belgium, Spain, Austria, Greece, Morocco, Tunisia, Libya, Turkey, Saudi Arabia, Oman, Iran, Afghanistan, Thailand, Malaysia, Indonesia, South China, Australia, New Mexico, Mexico and Guatemala.

Pedro Cózar. Instituto de Geociencias (CSIC-UCM), c/ Severo Ochoa 7, 28040 Madrid, Spain.
Pedro Cózar is Researcher in the Geosciences Institute (CSIC) at Madrid (Spain). He received his MSc and PhD at the Universidad Complutense de Madrid on Geology. His PhD Project was focused on the late Mississippian foraminifers from the southwestern Spain. Since the PhD Project, his research has been focused on Mississippian foraminifers, calcareous algae and sedimentological aspects in basins of the Western Palaeotethys, including regions in Southwestern Europe and Northern Africa.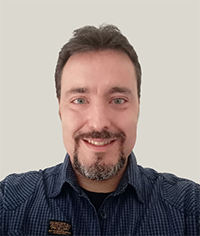 Ismael Coronado. Facultad de Ciencias Biológicas y Ambientales, Universidad de León, Campus de Vegazana s/n, 24071-León, Spain.
Ismael Coronado is Assistant Professor in the Department of Geography and Geology at León University (Spain) since 2019 and member of Q-GEO group. He got his Doctoral degree in Geology and Geological Engineering at Universidad Complutense (2015) on biomineralization of Carboniferous auloporid corals. He spent three years (2017-2019) as a post-doctoral fellowship at Institute of Paleobiology of Warsaw (Polish Academy of Sciences). His main interest is focused on palaeobiology of carboniferous marine biotas and their processes of fossilization. He is specialist on biomineralization, crystallography and geochemistry of fossils and recent marine calcium carbonate organisms (mainly cnidarians) and their modification during diagenesis.