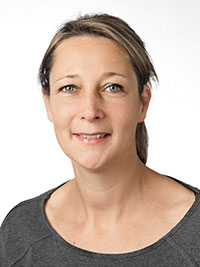 Daniela Schwarz, Museum für Naturkunde Berlin, Leibniz Institute for Evolutionary and Biodiversity Research.
Daniela Schwarz works as vertebrate paleontologist and scientific head of the collections for fossil reptiles and birds at the Museum für Naturkunde Berlin. Her main research focus is in taxonomic, biomechanical and ecological research of sauropod dinosaurs. A large part of the dinosaur collection under her care is from the Late Jurassic Tendaguru locality, excavated under colonial conditions. The scientific and historical responsibility of this colonial and also scientifically very important collection and how to develop the collections into a globally available source for all different kinds of scientific research is probably one of the biggest challenges of her work. Daniela has also a soft spot for crocodylomorphs and the Urvogel Archaeopteryx.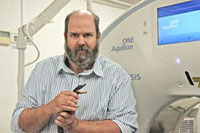 Guido Fritsch, Leibniz Institute for Zoo and Wildlife Research Berlin.
Guido Fritsch is a veterinarian and head of the computered tompgraphy unit within the department of reproduction management of the Leibniz Institue for Zoo and Wildlife Research Berlin. His research focus is on imaging of zoo- and wild animals, their specific morphological adaptations and illnesses.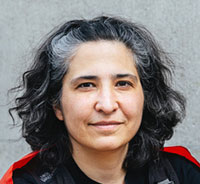 Ahi Sema Issever, Charité Universitätsmedizin Berlin.
Ahi Sema Issever is a radiologist from the Charité Universitaetsmedizin Berlin. Her clinical focus is on emergency imaging using computed tomography. Her research focus has been on osteoporosis imaging.

Thomas Hildebrandt, Leibniz Institute for Zoo and Wildlife Research Berlin.
Prof Dr Thomas Bernd Hildebrandt is professor and chair of wildlife reproduction medicine at the Freie Universitaet of Berlin. Prof Hildebrandt and his team are world leaders in using artificial reproduction to breed rare and endangered animals such as elephants, rhinos and giant pandas. He was a founding member of the subspecialty Zoo Health Management as part of the European College of Zoological Medicine (ECZM) and served as Credential Committee of the European College of Zoological Medicine the board of veterinary specialists from 2011 to 2014. He holds the honorary appointment of Professorial Fellow of biosciences at the University of Melbourne (2012 to 2022) and is also the Head of the Department of Reproduction Management at the Leibniz Institute for Zoo and Wildlife Research in Berlin. Prof Hildebrandt is well known internationally for his research on assisted reproduction in wildlife and especially the rescue project of the northern white rhinoceros (BioRescue) raised global interest. He is recipient of numerous awards such as the Conservation Legacy Award in 2015 for his substantial impact to conservation projects in the USA. Prof Thomas B. Hildebrandt (H index 41) and published more than 200 peer-reviewed scientific articles, 6 patents and gave more than 200 plenary lectures on international conferences.