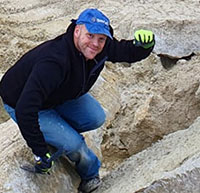 Barry W.M. van Bakel. Oertijdmuseum, Bosscheweg 80, 5283 WB Boxtel, the Netherlands, and Department of Earth Sciences, Faculty of Geosciences, Utrecht University, Budapestlaan, 4, 3584 CD Utrecht, The Netherlands.
http://orcid.org/0000-0002-0414-1041
Barry van Bakel, palaeontologist and carcinologist with a track record of over 25 years, studies fossil crabs with the emphasis on primitive forms (Podotremata). He is associated researcher at the Oertijdmuseum (Boxtel, the Netherlands) and current PhD student at Utrecht University. Comparative morphology with extant congeners, palaeoecology and macroevolution are typical subjects of his ongoing work.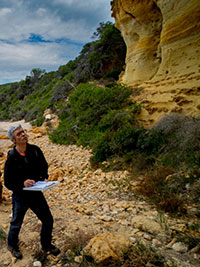 Àlex Ossó. Llorenç de Villalonga, 17B, 1-1 43007 Tarragona, Catalonia.
http://orcid.org/000-0003-2528-9915
Àlex Ossó, from Tarragona (Catalonia), now retired (68 years old), is passionate about fossils ever since his childhood. He recovered a large regional fossil collection which he later donated to the Museu d'Història de Tarragona, and it is currently available for further study. As an independent researcher, the last decade he focused on fossil crabs from around the world, describing and publishing an array of new taxa comprising from new species to superfamilies. Origins and palaeobiogeography of brachyuran decapods are his main interest.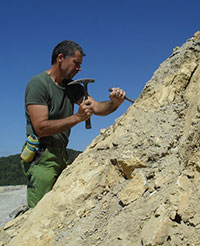 Dominique Téodori. 8 impasse de San Marino, 31140 Pechbonnieu, France.
Dominique Téodori, amateur paleontologist, has been collecting fossils in the South West of France for more than 40 years. Passionate about ammonites, sea urchins, vertebrates and of course crabs from the late Mesozoic to the early Cenozoic, he discovered several new genera and species that were named in his honor. His regular collaboration with scientists allows a better understanding of the fossil faunas of the Petites Pyrénées.