Acquisition of high resolution three-dimensional models using free, open-source, photogrammetric software
Peter L. Falkingham
Plain Language Abstract
A free, open source method for producing high quality digital models from photogrammetry is described. The method is applied to a number of palaeontological specimens ranging in size from a few cm to several metres in order to illustrate the utility of the method to a wide range of aspects of palaeontology.
Resumen en Español
Obtención de modelos 3D de alta resolución mediante el uso de software fotogramétrico gratuito de código abierto.
La digitalización en tres dimensiones de recursos paleontológicos resulta enormemente útil para archivar, analizar y visualizar ejemplares que sean demasiado grandes para su manipulación, demasiado valiosos para su destrucción parcial o que, simplemente, se encuentren en una localidad diferente. La digitalización de un ejemplar para obtener un modelo tridimensional requiere a menudo el uso de costosos equipos de escáner mediante láser o de programas de reconstrucción digital patentados, lo que hace que la técnica sea inaccesible para muchos investigadores. En este trabajo presentamos una guía para obtener modelos 3D de alta resolución a partir de fotografías y mediante el uso de programas gratuitos de código abierto. Para demostrar la precisión y flexibilidad de este método, aplicable tanto a ejemplares como a afloramientos de muy distinto tamaño, se incluyen algunos ejemplos como un pequeño trilobites (~0.04 m), un esqueleto reconstruido de elefante (~3 m) y el sistema de raíces de un gran árbol fósil (~6 m). Se adjuntan los archivos digitales de esos modelos. Los resultados demuestran que la obtención de modelos digitales de ejemplares para su archivo o estudio está a la disposición de cualquier investigador. Es de esperar que un mayor uso de las técnicas de digitalización facilite la investigación e incremente la colaboración y diseminación de los datos digitales.
Palabras clave: Fósil; digital; modelo; fotogrametría; archivo; escaneo por láser
Traducción: Miguel Company
Résumé en Français
Acquisition de modèles 3D haute résolution a l'aide d'un logiciel photogrammétrique gratuit en 'open-source'
La numérisation 3D d'objet paléontologiques est d'un utilité considérable pour cette discipline, fournissant les moyens d'archiver, analyser, et visualiser des spécimens qui seraient autrement trop grand pour être manipulés, trop précieux pour dégradés par un échantillonnage, ou tout simplement à des localisations géographiques différentes. La numérisation d'un spécimen afin de produire un modèle numérique 3D nécessite souvent l'utilisation d'équipement de balayage laser ou de logiciel de reconstruction numérique privé coûtant très chers, rendant cette technique inaccessible à de nombreux travailleurs. Nous présentons ici un guide pour produire des modèle 3D en haute résolution a partir de photographies, utilisant un logiciel 'open-source' disponible gratuitement. Afin de démontrer la précision et la flexibilité de l'approche, plusieurs exemples sont donnés, incluant un petit trilobite (~0.04 m), un grand squelette d'éléphant monté (~3 m), et un très grand réseau de racines d'arbre fossile (~6 m), illustrant ainsi que la méthode est applicable à des spécimens ou d'affleurements de toutes tailles. Les fichiers numériques des modèles produits sont inclus dans l'article. Les résultats démontrent que la production de modèles numériques à des fins de recherche ou d'archivage est a la portée de tout le monde, et il est à espérer qu'une augmentation de l'utilisation des techniques de numérisation va faciliter la recherche et encourager les collaborations et la dissémination de données numériques.
Mots clefs : fossile, numérique, photogrammétrie; archive; balayage laser
Translator: Olivier Maridet
Deutsche Zusammenfassung
Akquisition von hochauflösenden 3D-Modellen mit frei zugänglicher, Open-Source photogrammetrischer Software
3D Digitalisierung paläontologischer Ressourcen ist im Feld von enormem Nutzen, da die erforderlichen Mittel bereitstellt werden, um zu archivieren, analysieren und Stücke darzustellen, die sonst zu groß in der Handhabung oder zu wertvoll wären oder sich einfach schlichtweg in einer anderen geographischen Region befinden. Digitalisierung eines Stückes für ein 3D digitales Modell erfordert oft eine teure Laserscanning-Ausrüstung oder geschützte digitale Rekonstruktions-Software, was die Technik für viele Leute unzugänglich macht. Hier wird eine Anleitung präsentiert mit der hochauflösende 3D Modelle aus Fotos gewonnen werden können indem eine frei zugängliche Open-Source Software genutzt wird. Wir demonstrieren die Genauigkeit und Flexibilität des Vorgehens anhand von einigen Beispielen wie einem kleinen Trilobit (~0.04 m), einem großen montierten Elefantenskelett (~3 m) und einem sehr großen fossilen Baumwurzelsystem (~6 m). Damit legen wir dar, dass die Methode auf alle Stücke und sogar auf Aufschlüsse gleich welcher Größe angewendet werden kann. Die digitalen Dateien der in dieser Veröffentlichung produzierten Modelle sind enthalten. Die Ergebnisse zeigen, dass das Anfertigen digitaler Modelle von Stücken zur Forschung oder zu Archivierungszwecken für alle verfügbar ist. Es bleibt zu hoffen, dass ein zunehmender Nutzen von Digitalisierungstechniken die Forschung erleichtert und Zusammenarbeit und Verbreitung von digitalen Daten ermutigt.
SCHLÜSSELWÖRTER: Fossil; digital; Modell; Photogrammetrie; Archiv; Laserscanning
Translator: Eva Gebauer
Arabic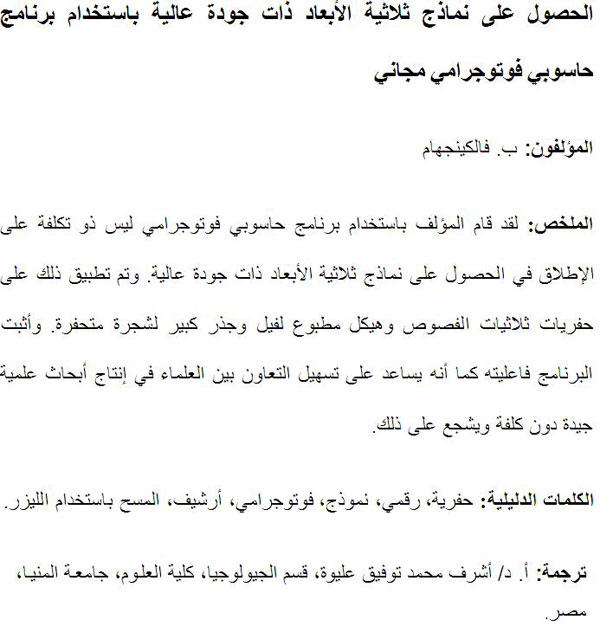 Translator: Ashraf M.T. Elewa
Polski Abstrakt
Pozyskiwanie wysokiej rozdzielczości modeli 3D przy użyciu darmowego, fotogrametrycznego oprogramowania open-source
Cyfryzacja 3D zbiorów paleontologicznych ma olbrzymią wartość dla tej dziedziny, umożliwiając archiwizację, analizę i wizualizację okazów, które w przeciwnym wypadku byłyby zbyt duże dla tych celów, zbyt cenne by opróbować je w sposób destrukcyjny, czy po prostu zbyt odlegle zdeponowane. Digitalizacja okazu skutkująca utworzeniem cyfrowego modelu 3D często wymaga użycia drogiego sprzętu do skaningu laserowego, lub zastrzeżonego prawnie oprogramowania do cyfrowych rekonstrukcji, sprawiając że technika ta jest niedostępna dla wielu badaczy. Poniżej prezentujemy poradnik produkcji modeli 3D wysokiej rozdzielczości ze zdjęć przy użyciu darmowego oprogramowania open-source. By zademonstrować dokładność i elastyczność tej metody, prezentujemy kilka przykładów, w tym małego trylobita (~0,04 m), dużego, zmontowanego szkieletu słonia (~3 m) i bardzo dużego skamieniałego systemu korzeniowego drzewa (~6 m), wykazując że metoda jest w równym stopniu stosowalna dla okazów, a nawet odsłonięć wszelkich rozmiarów. Załączamy pliki cyfrowe modeli z publikacji. Rezultaty pokazują, że tworzenie modeli cyfrowych z okazów przeznaczonych do badań, czy archiwizacji dostępne jest dla każdego i mamy nadzieję, że zwiększone użycie technik digitalizacji ułatwi badania i zachęci do współpracy nad danymi cyfrowymi i upowszechniania.
Słowa kluczowe: skamieniałość, cyfrowy, fotogrametria, archiwizacja, skaning laserowy
Translators: Dawid Mazurek and Robert Bronowicz
Riassunto in Italiano
Acquisizione di modelli 3D ad alta risoluzione per mezzo di software open-source
In campo paleontologico la digitalizzazione 3D è di notevolissima importanza sul terreno, poichè permette di archiviare, analizzare e visualizzare oggetti che altrimenti sarebbero troppo grandi da maneggiare, troppo importanti o di valore per essere campionati in maniera distruttiva, o semplicemente che si trovano in un altro luogo. La digitalizzazione di oggetti per produrre modelli digitali 3D spesso richiede l'utilizzo di attrezzature molto costose o di appositi software brevettati. Ciò rende tale tecnica non accessibile ai più. Viene qui presentata una guida per produrre modelli 3D ad alta risoluzione a partire da fotografie utilizzando software open source. Per dimostrare l'accuratezza e la flessibilità del metodo, vengono proposti alcuni esempi, tra i quali un piccolo trilobite (~0.04 m), un grande scheletro montato di elefante (~3 m), e un sistema di radici fossili molto esteso (~6 m). In questo modo si vuole dimostrare che il metodo è ugualmente applicabile ad oggetti o ad affioramenti di tutte le dimensioni. Si rendono disponibili i file digitali dei modelli mostrati nel presente lavoro. I risultati dimostrano che la produzione di modelli digitali a scopo di ricerca o di archiviazione è accessibile a tutti, e si auspica che l'aumento dell'utilizzo delle tecniche di digitalizzazione possa facilitare la ricerca e favorire l'interscambio di dati digitali.
Parole chiave: fossili; digitale; modello; fotogrammetria; archivio; laser scanning
Translator: Chiara Angelone