Articles
This email address is being protected from spambots. You need JavaScript enabled to view it.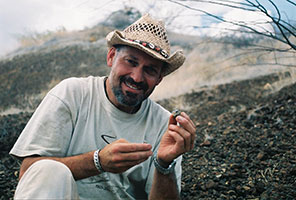 Department of Anthropology
Western Michigan University
Kalamazoo, Michigan 49008
USA
Robert Anemone is a vertebrate paleontologist and Professor of Anthropology at Western Michigan University in Kalamazoo, Michigan. Trained in biological anthropology and vertebrate paleontology at the University of Washington (Ph.D. 1989), his graduate work focused on the functional morphology and positional behavior of modern prosimian primates. A teaching job at Tulane University in the early 1990s led to collaborative work with Daris Swindler and Elizabeth Watts and a continuing interest in dental development and the evolution of life history of apes and hominins.

In 1994, he began a fieldwork project in Eocene deposits of the Great Divide Basin in southwestern Wyoming that focused on climate change and mammalian (and especially primate) evolution across the Paleocene-Eocene boundary. After 15 field seasons, his teams have recovered more than 10,000 mammals (including many of the specimens examined in this study) from about 100 localities in the Great Divide Basin. During the past several years and in collaboration with geographer and remote sensing specialist Jay Emerson (also of Western Michigan University), he has been applying the tools of the geographic information sciences to the search for fossil mammals. He has done paleontological fieldwork in the Cretaceous and Paleogene of the American West, the Miocene of Kenya, and Plio-Pleistocene of South Africa.

This email address is being protected from spambots. You need JavaScript enabled to view it.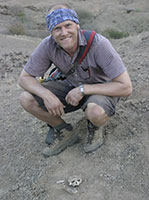 Department of Anthropology
University College London
London,
United Kingdom
and
Department of Human Evolution
Max Planck Institute for Evolutionary Anthropology
Leipzig
Germany
Matthew Skinner is a human paleontologist with a specialty in the tooth morphology of fossil human ancestors. He teaches biological anthropology courses at University College London and participates in fieldwork in East Africa.

This email address is being protected from spambots. You need JavaScript enabled to view it.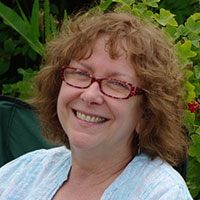 School of Dental Sciences
Newcastle University
Newcastle upon Tyne
United Kingdom
Wendy Dirks is Lecturer in Oral Biology in the School of Dental Sciences at Newcastle University in Newcastle upon Tyne, England. She began studying the relationship of dental development to life history evolution in mammals as an undergraduate at Hunter College, City University of New York, focusing on the pygmy elephant of Cyprus with her mentor Timothy Bromage, now of New York University's College of Dentistry. She earned her PhD at New York University in Biological Anthropology in 2001, continuing her work on dental development in catarrhine primates. After a season of fieldwork in Tanzania with advisor Terry Harrison, she met Robert Anemone and began a long and fruitful collaboration on the fossil fauna of the Paleocene and Eocene deposits of the Great Divide Basin, Wyoming.

Her current research interests include work on dental development in a variety of extinct and extant mammals, including the Euarchonta and the Proboscidea. Her focus is on what dental development tells us about the paleobiology and life history strategies of extinct taxa, using extant mammals as models. As a member of the Centre for Oral Health Research at Newcastle's School of Dental Sciences, she also supervises students studying dental morphology, indicators of stress in dental tissues and the chronology of trace element incorporation, such as lead and zinc, into children's teeth.

Are there two distinct types of hypocone in Eocene primates? The 'pseudohypocone' of notharctines revisited
Plain Language Abstract
Most living and fossil primates (including humans) have upper molars with 4 main cusps that are called protocone, paracone, metacone and hypocone. A group of fossil primates known as the Family Adapidae lived in North America and Europe during the Eocene Epoch (55 – 34 million years ago) and have been divided into two Subfamilies (Adapinae and Notharctinae) partly on the basis of differences in the morphology of the hypocone. Among the Adapinae, the hypocone appears as an outgrowth from the lingual cingulum, a rim of enamel that surrounds the inner side of the tooth, and is typically referred to in the literature as a true hypocone. By contrast, the hypocone forms on the Notharctinae upon a crest running distally from the protocone that is known as the post-protocone fold, and is called a pseudohypocone. We used micro-CT scanning to look under the enamel surface of a sample of upper molars from these two groups of fossil primates in order to examine the enamel-dentine junction (EDJ) of these teeth in the region where the hypocone forms. The EDJ is informative because it can tell us about the developmental history of individual molar cusps since molar cusps always begin their development with projections in the dentine that are known as dentine horns. Our results clearly indicate that both the true hypocone of Adapinae and the pseudohypocone of Notharctinae begin with a distinct dentine horn, but that they have clearly evolved convergently, as has the hypocone in many different mammalian clades. While reaffirming the convergent nature of the disto-lingual cusp on upper molars of adapines and notharctines, we question the utility of the term "pseudohypocone".
Resumen en Español
¿Existen dos tipos distintos de hipocono en los primates del Eoceno?Una revisión del "pseudohipocono" de los notarctinos
Los molares superiores de los humanos modernos y de la mayoría de los primates actuales tienen cuatro cúspides que han evolucionado a partir del molar tribosfénico original de los terios. Esos molares incluyen las tres cúspides del trígono original (paracono, metacono y protocono) y una cúspide adicional distolingual o hipocono. En los primates del Eoceno pertenecientes a la familia Adapidae se ha distinguido tradicionalmente entre un "verdadero" hipocono asociado al cíngulo lingual (forma adapina) y un "pseudohipocono" asociado al margen distal del protocono (forma notarctina). Se desconoce cuáles son los procesos de desarrollo que subyacen a estos dos tipos de cúspide distolingual y la validez de la distinción se fundamenta en la utilidad filogenética y en la homología más que en la posición de la cúspide, como ocurre en otros grupos de mamíferos. Para abordar esta cuestión hemos recurrido a la tomografía microcomputarizada con objeto de revelar la morfología del hipocono y de las cúspides y crestas asociadas en la unión dentina-esmalte (UDE). La UDE conserva los estadios iniciales del desarrollo de la corona dental y puede ser utilizada para aclarar aspectos de detalle de la morfología de la corona en dientes fósiles con distinto grado de deterioro o desgaste. Las muestras estudiadas incluyen tanto especies adapinas de Europa como notarctinas de Norteamérica. Hemos podido confirmar que el pseudohipocono que aparece en los notarctinos es una verdadera cúspide ya que se origina como un cuerno dentinario durante el desarrollo de la corona. Los resultados obtenidos confirman también que las dos formas de hipocono son distintas desde el punto de vista de su desarrollo y han evolucionado de forma convergente en estos dos clados de primates. La revisión de la bibliografía paleontológica sugiere que, a pesar de que la homoplasia es muy frecuente en el desarrollo del hipocono en los distintos clados de mamíferos, sólo en los neoarctinos se emplea un nombre alternativo para esa cúspide.
Palabras clave: odontogénesis; primates; adápidos; morfología de la corona; dentición; hipocono

Traducción: Miguel Company
Résumé en Français
Y-a-t-il deux types distincts d'hypocônes chez les primates Eocènes? Révision du 'pseudohypocône' des notharctinés
Les dents des humains modernes et de la plupart des primates actuels ont quatre cuspides qui ont évolué à partir des dents tribospheniques originelles de mammifères thériens. Cela inclus les trois cuspides du trigone originel (e.g., paracône, metacône, et protocône), et l'ajout de la cuspide disto-lingual ou hypocône. Parmi les primates Eocènes de la famille des Adapidae, une distinction est faite depuis longtemps entre le « vrai » hypocône associé à une cingulum lingual (forme adapiné) et le « pseudohypocône » associé à la marge distale du protocône (forme notharctiné). Les processus développementaux sous-jacents à ces deux types de cuspides disto-linguaux sont inconnus, et la validité de la distinction est basée sur l'utilité et l'homologie phylogénétique plutôt que sur la position des cuspides, comme chez les autres groupes. Pour aborder ce problème nous utilisons la microtomographie assistée par ordinateur afin de révéler la morphologie de l'hypocône et les cuspides et crêtes, associée à la jonction email-dentine (EDJ). La EDJ préserve les étapes initiales du développement de la couronne dentaire et peut être utilisée pour clarifier des aspects détaillés de la morphologie de la couronne pour des dents d'usures et préservations variables. Notre étude comprend des échantillons d'espèces d'adapinés d'Europe et de notharcinés d'Amérique du Nord. Nous confirmons que le pseudohypocône trouvé chez les notharcinés est une véritable cuspide puisqu'il forme comme une corne de dentine au cours du développement de la couronne. Nos résultats confirment que ces deux formes d'hypocônes sont distinctes d'un point de vue développemental et ont évolués de façon convergente dans deux clades de primates. Une revue de la littérature paléontologique suggère que, en dépit du fait que cette homoplasie est fréquente parmi les clades de mammifères en regard du développement de l'hypocône, ce nom alternatif de la cuspide n'est employé que chez les notharcinés.
Mots clés : odontogenèse; primates, adapidés ; morphologie de la couronne ; dentition ; hypocône
Translator: Olivier Maridet
Deutsche Zusammenfassung
Gibt es zwei verschiedene Hypokonus-Typen bei Primaten aus dem Eozän? Der "Pseudohypokonus" der Notharctinen neu überdacht
Die oberen Molaren der modernen Menschen und der meisten Primaten haben vier Höcker, die sich aus dem ursprünglichen tribosphenischen Zahn der Theria entwickelt haben. Diese beinhalten die drei Höcker des ursprünglichen Trigon (Parakonus, Metakonus, Protokonus) und der Zusatz des disolingualen Höckers oder Hypokonus. Bei den Adapidae aus dem Eozän wurde lange zwischen einem "echten" Hypokonus, der mit dem lingualen Cingulum assoziiert ist (adapine Form), und einem "Pseudohypokonus", der mit dem distalen Rand des Protokonus assoziiert ist (notharctine Form), unterschieden. Die Entstehungsprozesse, die zu diesen beiden Typen von distolingualen Höckern führen sind unbekannt und die Validität der Unterscheidung basiert eher auf phylogenetischer Nützlichkeit und Homologie als auf der Position der Höcker wie bei anderen Säugetiergruppen. Um dieses Problem anzugehen nutzen wir Mikrocomputertomographie, um die Morphologie des Hypokonus und der dazugehörigen Höcker und Kämme an der Dentin-Schmelz-Grenze (EDJ) zu bestimmen. Die EDJ konserviert die einleitenden Schritte der Zahnkronenentwicklung und kann genutzt werden, um detaillierte Aspekte der Kronenmorphologie in unterschiedlich abgenutzten oder beschädigten fossilen Zähnen zu klären. Unsere Stichprobe enthält sowohl Adapinen aus Europa als auch Notharctinen aus Nordamerika. Wir bestätigen, dass der Pseudohypokonus wie er bei den Notharctinen gefunden wurde ein echter Höcker ist, da er während der Zahnkronenbildung ein Horn aus Dentin formt. Unsere Ergebnisse bestätigen ebenso, dass diese beiden Hypokonus-Formen entwicklungstechnisch unterschiedlich sind und konvergent bei diesen beiden Primaten-Kladen entstanden sind. Eine Neuuntersuchung der paläontologischen Literatur legt nahe, dass, trotz der Tatsache dass Homoplasie sehr häufig unter Säugetier-Kladen vorkommt was die Entwicklung des Hypokonus angeht, wir nur unter den Nothactinen einen alternativen Namen für diesen Höcker finden.
SCHLÜSSELWÖRTER: Odontogenese; Primaten; Adapiden; Zahnkronenmorphologie; Bezahnung; Hypokonus
Translators: Eva Gebauer
Arabic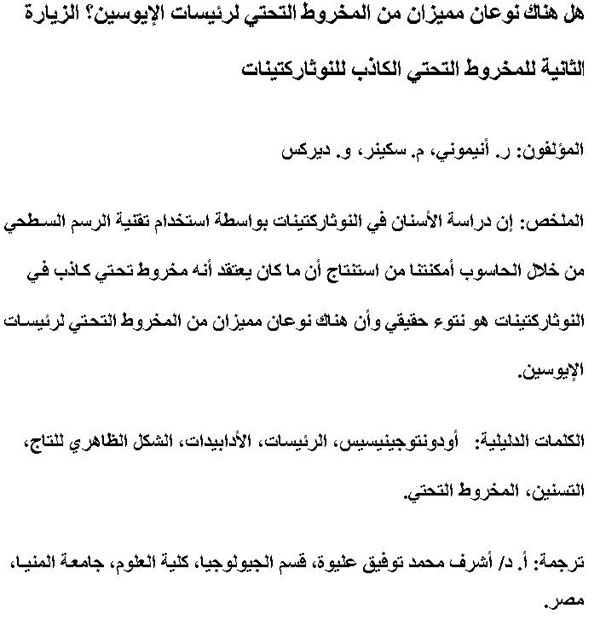 Translator: Ashraf M.T. Elewa
FIGURE 1. Surface models of the outer enamel surface and enamel-dentine junction (EDJ) of adapine upper molars in the study sample. Note the consistent presence of a dentine horn at the distolingual margin of the tooth crown in (1.4) and (1.6). The crest running from the protocone does not connect with the hypocone. Note also the metameric variation within individual specimens. An asterisk (*) marks the hypocone at either the enamel or EDJ surface.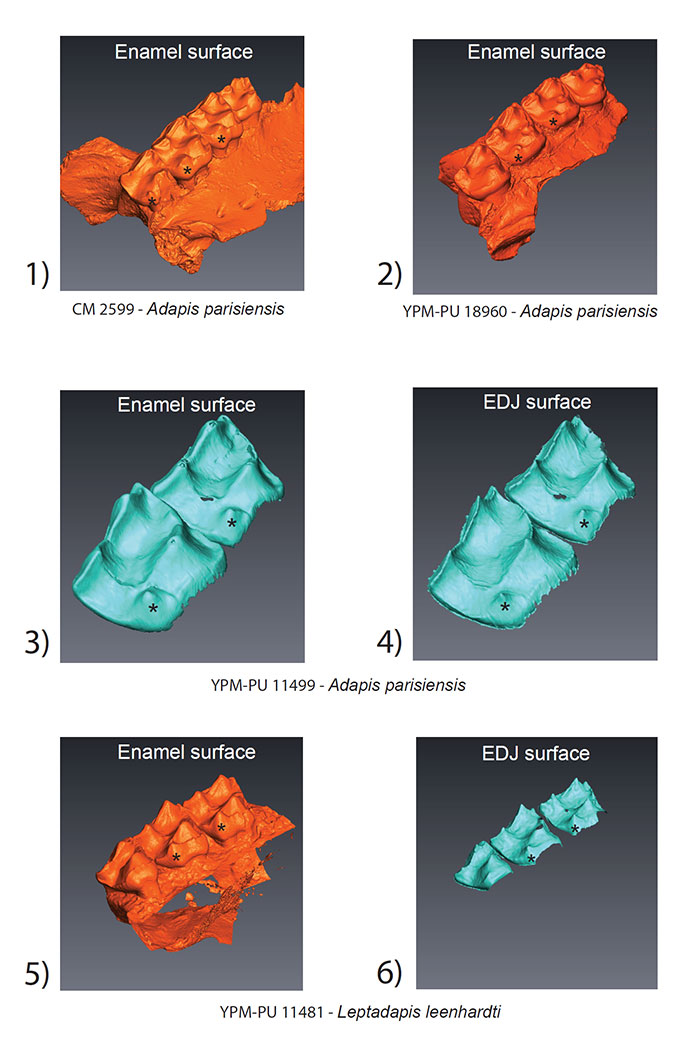 FIGURE 2. Surface models of the outer enamel surface and enamel-dentine junction (EDJ) of Notharctus upper molars in the study sample. The hypocone in Notharctus forms on the crest running distally from the protocone (*). This is particularly evident at the EDJ (2.4) where there is also clear presence of a dentine horn. The morphology of the exposed dentine on CM 40735 is suggestive of a dentine horn (2.2). The black circle in (2.3) shows the buccal and distal crests which tend to form on the protocone in Notharctus specimens.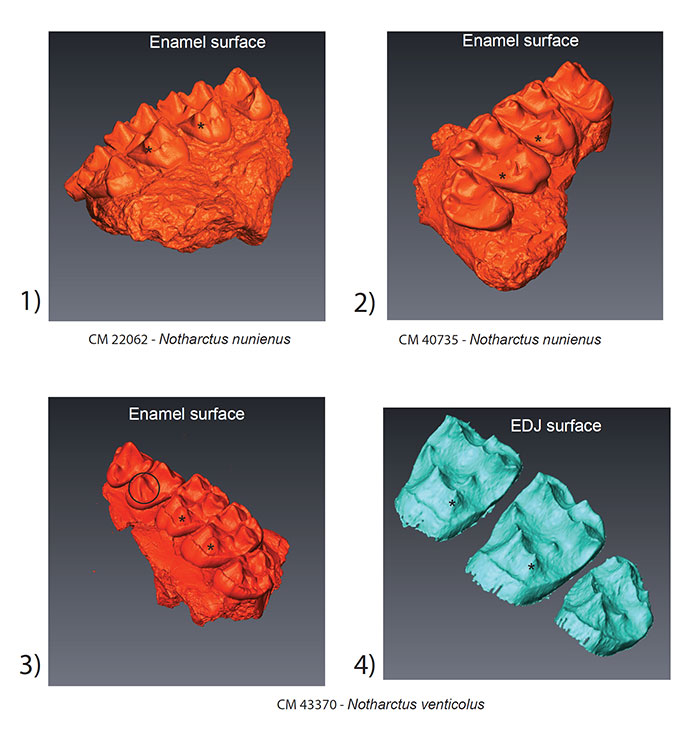 FIGURE 3. Surface models of the outer enamel surface and enamel-dentine junction (EDJ) of Cantius upper molars in the study sample. The similarity between Cantius and Notharctus specimens can be seen in (3.1) and (3.2) with the hypocone highlighted with an asterisk (*). WMU 4834 shows only a distal crest from the protocone at the EDJ (3.4). WMU 2588 exhibits a unique configuration of accessory cusps (3.6) on the distal margin of the tooth crown (white asterisk; see text for details).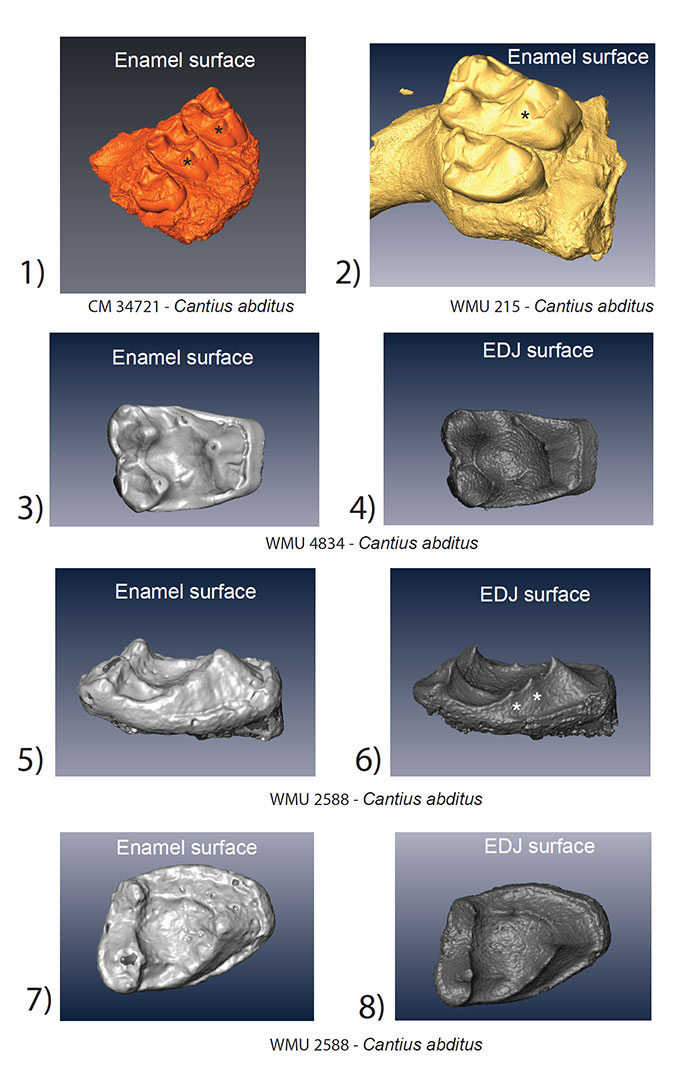 FIGURE 4. Left upper second molars of A. parisiensis (YPM-PU 11499) and N. venticolus (CM 43370) labeled following Hershkovitz (1977; specifically fig. V.14, p. 288). The distinction between the two types is that 1) no secondary posterolingual cingulum (C') has formed in Adapis and 2) there is no link between the primary anterolingual cingulum (B) and the primary posterolingual cingulum (C) in Adapis. Letters and symbols as follows: 1 - paracone; 2 - protocone; 4 - metacone; 5 - hypocone; B - primary anterolingual cingulum; C - primary posterolingual cingulum; B' - secondary anterolingual cingulum; C' - secondary posterolingual cingulum. Note that YPM-PU 11499 is a right tooth that has been reversed in this image for ease of comparison with CM 43370.
1. Animated pdf of YPM-PU 11499, showing the enamel-dentine junction (EDJ) of the right upper second molar of Adapis parisiensis. Click on image to see animated PDF version.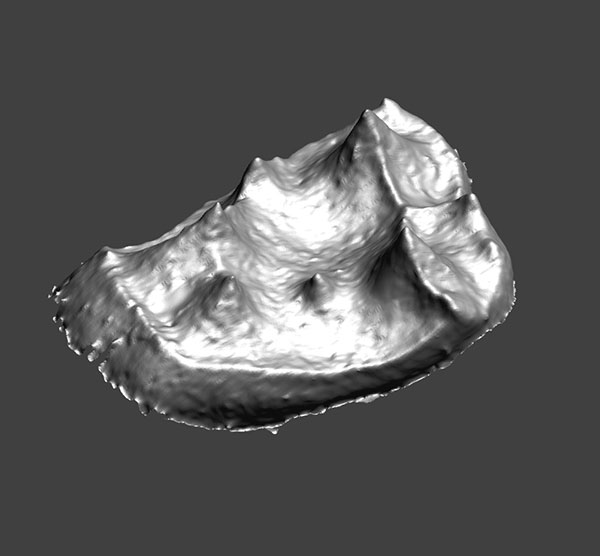 2. Animated pdf of YPM-PU 11499, showing the enamel surface of the right upper second molar of Adapis parisiensis. Click on image to see animated PDF version.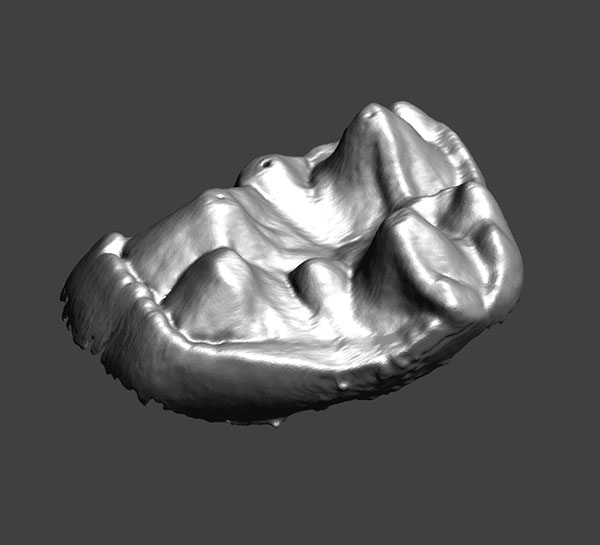 3. Animated pdf of CM 43370, showing the enamel-dentine junction (EDJ) of the left second upper molar of Notharctus venticolus. Click on image to see animated PDF version.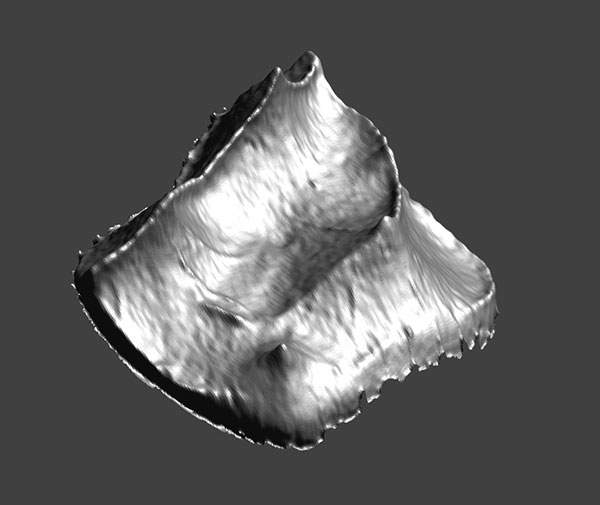 4. Animated pdf of CM 43370, showing the enamel surface of the left second upper molar of Notharctus venticolus.
Click on image to see animated PDF version.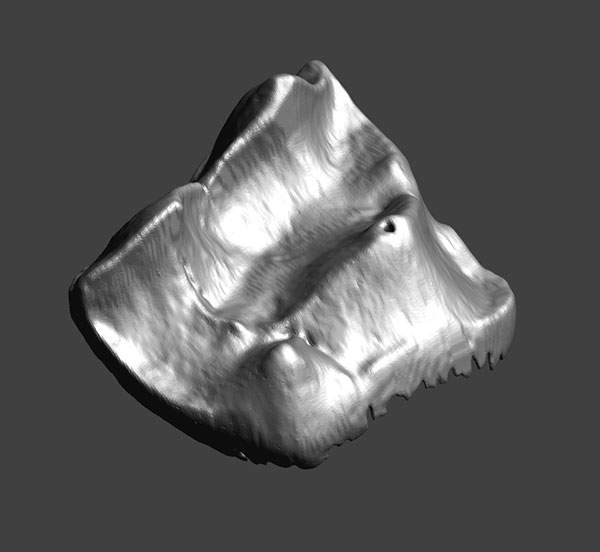 TABLE 1. Composition of the study sample.
Taxon

Accession

Institution

Teeth

EDJ imageable

Adapis parisiensis

CM 2559

1

P4-M3

No

Adapis parisiensis

HGW 1

2

M1-M3

No

Adapis parisiensis

YPM-PU 11589

3

M2-M3

No

Adapis parisiensis

YPM-PU 18960

3

P4-M3

No

Adapis parisiensis

YPM-PU 11499

3

P3-M2

Yes

Leptadapis leenhardti

YPM-PU 11481

3

M1-M3

Yes

Notharctus venticolus

CM 43370

1

P3-M3

Yes

Notharctus nuniensis

CM 22062

1

P4-M3

No

Notharctus nunienus

CM 40735

1

P4-M3

No

Cantius abditus

CM 34721

1

M1-M3

No

Cantius abditus

WMU 215

4

M2-M3

No

Cantius abditus

WMU 789

4

M1/M2

Yes

Cantius abditus

WMU 2319

4

M1/M2

Yes

Cantius abditus

WMU 2588

4

M3

Yes

Cantius abditus

WMU 4571

4

M1/M2

Yes

Cantius abditus

WMU 4834

4

M1/M2

Yes

Cantius abditus

WMU 5396

4

M1/M2/M3

Yes

Cantius abditus

WMU 6038

4

M1/M2/M3

No

Institution codes: 1) Carnegie Museum of Natural History; 2) Greifswald Anatomy Museum; 3)Yale Peabody Museum of Natural History; 4) Western Michigan University, Department of Anthropology.