Articles

This email address is being protected from spambots. You need JavaScript enabled to view it.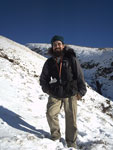 State Key Laboratory of Palaeobiology and Stratigraphy
Nanjing Institute of Geology and Palaeontology
Chinese Academy of Science
No. 39 East Beijing Road
Nanjing 210008
China
Joseph Botting is a Young International Scientist at the Nanjing Institute of Geology and Palaeontology. He started working in the Builth Inlier as an undergraduate at Cambridge, and completed his PhD, which was partly on faunas from the area, at the University of Birmingham in 2000. Most of his publications have been on sponges, but he has also worked on echinoderms, worms, trilobites, palaeoecology and several Ordovician Lagerstätten. His research is currently focused on the early evolution of sponges, with forays into exceptionally preserved biotas in China, Morocco, the UK and North America.

This email address is being protected from spambots. You need JavaScript enabled to view it.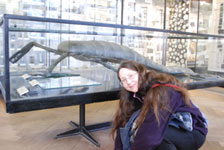 State Key Laboratory of Palaeobiology and Stratigraphy
Nanjing Institute of Geology and Palaeontology
Chinese Academy of Science
No. 39 East Beijing Road
Nanjing 210008
China
Lucy Muir is primarily a graptolite worker and palaeoecologist, but has published on a variety of other things, including museum collections and modern ecology. She received her undergraduate degree from the University of Cambridge (1997) and then undertook an MSc in Palaeobiology at the University of Bristol (1999). Since gaining her PhD from the University of Edinburgh in 2004, she has worked as a museum curator and a freelance geological consultant. She is currently a postdoctoral researcher at the Nanjing Institute of Geology and Palaeontology, where she is working on a comparison of Ordovician Lagerstätten in Wales, China and Morocco.
Reply to: Smith et al., "Comment on supposed holothurian body fossils from the middle Ordovician of Wales (Botting and Muir, Palaeontologia Electronica: 15.1.9A)"
Plain Language Abstract
The comment by Smith et al. rejects a previous interpretation of Middle Ordovician fossils as holothurians. This rejection is based on the use of inappropriate techniques to study the fossils, and insufficient consideration of their taphonomy. The fossils can be shown not to be sponges (the suggested alternative interpretation), and despite the taphonomic limitations, do show echinoderm characters such as the pentagonal oral ring and ambulacral structures.
Resumen en Español
Respuesta a: Smith et al., "Comentario sobre los supuestos restos fósiles de holoturias del Orodvícico medio de Gales (Botting y Muir, Palaeontologia Electronica: 15.1.9A)"
Smith et al., en su comentario, rechazan nuestra interpretación previa de unos fósiles del Ordovícico medio como holoturoideos. Este rechazo se basa en la utilización de técnicas inapropiadas para el estudio de los fósiles y en una insuficiente consideración de sus aspectos tafonómicos. Se puede demostrar que los fósiles no son esponjas (la interpretación alternativa sugerida por Smith et al.) y que, a pesar de las limitaciones tafonómicas, sí presentan caracteres de equinodermos tales como el anillo oral pentagonal y estructuras ambulacrales.
Palabras clave: Echinodermata; técnicas de tratamiento de imágenes; fósiles problemáticos
Traducción: Miguel Company
Résumé en Français
Réponse à: Smith et al., « Commentaire sur les corps holothuriens fossiles supposés de l'Ordovicien de Wales (Botting et Muir, Palaeontologia Electronica: 15.1.9A) »
Le commentaire par Smith et al. rejette une interprétation précédente des fossiles holothuriens de l'Ordovicien moyen. Ce rejet est fondé sur l'utilisation de techniques d'étude des fossiles inappropriées, et une considération insuffisante de leur taphonomie. Il est possible de démontrer que les fossiles ne sont pas des éponges (l'interprétation alternative suggérée), et malgré les limitations d'ordre taphonomique, ils montrent des caractères d'échinodermes tels que l'anneau oral pentagonal et les structures ambulacraires.
Mots clés: Echinodermata; techniques d'imagerie; fossiles problématiques
Translator: Olivier Maridet
Deutsche Zusammenfassung
Antwort zu: Smith et al., "Comment on supposed holothurian body fossils from the middle Ordovician of Wales (Botting and Muir, Palaeontologia Electronica: 15.1.9A)"
Die Anmerkung von Smith et al. lehnt eine vorangegangene Interpretation von Fossilien aus dem mittleren Ordovicium als Holothuria ab. Diese Ablehnung basiert auf unzutreffenden Methoden bei der Fossiluntersuchung und auf einer unzureichenden Berücksichtigung ihrer Taphonomie. Es kann gezeigt werden, dass die Fossilien keine Schwämme sind (die vorgeschlagene Alternativinterpretation) und dass sie trotz ihrer taphonomischen Begrenzungen Merkmale von Echinodermen wie den pentagonalen Oralring und die Ambulakralstrukturen aufweisen.
SCHLÜSSELWÖRTER: Echinodermata; bildgebende Verfahren; problematische Fossilien
Translators: Eva Gebauer
Arabic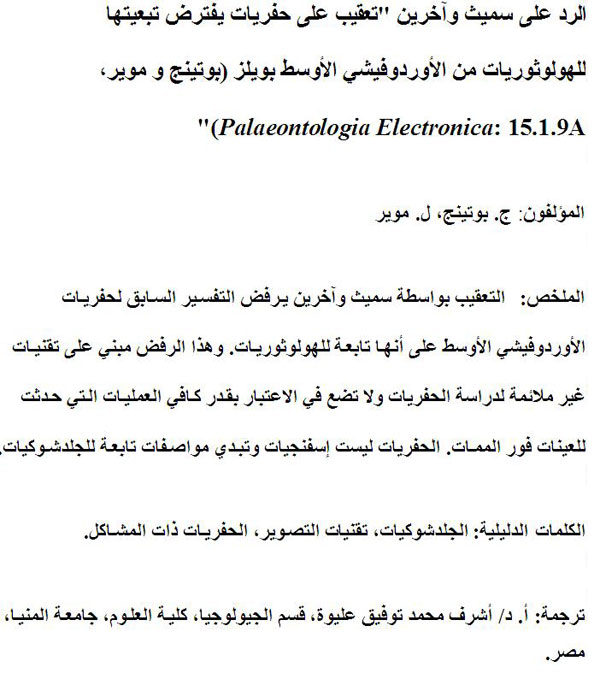 Translator: Ashraf M.T. Elewa
FIGURE 1. Middle Ordovician fossils from the Holothurian Bed, Llandrindod (Botting and Muir 2012). 1, undescribed reticulosan sponge, showing typical preservation of a spicular skeleton in the deposit; specimen will be deposited in the National Museum of Wales after study. 2-3, Oesolcucumaria eostre Botting and Muir, 2012, NHM EE8734 (holotype); detail of oral ring reproduced from Smith et al. (this volume, figure 1.4 inset), with pentagonal inner margin highlighted in 3.