Articles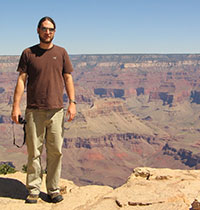 N.A. Smith
National Evolutionary Synthesis Center
Durham, North Carolina
USA
This email address is being protected from spambots. You need JavaScript enabled to view it.

Adam Smith is a postdoctoral fellow at the National Evolutionary Synthesis Center on the campus of Duke University. He has received degrees from Western Kentucky University (BS) and the University of Texas at Austin (Ph.D.). He is a vertebrate paleontologist with a broad interest in the evolution of birds. Particular areas of focus include combined phylogenetic analyses, divergence time estimation and avian anatomy. More information can be found at: paleosmith.org.
FIGURE 1. Phylogram of charadriiform relationships showing calibrated nodes 1-7 (modified from Baker et al., 2007, figure 1). Numbered nodes in red correspond to the following calibrations: (1) divergence of Charadriiformes from its nearest outgroup; (2) divergence of Charadrii from other Charadriiformes; (3) divergence of Burhinidae from Chionis and Pluvianellus; (4) divergence of Jacanidae from other Scolopaci; (5) basal divergence among Calidridinae; (6) divergence of Turnicidae from Lari; (7) basal divergence of Laromorphae; (8) divergence of Alcidae from Stercorariidae.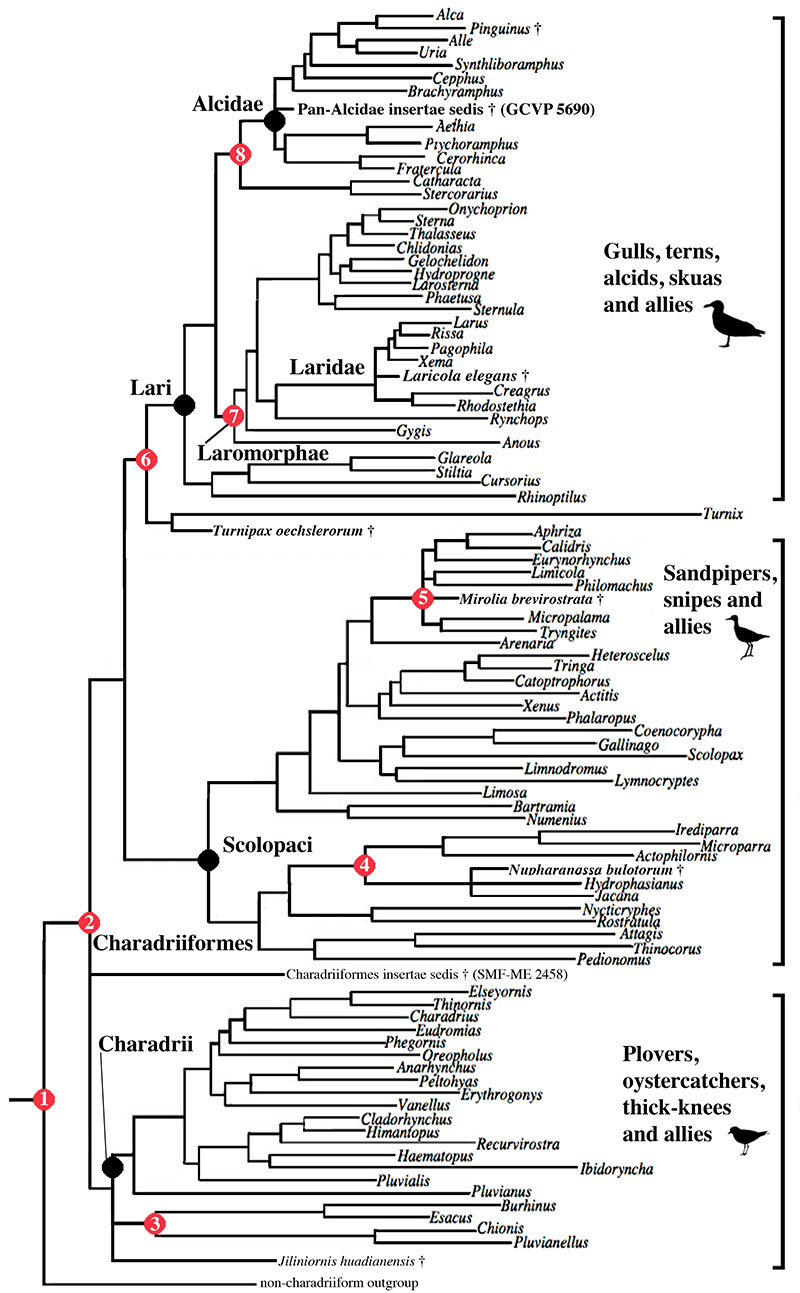 FIGURE 2. Phylogram of alcid relationships showing calibrated nodes 7-15 (modified from Smith, 2011a, figure 1.26). Numbered nodes in red correspond to the following calibrations: (8) divergence of Alcidae from Stercorariidae; (9) divergence of Aethiini from Fraterculini; (10) divergence of Fratercula arctica from Fratercula corniculata; (11) divergence of Cepphus carbo from Cepphus columba; (12) divergence of Synthliboramphus hypoleucus from Synthliboramphus craveri; (13) divergence of Brachyramphus marmoratus from Brachyramphus brevirostris; (14) divergence of Alle alle from Uria; (15) divergence of Uria lomvia from Uria aalge; (16) divergence of Alca torda from Pinguinus impennis.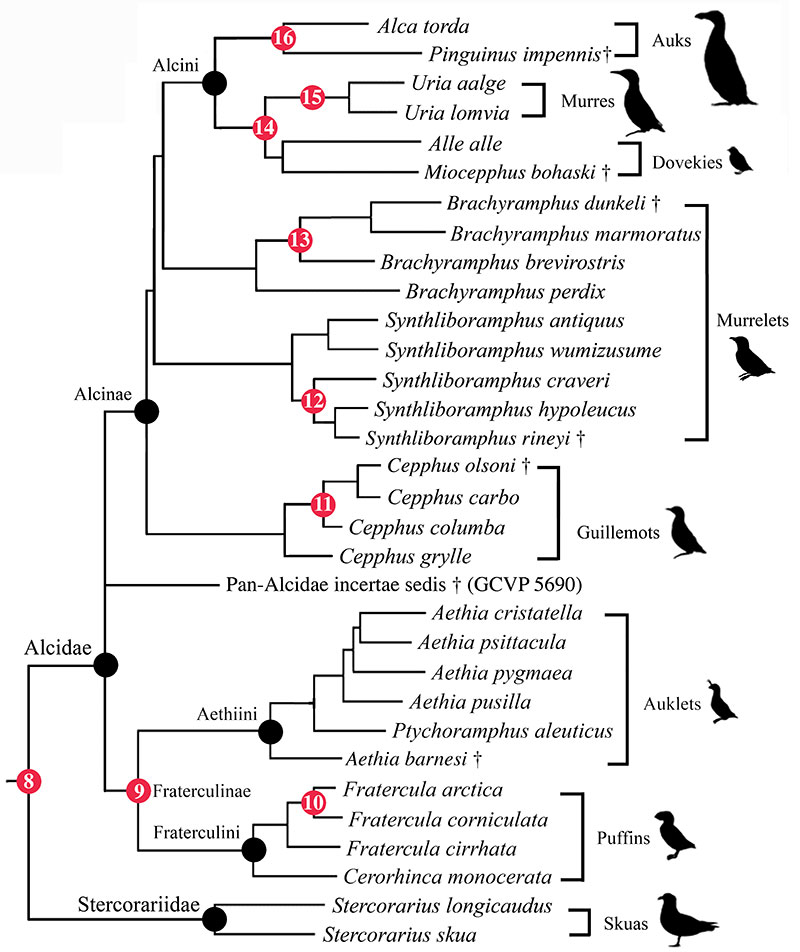 Fifteen vetted fossil calibrations for divergence dating of Charadriiformes (Aves, Neognathae)
Adam Smith

Plain Language Abstract
The Charadriiformes (shorebirds and allies) are an ecologically and morphologically diverse clade with a global geographic distribution. The perceived antiquity of this lineage and the cryptic plumage and morphology of some charadriiforms have made them a frequent focus of study by ornithologists. Likewise, with the relatively recent advent of molecular sequence based divergence estimation methods, no less than seven studies have estimated the timing of cladogenetic events in Charadriiformes. Unfortunately, all of those studies have suffered from poor choice and characterization (i.e., age and taxonomic assignment) of fossil calibrations used for divergence time analysis. Given that studies of both real and simulated data have demonstrated the potential for calibration choice to bias node age estimates, the results of previously published analyses of divergence times for Charadriiformes must, accordingly, be viewed with caution. To alleviate introduction of fossil calibration bias with respect to future analyses of divergence times including Charadriiformes, 16 rigorously evaluated charadriiform fossil calibrations are reported herein.
Resumen en Español
Quince calibraciones fósiles contrastadas para la datación de la divergencia de las Charadriiformes (Aves, Neognathae)
Las Charadriiformes (aves limícolas y relacionadas) son un clado ecológica y morfológicamente diverso que presenta una distribución geográfica global. La antigüedad de este linaje y el plumaje críptico y la morfología de algunas caradriformes han hecho de ellas un foco frecuente de estudio por los ornitólogos. Con la aparición relativamente reciente de métodos de estimación de divergencia basados en secuencias moleculares, no menos de siete estudios diferentes han tratado de ubicar en el tiempo los eventos cladogenéticos de las Charadriiformes. Lamentablemente, todos estos estudios adolecen de una pobre elección y caracterización (es decir, atribución taxonómica y de edad) de las calibraciones fósiles utilizadas para el análisis del tiempo de divergencia. Dado que estudios de datos tanto reales como simulados han demostrado el potencial de la elección de la calibración para sesgar las estimaciones de edad de los nodos, los resultados de los análisis previamente publicados sobre datación de las divergencias en las Charadriiformes deberían, por tanto, ser tomados con precaución. Con objeto de paliar este sesgo debido a la calibración fósil para futuros análisis de edades de divergencia que incluyan las Charadriiformes, en este trabajo aportamos 16 calibraciones fósiles de caradriformes rigurosamente evaluadas.
PALABRAS CLAVE: Charadrii; acotamiento de edad; Pan-Alcidae; Lari; Scolopaci; aves marinas y limícolas
Traducción: Miguel Company
Résumé en Français
Quinze calibrations fossiles vérifiés pour la datation de la divergence des Charadriiformes (Aves, Neognathae)
Les Charadriiformes (limicoles et alliés) sont un clade écologiquement et morphologiquement diverse avec une répartition géographique mondiale. L'antiquité perçue de cette lignée et le plumage cryptique et la morphologie de certains charadriiforms ont fait d'eux un sujet d'étude fréquent par les ornithologues. De même, avec l'avènement relativement récent des méthodes d'estimation de divergence à base de séquences moléculaires, pas moins de sept études ont estimé le calendrier des événements cladogénétique de l'ordre des Charadriiformes. Malheureusement, toutes ces études ont souffert de mauvais choix et caractérisation (par exemple, l'âge et l'attribution taxinomique) des calibrations fossiles utilisés pour l'analyse des temps de divergence. Étant donné que les études sur des données réelles et simulées ont démontré le potentiel du choix de calibration des nœuds biaisés d'estimations d'âge, les résultats des analyses déjà publiées de temps de divergence pour les Charadriiformes doivent, en conséquence, être considérés avec prudence. Pour remédier à l'introduction d'un biais de calibration fossile par rapport à de futures analyses de temps de divergence y compris chez les Charadriiformes, 16 calibrations rigoureusement évalués de fossiles charadriiform sont rapportés ici.
MOTS-CLÉS: Charadrii, contraintes d'âge minimum; Pan-Alcidés; Lari; Scolopaci, oiseaux de mer et de rivage
Translator: Kenny J. Travouillon
Deutsche Zusammenfassung
Fünfzehn geprüfte Fossilkalibrierungen zur Divergenzdatierung von Charadriiformes (Aves, Neognathae)
Die Charadriiformes (Watvögel und Verwandte) sind eine ökologisch und morphologisch diverse Klade mit einer großen geographischen Reichweite. Wegen des angenommenen Alters dieser Linie und dem rätselhafte Gefieder sowie der Morphologie einiger Charadriiformen sind sie häufig im Fokus ornithologischer Studien. Ebenso wurden seit dem relativ neuen Verfahren, basierend auf Molekularsequenzen Divergenzen abzuschätzen, in nicht weniger als sieben Untersuchungen die Zeitabläufe von kladogenetischen Ereignissen bei Charadriiformen kalkuliert. Bedauerlicherweise waren alle Untersuchungen durch eine schlechte Auswahl und Charakterisierung der Fossil-Kalibrierungen die für die Divergenz-Zeit-Analyse benutzt wurden (besonders was das Alter und die taxonomische Zuordnung angeht) charakterisiert.
Wenn man bedenkt, dass Untersuchungen von sowohl realen als auch simulierten Daten gezeigt haben, dass die Kalibrierungsauswahl das Potential hat, die Altersschätzungen der Knotenpunkte zu beeinflussen, müssen die Ergebnisse früherer Veröffentlichungen über die Divergenzzeiten der Charadriiformes entsprechend mit Vorsicht betrachtet werden. Um die Einführung der Fossil-Kalibrierung-Bias hinsichtlich zukünftiger Analysen über Divergenzzeiten, die Charadriiformen einschliessend, zu erleichtern, werden hier 16 gründlich evaluierte charadriiforme Fossilkalibrierungen wiedergegeben.
SCHLÜSSELWÖRTER: Charadrii; minimale Alterseingrenzung; Pan-Alcidae; Lari; Scolopaci; Seevögel und Watvögel
Translator: Eva Gebauer
Arabic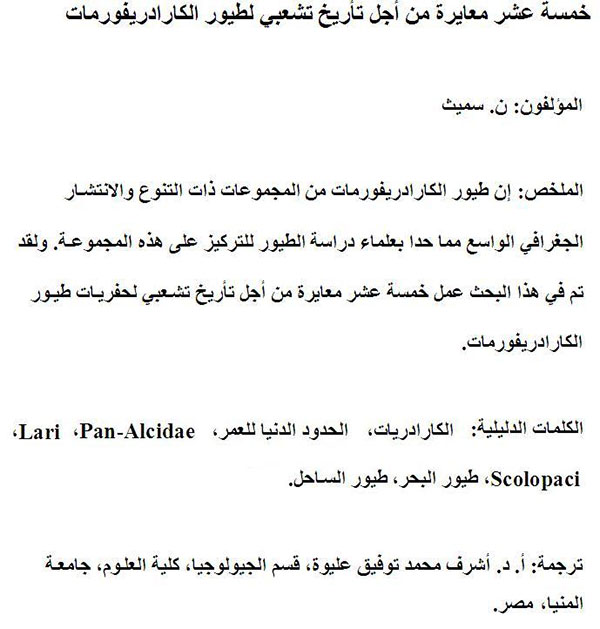 Translator: Ashraf M.T. Elewa