Articles
Paleoneurology of Teyumbaita sulcognathus (Diapsida: Archosauromorpha) and the sense of smell in rhynchosaurs
Plain Language Abstract
Computed tomographic images of the skull of Teyumbaita sulcognathus, a reptile from the early Late Triassic of Southern Brazil, were obtained in order to gather more information about the endocranial anatomy and the ecology of this taxon. Data revealed that a rocky mould was preserved within the braincase cavity of this reptile, but it corresponded only to the posterior half of the brain. On the other hand, the olfactory portion of the brain left its impressions on the ventral surface of the skull roof and, based on their size along with the size of the nasal cavity, it was possible to infer that T. sulcognathus had a good sense of smell.
Resumen en Español
Paleoneurología de Teyumbaita sulcognathus (Diapsida: Archosauromorpha) y el sentido del olfato en rincosaurios
Los rincosaurios eran un grupo de arcosauromorfos que dominó el conjunto de los herbívoros a principios del Triásico tardío. A pesar del gran número de muestras disponibles, los estudios paleobiológicos son escasos en la literatura, especialmente en relación con las especies de América del Sur. El presente estudio analiza la paleoneurología de Teyumbaita sulcognathus, un rincosaurio brasileño de la subfamilia Hyperodapedontinae, junto con su cavidad nasal, a partir de imágenes tomográficas del espécimen UFRGS -PV- 0232 -T. Aunque el molde endocraneal solo revela la morfología de la mitad posterior del encéfalo, debido a que la caja craneana no estaba completamente osificada, ha sido posible inferir la presencia de grandes bulbos olfativos, gracias a las impresiones que dejaron en la superficie ventral de los frontales. Aunque el hocico es relativamente corto, las áreas de la cavidad nasal, probablemente dedicadas a la olfacción, también eran grandes y, de acuerdo asimismo con el tamaño de los bulbos olfativos, es posible inferir que el olfato era importante para el comportamiento y la ecología de T. sulcognathus, tal y como había sido propuesto anteriormente para el género Hyperodapedon.
Palabras clave: paleoneurología; rincosaurios; molde endocraneal; tomografía computarizada; comportamiento; olfacción
Traducción: Enrique Peñalver
Résumé en Français
Paléoneurologie de Teyumbaita sulcognathus (Diapsida : Archosauromorpha) et le sens de l'odorat chez les rhynchosaures
Les rhynchosaures étaient un groupe d'archosauromorphes qui a dominé la guilde des herbivores au début du Trias supérieur. Malgré le grand nombre de spécimens disponibles, les études paléobiologiques sont rares dans la littérature scientifique, en particulier concernant les espèces d'Amérique du Sud. L'étude suivante analyse la paléoneurology de Teyumbaita sulcognathus, un rhynchosaure hyperodapedontine brésilien, avec sa cavité nasale, basée sur des images tomographiques du spécimen UFRGS -PV -0232 -T. Bien que le moule crânien révèle la morphologie de la moitié postérieure de l'encéphale, à cause que la boîte crânienne soit incomplètement ossifiée, il est possible de déduire la présence de grands bulbes olfactifs en raison de leurs impressions laissées sur la surface ventrale des frontals. Bien que le museau est relativement court, les zones de la cavité nasale probablement consacré à l'olfaction sont également grande et, avec la taille des bulbes olfactifs, il est possible d'en déduire que l'olfaction était important pour le comportement et l'écologie de T. sulcognathus, comme proposé précédemment pour Hyperodapedon.
Mots-clés: paléoneurologie; rhynchosaures; moule crânien; tomodensitométrie; comportement; olfaction
Translator: Kenny J. Travouillon
Deutsche Zusammenfassung
Paläoneurologie von Teyumbaita sulcognathus (Diapsida: Archosauromorpha) und der Geruchssinn bei Rhynchosauriern
Rhynchosaurier waren eine Gruppe von Archosauromorphen, die unter den Herbivoren der frühen Trias vorherrschten. Trotz der großen Anzahl von vorhandenen Stücken sind paläobiologische Untersuchungen in der Literatur selten, besonders was die südamerikanischen Arten angeht. Die vorliegende Arbeit analysiert die Paläoneurologie von Teyumbaita sulcognathus, ein brasilianischer hyperodapedontiner Rhynchosaurier, zusammen mit seiner Nasenhöhle basierend auf tomografischen Abbildungen des Stückes UFRGS-PV-0232-T. Obwohl der Ausguss wegen des unvollständig verknöcherten Hirnschädels nur die Morphologie des hinteren Teils des Encephalons zeigt, ist es möglich auf große Riechkolben zu schließen, da diese Abdrücke auf der ventralen Oberfläche der Frontalia hinterlassen haben. Obwohl die Schnauze relativ kurz ist, sind die mit dem Geruchssinn verbunden Bereiche der Nasenhöhle genauso wie die Riechkolben groß. Es ist demnach möglich anzunehmen, dass der Geruchssinn für das Verhalten und die Ökologie von T. sulcognathus wichtig war, genauso wie für Hyperodapedon angenommen wurde.
Schlüsselwörter: Paläoneurologie; Rhynchosaurier; Schädelausguss; Computertomographie; Verhalten; Geruchssinn
Translator: Eva Gebauer
Arabic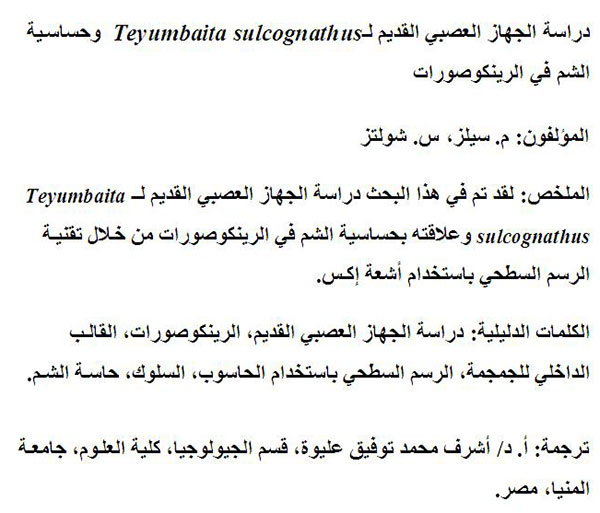 Translator: Ashraf M.T. Elewa
FIGURE 1. CT slices and digital reconstruction of the skull of Teyumbaita sulcognathus. (1) Digital reconstruction of the skull with the slicing planes showed in (2), (3), and (4). (2) Coronal slice of the top of the skull with the impressions of the olfactory portion of the brain. The dashed line marks the location of a shallow keel under the frontals which separates the olfactory bulbs. (3) Sagital slice with the preserved portion of the endocast. (4) Axial slice of the snout. Scale bar equals 5 cm, in (2), (3) and (4). Abbreviations: A, anterior; B, bottom; d.e.v, dorsal expansion of the vomer; d.p, dorsal peak of the endocast; e, endocast; L, left; n.c, nasal cavity; o.b, olfactory bulb; o.t, olfactory tract; P, posterior; R, right; T, top.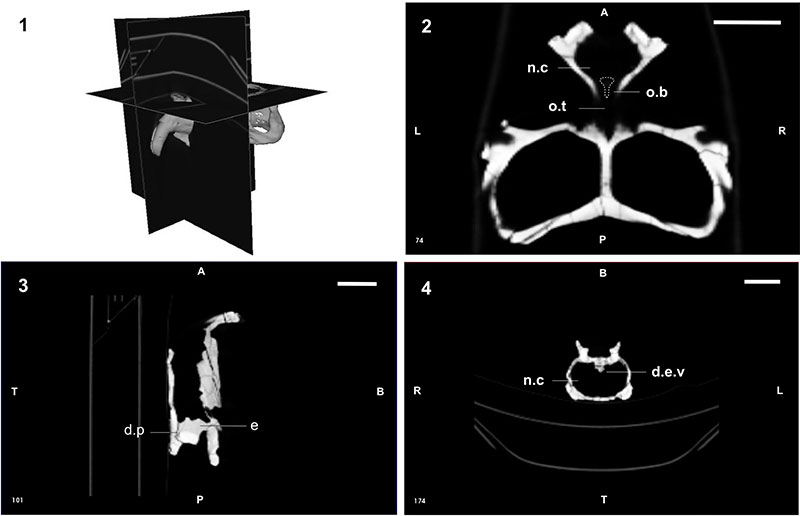 FIGURE 2. In (1) skull of Teyumbaita sulcognathus digitally rendered showing the position of a coronal slice (2), in which is possible to note a cast of what once was interpreted by Benton (1983) as the cast of a pineal organ in Hyperodapedon gordoni. However, the present data suggest that this structure is actually part of the dorsal peak of the endocast of T. sulcognathus and it represents probably a venous sinous or a dural expansion. Scale bar equals 5 cm, in (2). Abbreviation: d.p, dorsal peak.

FIGURE 3. Cranial endocast of Teyumbaita sulcognathus. (1) Semi-transparent skull for allowing the visualization of the endocast. The dotted line represents the inferred anterior contours of the brain based on the impressions of the olfactory bulbs. (2) Cranial endocast in left lateral view. Scale bars equal 5 cm and 1 cm in (1) and (2), respectively. Abbreviations: c, cerebellum; c.h, cerebral hemispheres; d.p, dorsal peak of the endocast; e.n, external nares; i.e, left inner ear; m.f, metotic foramen; o, orbit; o.b, olfactory bulb; o.t, olfactory tract.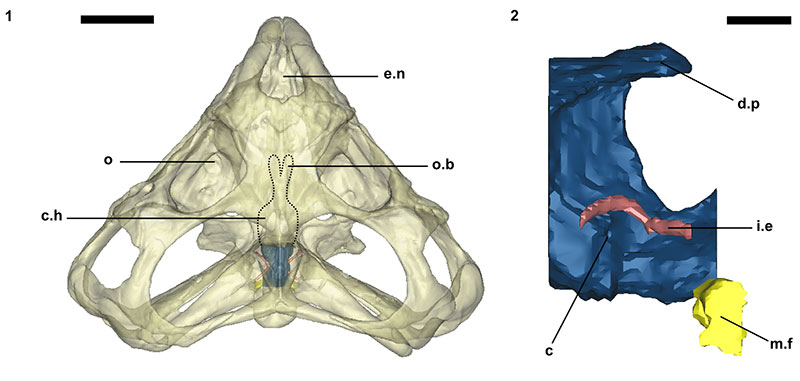 FIGURE 4. Nasal cavity of a generalized tetrapod (1) and the digital reconstruction of the right half of the snout of Teyumbaita sulcognathus in medial view (2). The horizontal and vertical arrows represent the airstream passing, respectively, to the olfactory part of the nasal cavity and the oral cavity and then the upper respiratory tract. In green, the nasal vestibule, which is followed by the nasal cavity artificially colored in pink. A concha is located within the nasal cavity proper of the generalized tetrapod and has its contours in red. The last portion of the nasal capsule is the nasopharyngeal duct here indicated in red, but its presence in T. sulcognathus is speculative. The dashed line indicates the course of the internal ridge that possibly marks the boundary between the vestibule anteriorly and the nasal cavity proper posteriorly. Scale bar equals 5 cm, in (2). Abbreviations: ch, choana; e.n, external nares; o, eye orbit; pm.b, pre-maxillary beak.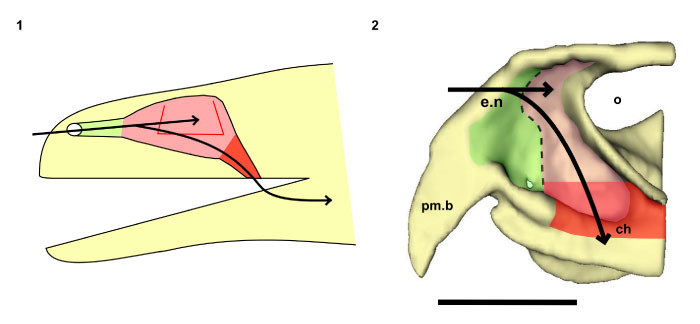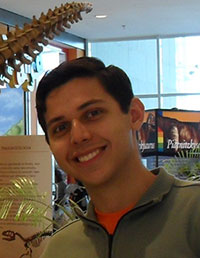 Marcos A.F. Sales
Departamento de Paleontologia e Estratigrafia
Instituto de Geociências
Universidade Federal do Rio Grande do Sul
Av. Bento Gonçalves
9500, Agronomia
CEP 91501-970
Porto Alegre, Rio Grande do Sul
Brazil
This email address is being protected from spambots. You need JavaScript enabled to view it.
Degree in Biology at the Universidade Federal do Ceará (UFC) in 2010, Masters in Geosciences by Universidade Federal do Rio Grande do Sul (UFRGS - 2013). Currently, is a Ph.D. student at UFRGS. His main interests are functional morphology and biogeography of fossil taxa, especially paleovertebrates.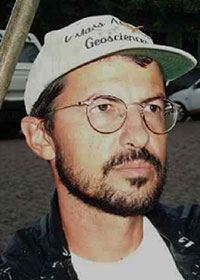 Cesar L. Schultz
Departamento de Paleontologia e Estratigrafia
Instituto de Geociências
Universidade Federal do Rio Grande do Sul
Av. Bento Gonçalves
9500, Agronomia, CEP 91501-970
Porto Alegre, Rio Grande do Sul, Brazil
This email address is being protected from spambots. You need JavaScript enabled to view it.
Cesar L. Schultz – Degree in Geology at the Universidade Federal do Rio Grande do Sul (UFRGS) in 1983, Masters in Geosciences (UFRGS - 1986) and Ph.D. in Science (UFRGS - 1991). Currently, is Associate Professor at the Geosciences Institute of UFRGS, supervisor of MSc. and Ph.D. students at the Postgraduate Program in Geosciences at UFRGS (PPGGeo / UFRGS). Has experience in Geosciences with an emphasis in Paleontology, Biostratigraphy and Taphonomy of paleotetrapods, working mainly in the Late Permian-Triassic interval. In parallel, develops popular science, with an emphasis on the virtual 3D reconstructions of the Permo-Triassic vertebrates of the Rio Grande do Sul State.