Articles
Late Jurassic marine vertebrates from Tlaxiaco, Oaxaca State, southern Mexico
Plain Language Abstract
The geographical position of Mexico during the Late Jurassic presents a great significance to understand different processes on the evolution and distribution of marine vertebrates because this territory was part of the Hispanic Corridor. This region was a sea route that joined the Western Tethys Sea and the Paleopacific Ocean and permitted the meeting and dispersion of the different marine faunas developed in those marine bodies. Unfortunately, the Jurassic marine vertebrate record in Mexico is scarce, fragmented, and poorly documented. This paper reports the discovery of fish and marine reptiles from two Late Jurassic localities in Oaxaca, Yosobé, and La Lobera, which constitute the most abundant and diverse assemblage in Mexico.These fossils include: 1) the first record of a North American Pleuropholidae fish, 2) the first Mexican Jurassic Planohybodus shark, 3) an abundant and well-preserved record of the pycnodont Gyrodus in Mexico and the Caribbean, and 4) the first record of ichthyosaurs, thalattosuchia crocodyliforms, turtles, and plesiosaurids coexisting in a single locality in the Hispanic Corridor.
Resumen en Español
Vertebrados marinos del Jurásico tardío de Tlaxiaco, Estado de Oaxaca, México meridional
Este trabajo da a conocer los primeros datos geológicos y paleontológicos de Yosobé y La Lobera, dos localidades de vertebrados del Jurásico tardío cercanas a Tlaxiaco, Oaxaca, México, las cuales forman parte de los
depósitos marinos de la Cuenca Tlaxiaco. La Lobera puede ser incluida en Cerro de Titania, una localidad histórica de invertebrados pobremente descrita, cuyos estratos Oxfordiano- Kimmeridgiano temprano de marga y caliza son informalmente llamados "Caliza con Cidaris". La Lobera contiene la fauna típica de la "Caliza con Cidaris" y algunos restos de vertebrados atribuibles al pez Scheenstia. Yosobé es un yacimiento fosilífero perteneciente a la secuencia de lutitas bituminosas del Jurásico tardío (Kimmeridgiano-Tithoniano) conocida informalmente como formación Sabinal. La asociación de Yosobé incluye microfósiles, plantas, invertebrados y vertebrados, de los cuales muchos están total o parcialmente bien conservados de manera tridimensional dentro de nódulos. Yosobé es sobresaliente por la abundancia y diversidad de sus peces y reptiles, que hacen de ésta la localidad de vertebrados más importante en toda la Cuenca Tlaxiaco. La asociación fósil de Yosobé descrita en este manuscrito incluye el primer reporte o el mejor registro regional de algunos grupos de peces, como lo es el primer registro de peces Pleuropholidae en América del Norte, el primer registro de un tiburón Planohybodus jurásico en México, los restos más completos del pycnodonte Gyrodus hasta ahora encontrados en México y el Caribe, así como la coexistencia de ichiosaurios, cocodriliformes thalattosuquios, tortugas y pliosaurios en la misma localidad ubicada dentro de la Región Oeste del Mar de Tetis y el Corredor Hispánico. Estudios futuros sobre la descripción y sistemática de algunos fósiles de estas localidades podrían tener importantes implicaciones para entender la paleobiogeografía y filogenia de los taxa que representan.
Palabras clave: Jurásico; Reptiles; Peces; Formación Sabinal; Cuenca Tlaxiaco; México
Traducción: Authors and Enrique Peñalver
Résumé en Français
Vertébrés marins du Jurassique supérieur de Tlaxiaco, État d'Oaxaca, au sud du Mexique
Ce papier fournit les premières données géologiques et paléontologiques de Yosobé et La Lobera, deux localités de vertébrés du Jurassique supérieur; ces deux localités font partie des dépôts marins du bassin Tlaxiaco, près de Tlaxiaco, Oaxaca, Mexique. La Lobera peut être inclus dans Cerro de Titania, une localité historique d'invertébrés inexactement décrite, dont le calcaire d'âge Oxfordien-début Kimméridgien et les strates de marne sont officieusement connu comme « Caliza con Cidaris ». La Lobera contient les fossiles typiques de « Caliza con cidaris » ainsi que des restes d'un seul poisson attribuable au genre Scheenstia. Yosobé est un affleurement fossilifère appartenant aux couches de schiste bitumineux du Jurassique supérieur (Kimméridgien-Tithonien) officieusement connu comme la formation Sabinal. L'assemblage fossile de Yosobé comprend des microfossiles, des plantes, des invertébrés et des vertébrés, dont beaucoup sont totalement ou partiellement conservés tridimensionnellement dans des nodules. Yosobé est la plus importante localité de vertébrés sur l'ensemble du bassin Tlaxiaco due au regroupement très abondante et diversifiée de poissons et de reptiles. L'assemblage de fossiles de Yosobé rapporté dans ce papier comprend le premier et le plus inclusif registre de taxons régionaux, comme le premier poisson nord-américain de la famille Pleuropholidae, le premier requin mexicain du Jurassique, Planohybodus, les spécimens les plus complets du pycnodont Gyrodus du Mexique et des Caraïbes, des ichtyosaures , des crocodyliformes, des thalattosuchiens, des tortues, et des pliosaurides dans une seule localité du domaine de la mer Téthys occidentale et du corridor hispanique. Des études descriptives et systématiques actuelles et futures sur des fossiles de ces localités peuvent avoir des implications paléobiogéographiques et phylogénétiques importantes dans le monde entier.
Mots-clés: Jurassique; Reptiles; Poissons; Formation Sabinal; Bassin Tlaxiaco; Mexique
Translator: Kenny J. Travouillon
Deutsche Zusammenfassung
Marine Wirbeltiere aus dem späten Jura von Tlaxiaco, Oaxaca Staat, südliches Mexico
Diese Arbeit liefert die ersten geologischen und paläontologischen Daten aus den beiden spätjurassischen Wirbeltier-Fundstellen Yosobé und La Lobera. Beide Lokalitäten sind Teil der marinen Ablagerungen des Tlaxiaco Beckens, in der Nähe von Tlaxiaco, Oaxaca, Mexico. La Lobera ist möglicherweise in Cerro de Titania enthalten, einer historischen Wirbellosen-Fundstelle, die inkorrekt beschrieben wurde und deren Kalk-und Mergelschichten mit einem Alter vom Oxfordium bis frühes Kimmerdigium informell als "Caliza con Cidaris bekannt sind. La Lobera beinhaltet die typischen "Caliza con Cidaris Fossilien und die Überreste eines einzigen Fisches, der der Gattung Scheenstia zugeteilt werden kann. Yosobé ist ein fossilreicher Aufschluss, der zu den spätjurassischen (Kimmeridgium-Tithonium) bitumenhaltigen Tonschiefern gehört, die informell als Sabinal Formation bekannt sind. Die Fossil-Assemblage von Yosobé beinhaltet Mikrofossilien, Pflanzen und Wirbeltiere, von denen viele dreidimensional und in Knollen erhalten sind. Yosobé ist wegen der reichlich vorhandenen und vielfältigen Gruppierungen von Fischen und Reptilien die wichtigste Wirbeltier-Fundstätte entlang des gesamten Tlaxiaco Beckens. Die Fossil-Assemblage aus Yosobé, über die diese Arbeit berichtet, beinhaltet die erste und umfassendste lokale Aufnahme von Taxa wie dem ersten nordamerikanischen pleuropholiden Fisch, dem ersten mexikanischen jurassischen Planohybodus-Hai, dem vollständigsten pycnodonten Gyrodus in Mexico und der Karibik, Ichthyosaurier, thalattosuche Crocodyliforme, Schildkröten und Pliosaurier, alle aus einer einzigen Fundstelle an der westlichen Tethys Domäne und dem hispanischen Korridor. Gegenwärtige und zukünftige beschreibende und systematische Untersuchungen zu einigen Fossilien aus diesen Fundstellen werden möglicherweise wichtige paläobiogeographische und phylogenetische Folgen weltweit haben.
Keywords: Jurassisch; Reptilien; Fische; Sabinal Formation; Tlaxiaco Becken; Mexiko
Translator: Eva Gebauer
Arabic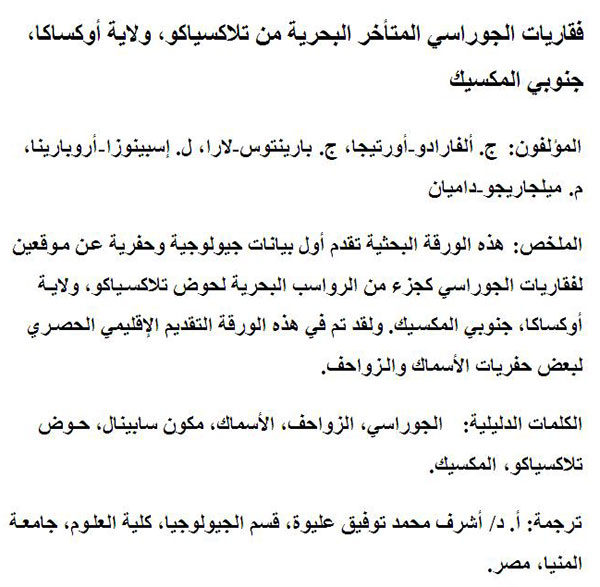 Translator: Ashraf M.T. Elewa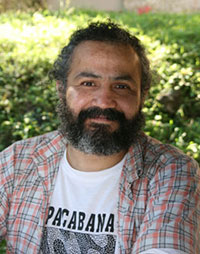 Jesús Alvarado-Ortega
Instituto de Geología
Universidad Nacional Autónoma de México
Circuito de la Investigación S/N
Ciudad Universitaria
Delegación Coyoacán
Distrito Federal 04510
México
This email address is being protected from spambots. You need JavaScript enabled to view it.
Born in 1966 in Zacatecaz, in 1998, I got the Bachelors degree (Biology) in the Sciences Faculty at Universidad Nacional Autónoma de México (UNAM). In 2005, I got my Doctoral degree in the Geological Institute (IGM), UNAM. During 2005-2007, I had a Posdoctoral position in the Biological Institute at Universidade do Estado do Rio de Janeiro, Brazil. Always I worked on Mexican fossil fishes under my advisor and friend Dr. Shelton P. Applegate. Since 2007, I´m in charge of the Tlayúa project as full-time Researcher at IGM, UNAM. The main interest of my work is focused on the taxonomical characterization of Mexican fossil vertebrates and the understood of phylogenetic and biogeographic patterns and process outlined on these fossils.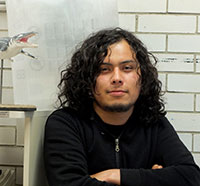 Jair Israel Barrientos-Lara
Posgrado en Ciencias Biológicas
Instituto de Geología
Universidad Nacional Autónoma de México
Circuito de la Investigación S/N
Ciudad Universitaria
Delegación Coyoacán
Distrito Federal, 04510
México
This email address is being protected from spambots. You need JavaScript enabled to view it.
In 2012, he graduated as a Biologist at the Facultad de Estudios Superiores Iztacala of the Universidad Nacional Autónoma de México. His Bachelor´s degree Thesis provided the preliminary studies on the pliosaurids of the Sabinal formation (Upper Jurassic) of south of Mexico. Currently, he is enrolled in a Master´s studies of the Programa de Posgrado en Ciencias Biológicas of the UNAM, in which he is addressing the taxonomic identification of all the Late Jurassic reptiles from the Tlaxiaco Basin. He is an active member of the team formed to develop projects of exploration, collection, and study of the marine and freshwater fossil vertebrates from Mexico, which are currently in process and led by Jesús Alvarado-Ortega.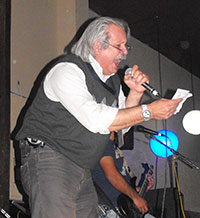 Luis Espinosa-Arrubarrena
Instituto de Geología
Universidad Nacional Autónoma de México
Circuito de la Investigación S/N
Ciudad Universitaria
Delegación Coyoacán
Distrito Federal, 04510
México
This email address is being protected from spambots. You need JavaScript enabled to view it.
He is an enthusiastic paleontologist. In 1979, he graduated as a Biologist at the Facultad de Ciencias of the Universidad Nacional Autónoma de Méxicoo and as Master in Sciences by California State University, Long Beach, in 1987. Although, initially his main scientific work was focused on fossil sharks, his partnership with different Mexican and foreigner researchers involved him in the other paleontological fields. Together with Shelton Pleasant Applegate, with whom he shared a passion for sharks, discovered the first Mexican Konservat-lagerstätte locality, the Tlayúa quarry. However, his greatest contribution has been to be an important participant in the advice and teaching of young and new paleontologists. Currently, he is the Head of the Museo de Geología (UNAM), where constantly he participates and promotes the diffusion and divulgation of the Earth Sciences. Also, he is a rock-star and singer of the Jurassic- Band.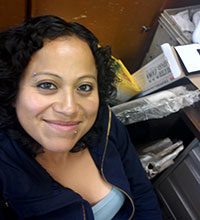 María del Pilar Melgarejo-Damián
Posgrado en Ciencias Biológicas
Instituto de Geología
Universidad Nacional Autónoma de México
Circuito de la Investigación S/N
Ciudad Universitaria
Delegación Coyoacán
Distrito Federal, 04510
México
This email address is being protected from spambots. You need JavaScript enabled to view it.
She is a Masters degree graduated and a young Mexican promising paleontologist. She received her degrees from the Universidad Nacional Autónoma de México (UNAM). During the bachelors, Pily used different statistical tools to develop a comprehensive quantitative framework to assess the taxonomical diversity of Pleistocene horses in Mexico. During her Masters, she worked on the morphological diversity of the ellimmichthyiform fishes supported in multivariate analyses. Pily has been a main participant in the projects of her advisor (Jesús Alvarado-Ortega), in the prospection and collection of vertebrates in different localities in Mexico as well as in the application of new analyses to characterize the taxonomical diversity and of Mexican fossils and their evolutionary processes and ontogenetic development.