Articles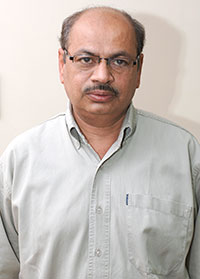 Sunil Bajpai
Department of Earth Sciences
Indian Institute of Technology
Roorkee 247667
Uttarakhand
India
Current address: Birbal Sahni Institute of Palaeobotany
Lucknow 226007
Uttar Pradesh
India
This email address is being protected from spambots. You need JavaScript enabled to view it.; This email address is being protected from spambots. You need JavaScript enabled to view it.
Sunil Bajpai is professor of paleontology and stratigraphy at the Department of Earth Sciences of the Indian Institute of Technology, Roorkee, but is currently on deputation as Director of the Birbal Sahni Institute of Palaeobotany Lucknow, India. He has done extensive research in the late Cretaceous through Tertiary sequences of peninsular India. His current research interest is mainly in the Indian Paleogene vertebrates, especially mammals, as well as Paleogene stratigraphy, biogeography and climates.

J.G.M. Thewissen (corresponding author)
Department of Anatomy and Neurobiology
Northeast Ohio Medical University
Rootstown, Ohio 44272
U.S.A.
This email address is being protected from spambots. You need JavaScript enabled to view it.
J.G.M. 'Hans' Thewissen, a native of the Netherlands, holds the endowed Ingalls-Brown Chair of Anatomy at the Northeast Ohio Medical University, where he teaches anatomy and embryology to medical students. His main field of study is the documentation of macroevolution in mammals, and he has published extensively on Eocene mammals from India and Pakistan, as well as on the paleontology, embryology, and anatomy of modern and fossil whales.
FIGURE 1. Indocetus ramani. 1-2, IITR-SB 2986 in lingual and labial view, left mandible with fragment of d3, complete d4 and m1, and unerupted m2. This specimen preserves the mandibular foramen (mandib. for.). 3-4, IITR-SB 4001 in palatal and right lateral view, palate and orbit with right P3-M1, showing supraorbital process (supraorb. proc.).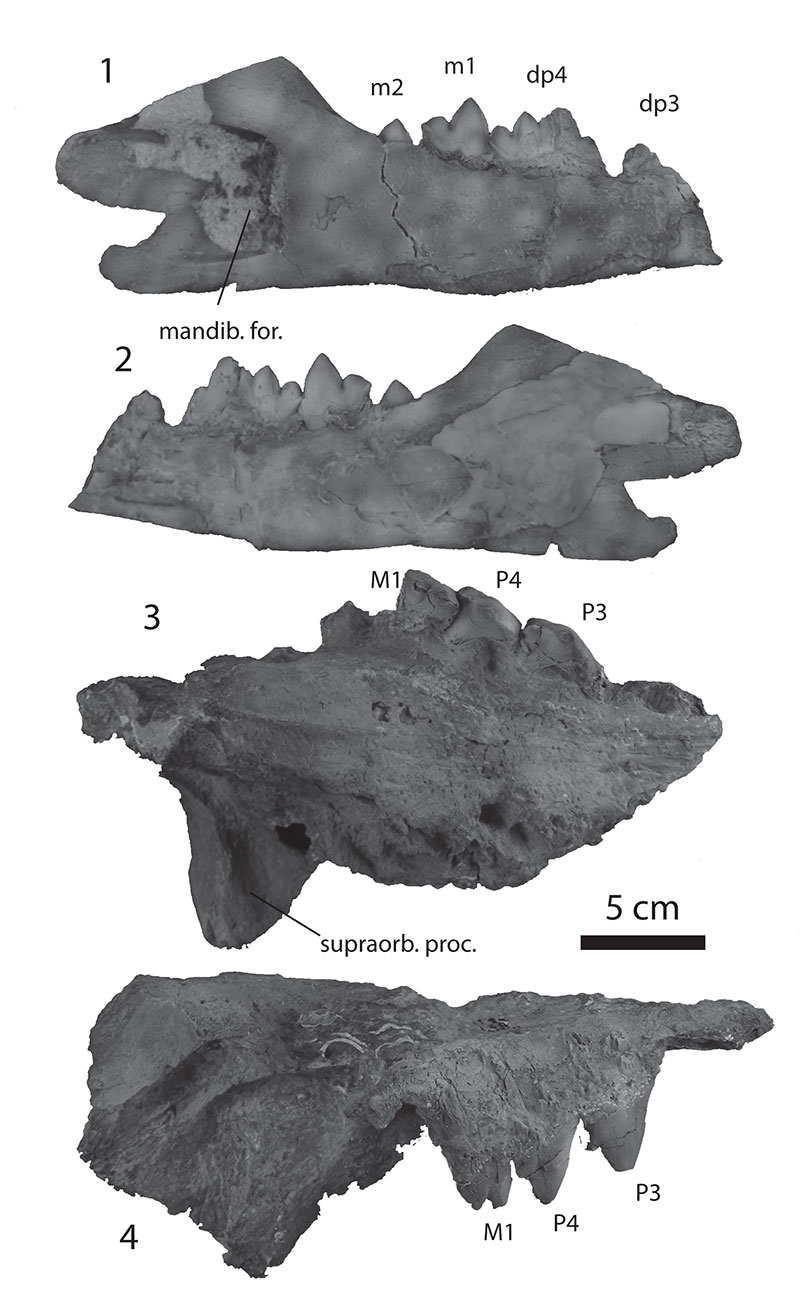 FIGURE 2. Length of M1 plotted against length of P4 for some protocetids, black squares are Indo-Pakistani species, white squares are from other continents. Tooth size data in this figure are based on casts or values given in Gingerich et al. (1995b, 2001b, 2005), Hulbert et al. (1998), and Bianucci and Gingerich (2011).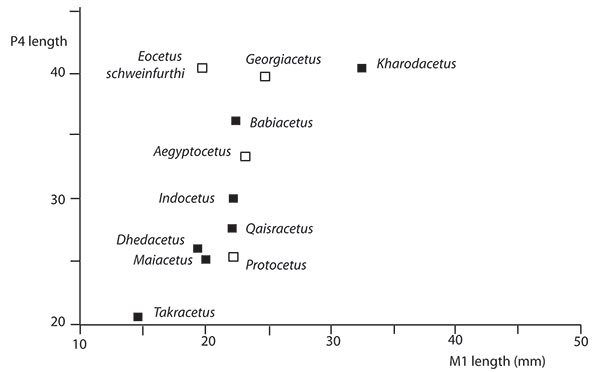 FIGURE 3. Kharodacetus sahnii. 1-5, IITR-SB 3189, rostrum in occlusal, right lateral, and dorsal view ( 1-3 ), and mandibles in left lateral and occlusal view ( 4-5 ).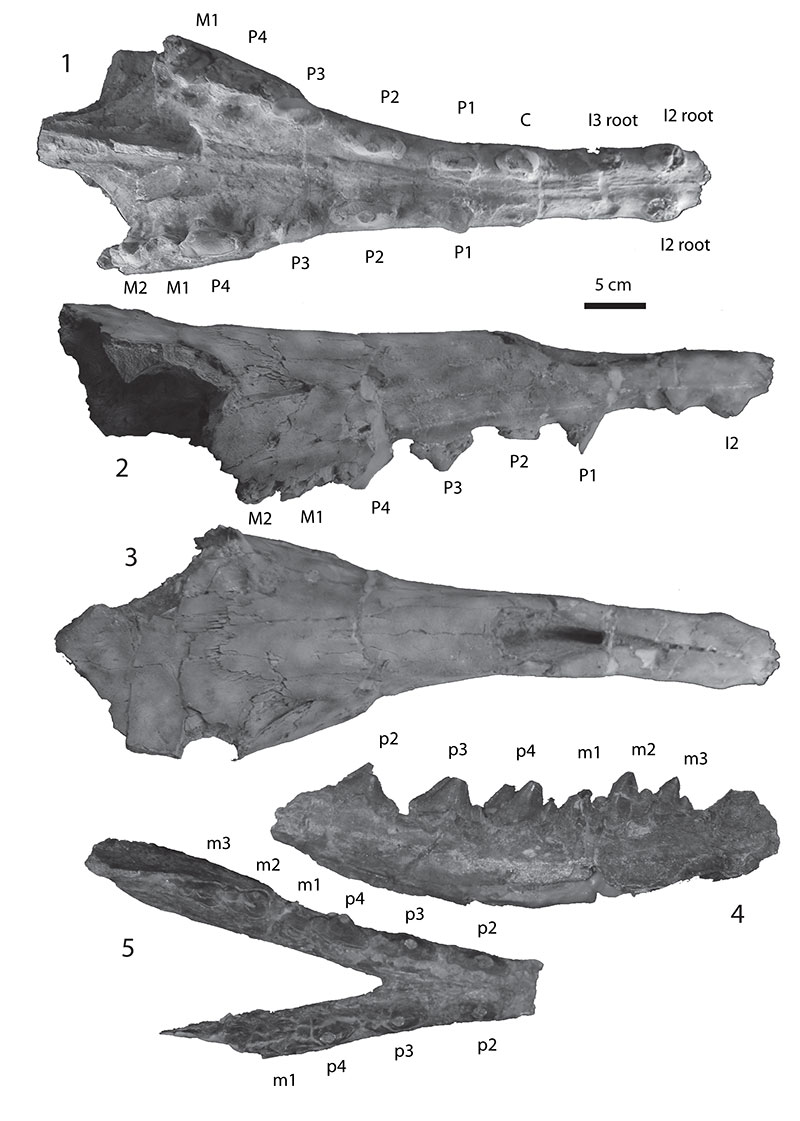 FIGURE 4. Kharodacetus sahnii. 1-4, IITR 3189, left upper dentition in labial and occlusal view ( 1-2 ), and left lower dentition in occlusal and labial view ( 3-4 ).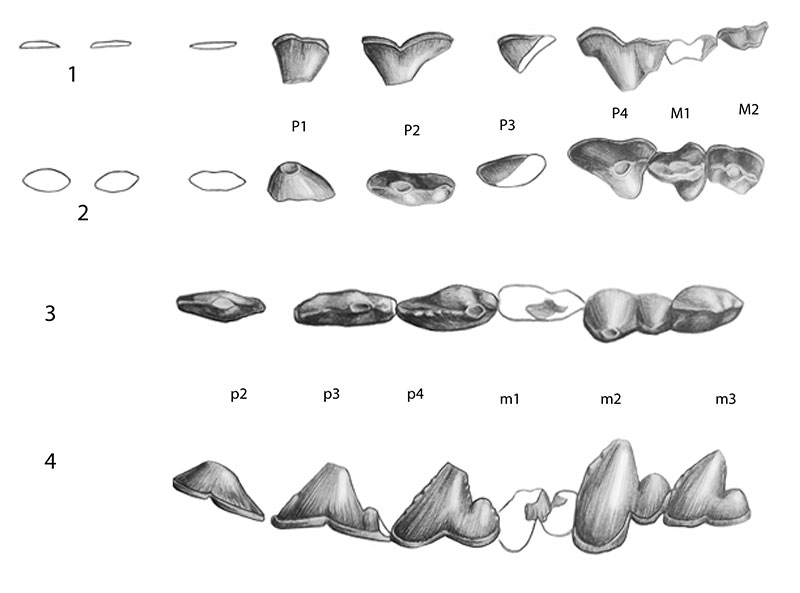 FIGURE 5. Dhedacetus hyaeni. IITR-SB 2870, holotype skull. 1-2, right lateral view and its outline drawing. 3-4, ventral view and its outline drawing. 5, detail of caudal view of right maxilla with M2 roots, lateral to left, ventral to top. Abbreviations: alv. edge, edge of alveolar process of M2; ant. root M2, anterolabial root of M2; bul., bulla; ext. aud., external auditory meatus; lat. max., broken edge of maxilla lateral to molar roots; nuc. cr., nuchal crest; occ. con., occipital condyle; pal., palate, medial to teeth; pos. orb., postorbital process; post. root M2, posterolabial root of M2. Abbreviations for teeth (I1, C, P4, M2) refer to wns or roots preserved. Scale bar pertains to 1 through 4.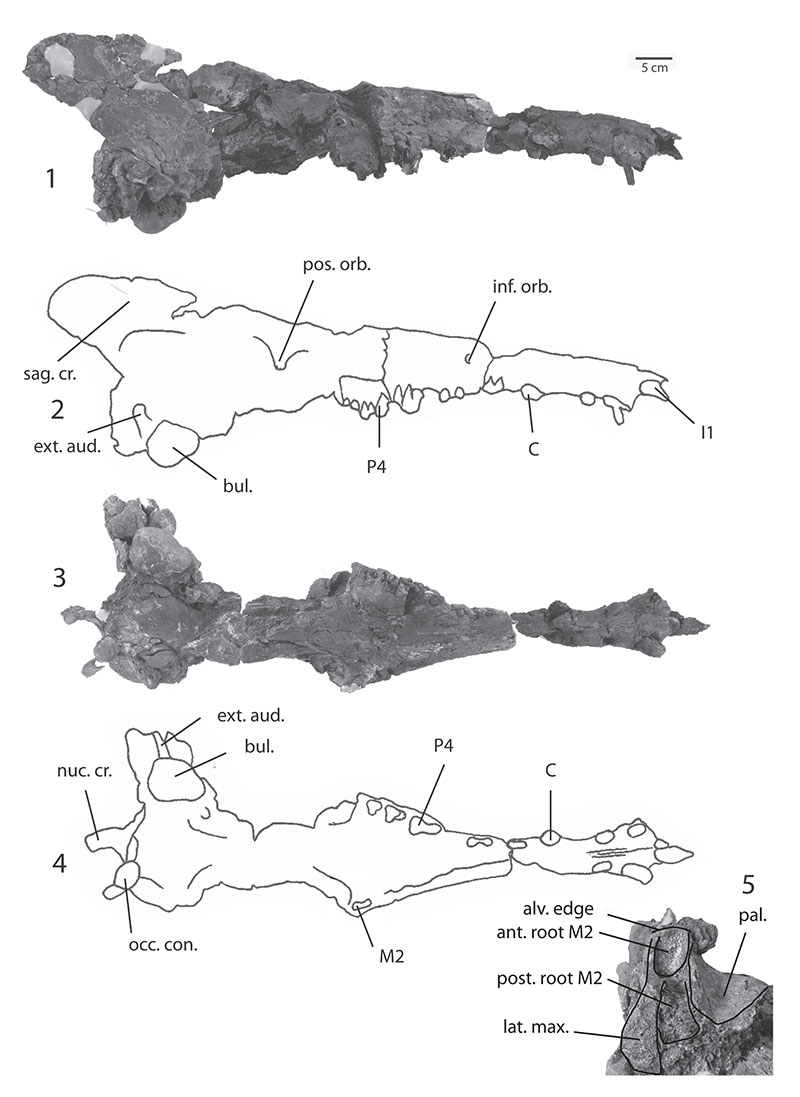 FIGURE 6. Dhedacetus hyaeni, IITR-SB 2870, upper teeth of holotype in occlusal ( 1 ) and labial ( 2 ) view. Crowns were in place when specimen was found, but were detached from skull in collecting and have not been reattached to the skull because of their fragility.

FIGURE 7. Dhedacetus hyaeni, IITR-SB 2870, holotype. 1, mid-thoracic vertebra in anterior view (2870.8). 2-3, mid-thoracic vertebra in anterior view and lateral view (2870.3). 4-5, anterior caudal vertebrae in lateral view (2870.II and IV), 6-7, anterior caudal vertebra in anterior and ventral view (2870.V). 8-9, anterior caudal vertebra in dorsal and lateral view (2870.VIII and VII).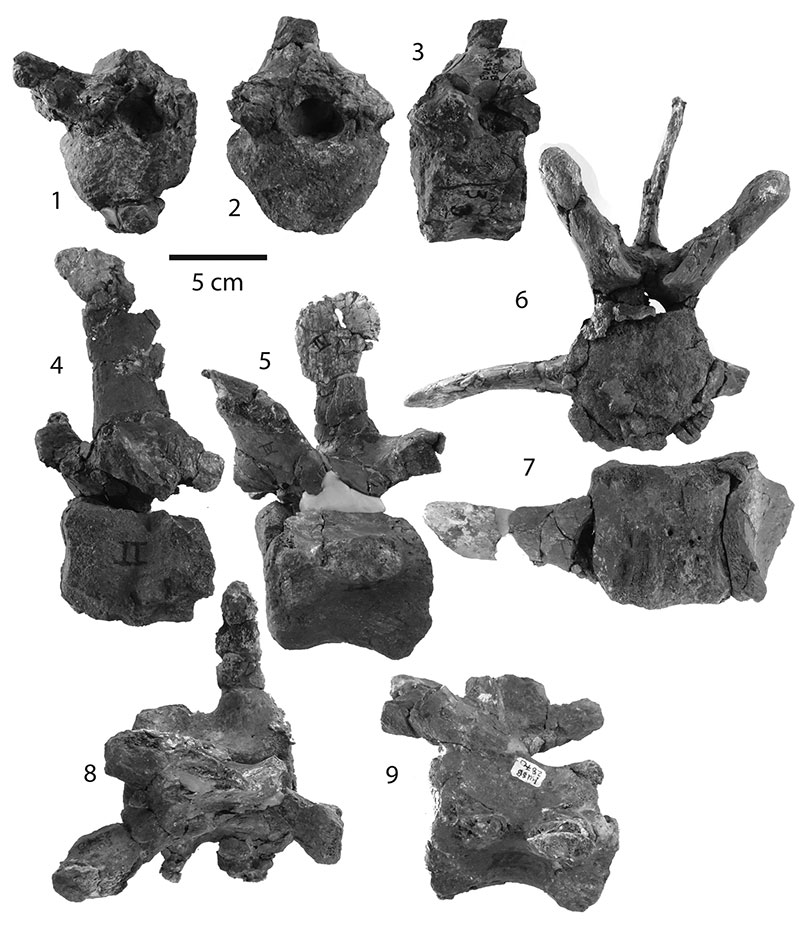 FIGURE 8. Dhedacetus hyaeni. 1-2, articulated caudal vertebrae of referred specimen (IITR-SB 2625) in left labial and dorsal view, respectively. Rostral is to right.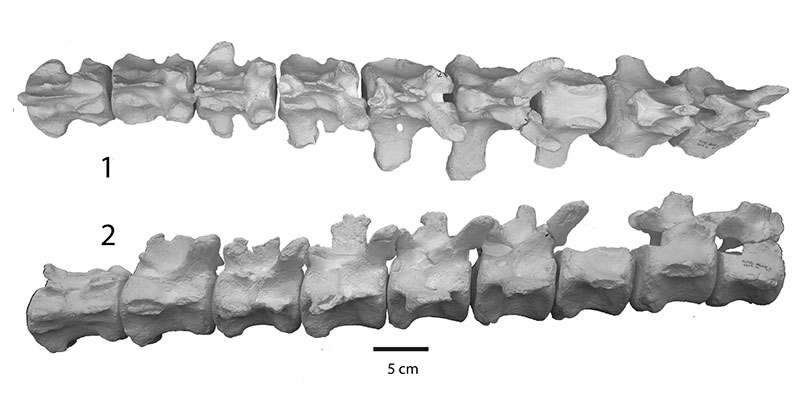 TABLE 1. Dental measurements (in mm) for Indian protocetids, W=width, L=length.
Lower Teeth
Lower Teeth
d3l
d3w
d4l
d4w
p2l
p2w
p3l
p3w
p4l
p4w
m1l
m1w
m2l
m2w
m3l
m3w
Kharodacetus sahnii
16.9
55.8
22.2
58.7
23.3
37.6
20.8
48.4
16.7
53.8
18.3
55
19.2
39.5
17.8
39.6
24
35.3
21
Kharodacetus sahnii
57.4
18.1
Indocetus ramani
40.8
13.3
43.8
12.7
Indocetus ramani
45.9
10.9
30.1
12.3
Babiacetus mishrai
41.8
14.9
53.2
15.6
42.3
31.4
16.7
27.3
15.2
Upper Teeth
Upper Teeth
P1L
P1W
P2L
P2W
P3L
P3W
P4L
P4W
M1L
M1W
M2L
M2W
M3L
Kharodacetus sahnii
32.7
14.8
49.4
17.9
45.7
21.1
40.1
29.5
27.7
14.2
45.5
17.6
39.5
33.7
31.9
27.8
26.3
Dhedacetus hyaeni
34.1
11.9
19.5
14.4
22.5
10.5
33.1
15
20.7
18.6
Indocetus ramani
34.4
29.8
22.3
22.3
21.8
Indocetus ramani
21.5
Indocetus ramani
33.4
17.9
28.5
22.2
23.4
20.9
TABLE 2 . Vertebral measurements (in mm) for Dhedacetus, first column for each identifies caudal vertebra.
IITR-SB 2625
IITR-SB 2870
caudal vertebral level
length
width
height
specimen number
length
width
height
specimen number
1
59
70
51
2625.0
2
63
68
50
2625.5
55
50
2870.II
3
68
66
55
2625.1
57
71
55
2870.III
4
71
63
57
2625.2
62
64
57
2870.IV
5
71
64
59
2625.3
66
64
54
2870.V
6
76
64
56
2625.4
67
59
55
2870.VI
7
76
63
62
2625.6
74
63
57
2870.VII
8
76
63
58
2625.7
73
62
57
2870.VIII
9
75
62
62
2625.8
10
74
56
57
2625.9
Protocetid cetaceans (Mammalia) from the Eocene of India
Plain Language Abstract
Cetacea (whales, dolphins, and porpoises) originated in the Indian subcontinent approximately 50 million years ago from small terrestrial mammals. For the first 8 million years of their evolution, cetaceans flourished, but did not disperse to other continent. The first family of whales able to colonize all oceans were the protocetids. A number of genera of protocetids have been described from all over the world, and there are more than ten species of Indian protocetids. We here describe several more Indian protocetids, including one form larger than any other from India, which we name Kharodacetus, and one for which much of the vertebral column was found, Dhedacetus.
Resumen en Español
text
Traducción: Enrique Peñalver
Résumé en Français
Les cétacés protocétides (Mammalia) de l'Éocène de l'Inde
Les cétacés protocétides de l'Éocène de l'Inde ont été décrits pour la première fois en 1975, mais de nombreux autres spécimens ont été découverts depuis et sont décrits ici. Tous les spécimens sont du district de Kutch dans l'État du Gujarat et ont été récupérés dans des dépôts âgés d'environ 42 millions d'années. Les espèces valides décrites dans le passé comprennent Indocetus ramani, Babiacetus indicus et B. mishrai. Nous décrivons ici de nouveaux spécimens pour Indocetus, comprenant des dents inférieures et les prémolaires de lait. Nous décrivons également deux nouveaux genres et espèces: Kharodacetus sahnii et Dhedacetus hyaeni. Kharodacetus est principalement basée sur un rostre et des mandibules avec des dents très bien conservés, et Dhedacetus est basé sur un crâne partiel avec sa colonne vertébrale. La faune de protocétide de Kutch diffère de la faune protocétide de la chaîne de Sulaiman pakistanaise, peut-être parce que cette dernière est en partie plus ancienne, et / ou parce qu'elle échantillonne un environnement différent, étant situés sur le bord de fuite de la plaque indienne, directement exposés à l'océan Indien.
Mots-clés: Eocène; mammifères; cétacés; Inde; nouvelles espèces; nouveau genre
Translator: Kenny J. Travouillon
Deutsche Zusammenfassung
Protocetide Cetaceen (Mammalia) aus dem Eozän von Indien
Protocetide Cetaceen wurden zuerst 1975 aus dem Eozän von Indien beschrieben, jedoch wurden seitdem viele weitere Stücke entdeckt, die hier beschrieben werden. Alle Stücke kommen aus dem Distrikt Kutch im Staat Gujarat und stammen aus 42 Millionen Jahre alten Ablagerungen. Valide Arten aus der Vergangenheit beinhalten Indocetus ramani, Babiacetus indicus und B. mishrai. Wir beschreiben hier neues Material von Indocetus, einschließlich der Unterkieferzähne und Milchmolaren. Wir beschreiben ebenso zwei neue Gattungen und Arten: Kharodacetus sahnii und Dhedacetus hyaeni. Kharodacetus basiert hauptsächlich auf einem sehr gut erhaltenen Rostrum und Mandibeln mit Zähnen und Dhedacetus basiert auf einem partiellen Schädel mit Wirbelsäule. Die protocetide Fauna von Kutch unterscheidet sich von der protocediden Fauna der pakistanischen Sulaiman Kette möglicherweise weil letztere teilweise älter ist und/oder weil sie ein unterschiedliches Milieu repräsentiert, da sie an der Hinterkante der indischen Platte, direkt am Indischen Ozean liegt.
Schlüsselwörter: Eozän; Mammalia; Cetacea; Indien; Neue Art; Neue Gattung
Translator: Eva Gebauer
Arabic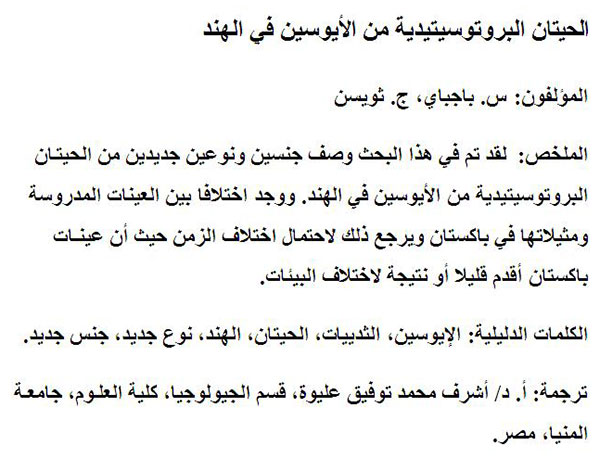 Translator: Ashraf M.T. Elewa