Articles
Synopsis of European Neogene freshwater gastropod localities: updated stratigraphy and geography
Plain Language Abstract
The last overview of Cenozoic localities with records of freshwater snails was provided more than 80 years ago. Since then, a wealth of new information has been published: new localities have been discovered and fundamental changes occurred in regional stratigraphy. In addition, many localities are still attributed to erroneous or outdated stratigraphical concepts even in recent papers. Geopolitical evolution of Europe has, furthermore, led to name changes and confusion regarding the exact origin of samples in collections. Here we provide a fully georeferenced dataset for almost all published Miocene and Pliocene freshwater gastropod localities (2,930), including updated stratigraphic data where possible. This basic update will serve as an essential fundament for any future work related to the freshwater deposits and respective faunas in general.
Glossary
Cenozoic: Time interval in Earth's history, ranging from 66.0 to present
Resumen en Español
Sinopsis de las localidades de gasterópodos de agua dulce del Neógeno europeo: actualización estratigráfica y geográfica
La última revisión de las localidades del Cenozoico con registro de gasterópodos de agua dulce fue proporcionada hace más de 80 años. Desde entonces se ha publicado una gran cantidad de nueva información: se han descubierto nuevas localidades y se han producido cambios fundamentales en la estratigrafía regional. Además, muchas localidades son consideradas todavía bajo conceptos estratigráficas erróneos u obsoletos incluso en trabajos recientes. Por otra parte, la evolución geopolítica de Europa ha supuesto cambios de nombre y también confusión respecto al origen exacto de las muestras en las colecciones. Aquí se ofrece un conjunto de datos completamente georreferenciados para casi todas las localidades publicadas con gasterópodos de agua dulce del Mioceno y Plioceno (2.930), incluidos los datos estratigráficos actualizados cuando ha sido posible. Esta actualización básica servirá como base esencial para cualquier trabajo futuro relacionado con los depósitos de agua dulce y sus respectivas faunas en general.
Palabras clave: moluscos de agua dulce; base de datos; datos georreferenciados; Mioceno; Plioceno
Traducción: Enrique Peñalver
Résumé en Français
Synopsis des localités de gastéropodes d'eau douce du Néogène Européen: mise à jour de la stratigraphie et dela géographie
Le dernier aperçu des localités Cénozoïque avec des registres de gastéropodes d'eau douce a été fourni il y a plus de 80 ans. Depuis lors, une multitude de nouvelles informations ont été publiées: de nouvelles localités ont été découvertes et des changements fondamentaux sont survenus dans la stratigraphie régionale. En plus, de nombreuses localités sont toujours attribuées à des concepts stratigraphiques erronés ou dépassés même dans les papiers récents. L'évolution géopolitique de l'Europe a, en outre, conduit à des changements et confusion de nom en ce qui concerne l'origine exacte d'échantillons dans les collections. Ici, nous avons fourni des ensembles de données entièrement géoréférencées pour presque toutes les localités publiés de gastéropodes d'eau douce du Miocène et du Pliocène (2930), y compris les données stratigraphiques mises à jour lorsque cela est possible. Cette mise à jour de base servira de fondement essentiel pour tout travail futur lié aux dépôts d'eau douce et aux faunes respectives en général.
Mots-clés: mollusques d'eau douce; base de données; données géoréférencées; Miocène; Pliocène
Translator: Kenny J. Travouillon
Deutsche Zusammenfassung
In progress
Translator: Eva Gebauer
Arabic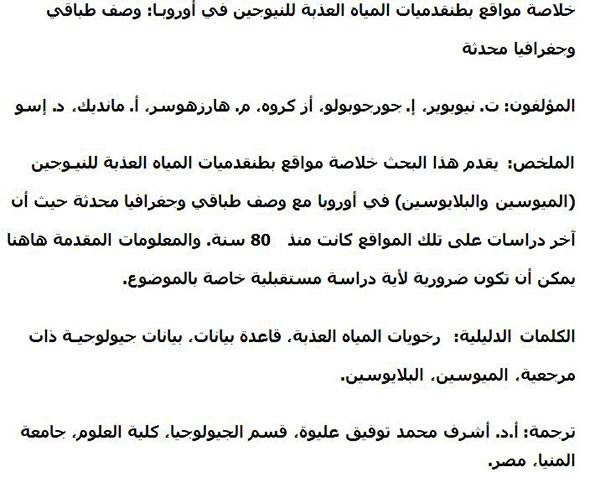 Translator: Ashraf M.T. Elewa
FIGURE 1. Compiled stratigraphic chart based on the Geological Time Scale 2012 (Gradstein et al., 2012) with correlation of regional units and biozones. The boundaries of the intervals used by Wenz (1923-1930) are adapted to those of the current stages. The color code corresponds to the colors in the supplied kml-file. For information about the sources see Methods chapter.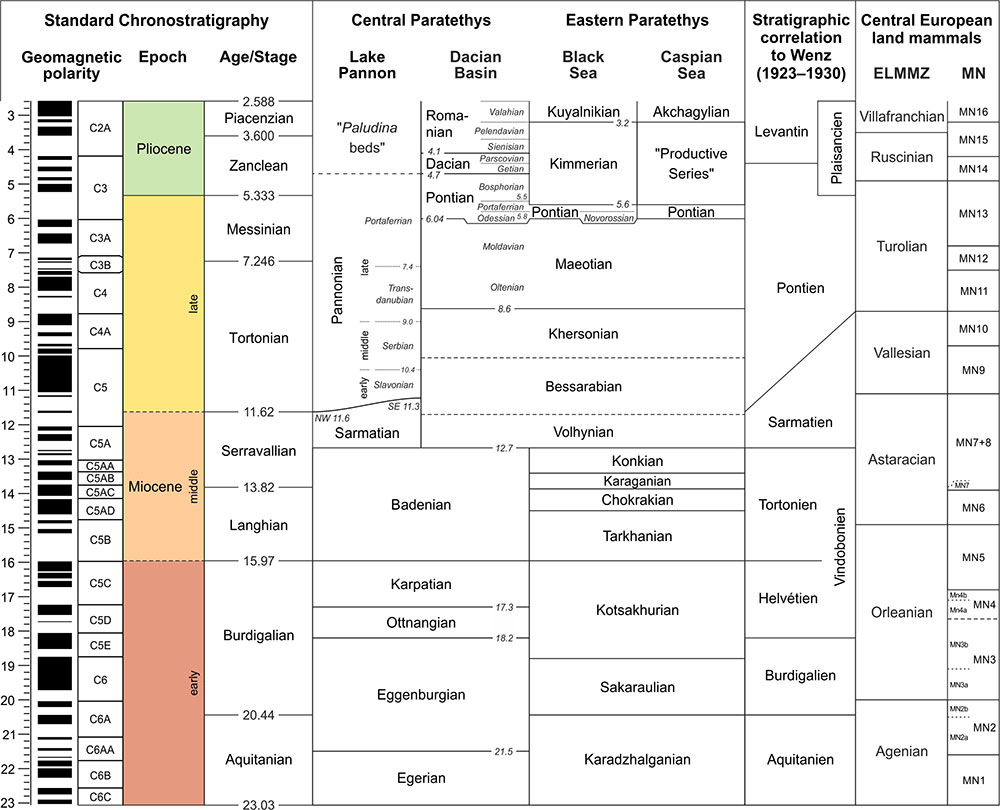 FIGURE 2. European Neogene localities with freshwater gastropod faunas reported in the literature (WGS 84 projection). For complete data see supplied online material. The underlying digital height model derives from Hijmans et al. (2005) and is freely available from www.worldclim.org.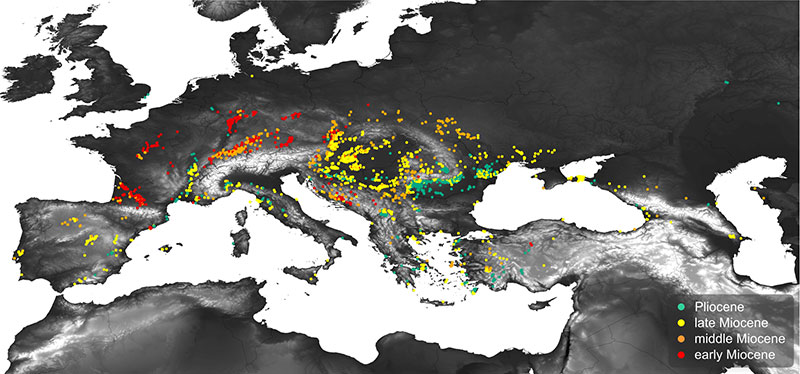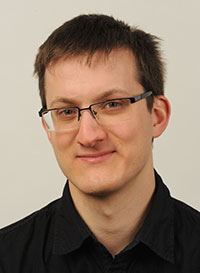 Thomas A. Neubauer
Geological-Paleontological Department
Natural History Museum Vienna
Burgring 7, 1010 Vienna
Austria
This email address is being protected from spambots. You need JavaScript enabled to view it.
Thomas A. Neubauer is a postdoctoral researcher at the Geological-Paleontological Department of the Natural History Museum Vienna, Austria. His current research focus is the reconstruction of species distribution patterns of freshwater gastropods during the Late Cenozoic, as part of the FreshGEN database project (www.marinespecies.org/freshgen). Above that, his research interests include the taxonomy and nomenclature of Cenozoic freshwater gastropods, as well as morphometric analyses and their applications in evolutionary studies.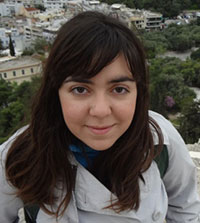 Elisavet Georgopoulou
Geological-Paleontological Department
Natural History Museum Vienna
Burgring 7, 1010 Vienna
Austria
This email address is being protected from spambots. You need JavaScript enabled to view it.
Elisavet Georgopoulou is a PhD student at the Natural History Museum Vienna, Austria. She holds a master degree in Management of Terrestrial and Marine Resources. Since 2013, she studies the biogeography of Pleistocene to Recent freshwater gastropods of Europe. A main focus is to reveal the underlying mechanisms that shaped the present distribution pattern.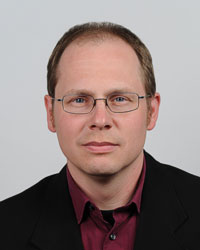 Andreas Kroh
Geological-Paleontological Department
Natural History Museum Vienna
Burgring 7, 1010 Vienna
Austria
This email address is being protected from spambots. You need JavaScript enabled to view it.
Andreas Kroh is a researcher and curator at the Natural History Museum in Vienna, Austria. His main research interests are echinoderms, with focus on the phylogeny, nomenclature and systematics of echinoids. Being a paleontologist with a strong interest in bridging the gap between life and earth sciences, he is actively involved in various efforts to ease access to biodiversity and taxonomic data on echinoids. He is involved in two database projects working towards this goal: the World Echinoidea Database (marinespecies.org/echinoidea) and the Echinoid Directory (www.nhm.ac.uk/research-curation/research/projects/echinoid-directory).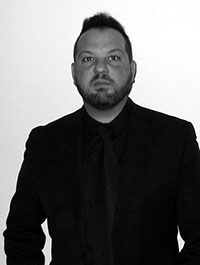 Mathias Harzhauser
Geological-Paleontological Department
Natural History Museum Vienna
Burgring 7, 1010 Vienna
Austria
This email address is being protected from spambots. You need JavaScript enabled to view it.
Mathias Harzhauser is head of the Geological-Paleontological department of the Natural History Museum Vienna. His research focuses on the biodiversity and biogeography of Cenozoic freshwater and marine mollusks, as well as the paleogeography and integrated stratigraphy of the circum-Mediterranean region.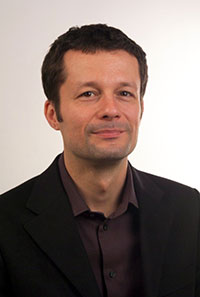 Oleg Mandic
Geological-Paleontological Department
Natural History Museum Vienna
Burgring 7, 1010 Vienna
Austria
This email address is being protected from spambots. You need JavaScript enabled to view it.
Oleg Mandic is a researcher and curator of Cenozoic invertebrate paleontology at the Natural History Museum in Vienna. He is Adjunct Professor at the Department of Paleontology, University of Vienna. His research interests include stratigraphy, paleoecology, paleogeography, depositional history, and mollusk taxonomy, with focus on Cenozoic Peri-Tethys basins.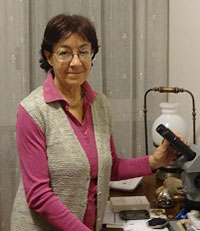 Daniela Esu
Dipartimento di Scienze della Terra
"Sapienza" University of Rome
P.le A. Moro 5, 00185 Rome
Italy
This email address is being protected from spambots. You need JavaScript enabled to view it.
Daniela Esu is Associate professor of Paleontology of the Department of Earth Science at the University Sapienza of Rome. Her current research focuses on systematics, palaeoecology, paleobiogeography and biochronology of the Neogene and Quaternary non-marine molluscan fauna of Italy and Mediterranean basins, including Messinian limnocardiids.