Articles
A shelduck coracoid (Aves: Anseriformes: Tadorna) from the arid early Pleistocene of the Qinghai-Tibetan Plateau, China
Plain Language Abstract
A fossil specimen from the early Pleistocene Qigequan Formation in the high elevation (near 2800 m) Qaidam Basin in Qinghai Province on the Qinghai-Tibetan Plateau in China appears to be derived from the shoulder girdle of a shelduck (genus Tadorna). This fossil is one of the few fossil birds known from the Qinghai-Tibet Plateau. Two species of shelducks inhabit these high elevation areas today (the Ruddy Shelduck and Common Shelduck), and the presence of a fossil member of this group suggests that shelducks may have inhabited this region since the early Pleistocene. Furthermore, this fossil demonstrates, along with some tooth fragments of an extinct elephant found nearby, that either the early Pleistocene climate of the Qaidam Basin was not as arid as previously thought or that the vertebrate response to the climate change and aridification was more gradual than the published fossil record would suggest.
Resumen en Español
Un coracoides de tarro (Aves: Anseriformes: Tadorna) del Pleistoceno temprano árido de la meseta tibetana-Qinghai, China
Un coracoide aviano del Pleistoceno temprano de la Formación Qigequan en la Cuenca Qaidam, Provincia de Qinghai, China, en la region septentrional de la meseta tibetana-Qinghai, representa uno de los pocos fósiles avianos de la región. El espécimen pertenece a un individuo del grupo de los tarros (Tadorna sp.), y su posición filogenética es respaldada por la presencia de una muesca procoracoides (donde el foramen procoracoides se encuentra enormemente reducido) y otros caracteres osteológicos. La hipótesis previa de aridez extrema en la Cuenca Qaidam durante el Pleistoceno temprano se ve disminuida por la presencia de un tarro (junto con el registro fósiles de proboscídeos) que es parte de un clado que se encuentra presente y se multiplica en la meseta tibetana-Qinghai en la actualidad. Además, la presencia de tarros chinos en ambientes áridos actuales probablemente evolucionó en combinación con el incremento de la elevación y la intensificación de la aridez en la región de la meseta desde el Pleistoceno temprano.
Palabras clave: Qinghai; Aves; Tadorna; tarro; Pleistoceno; cuenca Qaidam
Traducción: Diana Elizabeth Fernández
Résumé en Français
Un coracoïde de tadorne (Aves : Anseriformes : Tadorna) du Pléistocène ancien aride du Plateau du Qinghai-Tibet, Chine
Un coracoïde du Pléistocène ancien de la formation de Qiqequan (bassin du Qaidam, province de Qinghai, partie nord du Plateau du Qinghai-Tibet, Chine) représente un des seuls fossiles d'oiseaux de cette région. Le spécimen appartient à un individu de tadorne (Tadorna sp.), et sa position phylogénétique est soutenue par plusieurs caractères ostéologiques, notamment par la présence d'une encoche procoracoïde (correspondant à un foramen procoracoïde très fortement réduit). L'hypothèse émise précédemment d'une aridité extrême dans le bassin du Qaidam pendant le Pléistocène ancien est affaiblie par, outre le registre fossile des proboscidiens, la présence d'un tadorne faisant partie d'un clade qui est présent et se reproduit aujourd'hui sur le Plateau aride du Qinghai-Tibet. De plus, la présence de tadornes chinois dans des environnements arides aujourd'hui a probablement évolué avec l'augmentation de l'altitude et de l'aridité dans la région du Plateau depuis le Pléistocène ancien.
Mots-clés : Qinghai ; Aves ; Tadorna ; tadorne ; Pléistocene ; bassin du Qaidam
Translator: Antoine Souron
Deutsche Zusammenfassung
Ein Brandenten-Coracoid (Aves: Anseriformes: Tadorna) aus dem ariden frühen Pleistozän des Qinghai-Tibet Plateaus, China
Ein Vogel-Coracoid aus dem frühen Pleistozän der Qigequan Formation im Qaidam Becken, Qinghai Provinz, China, im nördlichen Teil des Qinghai-Tibet Plateaus stellt eines der wenigen Vogelfossilien aus der Region dar. Das Stück stammt von einer Brandente (Tadorna sp.). Die phylogenetische Position wird durch das Vorhandensein einer procoracoidalen Kerbe (wo das procoracoid Foramen deutlich verkleinert ist) und anderen osteologischen Merkmalen unterstützt. Die vorhergehende Hypothese einer extremen Aridität im Quaidam Becken während des frühen Pleistozän wird durch das Vorkommen einer Brandente abgeschwächt (zusammen mit dem Fossilrekord der Rüsseltiere) die Teil einer Klade ist, welche im heutigen ariden Qinghai-Tibet Plateau vorkommt und brütet. Zusätzlich entwickelten sich die chinesischen Brandenten der ariden Umgebungen von heute wahrscheinlich in Verbindung mit der Höhenzunahme des Gebirges und der zunehmenden Aridität in der Plateauregion während des frühen Pleistozän.
Schlüsselwörter: Qinghai; Vögel; Tadorna; Brandente; Pleistozän; Qaidam Becken
Translator: Eva Gebauer
Arabic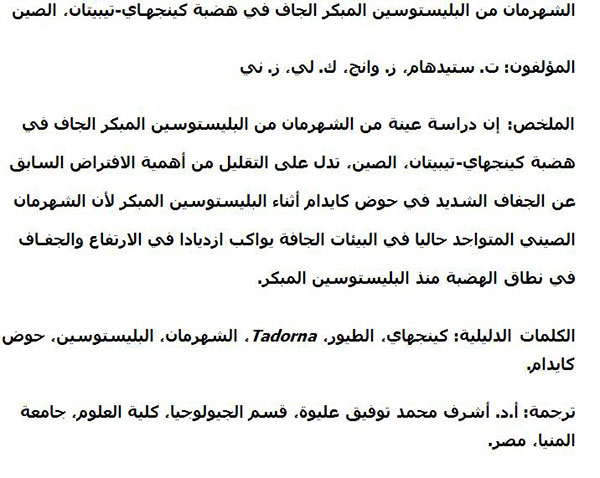 Translator: Ashraf M.T. Elewa
FIGURE 1. Comparison of the fossil Tadorna sp. (IVPP V20114) in 1 and 2 , and the coracoid of Tadorna ferruginea (IVPP OV1745) in 3 and 4. 1 and 3 are in dorsal view, and 2 and 4 are in ventral view. Abbreviations: g-glenoid; mr-muscular ridges; p-procoracoid process; pn-procoracoid notch; sa-sternal articulation; sc-scapular cotyle; and vs-ventral sternal articulation.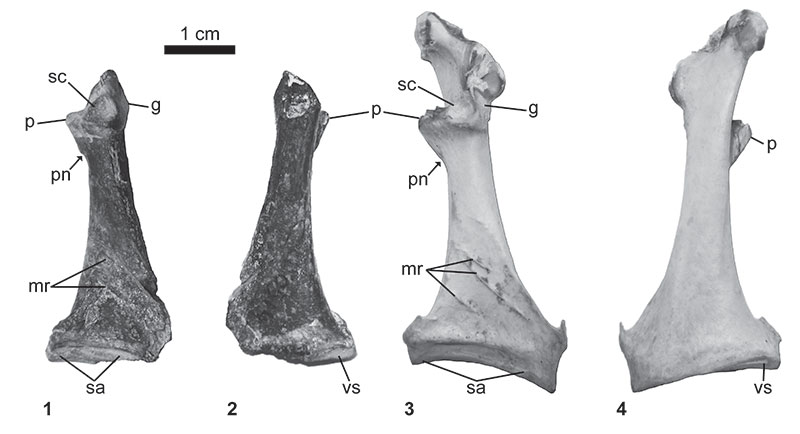 FIGURE 2. 1 map of Qaidam Basin showing major areas of vertebrate fossil-producing localities (modified from Wang et al., 2007, figure 1). 2 satellite image of the Yanhu Anticline showing the location of the fossil bird locality (CD0514) and other fossil mammal localities. 3 stratigraphic occurrences of vertebrate and ostracod fossils. Yanhu surface and drill sections, as well as ostracod occurrences, are based on unpublished data of Sun Zhencheng, archived in the China University of Petroleum.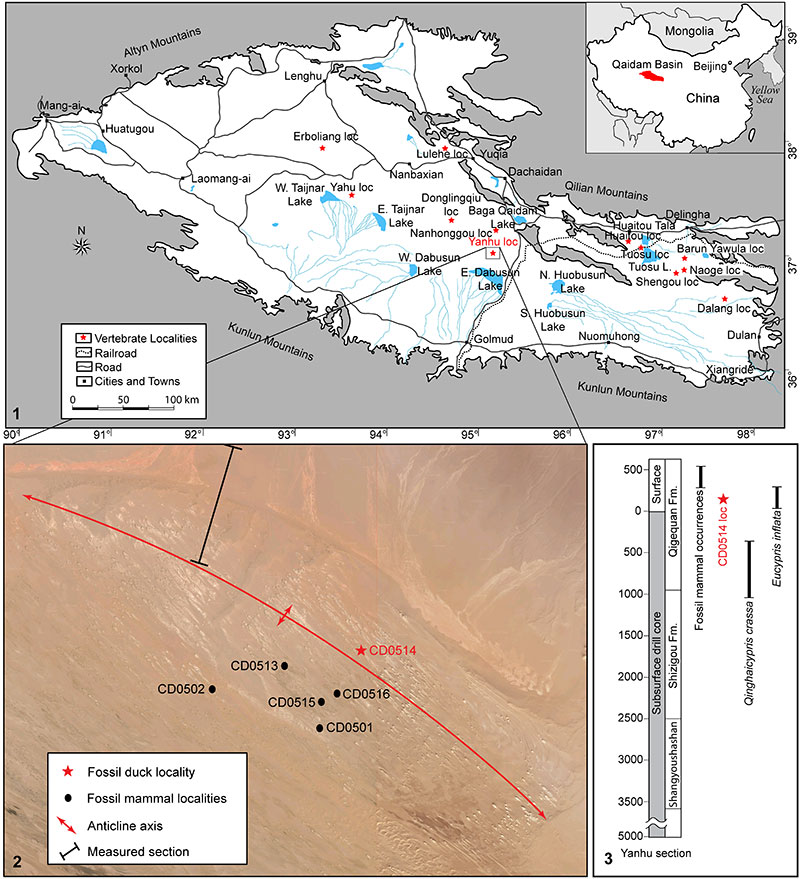 FIGURE 3. Photograph of the Yanhu Anticline exposures. The wind-eroded exposures are mostly oriented along the prevailing winter northwesterly winds, roughly coinciding with the axis of the anticline. Person in foreground for scale (photo by Xiaoming Wang).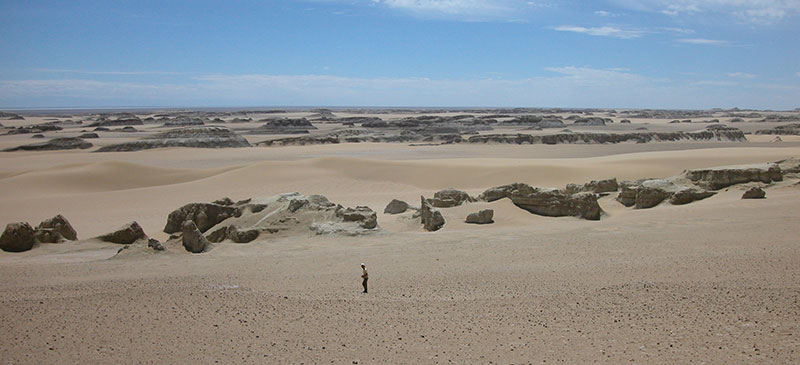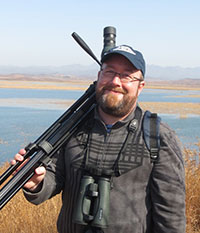 Thomas A. Stidham
Key Laboratory of Vertebrate Evolution and Human Origins
Institute of Vertebrate Paleontology and Paleoanthropology
Chinese Academy of Sciences
Beijing 100044
China
This email address is being protected from spambots. You need JavaScript enabled to view it.
In 2012, Tom moved to Beijing to join the Institute of Vertebrate Paleontology and Paleoanthropology, and is now an associate professor there. He is an avian paleontologist and integrative biologist focused mostly on understanding Cenozoic bird evolution, and he also is interested in the role of past climate change and related biogeographic dispersal in the formation of current global avian diversity. In addition to working on bird-based (and other non-mammalian) projects across China (and Asia), he also travels around China hiking, birding, and experiencing the cultural and culinary diversity of Asia.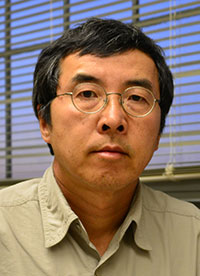 Xiaoming Wang
Department of Vertebrate Paleontology
Natural History Museum of Los Angeles County
900 Exposition Blvd.
Los Angeles, California 90007
USA
This email address is being protected from spambots. You need JavaScript enabled to view it.
Xiaoming is a Curator of Vertebrate Paleontology at the Natural History Museum of Los Angeles County, California and a Research Associate at the Institute of Vertebrate Paleontology and Paleoanthropology, Chinese Academy of Sciences, Beijing. He received his BSc at Nanjing University, Nanjing and his PhD at University of Kansas, Lawrence. He has led several paleontologic expeditions in Tibetan Plateau in recent years. Always focused on the interface of biologic and geologic evolution, his long-term interest is using vertebrate fossils to engage questions related to biostratigraphy, geochronology, and environmental changes in Tibet during the Cenozoic.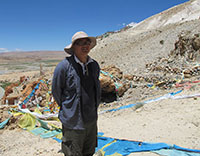 Qiang Li
Key Laboratory of Vertebrate Evolution and Human Origins
Institute of Vertebrate Paleontology and Paleoanthropology
Chinese Academy of Sciences
Beijing 100044
China
This email address is being protected from spambots. You need JavaScript enabled to view it.
Qiang Li is an Associate Professor at the Institute of Vertebrate Paleontology and Paleoanthropology (IVPP) of the Chinese Academy of Sciences, since 2008. He received his PhD from the IVPP in 2006. His field research spans Cenozoic terrestrial basins from across Qinghai-Xizang Plateau in addition to other provinces in western and northern China including Xinjiang, Gansu, and Inner Mongolia. He also has worked extensively in Southern Chinese basins. He has broad interests in the biodiversity and evolution of Cenozoic rodents, and recently published a book on the Neogene rodents of Inner Mongolia, documenting more than 100 fossil species.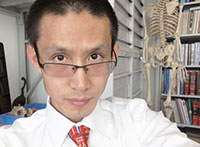 Xijun Ni
Key Laboratory of Vertebrate Evolution and Human Origins
Institute of Vertebrate Paleontology and Paleoanthropology
Chinese Academy of Sciences
Beijing 100044
China
This email address is being protected from spambots. You need JavaScript enabled to view it.
Xijun Ni obtained his Ph.D. in ecology at the Beijing Normal University. He had postdoctoral training in paleontology in the Institute of Vertebrate Paleontology and Paleoanthropology (IVPP) and the American Museum of Natural History (AMNH). He was recruited in the Hundred-Talent Program of the Chinese Academy of Sciences, and appointed as a research professor in the IVPP. He also is a research associate in paleontology at the AMNH and the Carnegie Museum of Natural History. His research interests lie in four areas: searching for primate, tree shrew, flying lemur, rodent, and other mammalian fossils; applying high resolution CT imaging and 3-dimensional digital reconstruction techniques in evolutionary and functional morphology studies; reconstructing phylogenetic relationships of primates, tree shrews, flying lemurs, rodents and other major groups of mammals based on large combined data matrices; and paleoecology and biochronology inference based on studying mammalian faunas.