Articles
Fossil Mysticeti from the Pleistocene of Santa Maria Island, Azores (Northeast Atlantic Ocean), and the prevalence of fossil cetaceans on oceanic islands
Plain Language Abstract
Cetaceans are common in the waters around volcanic oceanic islands. The Azores archipelago is a group of nine islands located in the NE Atlantic Ocean. For over a century, these islands were one of the most important sites in the whorl for land-based whale hunting. Nowadays, this activity was replaced by a growing and very important whale-watching tourism industry. Twenty-eight living cetacean species have been reported in the surrounding waters of the Azores.
Santa Maria is a volcanic oceanic island located in the archipelago of the Azores (NE Atlantic Ocean). This small island has an outstanding fossiliferous content, which is related with a complex and rare geological history: the first island emerged at about 6 Ma and for the next two million years it subsided at a rate of about 100m/Ma, disappearing under water and becoming a large submarine bank with a flat top - a guyot, as marine geologists call it - where thousands of marine organisms (including whales, sharks and many invertebrates) died and got entrained on the sediments. A new volcanic phase was responsible for the re-emergence of the island. During the last 3.5 Ma, the island has been uplifted for about 230 m so that today many outcrops with abundant fossil content are visible inland and along the shores of the island.
This paper reports the world's second record of a fossil cetacean from the Last Interglacial (Pleistocene age). We should stress that in over 20,000 oceanic islands on our planet, to the best of our knowledge, remains of fossil cetaceans have only been reported from the Neogene of Miyako Island (Japan), the Mio-Pliocene of Santa Maria Island (Azores), the Pliocene of the Balearic Islands, and the Pleistocene of Nauru Island and again of Santa Maria Island, thus attesting the rarity of such fossils in volcanic oceanic islands!
Resumen en Español
Mysticeti fósiles del Pleistoceno de la Isla Santa María, Azores (Océano Atlántico Norte), y la prevalencia de cetáceos fósiles en islas oceánicas
Los restos fósiles de Cetacea son globalmente conocidos de sedimentos marinos ribereños (de nearshore) a lo largo de líneas de costa continentales, pero son pobremente conocidos en archipiélagos de islas volcánicas oceánicas. Aquí, informamos acerca de material pleistoceno de cetáceos fósiles de afloramientos de edad neógena tardía y cuaternaria de la Isla Santa María del archipiélago de las Azores en el Océano Atlántico Norte. Estos restos consisten de un fragmento aislado y altamente erodado de la mandíbula de un misticeto barbado de tamaño mediano a grande (i.e., Chaeomysticeti), el cual fue expuesto en el nivel del estadio isotópico marino 5 (subestadio MIS 5e) en Praia do Calhau, luego de que el huracán Gordon golpeara la isla de Santa María en agosto del 2012. Mientras que este caso representa solamente la segunda descripción de cetáceos pleistocenos de islas volcánica oceánicas, predecimos que los cetáceos fósiles son probablemente sub-informados en islas oceánicas, dada su abundancia y riqueza actual cerca de archipiélagos de islas cuya geomorfología y oceanografía proveen importantes escenarios para la migración y patrones de historia de vida de los cetáceos actuales.
Palabras clave: Mysticeti fósiles; Pleistoceno; MIS 5e; islas oceánicas; Azores; Atlántico NE
Traducción: Diana Elizabeth Fernández
Résumé en Français
Mysticeti fossiles du Pléistocène de l'île de Santa Maria, Açores (océan Atlantique Nord-Est) et la fréquence des cétacés fossiles sur les îles océaniques
Des restes fossiles de Cetacea sont connus dans les sédiments marins le long des littoraux continentaux du monde entier, mais ils sont mal représentés dans les archipels océaniques volcaniques. Nous présentons dans cet article du matériel fossile pléistocène de cétacé provenant d'affleurements datant du Néogène récent et du Quaternaire sur l'île de Santa Maria (archipel des Açores, océan Atlantique Nord). Ce matériel comprend un fragment de mandibule isolé et fortement usé appartenant à un mysticète de taille moyenne à grande (Chaeomysticeti). Il a été découvert dans le niveau du stade isotopique marin 5 (sous-stade SIM 5e) à Praia do Calhau, après que l'ouragan Gordon a frappé l'île de Santa Maria en août 2012. Bien que ce ne soit que la deuxième description de cétacés pléistocènes provenant d'îles océaniques volcaniques, nous prédisons que les cétacés fossiles sont probablement communs sur les îles océaniques, et ce en raison de leur abondance et leur richesse à proximité des archipels océaniques actuels. La géomorphologie et l'océanographie de ces archipels constituent en effet des cadres importants pour les schémas de migrations et d'histoire de vie des cétacés actuels.
Mots-clés : Mysticeti fossiles ; Pléistocène ; SIM 5e ; îles océaniques ; Açores ; Atlantique Nord-Est
Translator: Antoine Souron
Deutsche Zusammenfassung
Fossile Mysticeti aus dem Pleistozän der Santa Maria Insel, Azoren (nordöstlicher Atlantik) und die Verbreitung fossiler Cetacea an ozeanischen Inseln
Fossile Überreste von Cetacea sind weltweit von küstennahen marinen Sedimenten entlang der kontinentalen Küstenlinien bekannt, von ozeanischen Vulkaninseln dagegen jedoch nur wenig. Hier berichten wir über pleistozänes Cetacea-Fossilmaterial aus dem späten Neogen und Quartär der Santa Maria Insel (Azoren) im Nordatlantik. Die Überreste bestehen aus einem isolierten und stark verwitterten Unterkieferfragment eines mittelgroßen bis großen bartentragenden Mysticeten (i.e., Chaeomysticeti), das im marinen Isotopenstufe 5 (Unterstufe MIS 5e)-Niveau in Praia do Calhau freigelegt worden war, nachdem der Hurrikan Gordon im April 2012 die Santa Maria Insel getroffen hatte. Obwohl dieser Fund erst die zweite Beschreibung eines pleistozänen Cetacea von ozeanischen Vulkaninseln ist, prognostizieren wir, dass fossile Cetacea möglicherweise an ozeanischen Vulkaninseln unterrepräsentiert sind wenn man von ihrer heutigen Häufigkeit und Fülle in der Nähe von ozeanischen Vulkaninseln ausgeht, deren Geomorphologie und Ozeanographie eine wichtige Umgebung für die Migration und die Lebensgewohnheiten von heute lebenden Cetacea darstellt.
Schlüsselwörter: fossile Mysticeti; Pleistozän; MIS 5e; Ozeaninseln; Azoren; Nordostatlantik
Translator: Eva Gebauer
Arabic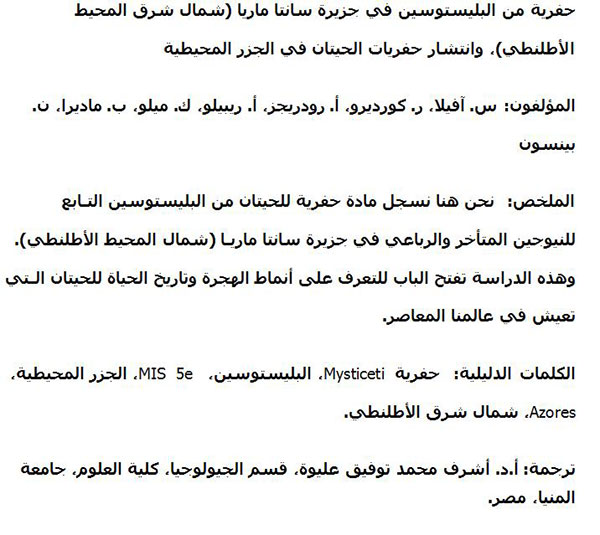 Translator: Ashraf M.T. Elewa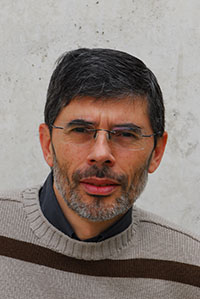 Sérgio P. Ávila
CIBIO, Centro de Investigação em Biodiversidade e Recursos Genéticos
InBIO Laboratório Associado
Pólo dos Açores
Departamento de Biologia da Universidade dos Açores
Campus de Ponta Delgada
Apartado 1422, 9501-801 Ponta Delgada
Açores, Portugal; and
MPB-Marine PalaeoBiogeography group
University of the Azores
Ponta Delgada, Portugal; and
Faculdade de Ciências da Universidade do Porto
Rua do Campo Alegre s/n,
4169-007 Porto
Portugal
This email address is being protected from spambots. You need JavaScript enabled to view it.
Sérgio P. Ávila is the head of the Marine PalaeoBiogeography research group at the University of the Azores. He is also in charge of the recent and fossil collection of marine invertebrates at the Department of Biology, University of the Azores. He received his M.Sc. and Ph.D. from the University of the Azores, where he completed two postdoctoral research fellowships. Sérgio is now a Research Associate of CIBIO-Açores and a marine (palaeo)biogeographer with a strong expertise in the taxonomy, ecology and biogeography of the NE Atlantic littoral marine molluscs. His main lines of research deal with the evolutionary patterns and processes of marine life in the shallow habitats of volcanic oceanic islands. To understand how dispersal, colonization and the subsequent speciation has happened in such places, Sérgio uses an holistic approach based on multidisciplinary studies performed in volcanic archipelagos (e.g., Azores, Madeira, Selvagens and Canaries), with a focus on the fossil record of Santa Maria Island (Azores). He is the leader of the yearly international workshops "Palaeontology in Atlantic Islands", during which students and worldwide experts in volcanology, sedimentology, ichnology and biology (invertebrate taxonomy) join efforts in fieldwork at volcanic oceanic islands. He is currently working on the sustainable use and preservation of the rich palaeontological heritage of the Azores, with several projects that join Science with outreach activities (e.g., the Museum "Casa dos Fósseis"). He also keeps strong connections to the media (e.g., by producing TV programs) and to local tourism businessmen (e.g., by producing the scientific contents of the "Route of the Fossils" and especially by designing a marine tour, unique in the Atlantic Ocean, where outcrops and their fossils are visited during a tour by boat around the island of Santa Maria).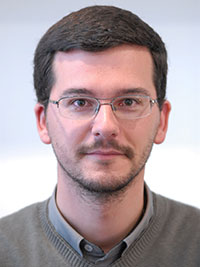 Ricardo Cordeiro
CIBIO, Centro de Investigação em Biodiversidade e Recursos Genéticos
InBIO Laboratório Associado
Pólo dos Açores
Departamento de Biologia da Universidade dos Açores
Campus de Ponta Delgada, Apartado 1422
9501-801 Ponta Delgada, Açores
Portugal; and MPB-Marine PalaeoBiogeography group
University of the Azores
Ponta Delgada
Portugal
This email address is being protected from spambots. You need JavaScript enabled to view it.
Ricardo Cordeiro is a marine biologist and Ph.D. student at the University of the Azores. His main research interest is related with the taxonomy, biodiversity, and biogeography of the marine gastropods present in the Azores. He is also involved in the study of the Neogene fossils of Santa Maria Island (Azores).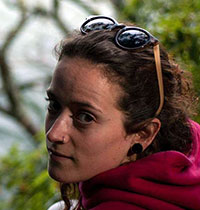 Ana R. Rodrigues
Departamento de Biologia da Universidade dos Açores
Campus de Ponta Delgada
Apartado 1422, 9501-801 Ponta Delgada
Açores
Portugal
This email address is being protected from spambots. You need JavaScript enabled to view it.
Ana Rita Rodrigues is a B.Sc. student in Biology (minor in Marine Biology) at the University of the Azores. She is currently working on the Pleistocene fossil record of Santa Maria Island.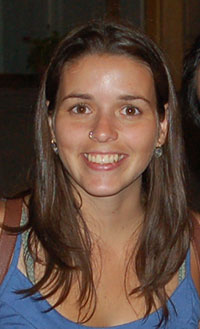 Ana C. Rebelo
CIBIO, Centro de Investigação em Biodiversidade e Recursos Genéticos
InBIO Laboratório Associado
Pólo dos Açores, Departamento de Biologia da Universidade dos Açores
Campus de Ponta Delgada, Apartado 1422
9501-801 Ponta Delgada
Açores, Portugal; and MPB-Marine PalaeoBiogeography group
University of the Azores, Ponta Delgada
Portugal; and SMNS - Staatliches Museum für Naturkunde Stuttgart
Rosenstein 1, D-70191 Stuttgart
Germany
This email address is being protected from spambots. You need JavaScript enabled to view it.
Ana Cristina Rebelo has a degree in Biology (2008) by the University of Azores and a Masters degree in Geology (2010) by the University of Lisbon. She is currently doing a Ph.D. at CIBIO-InBIO/Azores, at the University of the Azores, entitled "Miocene Rhodoliths of the Atlantic Archipelagos (Azores, Madeira, Canaries and Cape Verde): Systematics, Palaeoecology and Palaeobiogeography", under the supervision of Sérgio P. Ávila. The PhD is being done in cooperation with the Natural History Museum in Stuttgart (Germany), under the supervision of Michael W. Rasser.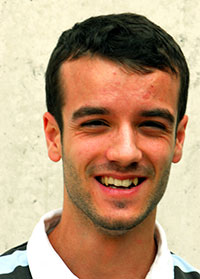 Carlos Melo
MPB-Marine PalaeoBiogeography group
University of the Azores
Ponta Delgada, Portugal; and Departamento de Geociências da Universidade dos Açores
Campus de Ponta Delgada
9501-801 Ponta Delgada
Açores
Portugal
This email address is being protected from spambots. You need JavaScript enabled to view it.
Carlos Melo is a Biologist (minor in Geology) by the University of the Azores. He is currently a M.Sc. student at the Department of Geosciences of the University of the Azores. His main research interests are related to the geomorphological evolution of oceanic volcanic islands (coastal sediment transport and geomorphologic evolution of gravel islands) by the use of both geospatial and land survey data. Since 2009 he makes part of the Marine PalaeoBiogeography Working Group (MPB) were he has been developing and assisting several works regarding the Neogene fossil record of Santa Maria Island and the geological evolution of this island.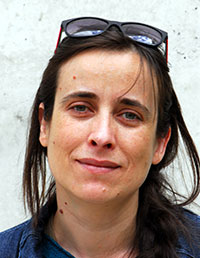 Patricia Madeira
CIBIO, Centro de Investigação em Biodiversidade e Recursos Genéticos
InBIO Laboratório Associado
Pólo dos Açores
Departamento de Biologia da Universidade dos Açores
Campus de Ponta Delgada
Apartado 1422
9501-801 Ponta Delgada
Açores
Portugal; and MPB-Marine PalaeoBiogeography group
University of the Azores
Ponta Delgada
Portugal
This email address is being protected from spambots. You need JavaScript enabled to view it.
Patricia Madeira natural from Lisbon, moved to São Miguel Island (Azores) to study Biology at the University of the Azores. After graduation she joined the newly form MPB group (Marine Marine PalaeoBiogeography Research Group at the University of the Azores) where she started exploring the relatively unknown echinoid fauna from the fossiliferous outcrops of Santa Maria Island. Her Ph.D. project aims to study both extant and fossil echinoderm fauna in order to understand the processes and patterns that shape the present-day marine fauna in remote oceanic islands such as the Azores. Over the years, she was also involved in educational activities addressing questions such as "Why is the ocean blue?" to what is beyond our green planet.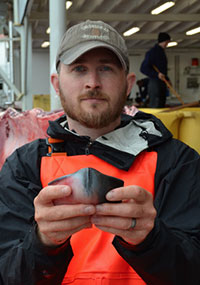 Nicholas D. Pyenson
Department of Paleobiology
National Museum of Natural History
Smithsonian Institution, NHB, MRC 121
PO Box 3701
10th & Constitution N
Washington, DC 20013-7012
USA
This email address is being protected from spambots. You need JavaScript enabled to view it.
Nick Pyenson is the curator of fossil marine mammals at the Smithsonian Institution's National Museum of Natural History, in Washington, D.C. He received his Ph.D. from the University of California, Berkeley, and completed a postdoctoral research fellowship at the University of British Columbia. Nick is a vertebrate paleontologist whose research focuses on major land-to-sea ecological transitions in the past 250 million years. In this span of geologic time, many different lineages of reptiles and mammals -- whales, sea cows, mosasaurs, and turtles, for example -- have independently entered the oceans, showing both common patterns and unique solutions to the challenges of living the life aquatic. To understand how and why these ecological transitions have happened, Nick has studied many different aspects of marine vertebrates, including their taphonomy, biomechanics and paleobiology. Nick also leads active paleontological field programs on Vancouver Island in Canada, and with South American collaborators in the Atacama Desert of Chile. Nick is especially interested in growing public appreciation for natural patrimony and fossil resources, especially using digital tools that can expand fieldwork, outreach and natural history collections at the same time.

FIGURE 1. Top: location maps. Insert: location of the Azores archipelago in the Northeast Atlantic and location of Santa Maria Island, within the Azores Archipelago. Bottom: map of Santa Maria with the location of the most important Mio-Pliocene and Pleistocene (MIS 5e) outcrops– 1, Ponta dos Frades; 2, Cré; 3, Lagoinhas; 4, Ponta do Norte; 5, Ponta Negra; 6, Ponta do Cedro; 7, Ponta do Castelo; 8, Pedra-que-pica; 9, Vinha Velha; 10, Pedrinha da Cré; 11, Baía de Nossa Senhora; 12, Malbusca; 13, West fault of Malbusca; 14, Ichnofossil's cave; 15, Praia do Calhau; 16, Macela; 17, Prainha; 18, Figueiral; 19, Pedreira do Campo; 20, Airport.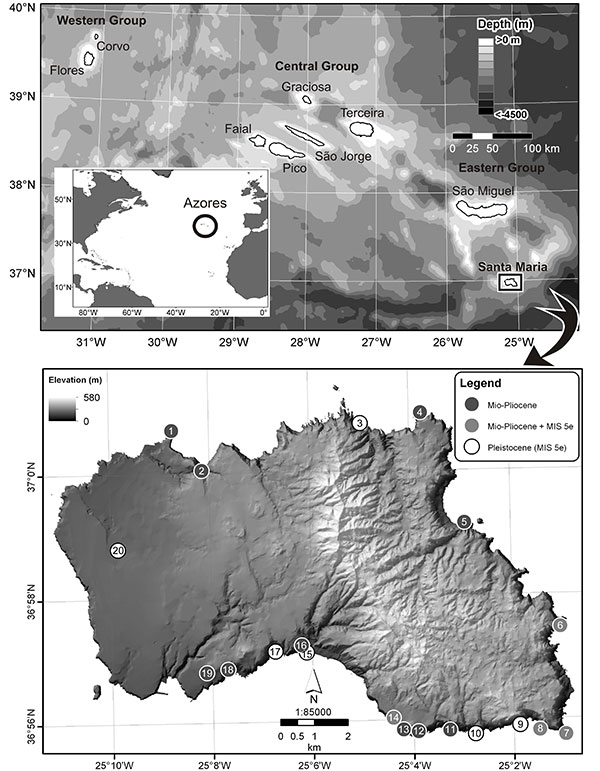 FIGURE 2. Right mandibular corpus (DBUA-F 1079) belonging to a medium-large size Mysticeti. 1, dorsal view; 2, lateral view; and 3, inset magnification of unknown bone modification to the lateral surface (denoted by arrows). Abbreviation "mc" indicates the mandibular canal. Thick broken arrows show passages of the mandibular canal through the fragment.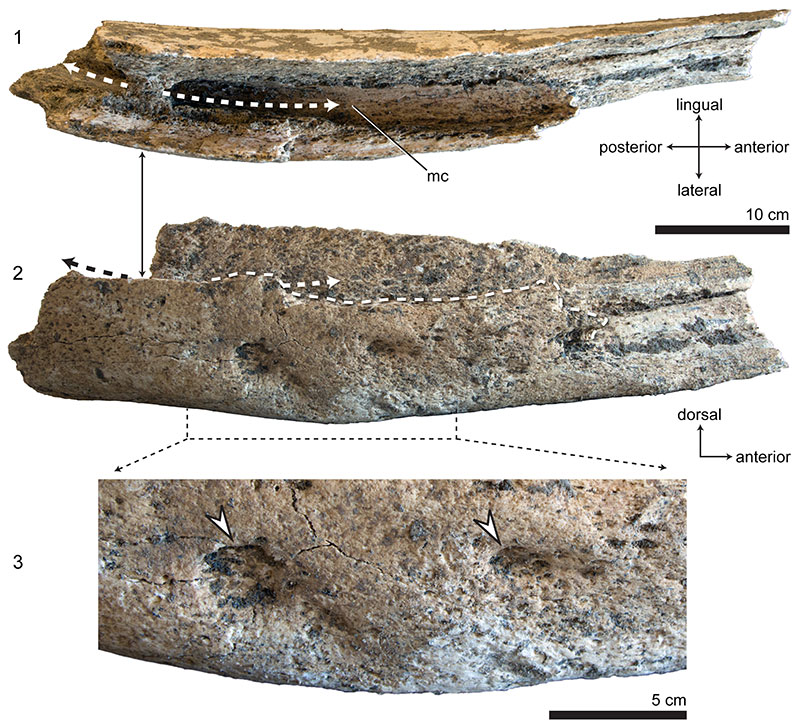 FIGURE 3. Detailed composite stratigraphic column at Praia do Calhau. The numbers depicted in filled circles correspond to facies 1-7, which are described in Ávila et al. (2015).