Articles
FIGURE 1. Overview of BSPG 1967 XX, part of the Bayerische Staatssammlung für Paläontologie und Geologie, Munich. Germany; documented with composite imaging. Single piece of Baltic amber with inclusion of 13 cockroach nymphs.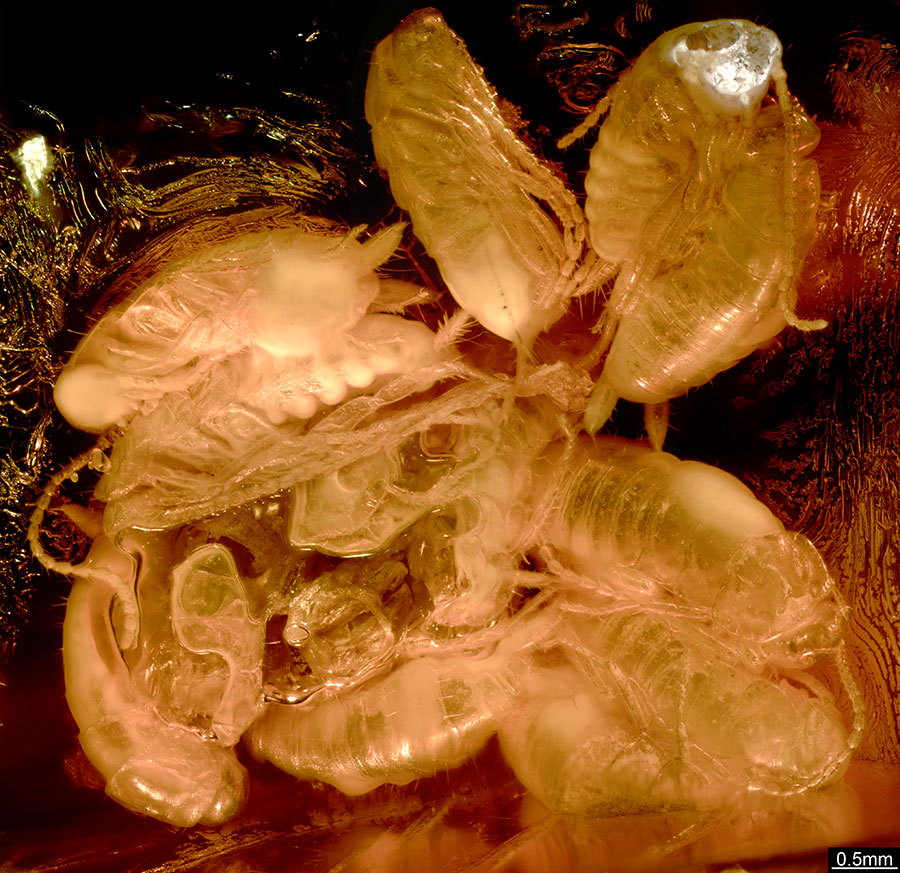 FIGURE 2. Close-ups of nymphs in amber (BSPG 1967 XX). 1, Overview of a single nymph (red-coloured specimen in Figure 4). 2, Head with antennae and maxillary palp equipped with setae of specimen in 1, compound eyes not observable. 3, Cerci equipped with setae (blue-coloured specimen in Figure 4). 4, Close-up of antenna equipped with setae (yellow-coloured specimen in Figure 4), arrows point to setae. Abbreviations: a4-a6, abdominal segments 4-6; an, antenna; ce, cercus; hc, head capsule; mp, maxillary palp; ms, mesonotum; mt, metanotum; pn, pronotum; pl, coxa of prothoracic leg; ta, terminal article of the antenna.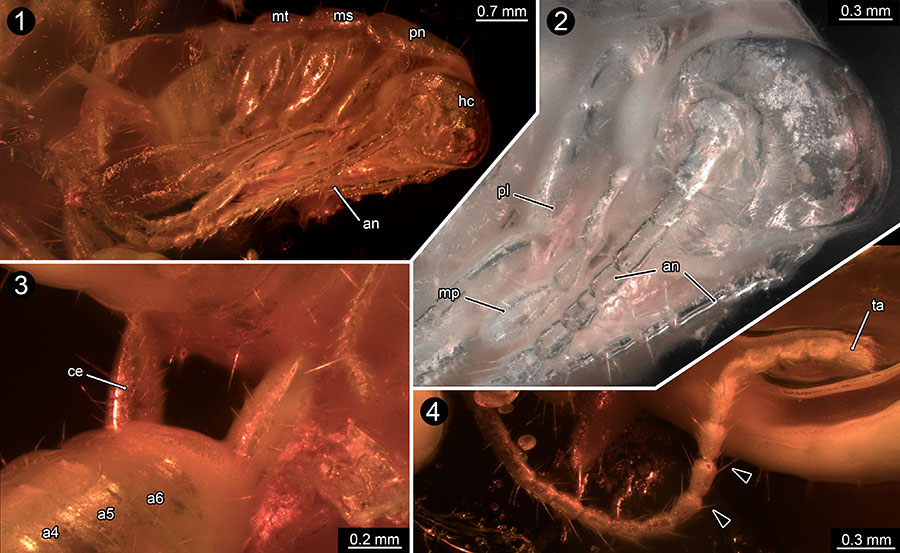 FIGURE 3. Overview of BSPG 1967 XX, documented with stereo imaging from all available sides of the specimen (1-3). Images presented as red-cyan stereo-anaglyphs; please use red-cyan glasses to view.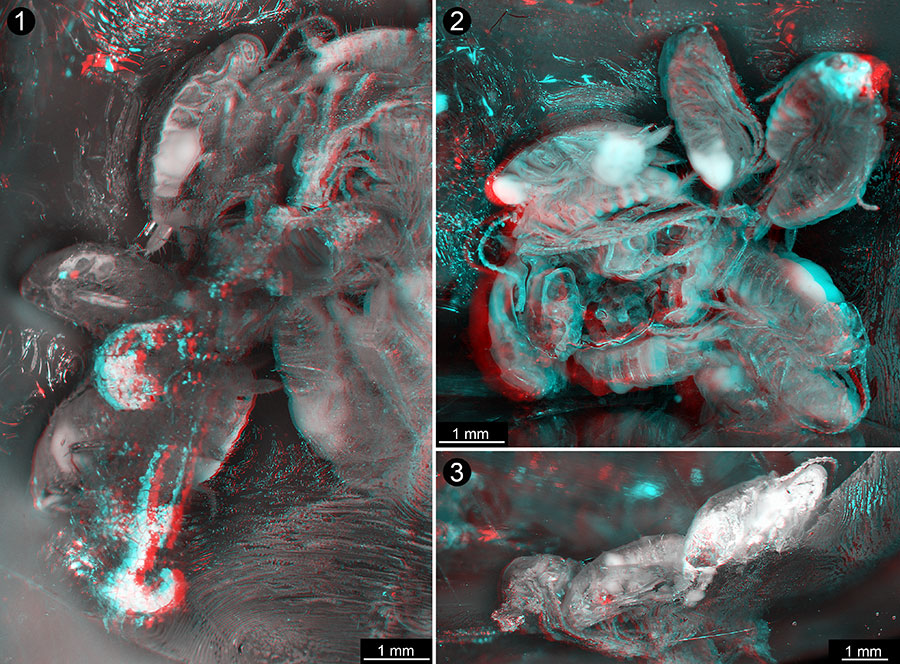 FIGURE 4. Overview images of BSPG 1967 XX. 1-3, Colour-marked versions of Figure 3 (different individuals marked in different colours, same individuals marked in same colour in different viewing angles). 4-5, Volume renderings based on micro-CT data (Amira) (different viewing angles in 4 and 5). 6, Tomographic section from micro-CT image stack (red-coloured specimen in 1 and 2), inner structures are not preserved.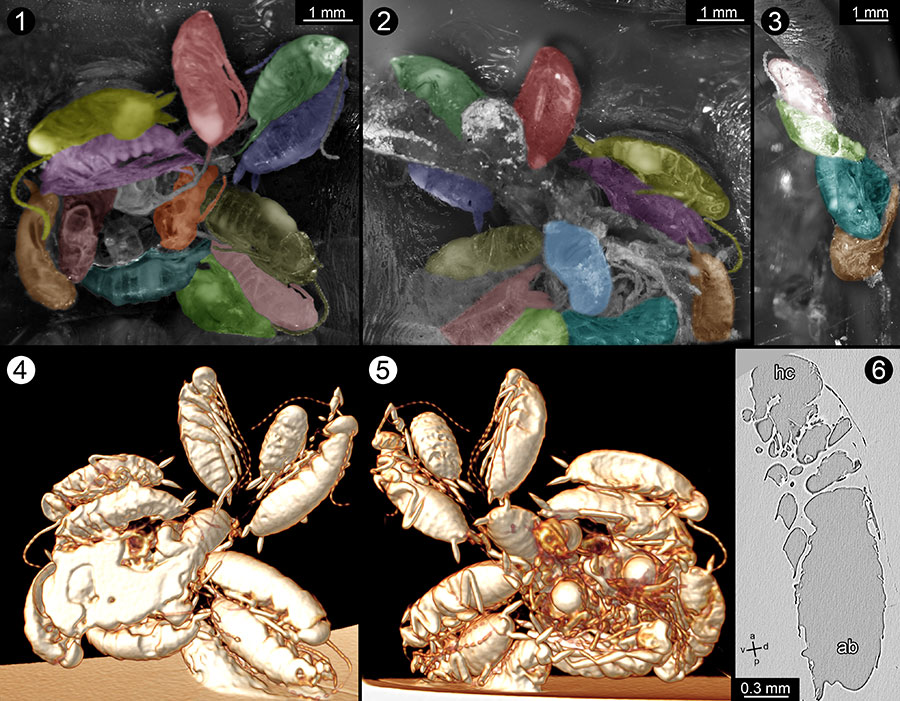 FIGURE 5. Volume renderings of one nymph of BSPG 1967 XX (red-coloured specimen in Figure 4) in about lateral (1 - 2), ventral (3 - 4), and dorsal (5) views generated with Drishti 2.4 based on micro-CT data. Abbreviations: cl, clypeus; co I, coxa of prothoracic leg; fe I, femur of prothoracic leg; lr, labrum; md, mandible; pt I, praetarsus of prothoracic leg (tibial claw); ta I, tarsus of prothoracic leg; ti I, tibia of prothoracic leg; a1-a7, abdominal segments 1-7. Other abbreviations are the same as in Figure 2.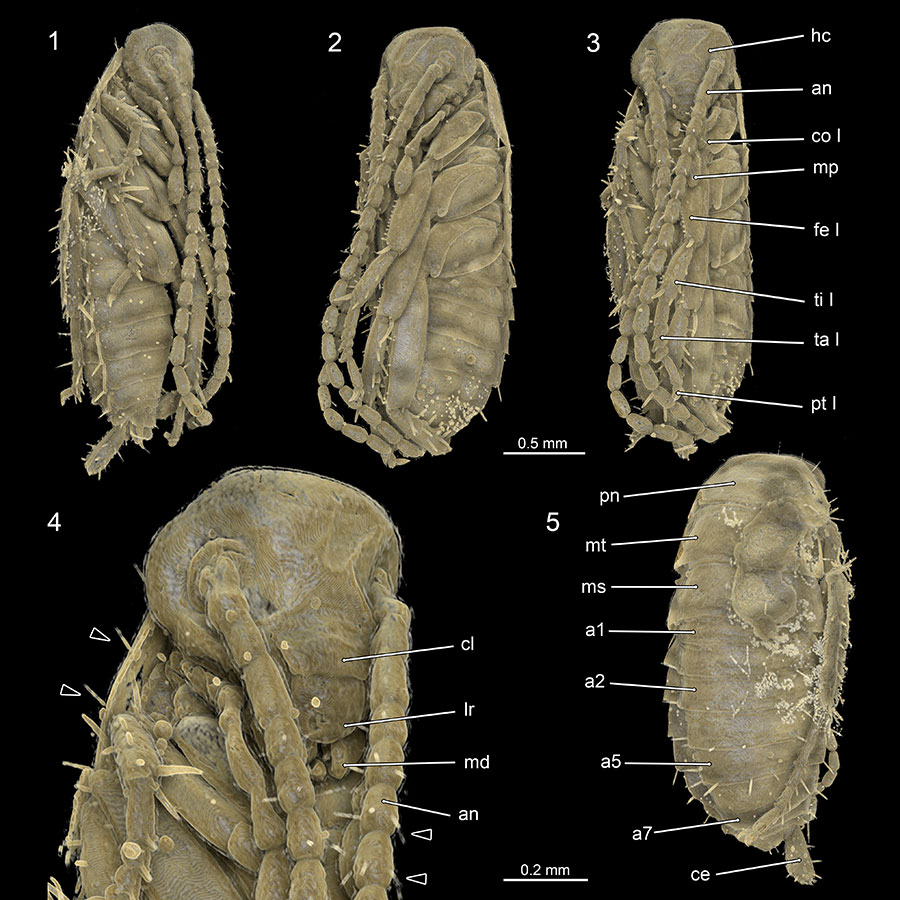 FIGURE 6. Nymphs of the extant species Periplaneta americana (1-3) and Blaberus craniifer (4-5). 1-3, Hatchling of P. americana in dorsal (1), lateral (2), and ventral (3) views documented with compound microscope. 4-5, Early instar nymph of Blaberus craniifer in ventral (4) and dorsal (5) views documented with composite autofluorescence microscopy. Abbreviations: co III, coxa of metathoracic leg; fe III, femur of metathoracic leg; ta III, tarsus of metathoracic leg; ti III, tibia of metathoracic leg. Other abbreviations are the same as in Figure 2 and Figure 4.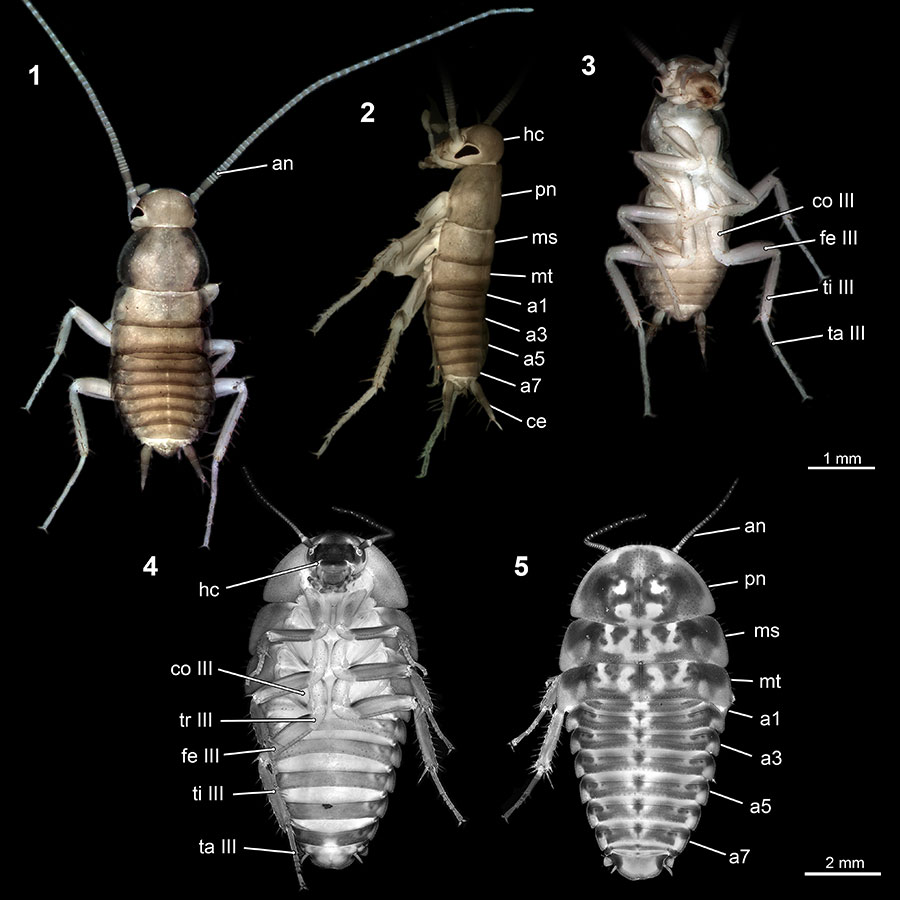 FIGURE 7. Comparison of mouthparts of one nymph of BSPG 1967 XX and first instar of Periplaneta americana . 1-3, Surface reconstruction of the mouthparts of one nymph in amber; based on micro-CT data. Same individual as in Figure 2, about lateral (1 and 3) and frontal (2) views. 4-5, Head with mouthparts of first instar nymph of P. americana ; frontal view of the head (4) and colour-marked close-up image of the mouthparts (5), composite autofluorescence image. Abbreviations: hp, hypopharynx; lb, labium; lp, labial palp; mx, maxilla. Other abbreviations are the same as in Figure 2 and Figure 4.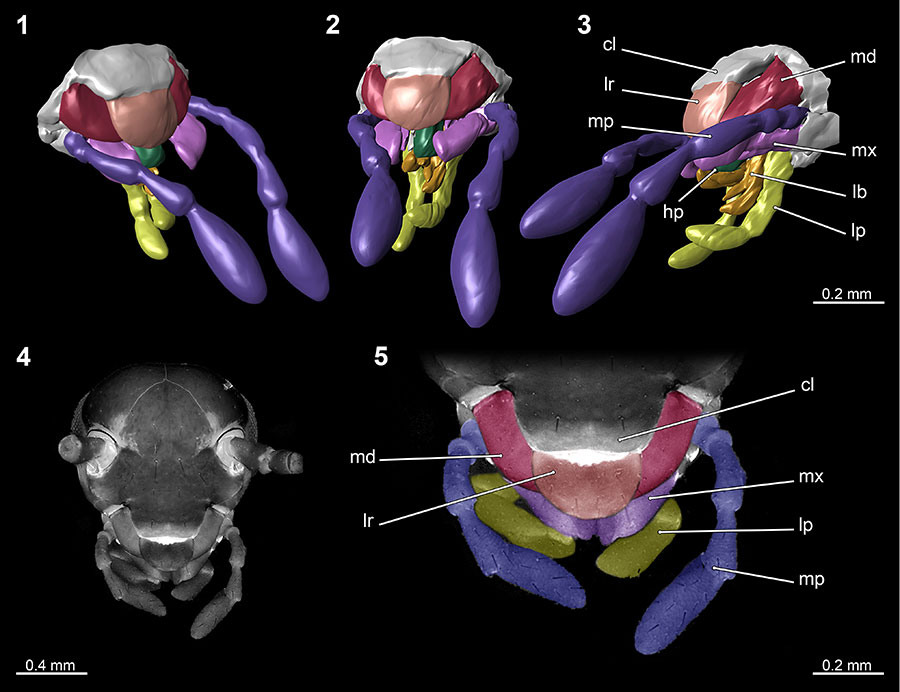 FIGURE 8. Close-ups of maxillary palp of one nymph of BSPG 1967 XX. 1, Palp of red-coloured nymph in Figure 4 documented with stereo imaging. Images presented as red-cyan stereo-anaglyphs; please use red-cyan glasses to view, red left, cyan right. 2-4, Close-ups of volume rendering of maxillary palp and part of antenna of red-coloured nymph in Figure 4; documented at three different grey values. 5, Combined version of 2-4, arrows point to setae. Abbreviations are the same as in Figure 2 and Figure 4.

FIGURE 9. Comparison of volume renderings of one nymph of BSPG 1967 XX generated by Amira 5.6 (left) and Drishti 2.4 (right) (images with system based pseudocolour). Note especially the differences of the level of details in the marked areas (arrows).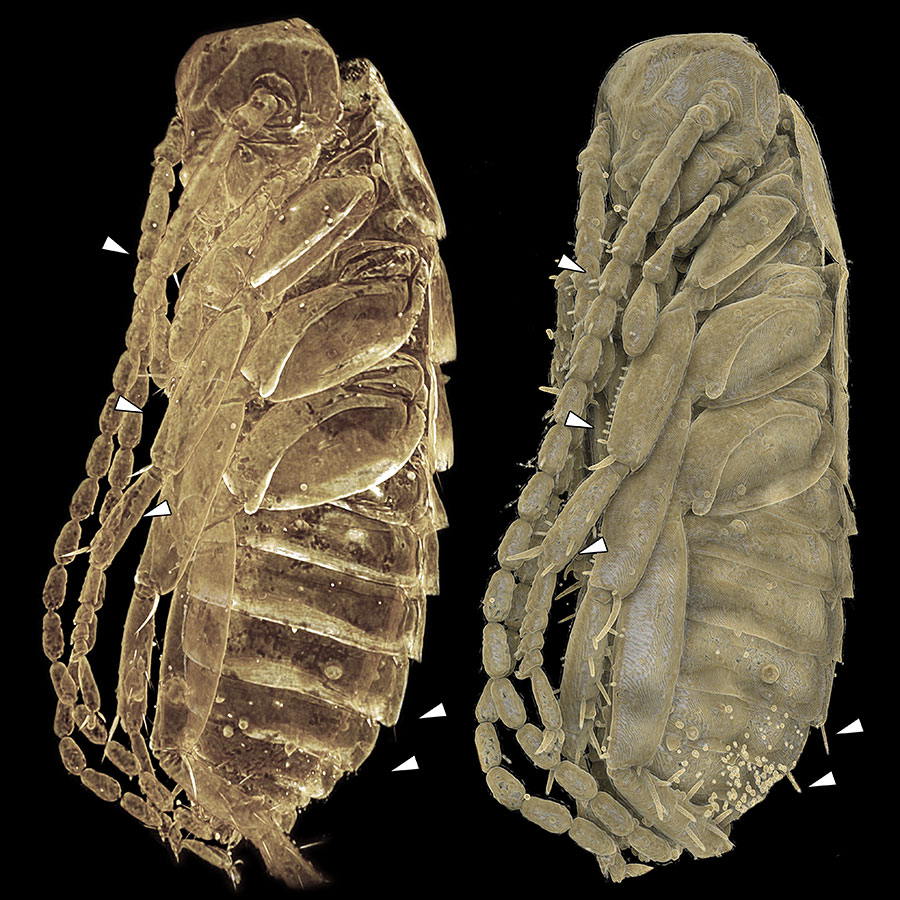 FIGURE 10. Blattodean nymphs in Baltic amber. 1-4, Specimen PE 61065, dorsal view (1), distinct pigmentation of cuticula visible; ventral view (2); and stereo-images of PE 61065 (3-4). Images presented as red-cyan stereo-anaglyphs; please use red-cyan glasses to view. 5-6, Specimen ZMUC 901795, close-up image of the head (5) and close-up image of the head lateral view (6). Abbreviation: ml, femur of metathoracic leg. Other abbreviations are the same as in Figure 2 and Figure 4.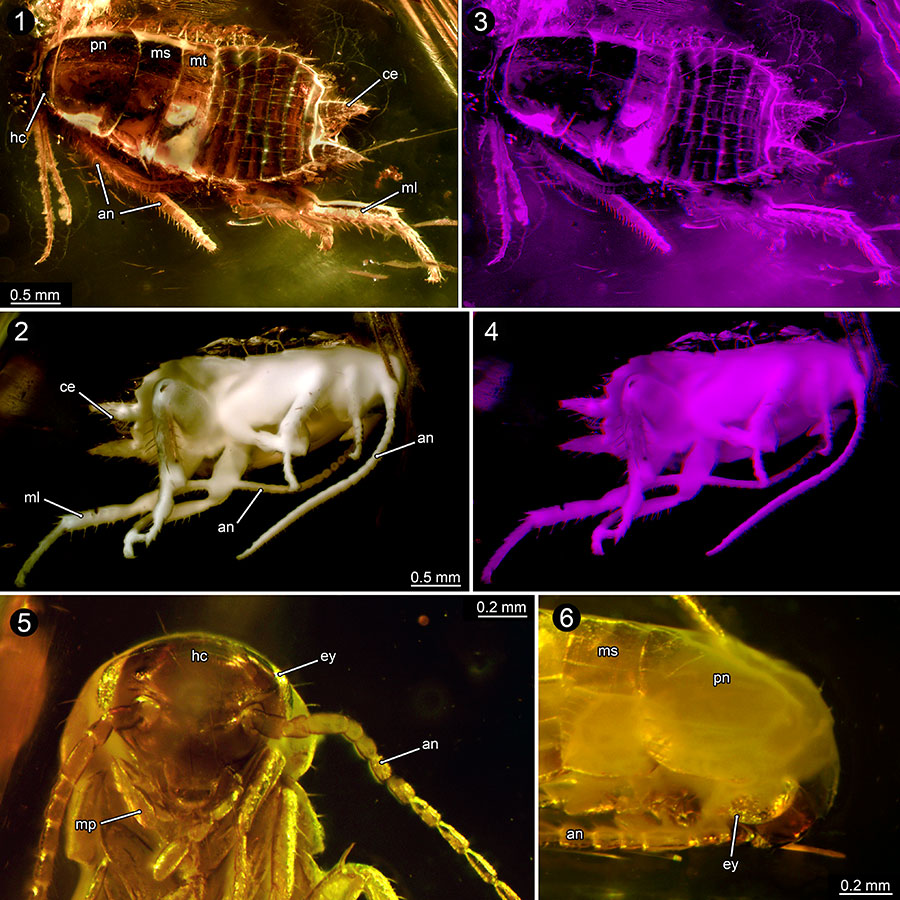 What nymphal morphology can tell us about parental investment – a group of cockroach hatchlings in Baltic Amber documented by a multi-method approach
Plain Language Abstract
The insect group of Dictyoptera comprises (praying) mantids, cockroaches and termites ("white ants"; as highly specialised cockroaches). Dictyopteran insects show a wide range of social behaviour ranging from solitary living mantids up to truly eusocial termites. Among cockroaches several species live in groups, either as aggregations of young, or of young and adults. We describe here a group of 13 fossil cockroach young enclosed in Baltic amber (about 50 million years old). This find possibly provides the first indirect evidence of social behaviour in fossil dictyopterans that are not termites. The fossil individuals were documented with different methods to capture the available morphological details of them. The advantages and limitations of the different imaging methods are discussed, comprising: (1) light-based methods, such as micro-, macro-, and stereo-imaging, and (2) X-ray micro-computed tomography.
Resumen en Español
Lo que la morfología ninfal nos puede decir acerca de la inversión parental - un grupo de crías de cucaracha en ámbar báltico documentado con un enfoque multi-método
Describimos una pieza de ámbar del Báltico, de hace unos 50 millones de años, que contiene un grupo de 13 pequeñas ninfas de cucaracha. Estos especímenes fueron documentados con diferentes métodos para explorar las ventajas y las limitaciones de ciertas técnicas de imagen: (1) métodos basados en la luz, como la estéreo-macrofotografía, imagen compuesta bajo luz polarizada, combinado con reconstrucción virtual de la superficie, y (2) micro-tomografía computarizada de rayos X, procesada como representaciones de volumen y reconstrucciones de superficie. Todas las ninfas en la pieza de ámbar son del mismo tamaño y no presentan ninguna variación morfológica notable. Su estado de desarrollo y la forma en que se disponen indican que estas ninfas corresponden a crías. Los dictiópteros (incluyendo a Mantodea y Blattodea con Isoptera como grupo interno) exhiben una amplia gama de diferentes tipos de comportamiento social y cuidado de las crías. La evolución de este complejo conjunto de caracteres se ha abordado en varias ocasiones mediante enfoques basados en lo observado en los representantes actuales, sin embargo, rara vez se han abordado los aspectos de este proceso evolutivo en el tiempo profundo. Los ejemplares descritos aquí podrían representar un caso de un grupo de ninfas de Blattodea eclosionadas de una ooteca, lo que supondría el primer registro fósil de un proceso de este tipo, o incluso podrían representar la primera evidencia indirecta en el registro fósil de conducta social en dictiópteros no termitas, indicando que ya se encontraba establecida dicha conducta hace 50 millones de años.
Palabras clave: comportamiento fosilizado; paleo-evo-devo; Dictyoptera; métodos de documentación; micro-CT
Traducción: Enrique Peñalver or Diana Elizabeth Fernández
Résumé en Français
Qu'est-ce que la morphologie de la nymphe peut nous dire sur l'investissement parental ? Un groupe de cafards venant d'éclore préservé dans l'ambre de la Baltique et décrit par une approche pluri-méthodologique
Nous décrivons un morceau d'ambre de la Baltique daté d'environ 50 millions d'années et contenant un groupe de 13 petites nymphes de cafards. Ces spécimens ont été caractérisés suivant différentes méthodes pour explorer les avantages et limites de certaines techniques d'imagerie : (1) méthodes optiques, telles que la stéréo-macrophotographie, l'imagerie composée en lumière polarisée, combinée avec la reconstruction virtuelle de surface, et (2) la tomodensitométrie à rayons X, sous forme de rendus volumiques et reconstructions surfaciques. Toutes les nymphes contenues dans le morceau d'ambre sont de la même taille et ne montrent pas de variation morphologique notable. Leurs stades de développement et la façon dont elles sont organisées indiquent que ces nymphes représentent des individus venant d'éclore. Les dictyoptères (incluant les Mantodea et Blattodea avec les Isoptera comme groupe interne) exhibent une grande variété de comportements sociaux et de soin des couvées. L'évolution de ce complexe de caractères a été fréquemment abordée suivant plusieurs approches basées sur l'actuel, mais les aspects paléontologiques de ce processus évolutif ont rarement été abordés. Les spécimens décrits ici pourraient représenter le cas d'un groupe de nymphes de Blattodea venant d'éclore d'une oothèque, ce qui représenterait le premier enregistrement fossile d'un tel processus, voire même potentiellement la première preuve indirecte de comportements sociaux chez des dictyoptères non-isoptères, indiquant qu'ils étaient déjà développés il y a 50 millions d'années.
Mots-clés : comportement fossilisé ; paléo-évo-dévo (paléontologie évolutive développementale) ; Dictyoptera ; méthodes de caractérisation; microtomodensitométrie
Translator: Antoine Souron
Deutsche Zusammenfassung
Was uns die Morphologie von Nymphen über elterliche Investition sagen kann: eine Gruppe von Schabenschlüpflingen in Baltischem Bernstein, dokumentiert mit einem Multi-Methoden-Ansatz
Wir beschreiben eine Gruppe von 13 kleinen Schabennymphen, welche in einem Stück Baltischen Bernsteins (ca. 50 Millionen Jahre alt) eingeschlossen ist. Das Stück wurde mit verschiedenen Methoden dokumentiert. Basierend hierauf wurden die jeweiligen Vorteile und Beschränkungen der verschiedenen bildgebenden Techniken aufgezeigt, darunter (1) licht-basierte Methoden, wie Stereo-Makrophotographie, Kompositbildgebung unter Verwendung von polarisiertem Licht, kombiniert mit virtuellen Oberflächenrekonstruktion, sowie (2) Mikro-Computertomographie, ausgewertet mit Volumen- und Oberflächengenerierung. Alle eingeschlossenen Nymphen sind von gleicher Größe und zeigen keine sichtbare morphologische Variation. Der Entwicklungsgrad der Nymphen und die Art und Weise, in der diese innerhalb des Bernsteins angeordnet sind, lässt vermuten, dass diese Nymphen Schlüpflinge repräsentieren. Innerhalb der Gruppe Dictyoptera (Schaben, Termiten und Mantiden) zeigen zahlreiche Vertreter verschiedene Formen und Abstufungen von Sozialverhalten. Die Evolution dieser komplexen Merkmalskombinationen wurde wiederholt anhand heute lebender Arten betrachtet, jedoch selten unter konsequentem Einbezug von Fossilien. Das hier beschriebene Stück könnte den Schlupf einer Gruppe von Schabennymphen darstellen und damit den ersten fossilen Hinweis auf einen solchen Vorgang liefern, möglicherweise sogar den ersten indirekten Hinweis auf soziales Verhalten fossiler Dictyopteren außerhalb der Termiten. Dies würde darauf hindeuten, dass solches Sozialverhalten bereits vor 50 Millionen Jahre evolviert war.
Schlüsselwörter: fossilisiertes Verhalten; Paläo-Evo-Devo; Dictyoptera; Dokumentationsmethoden; Micro-CT
Translator: Authors and Eva Gebauer
Arabic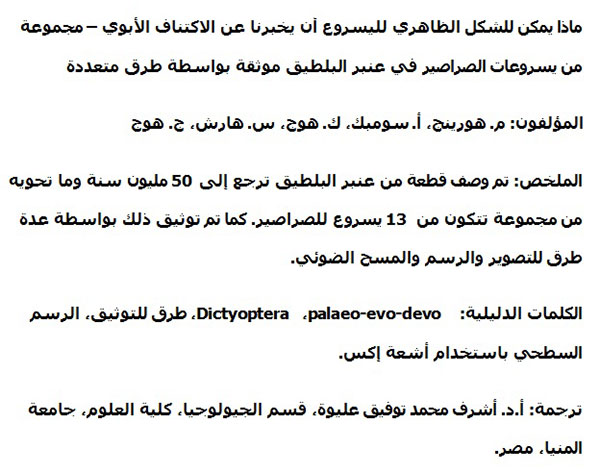 Translator: Ashraf M.T. Elewa
Descriptive matrix of Periplaneta americana and of BSPG 1967 XX (Excel file or see PDF file for material in a different format).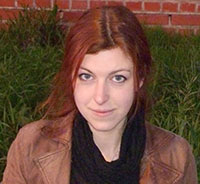 Marie K. Hörnig. Ernst-Moritz-Arndt-University of Greifswald, Zoological Institute and Museum, Cytology and Evolutionary Biology, Soldmannstr. 23, 17487 Greifswald, Germany. This email address is being protected from spambots. You need JavaScript enabled to view it.
Marie K. Hörnig is a PhD student in the work group of Steffen Harzsch at the University of Greifswald, but is also associated with the Palaeo-Evo-Devo group of Carolin and Joachim T. Haug at the LMU Munich. During her Diploma thesis in Greifswald, she worked on the evolution of ontogenesis and the deep-time aspects of social and brood care behaviour of Dictyoptera, as well as the origin of the different morphotypes within this insect group. In the context of her PhD studies she broadens this approach and investigates the evolution of reproductive strategies of fossil insects in general. A further focus of her are imaging methods, especially for amber. These methods comprises, e.g. light microscopy and composite macrophotography under polarised light, stereo photography, micro-computed tomography, and virtual surface reconstructions.


Andy Sombke. Ernst-Moritz-Arndt-University of Greifswald, Zoological Institute and Museum, Cytology and Evolutionary Biology, Soldmannstr. 23, 17487 Greifswald, Germany. This email address is being protected from spambots. You need JavaScript enabled to view it.
Andy Sombke studied zoology, entomology and ecology at the University of Rostock (Germany). After two years of lecturing in entomology at the Zoological Institute in Rostock, he started a PhD in the group of Bill S. Hansson at the Department of Evolutionary Neuroethology at the Max Planck Institute for Chemical Ecology in Jena (Germany) working on the olfactory system in centipedes (Myriapoda). He moved to the University of Greifswald (Germany) to finish his PhD in the group of Steffen Harzsch. Since 2011 he is an academic assistant in the workgroup 'Cytology and evolutionary biology' at Greifswald University focussing on the sensory and nervous system of arthropods with a special interest in myriapods. In a set of experiments with different myriapod species he analyzes the morphology of the antennae and the central olfactory pathway with scanning electron microscopy, serial semithin sectioning combined with 3D reconstruction, antennal backfilling with neuronal tracers, immunofluorescence combined with confocal laser-scan microscopy as well as X-ray microscopy.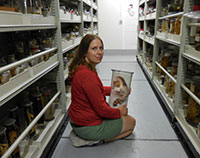 Carolin Haug. LMU Munich, Biocenter, Department of Biology II and GeoBio-Center, Großhaderner Str. 2, 82152 Planegg-Martinsried, Germany. This email address is being protected from spambots. You need JavaScript enabled to view it.
Carolin Haug studied biology at the Julius-Maximilians-Universität Würzburg with animal ecology as major subject and sociobiology and palaeontology as minor subjects. She received her Diplom in 2005 and moved to the University of Ulm for her Ph.D. thesis. In the work group Biosystematic Documentation she investigated the ontogeny and evolution of the arthropod head shield on a wide spectrum of fossil and extant specimens. Due to the very different demands of the material, she developed new imaging techniques or modified existing methods together with her collaborators, for example, composite imaging, stereo photography or autofluorescence macro- and microscopy. In 2011, Carolin defended her Ph.D. thesis. She was a postdoctoral researcher at Yale University and at the Ernst-Moritz-Arndt-Universität Greifswald. Besides optimising imaging techniques, she is interested in fossilised development (see also http://www.palaeo-evo-devo.info) and in the evolution of tagmosis. For this purpose, she investigates mainly arthropods from different deposits yielding exceptional preservation, such as Rhynie chert, Solnhofen Lithographic Limestones, the 'Orsten', Burgess Shale, or Mazon Creek, always in comparison to their extant relatives. Carolin moved to Munich in 2013 to continue her research there at the Ludwig-Maximilians-Universität.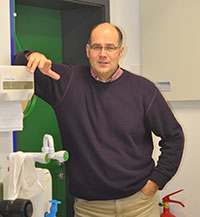 Steffen Harzsch. Ernst-Moritz-Arndt-University of Greifswald, Zoological Institute and Museum, Cytology and Evolutionary Biology, Soldmannstr. 23, 17487 Greifswald, Germany. This email address is being protected from spambots. You need JavaScript enabled to view it.
Steffen Harzsch obtained his PhD in 1995 from the University of Bielefeld (Germany) working on the ontogeny of the nervous system in decapod crustaceans. As a PostDoc he analysed aspects of the embryonic development of the lobster nervous system in the lab of Barbara Beltz at Wellesley College (USA, Massachusetts). He then moved to the University of Ulm (Germany) where, sandwiched between the palaeontologist Dieter Waloszek and the neurobiologist Harald Wolf as tutors, he began with comparative analyses of arthropod nervous systems to contribute new arguments to the ongoing debate on arthropod phylogeny. There, he coined the term "neurophylogeny" as a synthesis of neuroanatomical analyses against an evolutionary background. In 2006, he joined Bill S. Hansson's group "Evolutionary Neuroethology" at the Max-Planck-Institute for Chemical Ecology in Jena (Germany) as group leader for neuroanatomy. In 2008, he received tenure as Full Professor in Cytology and Evolutionary Biology at the University of Greifswald (Germany). His research focusses on the neuroanatomy and neuroethology of arthropods, mostly crustaceans and myriapods. Methods include immunohistochemistry, classical histology, confocal laser-scan microscopy, 3D reconstruction, and micro computer tomography.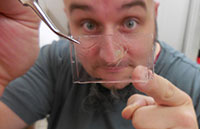 Joachim T. Haug. LMU Munich, Biocenter, Department of Biology II and GeoBio-Center, Großhaderner Str. 2, 82152 Planegg-Martinsried, Germany. This email address is being protected from spambots. You need JavaScript enabled to view it.
Joachim T. Haug studied animal ecology (major), sociobiology and palaeontology (minors) at the Julius-Maximilians-Universität Würzburg. After the receipt of the Diplom in 2005, he moved to the work group Biosystematic Documentation at the University of Ulm for his PhD thesis. There he worked on the early crustaceans from the Cambrian 'Orsten', which are preserved three-dimensionally and with minute details. To make the entire morphology clearly visible, Joachim produced computer-based 3D models for each developmental stage of a species, resulting in a 4D model of the species. With 4D models reconstructed for the different species, differences in the developmental pattern between the species became visible. These changes in the developmental timing, so-called heterochronic events must have occurred several times during early crustacean evolution. Due to these findings, Joachim got interested in studying such evolutionary changes of development also in fossils from other deposits and focussed on Palaeo-Evo-Devo (see also http://www.palaeo-evo-devo.info). After his defense in 2009 and two further years as postdoctoral researcher in Ulm, he received two Feodor Lynen research fellowships from the Alexander von Humboldt-Foundation, with which he was doing research at Yale University and at the Ernst-Moritz-Arndt-Universität Greifswald. Besides 3D modelling, Joachim is also interested in different methods of imaging (documentation and presentation). In September 2013, he relocated to the Ludwig-Maximilians-Universität in Munich.