Articles
A new species of Echinolittorina Habe, 1956 (Gastropoda: Littorinidae) from the Quaternary of Chile
Plain Language Abstract
This work deals with the description of a new species of marine mollusc from Quaternary strata (i.e., Pleistocene to Recent, < 2.6 million years old) at Caldera, in the Región de Atacama, northern Chile. This new species belongs to the Littorinidae, a family of marine snails that are abundant on rocky shores all around the world. Although littorinids are common, their fossils are very rare due to the high wave energy in the environments where they generally live. The classification and evolution of littorinids have been extensively studied, and therefore the finding of a new species of a relatively young age is of interest.
Resumen en Español
Una nueva especie de Echinolittorina Habe, 1956 (Gastropoda: Littorinidae) del Cuaternario de Chile
Este trabajo trata de la descripción de una nueva especie de molusco marino de estratos Cuaternarios (Pleistoceno a Reciente, < 2.6 millones de años de edad) de Caldera, en la Región de Atacama, norte de Chile. Esta nueva especie pertenece a la familia Littorinidae, una familia de caracoles marinos que son abundantes en costar rocosas alrededor de todo el mundo. Aunque los littorínidos son comunes, sus fósiles son muy raros debido a los ambientes de alta energía en donde ellos generalmente viven. La clasificación y evolución de los litorínidos han sido estudiados extensivamente, y por lo tanto el encuentro de una nueva especie de edad relativamente joven es de interés.
Palabras claves: Cuaternario; Pleistoceno; Oceano Pacífico suroriental; Littoraria; nueva especie
Traducción: Author
Résumé en Français
Une nouvelle espèce d'Echinolittorina Habe, 1956 (Gastropoda : Littorinidae) du Quaternaire du Chili
Nous décrivons une nouvelle espèce fossile de littorinidé, Echinolittorina nielseni sp. nov., des strates quaternaires de Caldera, région d'Atacama, au nord du Chili. Les fossiles de littorinidés sont généralement rares du fait de leur habitat situé dans l'étage supralittoral de l'estran des côtes rocheuses. La nouvelle espèce a une coquille large, de taille importante, avec des côtes spiralées et une périphérie anguleuse, différant des deux littorinidés vivant actuellement le long des côtes du Chili continental et de toutes les espèces actuelles distribuées dans le sud-est du Pacifique. Par rapport à l'espèce chilienne actuelle Echinolittorina peruviana, la nouvelle espèce montre des côtes plus fortes et des spires plus globuleuses, mais les deux espèces partagent un détail inhabituel dans l'arrangement irrégulier de la sculpture spirale. Nous émettons l'hypothèse que la nouvelle espèce pourrait être l'ancêtre ou le groupe-frère d'E. peruviana et nous discutons la signification adaptative de la sculpture de la coquille.
Mots-clés : Quaternaire ; Pléistocène; sud-est de l'Océan Pacifique ; Littoraria ; nouvelle espèce
Translator: Antoine Souron
Deutsche Zusammenfassung
Eine neue Art von Echinolittorina Habe, 1956 (Gastropoda: Littorinidae) aus dem Quartär von Chile
Wir beschreiben eine neue fossile littorinide Art, Echinolittorina nielseni sp. nov., aus der quartären Caldera Schicht, Región de Atacama, nördliches Chile. Fossile Littorinide sind weltweit selten wegen ihres hoch intertidalen Lebensraumes an Felsenküsten. Die neue Art hat eine große, breite Schale mit starken Spiralrippen und einer winkelförmigen Peripherie, was sie von den zwei lebenden Littoriniden, die derzeit entlang der Küsten von Chile gefunden werden, unterscheidet und auch von allen anderen heute lebenden Arten im südöstlichen Pazifik. Im Vergleich mit der heute lebenden chilenischen Echinolittorina peruviana zeigt die neue Art stärkere Rippen und höhere Windungen, beide teilen aber ein unübliches Detail was die irreguläre Anordnung der Spiralkulptur angeht. Wir nehmen an, dass die neue Art ein Vorfahre von E. peruviana ist und diskutieren die adaptive Signifikanz von Schalenornamentierung.
Schlüsselwörter: Quartär; Pleistozän; südöstlicher pazifischer Ozean; Littoraria; neue Art
Translator: Eva Gebauer
Arabic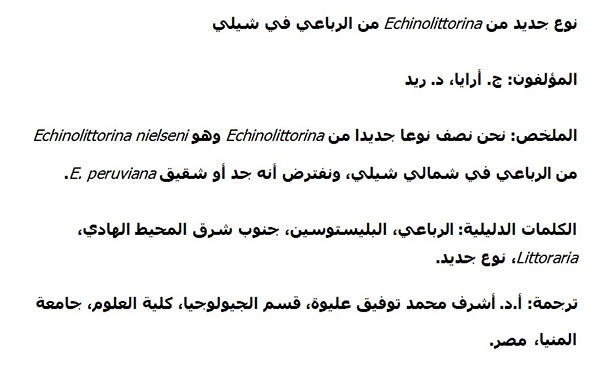 Translator: Ashraf M.T. Elewa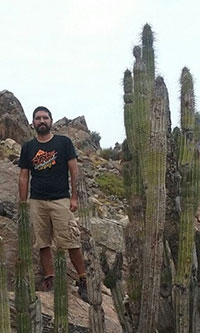 Juan Francisco Araya. Departamento de Geología, Universidad de Atacama, Copayapu 485, Copiapó, Región de Atacama, Chile and Programa de Doctorado en Sistemática y Biodiversidad, Universidad de Concepción, Concepción, Chile. This email address is being protected from spambots. You need JavaScript enabled to view it.
author: zoobank.org/Authors/443B4F42-FB13-42A6-B92B-1B0F835698A9
orcid.org/0000-0002-4087-964
Juan Francisco Araya is a student of Systematics and Biodiversity at the Universidad de Concepción, in Concepción, Chile and is adjunct researcher at the Universidad de Atacama, in northern Chile. He works primarily on the biodiversity and taxonomy of marine and freshwater molluscs from Chile, in particular those from northern Chile. His research interests also include marine macroinvertebrates, paleontology, systematics, and taxonomy.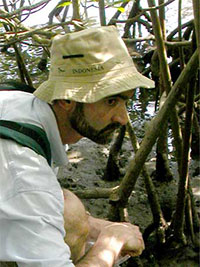 David G. Reid. Mollusca Research Group, Department of Life Sciences, The Natural History Museum, London SW7 5BD, United Kingdom. This email address is being protected from spambots. You need JavaScript enabled to view it.
Merit Researcher and Leader of the Marine Mollusc Research Group (NHMUK, London, UK). His research focuses on the systematics and evolution of shallow-water gastropods. Current research interests involve the reconstruction of gastropod phylogenies using both morphological and molecular approaches, and the use of such hypotheses in the study of biogeography and speciation in marine invertebrates, and in the interpretation of the evolution of adaptive morphological characters. For much of this evolutionary work, the gastropod family Littorinidae has been used as a model, having a worldwide distribution, at least a partial fossil record, and showing specialized adaptations to intertidal life. A new project investigates the evolutionary history of ecological associations between gastropods (Potamididae and Littoraria) with the mangrove habitat, integrating the fossil record with molecular phylogenetics. Supervised PhD projects have included worldwide phylogenetic analyses of Patellidae, Bullidae, gibbuline Trochidae and Muricidae. Previous research interests include the ecology of molluscs on coral reefs and the interactions between colour-polymorphic snails and their predators.General taxonomic work has been done on the marine molluscs of Chile.
FIGURE 1. Map of the study region showing the type locality of Echinolittorina nielseni sp. nov. in Caldera, northern Chile.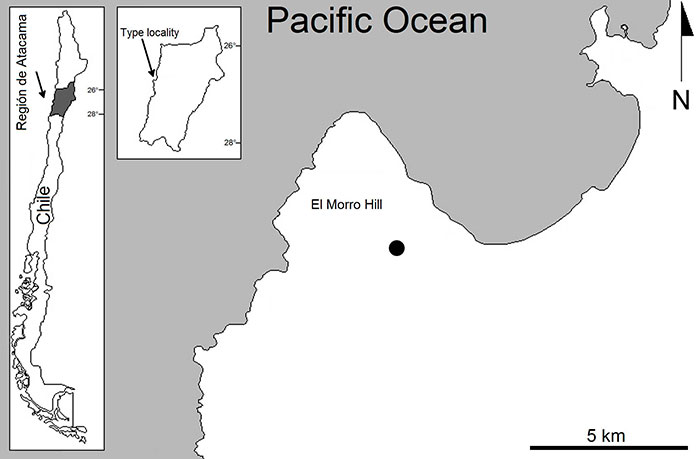 FIGURE 2. Shells of Echinolittorina nielseni sp. nov. and of two extant littorinids: 1-8, Echinolittorina nielseni sp. nov., SGO.PI 23.100 (holotype) (1 and 2), NHMUK PAL PI TG 26769 (paratype) (3 and 4), NHMUK PAL PI TG 26770-26773 (paratypes) (5-8); 9-13, Echinolittorina peruviana (Lamarck, 1822), NHMUK acc. no. 2176 (9 and 12), NHMUK 20001268 (10), NHMUK 20001269 (11), NHMUK unnumbered (13); and 14 and 15, Littoraria varia (Sowerby, 1832), NHMUK 1850.4.23.273 (14) and NHMUK 1850.4.23.274 (15). 13 is a scanning electron micrograph showing shell sculpture. 2, 8, 12, 13 are abapertural views and 4 is a basal view; others are apertural views. Collection localities: Chile (El Morro, Atacama) = 1-8, Chile (Valparaíso) = 9 and 12, Perú (Lagunilla Beach, Paracas) = 13, Panama = 14 and 15; others are unknown.