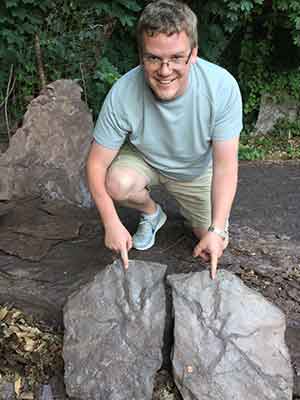 Patrick R. Getty
Department of Geology
Collin College
2800 E. Spring Creek Parkway Plano, TX 75074 USA

Dr. Patrick Getty was born and raised in Springfield, Massachusetts, which is situated in the Early Mesozoic Hartford Basin. Thus, from an early age, was exposed to trace fossils as his parents took him to various local dinosaur tracksites. He attended the University of Massachusetts as an undergraduate, where he studied biology and conducted a senior research project on a dinosaur track quarry that was active in the 1920s. Patrick then earned his Master's Degree, also from the University of Massachusetts, in the Department of Geosciences. His Master's work on the enigmatic Cambrian trace fossil Climactichnites took him to Missouri, Wisconsin, and New York in the United States, as well as Ontario and Quebec in Canada. Patrick then earned his Ph.D. at the University of Connecticut, in the Center for Integrative Geosciences, where he continued his work on the ichnology of the Hartford Basin, while adding the trace fossils of the Carboniferous Narragansett Basin to his areas of interest and study. Patrick is now Professor of Geology at Collin College in Plano, Texas. His interests are varied and include paleoecology, as well as organism-substrate interactions and ichnotaxonomy. He is also an advocate of using neoichnological experimentation whenever it is possible in order to test hypotheses about the makers of ancient traces.