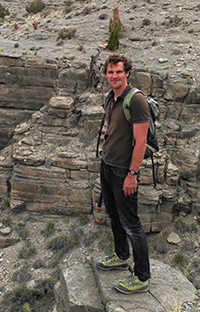 Richard Hofmann
FB 1 Evolution and Geoprocesses
Museum für Naturkunde Berlin
Leibniz Institute for Evolution and Biodiversity Science
Invalidenstr. 43, 10115 Berlin

www.fossilrich.com
Richard did his MSc-Thesis at the Technical University Bergakademie Freiberg (Germany) on Cambrian trace fossils. He then moved on to the University of Zurich (Switzerland) to carry out his PhD-Thesis on recovery of benthic ecosystems after the end-Permian mass extinction. After staying for a short postdoc in Zurich, Richard is now (still as a postdoc) at the Museum für Naturkunde Berlin (Germany) to investigate diversity patterns and palaeoecology of shallow marine ecosystems from the Ordovician. He mostly uses a field- and specimen-based approach to palaeontology and is especially interested biotic-abiotic interactions in the deep geological past.