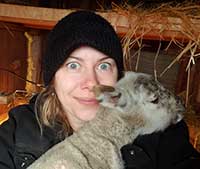 Meaghan M. Emery-Wetherell. School of Information, University of Arizona, Tucson, Arizona, USA.
Meaghan Wetherell is an Assistant Professor in the School of Information at the University of Arizona where she teaches science communication, statistics, and coding in various languages. She holds a B.S. in Biology from Oregon State University and a Ph.D. in Paleontology from University of Oregon. Her primary research interests are the evolution, radiation, and extinction of artiodactyls. She has also worked as a science writer for PBS Eons and as a lecturer at Central Washington University.
Her biggest accomplishment is that one of the videos she wrote for PBS Eons trended for approximately 30 minutes above a Cardi B video. For a brief moment people were putting Megalodon before Money – and she will probably have that written on her tombstone.