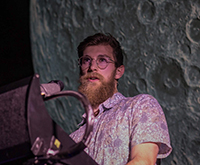 Mark Nikolic, PR Editor
Richard Gilder Graduate School
American Museum of Natural History
Central Park West at 79th St.
New York, 10024 New York, USA
Mark's home city is Melbourne, Australia and did his undergraduate at Monash University, which he followed by working as a research officer on deep sea polychaetes at Melbourne Museum. He is now a PhD candidate in invertebrate palaeontology at the American Museum of Natural History's Richard Gilder Graduate School in New York. Here, Mark works on trilobite evolution and development, studying how developmental processes have changed over time and how such processes influenced the trilobites' long evolutionary history. In addition to evo-devo, Mark has a strong interest in phylogenetic and computational methods, exploring and developing new techniques for using fossil data in phylogenetic analyses. When not staring at trilobite segments, you can find Mark DJing disco music or out putting in the kilometers on his bike.