Constraints on the timescale of animal evolutionary history
Plain Language Abstract
Dating the tree of life is a basic requirement for much of evolutionary biology. There is ongoing debate about how best to do this; the key problem is that the oldest fossils of any group are always younger than the time of origin of the group. We follow recent recommendations to take care that the selected oldest fossil truly belongs to the group in question, and then to specify the evidence for this as well as the best estimated geological age. Here we present 86 key calibrations for animal phylogeny, ranging from the root of animals to the last common ancestor of humans. Close attention to detail is constantly required: for example, the classic bird-mammal date (base of crown Amniota) has often been given as 310-315 Ma; the 2012 international time scale indicates a minimum age of 318 Ma.
Resumen en Español
Constricciones en la escala de tiempo de la historia evolutiva de los animales
La datación del árbol de la vida es una actividad clave en biología evolutiva. Las tasas de evolución son fundamentales para casi todos los modelos y procesos evolutivos. Las tasas necesitan edades. Hay un gran debate sobre las formas más adecuadas y razonables para la datación del árbol de la vida, y el trabajo reciente ha puesto de relieve algunas confusiones y complejidades que se pueden evitar. Ya sea que los árboles filogenéticos se fechen después de que se han establecido, o como parte del proceso de establecimiento de los árboles, los profesionales necesitan saber las calibraciones que deben usar. Hacemos hincapié en la importancia de identificar los fósiles corona (no los troncales), los niveles de confianza en su atribución al grupo corona, la precisión cronoestratigráfica más actualizada, la primacía de la formación geológica que los contiene y los intervalos de confianza asimétricos. Presentamos calibraciones para 88 nodos clave a lo largo de la filogenia de los animales, que van desde la base de los Metazoa hasta el último ancestro común de Homo sapiens. Se requiere una especial y constante atención a los detalles: por ejemplo, la clásica edad para ave-mamífero (base del grupo corona de Amniota) a menudo se ha indicado en 310-315 Ma; la international time scale de 2012 indica una edad mínima de 318 Ma.
PALABRAS CLAVE: filogenia; calibración; animales; Metazoa; aves; mamíferos
Traducción: Enrique Peñalver
Résumé en Français
Contraintes sur l'échelle de temps de l'histoire de l'évolution animale
La datation de l'arbre de vie est une entreprise de base en biologie évolutive. Les taux de l'évolution sont fondamentaux pour presque tous les modèles et processus évolutifs. Les taux ont besoin de dates. Il y a beaucoup de débat sur les moyens les plus appropriés et raisonnables pour dater l'arbre de vie, et des travaux récents ont mis en évidence certaines confusions et des complexités qui peuvent être évités. Que les arbres phylogénétiques soient datés après qu'ils ont été établis, ou dans le cadre du processus de constatation de l'arbre, les praticiens ont besoin de savoir quels étalonnages doit être utiliser. Nous soulignons l'importance d'identifier les fossiles couronnes (et non souches), les niveaux de confiance dans leur attribution à la couronne, la précision chronostratigraphique actuelle, la primauté de l'hôte de la formation géologique et les intervalles de confiance asymétriques. Nous présentons ici des étalonnages pour 88 nœuds clés dans la phylogénie des animaux, allant de la racine des métazoaires jusqu'au dernier ancêtre commun de l'Homo sapiens. Une attention aux détails est constamment nécessaire: par exemple, la date classique pour les oiseaux/mammifère (la base de la couronne pour Amniota) a souvent été donné comme étant 310-315 Ma; l'échelle de temps internationale de 2012 indique un âge minimum de 318 Ma.
MOTS-CLÉS: phylogénie; étalonnage; animaux; métazoaires; oiseaux; mammifères
Translator: Kenny J. Travouillon
Deutsche Zusammenfassung
Constraints auf die Zeitskala der Evolutionsgeschichte der Tiere
Den Baum des Lebens zu datieren ist ein Herzstück in der Evolutionsbiologie. Evolutionsraten sind fundamental für beinahe jedes Evolutionsmodell oder Evolutionsprozess. Raten brauchen Daten. Es wird viel über den geeignetsten und vernünftigsten Weg wie der Baum des Lebens datiert werden sollte diskutiert und bisherige Arbeiten haben einige Konfusionen und Komplexitäten aufgeworfen, die vermieden werden können. Ob phylogenetische Bäume nach ihrer Aufstellung datiert werden oder als Teil des Baumfindungsprozesses, die Fachleute müssen wissen welche Kalibrierungen sie gebrauchen müssen. Wir weisen auf die Wichtigkeit der Identifizierung von Kronen-(nicht Stamm-) Fossilien hin, Ebenen von Gewissheit über ihre Zuordnung zur Krone, aktuelle chronostratigrafische Präzision, die Vorrangstellung der beherbergenden geologischen Formation und asymmetrischer Konfidenzintervalle. Hier präsentieren wir Kalibrierungen für 88 Schlüsselknoten quer durch die Phylogenie der Tiere, von der Wurzel der Metazoa bis zum letzten gemeinsamen Vorfahren von Homo sapiens. Durchgehend ist eine erhöhte Aufmerksamkeit für Details gefordert: zum Beispiel wurde das klassische Vogel-Säugetier Datum (Basis der Kronengruppe Amniota) oft mit 310-315 Mill. Angegeben, die internationale Zeitskala von 2012 weist jedoch auf ein Minimum von 318 Mill. Jahren hin.
Schlüsselwörter: Phylogenie; Kalibrierung; Tiere; Metazoa; Vögel; Säugetiere
Translator: Eva Gebauer
Arabic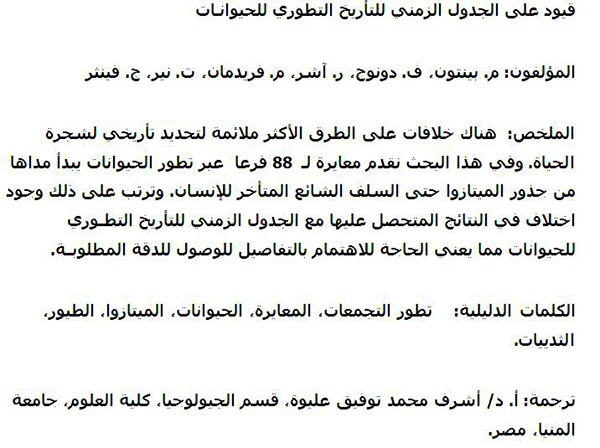 Translator: Ashraf M.T. Elewa