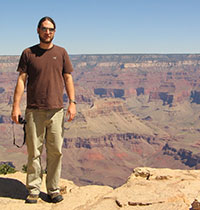 N.A. Smith
National Evolutionary Synthesis Center
Durham, North Carolina
USA


Adam Smith is a postdoctoral fellow at the National Evolutionary Synthesis Center on the campus of Duke University. He has received degrees from Western Kentucky University (BS) and the University of Texas at Austin (Ph.D.). He is a vertebrate paleontologist with a broad interest in the evolution of birds. Particular areas of focus include combined phylogenetic analyses, divergence time estimation and avian anatomy. More information can be found at: paleosmith.org.