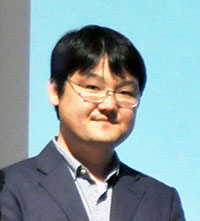 Yoshihiro Tanaka. Osaka Museum of Natural History, Nagai Park 1-23, Higashi-Sumiyoshi-ku, Osaka, 546-0034, Japan. This email address is being protected from spambots. You need JavaScript enabled to view it.
Hokkaido University Museum, Kita 10, Nishi 8, Kita-ku, Sapporo, Hokkaido 060-0810 Japan, Numata Fossil Museum, 2-7-49, Minami 1, Numata town, Hokkaido 078-2225 Japan
Yoshi Tanaka is a curator at Osaka Museum of Natural History, Japan and also a researcher at Hokkaido University Museum and Numata Fossil Museum. He works on the morphology and phylogeny of marine mammals (dolphins, porpoises, whales and walruses) from Japan, Ecuador and New Zealand. This paper is a part of his research project of toothed whale evolution.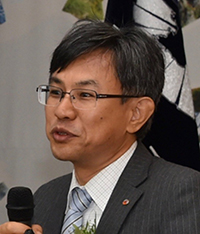 Mahito Watanabe. AIST, Geological Survey of Japan, Research Institute for Geology and Geoinformation, Central 7, 1-1-1 Higashi, Tsukuba, Ibaraki, 305-8567 Japan. This email address is being protected from spambots. You need JavaScript enabled to view it.
Mahito Watanabe is a Research Group Leader in Geological Survey of Japan. His research focusses on the diatom biostratigraphy of Neogene in the North Pacific region and its application for the revision of geological maps in Japan. He also aims to improve communication between the non-specialized public and geoscientists through the promotion of geopark activity as a member of UNESCO Global Geopark Council.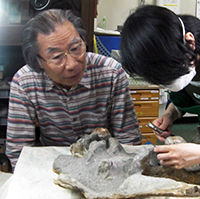 Masaichi Kimura. Hokkaido University of Education, Numata Fossil Museum, 2-7-49, Minami 1, Numata town, Hokkaido 078-2225 Japan. This email address is being protected from spambots. You need JavaScript enabled to view it.
Masaichi Kimura is a professor emeritus of Hokkaido University of Education and director emeritus of Numata Fossil Museum, Japan. He has researched on vertebrate paleontology more than half a century. His long-term research activities have contributed developing professional paleobiologists and establishing paleontological museums in Hokkaido, Japan.