An unusual new genus of istiodactylid pterosaur from China based on a near complete specimen
Plain Language Abstract
Pterosaur are an extinct group of flying reptiles that lived alongside the dinosaurs. One of the more unusual group of these are the istiodactylids which had long and very light skull with a series of sharp teeth only at the very tip. Few specimens are known and most are very incomplete or poorly described. Here we present a new Chinese istiodactylid based on a specimen of unprescedented completeness. It is also unusually large (one of the largest known, despite being a very young animal) and had bizarrely long legs and large feet unlike its other nearest relatives.
Resumen en Español
Un nuevo género inusual de pterosaurio Istiodactylidae de China basado en un espécimen casi completo
Un nuevo género y especie de pterosaurio Istiodactylidae, Luchibang xingzhe gen. et sp. nov., de la Formación Yixian del Cretácico Inferior de China se describe a partir de un espécimen casi completo que carece solo de la parte posterior del cráneo y la cola. El holotipo muestra un esqueleto inmaduro y ya es más grande que la mayoría de los representantes de la familia, lo que sugiere una gran envergadura en el adulto. Este es el espécimen de Istiodactylidae más completo conocido hasta la fecha y proporciona nueva información sobre la anatomía de este grupo y su supuesta ecología. El animal es inusual por tener extremidades postcraneales posteriores robustas y alargadas, lo que lo diferencia de otros Istiodactylidae y otros Pteranodontoidea.
Palabras clave: Pterosauria, filogenia, taxonomía, ecología
Traducción: Enrique Peñalver (Sociedad Española de Paleontología)
Résumé en Français
Un nouveau genre atypique de ptérosaure istiodactylidé basé sur une spécimen quasi complet de Chine
Une nouvelle espèce, placée dans un nouveau genre, de ptérosaure istiodactylidé, Luchibang xingzhe gen. et sp. nov., est érigée sur la base d'un spécimen quasi complet, manquant seulement la partie postérieure de la tête osseuse et la queue, et provenant du Crétacé inférieur de la formation de Yixan de Chine. L'individu holotype dont le squelette est immature est déjà d'une taille plus grande que celle de la plupart des istiodactylidés, suggérant une grande envergure à l'âge adulte. Ce spécimen est l'istiodactylidé le plus complet connu à ce jour et fournit de nouvelles informations sur l'anatomie de ce groupe et leur possible écologie. Cet animal était atypique et différencié des autres istiodactylidés et des autres ptéranodontoïdes par son squelette postcrânien robuste et ses membres postérieurs allongés.
Mots-clés : Pterosauria ; phylogénie ; taxinomie ; écologie
Translator: Antoine Souron
Deutsche Zusammenfassung
In progress
Translator: Eva Gebauer
Arabic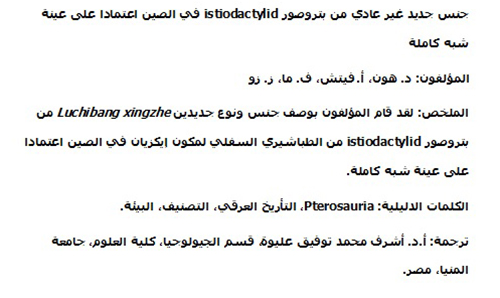 Translator: Ashraf M.T. Elewa
Polski
Niezwykły nowy rodzaj pterozaura z rodziny Istiodactylidae z Chin opisany na podstawie prawie kompletnego okazu

Nowy rodzaj i gatunek pterozaura z rodziny Istiodactylidae, Luchibang xingzhe gen. et sp. nov., z dolnokredowej formacji Yixian w Chinach jest opisany na podstawie prawie kompletnego okazu, w którym brakuje tylko tylnej części czaszki i ogona. Holotyp jest młodociany pod względem cech szkieletu, a już większy niż większość istiodactylidów, co sugeruje dużą rozpiętość skrzydeł dorosłych osobników. Ten najbardziej kompletny znany okaz Istiodactylidae, ostarcza nowych informacji na temat anatomii tej grupy i jej przypuszczalnej ekologii. Zwierzę to jest niezwykłe, ponieważ ma masywne i wydłużone kończyny tylne, co oznacza, że różni się od innych istiodactylidów i innych pteranodontoidów.
Słowa kluczowe: pterozaury, filogeneza, taksonomia, ekologia
Translator: Krzysztof Stefaniak
Russian
Необычный новый род истиодактилидного птерозавра из Китая на основе почти полного скелета
Мы описываем здесь новый род и вид истиодактилидного птерозавра, Luchibang xingzhe gen. et sp. nov., из исианской свиты нижнего мела Китая на основе почти полного скелета, в котором отсутствуют только задняя часть черепа и хвост. В качестве голотипа выступает молодая особь, которая хотя и имеет не до конца сформированный скелет, но уже гораздо крупнее большинства истиодактилид, что предполагает большой размах крыльев у взрослых особей. Описываемый образец истиодактилида является наиболее полным из известных на сегодняшний день. Его изучение позволило получить новые данные об анатомии этой группы и их предполагаемой экологии. Это животное необычно тем, что имело крепкий посткраниальный скелет и удлиненные задние конечности. По этим признакам описанный таксон существенно отличается от других истиодактилид и птеранодонтоид.
Ключевые слова: Pterosauria, филогения, таксономия, экология.
Translator: Oleksandr Kovalchuk
Ukrainian
Незвичайний новий рід істіодактилідного птерозавра з Китаю на основі майже повного скелета
Ми описуємо тут новий рід і вид істіодактилідного птерозавра, Luchibang xingzhe gen. et sp. nov., з ісіанскої світи нижньої крейди Китаю на основі майже повного скелета, в якому відсутні тільки задня частина черепа і хвіст. У якості голотипу виступає молода особина, яка хоча і має не до кінця сформований кістяк, але вже набагато крупніша за більшість істіодактилід, що передбачає великий розмах крил у дорослих особин. Описуваний зразок істіодактиліда є найбільш повним із відомих на сьогодні. Його вивчення дозволило отримати нові дані про анатомію цієї групи та з'ясувати особливості їх екології. Ця тварина незвична тим, що мала міцний посткраніальний скелет і видовжені задні кінцівки. За цими ознаками описуваний таксон відрізняється від інших істіодактилід і птеранодонтоід.
Ключові слова: Pterosauria, філогенія, таксономія, екологія.
Translator: Oleksandr Kovalchuk