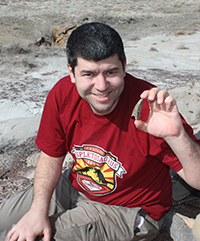 David W. E. Hone. Queen Mary University of London, Mile End Road, London, E1 4NS, UK.
Dave Hone is a vertebrate paleontologist who works on the behaviour and ecology of dinosaurs and the paleobiology and taxonomy of pterosaurs. He has made a particular study of sexual selection and socio-sexual signals in various dinosaur clades, and on feeding behaviour and trophic interactions of the theropods. He has also worked on the flight mechanicas of pterosaurs and on their preservation. Dave has also named a number of new dinosaur, pterosaur and rhynchosaur taxa.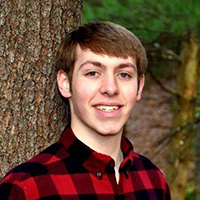 Adam J. Fitch. Department of Geosciences, University of Wisconsin-Madison, 1215 West Dayton St, Madison, Wisconsin 53105, USA.
Adam Fitch is a paleontologist and evolutionary biologist who studies the early evolution of archosaurs and their kin. His research focuses on the origin of the avian-stem (Avemetatarsalia), a group that most famously includes pterosaurs and dinosaurs. These questions have led him to focus on the paleontology of the Triassic Period, a critical interval during which much of the modern fauna originated, including archosaurs and, by extension, stem-avians. His current projects include reassessment of the ages of the global mid- early late-Triassic strata, the assembly of a novel Avemetatarsalian phylogenetic analysis, and the functional morphology and locomotor evolution of early stem-Aves.

Feimin Ma. School of the Earth Sciences and Resources, China University of Geosciences, 28 Xueyuan Road, Haidian District, 100083 Beijing, China.

Xing Xu. Institute of Vertebrate Palaeontology and Palaeoanthropology, Xizhimenwai Dajie 142, 100044 Beijing, China. and CAS Center of Excellence in Life and Paleoenvironment, Beijing, 100044, China.