Michael W. Knappertsbusch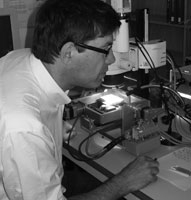 Natural History Museum Basel
Geology Department
Augustinergasse 2, 4001-Basel
Switzerland
Michael Knappertsbusch is curator for micropaleontology at the Natural History Museum in Basel. He studied geology at the Federal Institute of Technology (ETH) in Zürich, Switzerland, and graduated in 1986 with a micropaleontological diploma thesis about planktonic foraminiferal biostratigraphy in Northern Italy. In 1990 he obtained a PhD in Geology from ETH about coccolithophorids with a special emphasis on the morphological evolution of Calcidiscus leptoporus and related ancient forms. Residing in Amsterdam (Free University) from 1990 to 1994 he collaborated as a post-doc in the "Global Emiliania Modelling Initiative," a major investigation about the role of Emiliania huxleyi for the global carbon cycle.
Since 1994 he has been employed as curator for micropaleontology at the Natural History Museum in Basel (NMB), Switzerland. He runs the West-European Micropaleontological Reference Center of the DSDP and ODP and is responsible for all micropaleontological collections held at the NMB. His main research interest centers about patterns and biogeography of morphological evolution of oceanic microfossils, now mainly planktic foraminifera. Research includes the development of tools for morphometric investigations and visualization techniques for microfossils on the computer. An important recent breakthrough is the construction of an imaging system for automated foraminiferal orientation and imaging (AMOR) and software tools for automated shell measurements. These tools are employed by Michael and his current PhD student Yannick Mary for extended morphometric investigations of the Neogene planktic foraminifer Globorotalia menardii and related forms from a variety of deep-sea cores located in the Caribbean Sea, Eastern Equatorial Atlantic, off NW Brazil and from selected time-slices worldwide including the Holocene and Late Pliocene.

Yannick Mary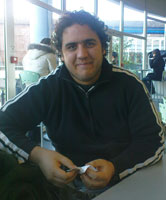 Natural History Museum Basel
Geology Department
Augustinergasse 2, 4001-Basel
Switzerland
Yannick Mary began studying micropaleontology during his bachelor degree of geological oceanography at the University of Bordeaux, France. He completed his education there with a master's degree in paleoceanography, with a specialisation in climatic and environmental reconstructions with the help of planktonic foraminifera. In 2008 he graduated with a diploma thesis entitled "Populations of planktonic foraminifera in the Bay of Biscay: comparison of actual faunas with a fossil record covering the last 2000 years."
Thereafter, he felt the time has come for him to leave France and to go abroad. Since 2009, he has been working on his PhD at the Natural History Museum of Basel, Switzerland, under the supervision of Michael Knappertsbusch. His research is about mapping of the morphological variability of Pliocene menardiform globorotalids in order to better understand species-level diversity and speciation mechanisms in the marine plankton. For this purpose, he is working with an automatic device, the prototype robot AMOR, and he is heavily engaged with automation, informatics and programming next to his micropaleontological topic.
The research interests of Yannick Mary emerged from all the different aspects of his earlier education: Studying the morphological diversity of planktonic foraminifera and environment variability raised his special curiosity and interests in understanding the relationships between climate, environment and evolution of this special group of organisms.