Occurrence of the sabretooth cat Smilodon populator (Felidae, Machairodontinae) in the Cuvieri cave, eastern Brazil
Plain Language Abstract
The saber-toothed cat Smilodon populator, typical of the Pleistocene of South America, is known for its teeth, cranial bones, and post-cranial bones. A specimen found in the Cuvieri Cave in Brazil based on small bones is described and commented here. The specimen is comparable in size to that of an adult lioness and represented the largest predator in the region. The associated fauna and age obtained for the material were also discussed.
Resumen en Español
Un tigre dientes de sable (Smilodon populator, Felidae, Machairodontinae) de la cueva Cuvieri, Este de Brasil
El tigre dientes de sable Smilodon populator, típico del Pleistoceno de América del Sur, es conocido por sus dientes, y sus huesos craneanos y post-craneanos (húmero, radio, ulna, fémur, tíbia, fíbula, astrágalo y falanges). Un espécimen encontrado en la cueva Cuvieri en Brasil es descripto y comentado aquí, en base a huesos pequenos (calcáneo, ectocuneiforme y falanges). El material osteológico tiene un calcáneo completo y un ectocuneiforme que aportan información sobre S. populator. El espécimen es comparable en tamaño a una leona adulta y representaba el predador más grande de la región. La fauna asociada y la edad del material también son discutidos.
Palabras clave: Lagoa Santa; Pleistoceno; Carnivora; América del Sur; Anatomía
Traducción: Diana Elizabeth Fernández
Résumé en Français
In progress
Translator: Antoine Souron
Deutsche Zusammenfassung
Das Vorkommen der Säbelzahnkatze Smilodon populator (Felidae, Machairodontinae) in der Cuvieri Höhle, Ostbrasilien
Die Säbelzahnkatze Smilodon populator ist typisch für das Pleistozän in Südamerika. Sie ist bekannt für ihre Zähne, Schädelknochen und Postkranialmaterial (Humerus, Radius, Ulna, Femur, Tibia, Fibula, Astragalus und Phalangen). Ein in der Cuvieri-Höhle in Brasilien gefundenes Exemplar, von dem zumeist kleinen Knochen gefunden wurden (Calcaneus, Ektocuneiforme und Phalangen), wird hier beschrieben und kommentiert. Das osteologische Material besteht aus einem vollständigen Kalkaneus und einem Ektocuneiforme, die die Daten über S. populator ergänzen. Das Exemplar ist von der Größe her mit einer erwachsenen Löwin vergleichbar und stellte das größte Raubtier der Region dar. Die assoziierte Fauna und das für das Material ermittelte Alter werden ebenfalls diskutiert.
Schlüsselwörter: Lagoa Santa; Pleistozän; Carnivora; Südamerika; Anatomie
Translator: Eva Gebauer
Arabic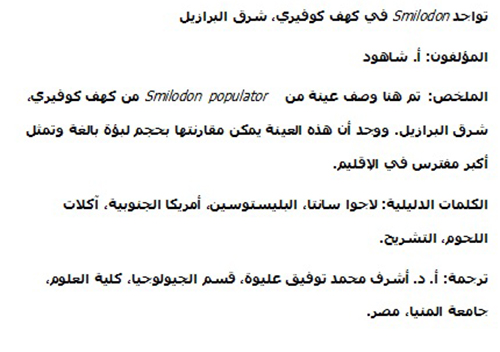 Translator: Ashraf M.T. Elewa
Polski
Występowanie kota szablozębnego Smilodon populator (Felidae, Machairodontinae) w jaskini Cuvieri we wschodniej Brazylii
Kot szablożebny Smilodon populator był typowym drapieżnikiem dla plejstocenu Ameryki Południowej. Znany jest z zębów, kości czaszki i kości szkieletu pozaczaszkowego (kości ramiennej, promieniowej, łokciowej, piszczelowej, strzałkowej, skokowej i paliczków). Okaz znaleziony w jaskini Cuvieri w Brazylii jest reprezentowany przez drobne kości (piętową, klinowatą boczną i paliczki) został opisany i skomentowany. Materiał osteologiczny obejmuje kompletną kość piętową i kość klinowatą boczną, co uzupełnia dane o S. populator. Okaz ten jest porównywalny pod względem wielkości z dorosłą lwicą i reprezentuje największego drapieżnika w regionie. Omówiono także powiązaną faunę i wiek uzyskany dla tego materiału.
Słowa kluczowe: Lagoa Santa; Plejstocen; Carnivora; Ameryka Południowa; anatomia
Translator: Krzysztof Stefaniak
Russian
Появление саблезубой кошки Smilodon populator (Felidae, Machairodontinae) в пещере Cuvieri, восточная Бразилия
Саблезубая кошка Smilodon рopulator, типичный вид для плейстоцена Южной Америки, известна по находкам зубов, костей черепа и посткраниального скелета (плечевая, лучевая, локтевая, бедренная, большеберцовая и малоберцовая кости, таранная кость и фаланги). Здесь мы описываем и обсуждаем образцы, найденные в пещере Cuvieri в Бразилии. Остеологический материал представлен полной пяточной костью и ectocuneiform, что позволяет расширить знания об анатомии скелета S. рopulator. Образец сопоставим по размеру со взрослой львицей и представляет собой самого крупного хищника в регионе. Обсуждаются также фауна, связанная с этой находкой, и возраст полученного материала.
Ключевые слова: Lagoa Santa; плейстоцен; Carnivora; Южная Америка; анатомия.
Translator: Oleksandr Kovalchuk
Ukrainian
Поява шаблезубої кішки Smilodon populator (Felidae, Machairodontinae) в печері Cuvieri, східна Бразилія
Шаблезуба кішка Smilodon рopulator, типовий вид для плейстоцену Південної Америки, відома за знахідками зубів, кісток черепа і посткраніального скелета (плечова, променева, ліктьова, стегнова, великогомілкова і малогомілкова кістки, таранна кістка, фаланги). Ми описуємо й обговорюємо зразки, знайдені в печері Cuvieri на сході Бразилії. Остеологічний матеріал представлений цілою п'ятковою кісткою і ectocuneiform, що дозволяє розширити наші знання про анатомію скелета S. populator. Зразок за розмірами порівнянний з дорослою левицею і представляв собою найбільшого хижака в регіоні. Також обговорюється фауна, пов'язана із цією знахідкою, а також вік отриманого матеріалу.
Ключові слова: Lagoa Santa; плейстоцен; Carnivora; Південна Америка; анатомія.
Translator: Oleksandr Kovalchuk