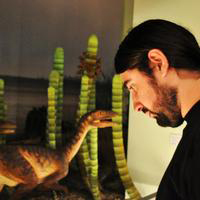 Vicente D. Crespo. Consejo Nacional de Investigaciones Científicas y Técnicas, División de Paleontología de Vertebrados, Museo de La Plata (UNLP), Paseo del Bosque s/n, B1900FWA La Plata, Argentina.
Museo Paleontológico de Alpuente, Av. San Blas 17, Alpuente, 46178 Valencia, Spain
Museu Valencia d'Història Natural, L'Hort de Feliu, P.O. Box 8460, Alginet, 46018 Valencia, Spain. Corresponding author
Vicente D. Crespo is a palaeontologist with a special interest in the study of small mammal associations from Miocene deposits, with emphasis on insectivores, bats and metatheria assemblages. Vicente D. Crespo is a Postdoctoral Researcher in the Department of Vertebrate Paleontology in the Museo de La Plata, Argentina.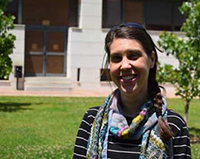 Esther Manzanares. Departament de Botànica i Geologia, Universitat de València, Dr. Moliner 50, 46100, Burjassot, Valencia, Spain.
Institut Cavanilles de Biodiversitat i Biologia Evolutiva, Catedrático José Beltrán Martínez 2, 46980 Paterna, Valencia, Spain
Esther Manzanares graduated in Biology at the University of Valencia and started to collaborate with the research group of Dr Héctor Botella during her Master's degree. Currently, she is part of the EVER group and is doing a PhD focusing on the chondrichthyan faunas of the Triassic in Spain and the evolution of the enameloid microstructure in sharks under the supervision of Dr Héctor Botella and Dr Carlos Martínez Pérez.