A NEW DOCODONT MAMMAL FROM THE JURASSIC KOTA FORMATION OF INDIA
Docodonts are a primitive group of mammals that lived during the Mesozoic Era, at a time dinosaurs were roaming on the Earth's surface. Prior to 1994, these mammals were known only from the Middle and Upper Jurassic (160-145 million years) rocks of Europe and North America. Focused research in recent years, brought to our notice the presence of these mammals in the Middle and Upper Jurassic rocks of Asia as well. Prior to the present find, these mammals known by isolated teeth, dentition, and in a few cases by skulls and skeletons, were restricted in distribution to the Jurassic rocks of North America, Europe, and Asia, which formed the northern supercontinent Laurasia at about 250 million years ago. Because of their restricted distribution, docodonts mammals were traditionally considered as a Laurasiatic or Holarctic group. Here we report the find of an upper left premolar of a docodont mammal from the Jurassic rocks (160-140 m.y.) of Pranhita-Godavari Valley in peninsular India. This is the first record of docodont mammals from the former Gondwanaland comprising South America, Antarctica, Africa, Australia, India and Madagascar. In tooth morphology, the new specimen is comparable to Haldanodon from the Upper Jurassic of Portugal, known by one of the best docodont fossil material. Here we name the new specimen as Gondtherium dattai, the first name given in honor of Gond tribe of people living in the investigated area and the species in recognition the work done by P.M.Datta, a geologist from the Geological Survey of India on early mammals of India. As evidence from other groups of fossils suggests that land connections were present between the southern continents during the Jurassic, it is predicted that docodont mammals might have existed on other southern continents as well.
UN NUEVO MAMÍFERO DOCODONTO DE LA FORMACIÓN JURÁSICA KOTA (LA INDIA)
La formación Kota (Jurásico medio tardío-Cretácico inferior de La India) ha proporcionado con anterioridad restos de mamíferos "symmetrodontos" y eutriconodontos. El lavado-tamizado a gran escala de las arcillas y "mudstones" intercalados en la banda de calizas que representa el Miembro Superior de la formación Kota (expuesto a lo largo de una cárcava 150 m al oeste de la población de Paikasigudem, distrito de Adilabad, estado de Andhra Pradesh, La India) produjo un único premolar superior de mamífero. El premolar, con su contorno oclusal asimétrico, dos cúspides labiales, estrechamiento de la corona lingualmente respecto a las cúspides labiales, y su ancho talón, es muy similar a los premolares superiores de los mamíferos docodontos. Una comparación detallada con la dentición superior de varios docodontos mostró que el nuevo espécimen de La India posee una morfología premolar comparable a la del patrón de Haldanodon, siendo aquí asignado a Gondtherium dattai gen. et sp. nov. (Docodontidae). Esto representa el primer descubrimiento de mamíferos docodontos en el hemisferio Sur, y sugiere una amplia distribución para este grupo de mamíferos.
PALABRAS CLAVE: Docodonta, formación Kota, Gondwana, Jurásico, La India
Translator: Manuel Salesa
UN NOUVEAU MAMMIFÈRE DOCODONTE DU JURASSIQUE DE LA FORMATION DE KOTA EN INDE
La Formation de Kota (Jurassique moyen tardif à Crétacé inférieur) en Inde péninsulaire a auparavant livré des restes de mammifères « symmétrodontes » et eutriconodontes. Le lavage-tamisage des argiles et argilites interstratifiées dans une bande de calcaires constituant le membre supérieur de la Formation de Kota a permis de recueillir une prémolaire supérieure isolée d'un mammifère. Ces roches affleurent le long d'un cours d'eau qui s'écoule à 150 m à l'ouest du village de Paikasigudem, dans le district d'Adilabad de l'état d'Andhra Pradesh.
La dent a une grande similarité avec les prémolaires supérieures des mammifères docodontes : elle possède un contour occlusal asymétrique, deux cuspides labiales, un large bassin du talon, et montre un resserrement de la couronne sur l'aspect lingual des cuspides labiales. Des comparaisons détaillées avec la dentition supérieure de divers taxons de docodontes démontrent que le nouveau spécimen de l'Inde a une morphologie comparable à celle de la structure des prémolaires observée chez Haldanodon, et nous le référons ici à un nouveau genre et nouvelle espèce de Docodontidae, Gondtherium dattai. Il s'agit de la première découverte d'un mammifère docodonte dans l'hémisphère sud. Celle-ci suggère que ce groupe de mammifères avait une vaste répartition géographique.
Mots-clés: Docodonta, Formation de Kota, Gondwana, Jurassique, Inde.
Translators: Michel Chartier and Martin Dubreuil
EIN NEUER DOCODONTER SÄUGER AUS DER JURASSISCHEN KOTA FORMATION INDIENS
Die spät mitteljurassische bis unterkretazische Kota Formation der indischen Halbinsel hat bisher "symmetrodonte" und entricodonte Säuger hervorgebracht. Das Schlämmen großer Mengen von Mergeln und Tonsteinen, die in Wechsellagerung mit dem Kalksteinband den oberen Teiles der Kota Formation bilden und entlang eines Flusseinschnitts150 m westlich des Dorfes Paikasigudem, Bezirk Aibad, Andhra Pradesh, Indien aufgeschlossen sind, erbrachte einen isolierten oberen Säuger-Prämolaren. Der Prämolar hat einen asymmetrischen occlusalen Umriß, zwei labiale Spitzen, eine Einschnürung der Krone linguad der labialen Spitzen und ein weites talonales Becken, und ähnelt stark den oberen Prämolaren docodonter Säuger. Detaillierte Vergleiche mit der oberen Bezahnung mehrerer bekannter Docodonten zeigt, daß der neue Fund aus Indien eine prämolare Morphologie hat, die mit dem Muster von Halanodon vergleichbar ist, und wird hier der neuen Gattung und Art Godtherium dattai (Docodontidae) zugeordnet. Dies ist der erste Fund docodonter Säuger von der südlichen Erdhalbkugel, und läßt auf eine große geographische Verbreitung dieser Säuger-Gruppe schließen.
SCHLÜSSELWÖRTER: Docodonta; Kota Formation; Gondwana, Jura; Indien
Translator: Franziska Großmann
UN NUOVO MAMMIFERO DOCODONTE NELLA FORMAZIONE DI KOTA DEL GIURASSICO IN INDIA
La Formazione di Kota (tardo Giurassico Medio - Cretaceo Inferiore) nell'India peninsulare aveva fornito in precedenza mammiferi "simmetrodonti" ed eutriconodonti. Un lavaggio preliminare di massa delle argille e dei fanghi intercalati con il livello di calcare che rappresenta il Membro Superiore della Formazione di Kota, ed esposto lungo un affioramento 150 m ad ovest del villaggio di Paikasigudem (Distretto di Adilabad, Stato di Andhra Pradesh) in India, ha fornito un esemplare isolato di premolare superiore di mammifero. Le caratteristiche di questo premolare lo rendono molto simile ai premolari superiori dei mammiferi docodonti. Paragoni dettagliati con la dentizione superiore dei vari taxa di docodonti già noti evidenziano come il nuovo esemplare indiano abbia una morfologia comparabile a quella di un Haldanodon, e viene quindi assegnato al gen. et sp. nov. Gondtherium dattai (Docodontidae). Questa è la prima scoperta di mammiferi docodonti nell'emisfero meridionale e suggerisce un'ampia distribuzione geografica per questo gruppo di animali.
PAROLE CHIAVE: Docodonta, Formazione di Kota, Gondwana, Giurassico, India
Translator: Alessandro Grippo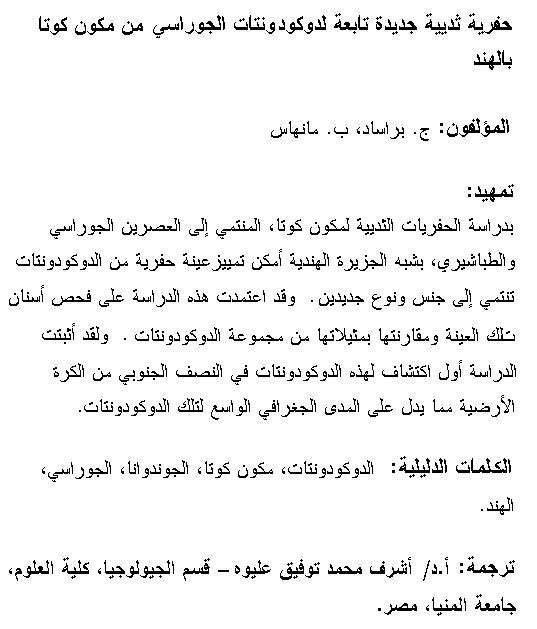 Translator: Ashraf M.T. Elewa
NOWY SSAK DOKODONTOWY Z JURAJSKIEJ FORMACJI KOTA Z INDII
Formacja Kota, obejmująca osady późnośrodkowojurajskie do górnokredowych, dostarczyła jak dotąd ssaków należących do Symmetrodonta i Eutriconodonta. Masa przepłukanej gliny i mułowców przeławiconych pasmem wapieni reprezentujących górną partię Formacji Kota i odsłoniętych 150 m na zachód od wioski Paikasigudem, Dystrykt Adilabad, Andhra Pradesh (stan), Indie, dostarczyła izolowany górny ząb przedtrzonowy ssaka. Przedtrzonowiec z asymetryczną krawędzią zgryzu, dwoma guzkami od strony wargowej, ściśnięty pomiędzy koroną od strony językowej a guzkami od strony wargowej i szerokim basenem talonowym jest bardzo podobny do górnych przedtrzonowców ssaków dokodontowych. Dokładniejsze porównania z górnym uzębieniem różnych taksonów dokodontów wykazały, że morfologia przedtrzonowca nowego okazu z Indii jest porównywalna do rodzaju Haldanodon, a okaz został nazwany Gondtherium dattai gen. et sp. nov. (Docodontidae). Okaz reprezentuje pierwsze znalezisko ssaka dokodontowego z półkuli południowej i sugeruje szersze rozprzestrzenienie geograficzne tej grupy ssaków.
SŁOWA KLUCZOWE: Dokodonta, Formacja Kota, Gondwana, jura, Indie
Translators: Dawid Mazurek and Robert Bronowicz