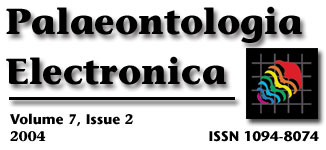 From the Executive Editors (PDF) 7.2.2E
Whitey Hagadorn and P. David Polly


Googling Turritella, or The Present and Future Value of the Web for Paleontological Research (PDF) 7.2.3E
Warren D. Allmon

Pattern Matching: Classification of Ammonitic Sutures Using GIS (PDF) 7.2.5A
Lori L. Manship
PE NOTES: Within each article are links in the contents column to material that may be of further use to specific readers. There is a plain-language summary that is presented as text and in an oral version. There are multiple versions of the abstract in English, Franšais, Espa˝ol, Italiano, Deutsche, and Arabic. Acrobat PDF versions of the articles are available (click on PDF beside the title) or from the contents column within the individual articles.

Announcements
4th International Symposium on the Cambrian System
Web Site Annotations
by P. Dave Polly
Paleontological and related web sites.
Paleontology newsletters and related electronic journals.
Teaching Resources
by William Riedel
Sites for teachers and students in primary and secondary schools. Includes web sites describing where fossils can conveniently be seen in situ and, in many instances, collected.
Contents
A list of items available in this issue available in Acrobat PDF format for easier printing.
Suggested Form of Citation
How to cite articles, editorials, and book reviews appearing in this issue.
Nomenclature Statement
How Palaeontologia Electronica fulfills the requirements for the publication of formal taxonomy.


Index of Palaeontologia Electronica Volumes
Alphabetical list of articles
Alphabetical list of authors
Numerical list of articles
Keyword terms index


Archive Information
Information regarding repository libraries.
Archive & Mirror Sites
Back Issues
---
Copyright: Coquina Press
December 2004
http://palaeo-electronica.org