AN ILLUSTRATED GUIDE TO FJORD FORAMINIFERA FROM THE SEYMOUR-BELIZE INLET COMPLEX, NORTHERN BRITISH COLUMBIA, CANADA
Foraminifera are shelled amoeboid protozoa that are very abundant in marine settings. They also are very diverse and respond quickly to changes in their environment. As a result they are very useful in paleoclimate and paleoceanographic research. An essential prerequisite prior to their application to an environmental problem though is the development of a good knowledge of the taxonomy of a population under study to ensure that no false identification of species is made. To that end a detailed taxonomic analysis of 94 foraminiferal species found in the Seymour-Belize Inlet Complex (SBIC), a fjord network situated on the north coast of British Columbia, has been developed as an aid to future researchers. This treatment also includes a few planktic foraminiferal taxa that were carried into the SBIC from the open ocean and 10 freshwater thecamoebian species that were washed into the inlet from the nearby adjacent shore.
Guia ilustrada de los Foraminera de FIORDO del complejo de la ensenada Seymour-Belize, Norte de la Columbia Británica, Canadá
Como ayuda para futuros investigadores, se presenta una descripción taxonómica detallada de 94 especies de foraminíferos presentes en el complejo de ensenada Seymour-Belize (SBIC), una red de fiordos situada en la costa norte de la Columbia Británica. Este tratado incluye unos pocos foraminíferos planctónicos que fueron arrastrados al SBIC desde mar abierto. Además, se describen 10 especies de thecamebas de agua dulce que fueron arrastradas hasta dentro de la ensenada desde la costa cercana.
PALABRAS CLAVE: Foraminifera, thecamoebians, Complejo de la ensenada Seymour-Belize, fiordo, nueva especie
Translator: Manuel Salesa
GUIDE ILLUSTRÉ DES FORAMINIFÈRES DES BRAS DE MER DE SEYMOUR INLET ET BELIZE INLET, COLOMBIE-BRITANNIQUE SEPTENTRIONALE, CANADA
Nous présentons ici les descriptions taxonomiques détaillées et les illustrations de 94 espèces de foraminifères trouvées dans les bras de mer de Seymour Inlet et Belize Inlet (SBIC), un réseau de fjords situé sur la côte nord de la Colombie-Britannique. Ce guide pourra être utilisé par les futurs chercheurs. Il inclut quelques taxons de foraminifères planctoniques qui ont été transportés du large vers le SBIC. Dix espèces de thécamibes d'eau douce, qui furent emportées dans les bras de mer à partir des rives voisines, sont également décrites.
Mots-clés : foraminifères, thécamibes, bras de mer de Seymour Inlet et Belize Inlet, fjord, nouvelles espèces.
Translators: Michel Chartier and Martin Dubreuil
EIN ILLUSTRIERTER FÜHRER DER FJORD-FORAMINIFEREN AUS DEM SEYMOUR-BELIZE INLET-KOMPLEX, NÖRDLICHES BRITHISH COLUMBIA, KANADA
Als Hilfe für zukünftige Forschungen werden detaillierte taxonomische Beschreibungen und Abbildungen von 94 Foraminiferen-Arten vorgestellt, die aus dem Seymour-Belize Inlet-Komplex (SBIC) stammen, einem Netzwerk von Fjorden an der Nordküste von British Columbia. Die Abhandlung umfaßt auch einige planktonische Foraminiferen-Taxa, die aus dem offenen Ozean in den SBIC gelangten. Zusätzlich werden auch zehn Arten von Thekamöben aus dem Süßwasser beschrieben, die von der nah angrenzenden Küste eingeschwemmt wurden.
SCHLÜSSELWÖRTER: Foraminiferen; Thekamöben; Seymour-Belize Inlet-Komplex; Fjord; neue Art
Translator: Franziska Großmann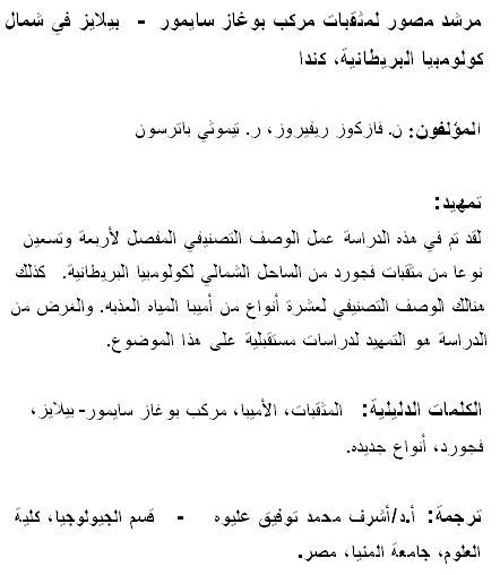 Translator: Ashraf M.T. Elewa
Ilustrowany przewodnik do fiordowych otwornic z kompleksu zatoczek Seymour-Belize, Północa Kolumbia Brytyjska, Kanada
Dokładny opis taksonomiczny i ilustracje 94 gatunków z komplesku zatoczek Seymour-Belize (SBIC), sieci fiordów usytuowanych na północnym wybrzeżu Kolumbii Brytyjskiej, są zaprezentowane jako pomoc dla przyszłych badań. Tak ujęty temat obejmuje również kilka planktonicznych taksonów otwornicowych, które zostały przeniesione do SBIC z otwartego oceanu. Dodatkowo, zostało opisanych dziesięć gatunków tekamebianowych, które zostały zmyte do zatoczki z pobliskiego brzegu.
Słowa kluczowe: otwornice, tekamebiany, kompleks zatoczek Seymour-Belize, fiord, nowy gatunek
Translators: Dawid Mazurek and Robert Bronowicz