THE BRAINCASE OF YOUNGINA CAPENSIS (REPTILIA, DIAPSIDA): NEW INSIGHTS FROM HIGH-RESOLUTION CT SCANNING OF THE HOLOTYPE
Herein, we re-describe the holotype specimen of Youngina capensis using modern medical imaging techniques. This area of the skull had never been described from complete specimens for this iconic early reptile. Our work offers the first 3D imaging of the braincase and the balance organs (vestibular system). Not only is this a new leap for Youngina but also among Permian early diapsid reptiles as a whole, for which often the deeper anatomy of the skull has not been well known. We find Youngina exemplifies a primitive morphology in its braincase, lacking many of the advanced features found in other more derived diapsid reptiles, such as crocodilians or lizards.
EL NEUROCRÁNEO DE YOUNGINA CAPENSIS (REPTILIA, DIAPSIDA): NUEVAS OBSERVACIONES MEDIANTE TOMOGRAFÍA AXIAL COMPUTERIZADA DE ALTA RESOLUCIÓN DEL HOLOTIPO
Las descripciones detalladas de la anatomía del neurocráneo de reptiles diápsidos son raras debido a la dificultad de acceder a esta parte interna del cráneo, bien por la pobre preservación de los fósiles o por la imposibilidad de separar los huesos de la bóveda craneal. Las descripciones previas del neurocráneo de Youngina capensis, un reptil diápsido del Pérmico superior (250 M.A.) de Sudáfrica, estaban basadas en fósiles conservados sólo parcialmente. El uso de la tomografía axial computerizada de alta resolución, un avance reciente en las ciencias biomédicas, nos ha permitido examinar por primera vez detenidamente el neurocráneo prácticamente completo del holotipo de Youngina capensis, a través de la matriz areniscosa que rellenó el cráneo. Presentamos las primeras vistas detalladas en tres dimensiones del neurocráneo y el sistema vestibular de un reptil diápsido del Pérmico. Esta nueva descripcción anatómica tiene una gran importancia comparativa y filogenética para el estudio de la estructura, función y evolución de la cabeza de los reptiles.
PALABRAS CLAVE: Youngina capensis, reptiles diápsidos, TAC, modelos 3D
Traducción: Miguel Company
La boite crânienne de YOUNGINA CAPENSIS (REPTILIA, DIAPSIDA): Nouveau point de vue à partir d'un balayage tomodensimetrique (CT-Scan) haute résolution de l'holotype.
Les descriptions détaillées de la boite crânienne des premiers diapsides sont historiquement rares étant donnés la difficulté d'accès à cette portion profonde du crâne, la mauvaise préservation des fossiles ou encore l'impossibilité d'enlever la voûte crânienne qui l'entoure. Les précédentes descriptions de la boite crânienne de Youngina capensis, un reptile souche diapside dérivé du Permien supérieur (250 Mya) d'Afrique du sud, reposent uniquement sur les fossiles partiellement préservés. Un balayage tomodensitométrique à rayon X haute résolution (HRXCT), un nouveau progrès des sciences médicales, nous a permis pour la première fois d'examiner une boite crânienne assez complète du spécimen type de Youngina capensis en observant numériquement au travers de la matrice gréseuse qui a rempli le crâne post-mortem. Nous présentons ici la première visualisation 3D détaillée de la boite crânienne et du système vestibulaire d'un reptile diapside permien. Cette nouvelle description anatomique présente une grande importance pour l'étude comparative et phylogénétique de la structure, la fonction et l'évolution de la tête chez les reptiles.
Mots clés: Youngina capensis, reptiles diapsides, balayage tomodensitométrique, modèles 3D
Translator: Olivier Maridet
Die Schädelhöhle von Younginia capensis (Reptilia, Diapsida): Einblicke mittels hochauflösender Computertomographie des Holotyps
Detaillierte Beschreibungen der Schädelhöhlenanatomie früher diapsiden Reptilien sind historisch selten. Da viele Fossilien oft schlecht erhalten sind oder es unmöglich war, das umgebende Schädeldach zu entfernen, war es bisher meist schwierig an diesen tiefsitzenden Schädelbereich heran zu kommen. Bisherige Beschreibungen der Schädelhöhle von Younginia capensis, ein abgeleitetes Stammreptil aus dem späten Perm (250 Mio. Jahre vor heute) von Südafrika, haben sich auf nur teilweise erhaltene Fossilien bezogen. Hochauflösende Röntgen-Computertomographie (HRXCT), ein neuer Fortschritt in den Biowissenschaften, erlaubte es uns die ziemlich vollständige Schädelhöhle des Holotyps von Younginia capensis zu untersuchen. Wir konnten nun zum ersten Mal einen Blick durch die Sandsteinmatrix mit der der Schädel postmortem gefüllt worden war, werfen. Wir präsentieren die erste detaillierte 3D-Visualisierung der Schädelhöhle und des vestibulären Systems eines permischen diapsiden Reptils. Diese neue anatomische Beschreibung ist von großem Vergleichswert und hat eine große phylogenetische Bedeutung für Untersuchungen zur Struktur, Funktion und Evolution des Reptilienschädels.
Schlüsselwörter: Younginia capensis, diapside Reptilien, Computertomograhie, 3D - Modelle
Translator: Eva Gebauer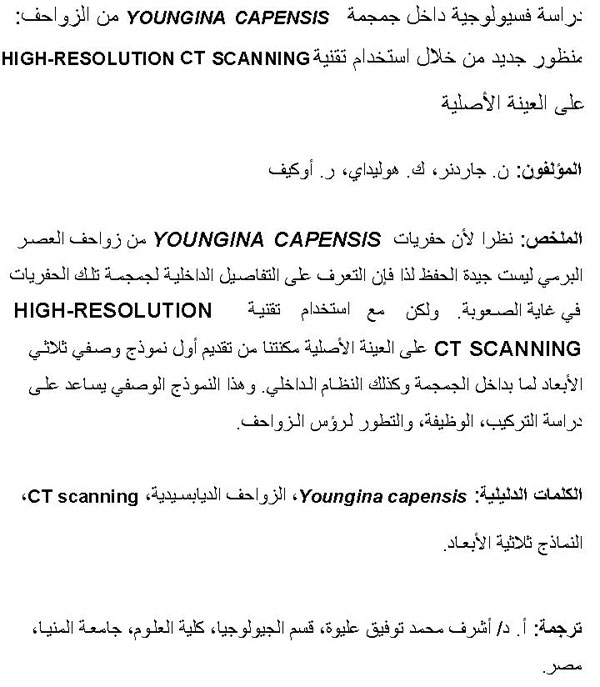 Translator: Ashraf M.T. Elewa
MÓZGOCZASZKA GATUNKU YOUNGINIA CAPENSIS (REPTILIA, DIAPSIDA): NOWE DANE OTRZYMANE DZIĘKI WYSOKIEJ ROZDZIELCZOŚCI ZDJĘCIOM TOMOGRAFICZNYM HOLOTYPU
Dokładne opisy anatomiczne mózgoczaszek wczesnych diapsydów nie są powszechne w literaturze paleontologicznej, co jest związane z trudnościami związanymi z dostępem do tej części czaszki spowodowanymi złym stanem zachowania okazów bądź brakiem możliwości usunięcia kości dachu czaszki. Poprzednie opisy mózgoczaszki gatunku Younginia capensis, zaawansowanego gada stanowiącego grupę siostrzaną dla pozostałych diapsydów, pochodzącego z późnego permu (250 mln lat) Afryki Południowej, bazowały jedynie na fragmentarycznych okazach. Wysokiej rozdzielczości rentgenowska tomografia komputerowa (High Resolution X-ray Computed Tomography – HRXCT), nowość w badaniach biomedycznych, pozwoliła po raz pierwszy na przebadanie stosunkowo kompletnej mózgoczaszki okazu holotypowego gatunku Younginia capensis, cyfrowo oglądając ją przez piaskowiec, który wypełnił czaszkę po śmierci osobnika. W artykule przedstawiamy pierwsze trójwymiarowe wizualizacje badanej mózgoczaszki oraz układu przedsionkowego permskiego gada należącego do Diapsida. Opracowanie to ma duże znaczenie porównawcze i filogenetyczne dla budowy, funkcji i ewolucji głowy u gadów.
Słowa kluczowe: Younginia capensis, diapsyd, tomografia komputerowa, modele 3D
Translators: Dawid Mazurek and Robert Bronowicz
LA SCATOLA CRANICA DI YOUNGINA CAPENSIS (REPTILIA, DIAPSIDA): NUOVI DATI DALLA SCANSIONE CT DELL'OLOTIPO
Descrizioni dettagliate dell'anatomia della scatola cranica nei primi rettili diapsidi sono molto rare, sia a causa della difficoltà oggettiva di analizzare questa porzione del cranio, sia a causa del cattivo stato di conservazione dei fossili, sia all'impossibilità di rimuovere le ossa della calotta. Le precedenti descrizioni della scatola cranica di Youngina capensis, un rettile diapside basale del Permiano superiore (250 Ma) del Sudafrica sono basate su fossili preservati solo parzialmente. La tomografia computerizzata ad alta risoluzione (HRXCT), un nuovo strumento utilizzato nelle scienze biomediche, ci ha permesso di esaminare la scatola cranica piuttosto completa dell'olotipo di Youngina capensis, in quanto per la prima volta è stato possibile "vedere" attraverso la matrice arenacea che ha riempito il cranio post mortem. Presentiamo in questo lavoro la prima ricostruzione 3D dettagliata della scatola cranica e del sistema vestibolare di un rettile diapside permiano. Tale nuova descrizione anatomica ha una notevole importanza per lo studio della struttura, della funzione e dell'evoluzione del capo dei rettili, sia a fini comparativi che filogenetici.
PAROLE CHIAVE: Youngina capensis, rettili diapsidi, scansione CT, modelli 3D
Translator: Chiara Angelone