The oldest (Middle Triassic, Anisian) lobsters from the Netherlands:
taxonomy, taphonomy, paleoenvironment, and paleoecology
Fossil lobsters from the Netherlands in Europe have been described only rarely. This article describes the oldest, marine lobsters from the Netherlands. These lobsters, found in the Winterswijk quarry, lived in a time period called the Middle Triassic, about 240 million years ago. Two lobsters are from the Erymidae family. The first one is an already known species, Clytiopsis argentoratensis, represented by four specimens in this study; the second one is represented by one specimen and is a new genus and new species, Oosterinkia neerlandica, in honor of one of the godfathers of geological and paleontological research in the Winterswijk quarry, Henk Oosterink. The last specimen is from the Mecochiridae family; it belongs to the genus Pseudoglyphea and most likely to the species spinosa. The lobsters lived in a stressed environment dominated by a low current activity and fluctuating salinity levels. This probably caused the specimens of Clytiopsis argentoratensis to be relatively small compared to relatives from older and younger time periods. The low number of specimens and species collected over the last decades is probably caused by a combination of the hostile environment in which the lobsters survived and the low chance of fossilization of these lobsters.
De oudste (Midden Trias, Anisien) kreeften uit Nederland: taxonomie, tafonomie, paleo-omgeving en paleoecologie
Fossiele kreeften uit Nederland zijn slechts zelden beschreven. Dit artikel beschrijft de oudste, mariene kreeften van Nederland uit de Midden Trias (Anisien) of Muschelkalk sedimenten die dagzomen in de Winterswijkse steengroeve. Het gaat om de twee soorten kreeften van de Erymidae familie (Clytiopsis argentoratensis en Oosterinkia neerlandica n. gen., n. sp.) en om een kreeft uit de Mecochiridae familie (Pseudoglyphea cf. P. spinosa). Ze leefden in een laag-energetische, moeilijk bewoonbare milieu met fluctuerende zoutgehaltes. Dit zorgde er waarschijnlijk voor dat individuen van Clytiopsis argentoratensis relatief klein waren ten opzichte van stratigrafisch jongere en oudere, verwante soorten. Het lage aantal individuen en soorten gevonden gedurende de afgelopen decennia heeft waarschijnlijk te maken met een combinatie van de moeilijke leefomgeving zelf voor de kreeften en de lage kans op fossilisatie.
Key words: nieuw taxon, Muschelkalk, paleoecologie, paleo-omgeving, tafonomie, Vossenveld Formatie
Translator: author
Las "langostas" marinas fósiles más antiguas (Triásico medio, Anisiense) de los Países Bajos: taxonomía, tafonomía, paleoambiente y paleoecología.
Las descripciones de "langostas" marinas fósiles de los Países Bajos son escasas. En este artículo se describen los ejemplares más antiguos hasta ahora conocidos, procedentes de los sedimentos del Triásico medio (Anisiense, Muschelkalk) de las canteras de Winterswijk. La fauna recolectada incluye ejemplares de las familias Erymidae (Clytiopsis argentoratensis y Oosterinkia neerlandica n. gen., n. sp.) y Mecochiridae (Pseudoglyphea cf. P. spinosa). Estas especies vivieron en un ambiente de baja energía y elevado estrés ecológico, con oscilaciones en los niveles de salinidad. Estas fluctuaciones podrían ser la causa del reducido tamaño de Clytiopsis argentoratensis en comparación con otras formas más antiguas y más modernas. Por otra parte, el escaso número de ejemplares recolectados a lo largo de varias décadas y la baja diversidad específica de los crustáceos son probablemente debidos a una combinación de las características paleoambientales y un limitado potencial de preservación.
PALABRAS CLAVE: nuevo taxón, Muschelkalk, paleoecología, paleoambiente, tafonomía, Formación Vossenveld.
Traducción: Miguel Company
Les homards plus anciennes (Trias moyen, Anisien) des Pays-Bas: la taxonomie, taphonomie, paléoenvironnement et de la paléoécologie
Des glyphéides fossiles des Pays-Bas n'ont été que très rarement décrits. Le présent article décrit les plus anciens glyphéides marins des Pays-Bas découverts dans les sédiments du Trias moyen, Anisien (Muschelkalk), des carrière de Winterswijk. Il s'agit de deux érymidés, Clytiopsis argentoratensis et Oosterinkia neerlandica n. gen., n. sp., et du mécochiridé Pseudoglyphea cf. P. spinosa. Ces crustacés vivaient dans un milieu de faible énergie caractérisé par des taux variables de salinité. Ces conditions pourraient être la cause de la taille réduite des spécimens de Clytiopsis argentoratensis par rapport à celle connue chez les formes plus anciennes et plus récentes. En outre, le petit nombre de spécimens récoltés depuis des décennies et le faible nombre d'espèces de crustacés sont vraisemblablement une conséquence de ce type d'environnement et d'un potentiel de préservation limité.
Key words: nouveau taxon, Muschelkalk, paléoécologie, paléoenvironnement, taphonomie, Vossenveld Formation
Translator: Danièle Guinot
Die älteste (Mitteltrias, Anisische Stufe) Hummer aus den Niederlanden: Taxonomie, Taphonomie, Paläoenvironment und Paläoökologie
Fossile Krebse aus den Niederlanden sind nur selten beschrieben worden. Hier werden die ältesten marinen Krebse der Niederlande vorgestellt, die aus Ablagerungen des Anisiums (Muschelkalk) im Steinbruchgebiet von Winterswijk stammen. Es handelt sich um die Erymiden Clytiopsis argentoratensis und Oosterinkia neerlandica n. gen. n. sp. sowie den Mecochiriden Pseudoglyphea cf. P. spinosa. Sie lebten in einem niederenergetischen, gestressten Milieu mit wechselnden Salinitäten. Dies könnte die Ursache für die geringe Größe von Clytiopsis argentoratensis sein, verglichen mit stratigraphisch jüngeren und älteren Arten. Sowohl die geringe Zahl an Individuen, die über einen Jahrzehnte langen Zeitraum gesammelt wurden, als auch die niedrige Artenzahl haben ihre Ursache wahrscheinlich in einer Kombination aus ökologischen Gründen und einem begrenzten Erhaltungspotential.
Key words: neue Taxon, Muschelkalk, Paläoökologie, Paläoenvironment, Taphonomie, Vossenveld Formation
Translator: Günter Schweigert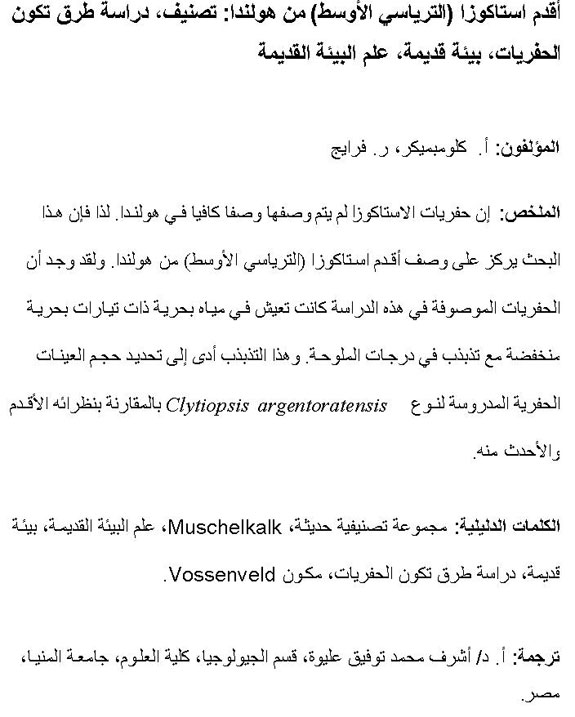 Translator: Ashraf M.T. Elewa
Najstarszy (trias środkowy, anizyk) homar z Holandii: taksonomia, tafonomia, paleośrodowisko i paleoekologia
Kopalne homary z Holandii bywały opisywane tylko z rzadka. Niniejszy artykuł opisuje najstarsze, morskie homary z Holandii z osadów środkowotriasowego anizyku (wapień muszlowy) odsłaniających się w kompleksie skał kamieniołomu Winterswijk. Zidentyfikowane homary to: erymidy Clytiopsis argentoratensis i Oosterinkia neerlandica n. gen., n. sp., oraz mekochiryd Pseudoglyphea cf. P. spinosa. Wszystkie żyły w niskoenergetycznym, stresowym środowisku ze zmianami poziomu zasolenia. Te zmiany mogły ograniczać rozmiary osobników Clytiopsis argentoratensis w porównaniu do spowinowaconych stratygraficznie, młodszych i starszych, homarów. Co więcej, mała liczba okazów zgromadzona przez dziesięciolecia, jest zapewne skutkiem kombinacji dwóch czynników: samego środowiska i ograniczonym potencjałem fosylizacyjnym.
SŁOWA KLUCZOWE: nowy takson, wapień muszlowy, paleoekologia, paleośrodowisko, tafonomia, formacja Vossenveld
Translators: Dawid Mazurek and Robert Bronowicz
I più antichi astici (Triassico medio, Anisico) dei Paesi Bassi: tassonomia, tafonomia, paleoambiente e paleoecologia
Solo raramente sono stati descritti astici fossili nei Paesi Bassi. Descriviamo qui i più antichi dei Paesi Bassi da sedimenti del Triassico medio (Anisico, Muschelkalk) affioranti nel complesso di cave di Winterswijk. I reperti includono Clytiopsis argentoratensis e Oosterinkia neerlandica n. gen., n. sp. (fam. Erymidae) e Pseudoglyphea cf. P. spinosa (fam. Mecochiridae). Popolavano un ambiente a bassa energia con livelli di salinità variabili. Tali fluttuazioni di salinità potrebbero aver causato una limitazione della taglia negli esemplari di Clytiopsis argentoratensis rispetto ad esemplari stratigraficamente sia più recenti che più antichi. Inoltre, il basso numero di esemplari raccolti in decenni di ricerche e il basso numero di specie di crostacei potrebbe essere dovuto ad una combinazione di fattori sfavorevoli come il tipo di ambiente e il potenziale di conservazione limitato.
PAROLE CHIAVE: nuovo taxon, Muschelkalk, paleoecologia, paleoambiente, tafonomia, Vossenveld Formation
Translator: Chiara Angelone