Bite marks revisited – evidence for middle-to-late Eocene Basilosaurus isis predation on Dorudon atrox (both Cetacea, Basilosauridae)
Julia M. Fahlke

Plain Language Abstract
Basilosaurus isis is a large (16 m long) archaeocete whale that lived about 38 to 36.5 million years ago. Tooth shape and the wear on the teeth of B. isis indicate that it ate other animals. Fossil remains of B. isis are found in the same deposits in Egypt as those of the smaller (5 m long) archaeocete Dorudon atrox. Speculations exist on whether B. isis preyed on D. atrox, but even though bite marks on skulls of D. atrox calves are known, the producer of these bite marks could not be identified until now. In this study, these bite marks are reinvestigated and additional bone modifications are analyzed. New technology like computed tomography (CT) and three-dimensional (3D) surface reconstruction is used to match the bite marks on D. atrox skulls to the teeth of B. isis. Digital placement of D. atrox remains into the mouth of B. isis helps to draw conclusions on how B. isis captured its prey. The results show that B. isis approached D. atrox calves preferably from the left side to bite them across the head once or several times. It is also possible that B. isis drowned its prey and bit off pieces, a killing scenario that is frequently observed in modern killer whales. Scavenging might also be considered. There appear to be dietary differences between members of the genus Basilosaurus comparable to those seen in modern killer whales, and B. isis is the only archaeocete known to date that apparently ate other whales.
Resumen en Español
Nuevas marcas de mordeduras: evidencias de depredación de Basilosaurus isis sobre Dorudon atrox (ambos Cetacea, Basilosauridae) del Eoceno medio-superior
Los Basilosauridae fueron un grupo de cetáceos arqueocetos acuáticos, que en las formaciones Gehannam y Birket Qarun del Eoceno medio-superior (ca. 38-36.5 Ma) de Egipto está representado por dos especies: una de mayor tamaño, Basilosaurus isis, y otra más pequeña, Dorudon atrox. En estos depósitos marinos someros se han encontrado restos de ejemplares adultos y juveniles de Dorudon, pero sólo adultos de Basilosaurus. Marcas de mordeduras letales en cráneos juveniles de Dorudon sugieren que los ejemplares adultos de Basilosaurus invadían las áreas de cría de D. atrox para depredar sobre los ejemplares juveniles de esta especie. En este trabajo se investigan de nuevo marcas de mordeduras en ejemplares juveniles de D. atrox que ya habían sido descritas pero no se habían atribuido a ningún productor en particular y se analizan otras modificaciones de huesos. Mediante la aplicación de tomografía computarizada, escaneado digital de superficies y reconstrucciones tridimensionales, los ejemplares juveniles de D. atrox fueron colocados digitalmente en la boca de un adulto de B. isis. Las marcas de mordeduras coinciden con la dentición de B. isis. Además, las impresiones dejadas por réplicas de dientes de B. isis en arcilla de modelar se asemejan en forma y tamaño a las marcas de mordeduras en esos ejemplares juveniles de D. atrox. Así pues, B. isis fue probablemente un depredador que incluía crías de D. atrox en su dieta. La presa era capturada normalmente por un lado de la cabeza y, a veces, se ajustaba en la boca antes de asestar una mordedura más potente. También es posible que se diera carroñeo sobre cadáveres de crías de D. atrox por parte de B. isis. La dieta de Basilosaurus y las diferencias dietéticas dentro del género son similares a las conocidas en las orcas (Orcinus orca) actuales. B. isis es el único arqueoceto conocido hasta el momento que probablemente depredó sobre otros cetáceos.
PALABRAS CLAVE: cetáceos; arqueocetos; marcas de mordeduras; depredación; dieta; reconstrucción 3D
Traducción: Miguel Company
Résumé en Français
Révision de traces de morsures – preuves d'une prédation à l'Eocène moyen-supérieur de Basilosaurus isis sur Dorudon atrox (tous deux Cetacea, Basilosauridae)
Les Basilosauridae sont des baleines archéocètes entièrement aquatiques et cosmopolites, représentées dans l'Eocène moyen-supérieur des formations Gehannam et Birket Qarun d'Egypte (ca. 38-36,5 Ma) par le grand Basilosaurus isis et le plus petit Dorudon atrox. Des Dorudon adultes et juvéniles mais des Basilosaurus uniquement adultes ont été trouvés dans ces dépôt marin peu profonds. Des marques de morsures létales sur des crânes de Dorudon juvéniles ont suscité l'idée que des Basilosaurus adultes ont pénétré dans le domaine de vêlage de D. atrox pour chasser leurs jeunes. Toutefois il n'y a pas eu de preuve directe supportant cette idée. Dans cette étude, les traces de morsures sur les spécimens de D. atrox juvéniles qui ont été précédemment décrites mais pas assignées a un responsable particulier sont réétudiées, et des modifications d'un os supplémentaire sont analysées. Utilisant la tomographie assistée par ordinateur (CT), un scan numérique de la surface, et une reconstruction en trois dimensions (3D), les spécimens juvéniles de D. atrox ont été replacés virtuellement dans la bouche d'une B. isis adulte. Les traces de morsures correspondent à la dentition de B. isis. Des empruntes de moulages de dents de B. isis dans de l'argile ressemblent par ailleurs aux traces de morsures sur ces spécimens de D. atrox, tant par la forme que par la taille. B. isis était un prédateur probable incluant des D. atrox juvéniles dans son alimentation. Les proies étaient principalement capturées à partir d'une position latérale visan la tête et parfois ajustées dans la bouche avant une morsure plus puissante. Du charognage de B. isis sur des baleineaux de D. atrox est également possible. L'alimentation de Basilosaurus et les différences alimentaires au sein du genre ressemblent à celles connues chez les orques actuels (Orcinus orca). B. isis est à ce jour le seul archéocète connu ayant probablement chassé d'autres cétacées.
Mots clés: baleine; archéocète; traces de morsures; prédation; alimentation; reconstruction 3D
Translator: Olivier Maridet
Deutsche Zusammenfassung
Bissspuren neu untersucht – Basilosaurus isis jagte Dorudon atrox (beide Cetacea, Basilosauridae; mittleres bis spätes Eozän)
Basilosauriden sind archaeocete Wale mit einer weiten Verbreitung, die in den mittel- bis späteozänen Gehannam- und Birket Qarun-Formationen Ägyptens (ca. 38-36.5 Ma) mit dem größeren Basilosaurus isis und dem kleineren Dorudon atrox vertreten waren. Von D. atrox sind aus diesen flachmarinen Ablagerungen adulte und juvenile Tiere bekannt, während von B. isis ausschließlich adulte Individuen gefunden wurden. Tödliche Bissspuren an Schädeln von Dorudon-Jungtieren haben zu Spekulationen darüber geführt, ob Basilosaurus möglicherweise ins Flachwasser vordrang, um Jagd auf neugeborene D. atrox zu machen. Bislang gab es jedoch keine direkten Hinweise, die diese Idee bestätigen konnten. In der vorliegenden Arbeit werden Bissspuren an Stücken juveniler D. atrox neu untersucht, die zwar zuvor beschrieben, jedoch nicht eindeutig einem Verursacher zugeordnet wurden, und weitere Knochenveränderungen werden in die Studie einbezogen. Unter Anwendung von Computertomographie (CT), digitalen Oberflächenscans und dreidimensionaler (3D) Rekonstruktion werden die Überreste der juvenilen D. atrox digital in das Maul eines adulten B. isis platziert. Ergebnisse zeigen, dass die Bissspuren zur Bezahnung von B. isis passen. Abdrücke von Zahnabgüssen von B. isis in Plastilin gleichen außerdem den Bissspuren in Größe und Form. B. isis war wahrscheinlich ein Raubtier, das sich unter anderem von D. atrox-Jungtieren ernährte. Es ist auch möglich, dass B. isis von D. atrox-Kadavern fraß. Die Ernährung von Basilosaurus und Ernährungsunterschiede innerhalb der Gattung erinnern an den modernen Killerwal (Orcinus orca). B. isis ist der einzige bisher bekannte archaeocete Wal, der möglicherweise Jagd auf andere Wale machte.
SCHLÜSSELWÖRTER: Wale; Archaeoceti; Bissspuren; Prädation; Ernährung; 3D-Rekonstruktion
Translators: Author
Arabic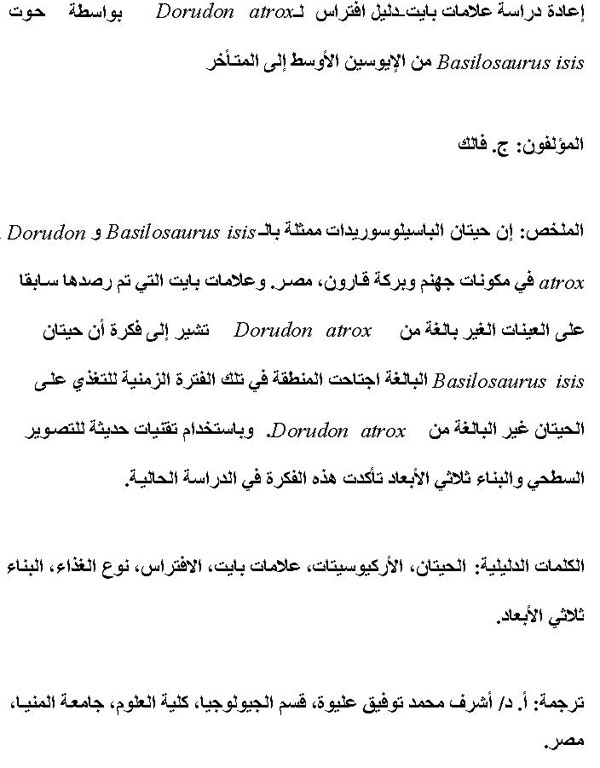 Translator: Ashraf M.T. Elewa