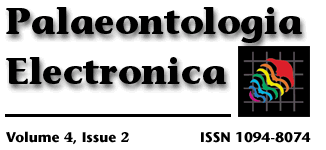 Goodness and Understanding in Paleontology (PDF)
Jere H. Lipps


Mars, Panspermia, and the Origin of Life: Where Did It All Begin? (PDF)
Joseph L. Kirschvink and Benjamin P. Weiss


Letters

Atlas of Common Squamatological (Fish Scale) Material in Coastal British Columbia, and an Assessment of the Utility of Various Scale Types in Paleofisheries Reconstruction (PDF)
R. Timothy Patterson, Cynthia Wright, Alice S. Chang, Leslie A. Taylor, Patrick D. Lyons, Audrey Dallimore, and Arun Kumar

The Amount of the Taphonomic/Tectonic Compaction in the Fluminimaggiore Formation (SW Sardina, Italy) with Discussion of a New Paleontological Method for Estimating Compaction (PDF)
Maurizio Gnoli

Re-Illustration and Revised Taxonomy for Selected Deep-Sea Benthic Foraminifers (PDF)
Ann E. Holbourn and Andrew S. Henderson
PE NOTES: Within each article are links in the contents column to material that may be of further use to specific readers. There is a plain-language summary that is presented as text and in an oral version. There are multiple versions of the abstract in English, Franšais, Espa˝ol, Italiano, and Deutsche. The English abstract is also presented in an oral version. Acrobat PDF versions of the articles are available (click on PDF beside the title) or from the contents column within the individual articles.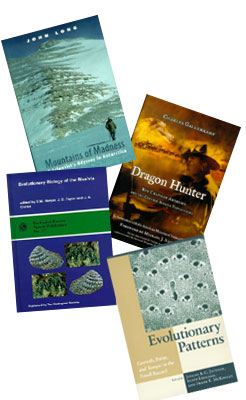 Dragon Hunter
Roy Chapman Andrews and the Central Asiatic Expeditions
Charles Gallenkamp
Reviewer: Gerald Grellet-Tinner
Evolutionary Biology of the Bivalvia
Edited by E.M. Harper, J.D. Taylor, and J.A. Crame
Reviewer: Neville Hudson
Evolutionary Patterns:
Growth, Form, and Tempo in the Fossil Record
Edited by Jeremy B.C. Jackson, Scott Lidgard, and Frank K. McKinney
Reviewer: Richard A. Reyment
Mountains of Madness
A Scientist's Odyssey in Antarctica
John Long
Foreword by Tim Bowden
Reviewer: Rodney M. Feldmann

Announcements
International Training Course, University of Savoie in ChambÚry, France
Web Site Annotations
by P. Dave Polly
Paleontological and related web sites.
Paleontology newsletters and related electronic journals.
Teaching Resources
by P. Dave Polly
Sites for teachers and students in primary and secondary schools.
Contents
A list of items available in this issue available in Acrobat PDF format for easier printing.
Suggested Form of Citation
How to cite articles, editorials, and book reviews appearing in this issue.
Index of Palaeontologia Electronica Volumes
Alphabetical list of articles
Alphabetical list of authors
Nomenclature Statement
How Palaeontologia Electronica fulfills the requirements for the publication of formal taxonomy.
Archive Information
Information regarding repository libraries.
---
Copyright: Coquina Press
31 January 2002
http://palaeo-electronica.org