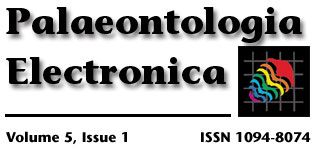 From the Executive Editors (PDF)
Norm MacLeod and Whitey Hagadorn



Reclaiming Evolution for the Fossils (PDF)
Graham Budd


How to get a Reputation in Paleontology! A Twelve-Step Program (PDF)
Jere H. Lipps


Early Life, Science, and Wrestling (PDF)
Stefan Bengtson


Letters

Computed Tomography of an Anolis Lizard in Dominican Amber: Systematic, Taphonomic, Biogeographic, and Evolutionary Implications (PDF)
Michael J. Polcyn, Jack V. Rogers II , Yoshitsugu Kobayashi, and Louis L. Jacobs
Environmental Control of Diversity, Evolutionary Rates and Taxa Longevities in Antarctic Neogne Radiolaria (PDF)
David B. Lazarus
Stereographic Virtual Reality Representations of Microfossils in Light Microscopy (PDF)
Michael W. Knappertsbusch
Imaging Fossils Using Reflectance Transformation and Interactive Manipulation of Virtual Light Sources (PDF)
ěyvind Hammer, Stefan Bengtson, Tom Malzbender, and Dan Gelb
PE NOTES: Within each article are links in the contents column to material that may be of further use to specific readers. There is a plain-language summary that is presented as text and in an oral version. There are multiple versions of the abstract in English, Franšais, Espa˝ol, Italiano, and Deutsche. The English abstract is also presented in an oral version. Acrobat PDF versions of the articles are available (click on PDF beside the title) or from the contents column within the individual articles.



The Age of the Earth: from 4004 BC to AD 2002 (PDF)
Edited by C.L.E. Lewis and S.J. Knell
Reviewer: Ian C. Johnston
The Armored Dinosaurs (PDF)
by Kenneth Carpenter (ed.)
Reviewer: Peter Makovicky
The Map That Changed the World:
William Smith and the Birth of Modern Geology (PDF)
by Simon Winchester
Reviewer: Ben Waggoner
Mesozoic Vertebrate Life (PDF)
by Darren Tanke and Kenneth Carpenter (eds.)
Reviewer: John R. Hutchinson

Dinosaurs Under the Big Sky (PDF)
by Jack Horner
Reviewer: Fred Shochet
Time Traveler:
In Search of Dinosaurs and Other Fossils from Montana to Mongolia (PDF)
by Michael Novacek
Reviewer: Mike Everhart

The Dinosaurs of Waterhouse Hawkins (PDF)
by Barbara Kerley; illustrated by Brian Selznick
Reviewer: Jennifer Collins

Web Site Annotations
by P. Dave Polly
Paleontological and related web sites.
Paleontology newsletters and related electronic journals.
Teaching Resources
by P. Dave Polly
Sites for teachers and students in primary and secondary schools.
Contents
A list of items available in this issue available in Acrobat PDF format for easier printing.
Suggested Form of Citation
How to cite articles, editorials, and book reviews appearing in this issue.
Index of Palaeontologia Electronica Volumes
Alphabetical list of articles
Alphabetical list of authors
Nomenclature Statement
How Palaeontologia Electronica fulfills the requirements for the publication of formal taxonomy.
Archive Information
Information regarding repository libraries.
---
Copyright: Coquina Press
30 August 2002
http://palaeo-electronica.org