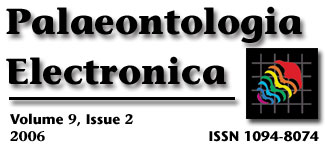 Palaeobotany in the Digital Age: Unearthing the Future of Taxonomy (PDF) 9.2.3E
Ian Miller and Rose Prevec


The Beginning and Pseudo-End (PDF) 9.2.4.E
Jere H. Lipps
A Diverse New Assemblage of Late Eocene Squamates (Reptilia) from the Chadron Formation of North Dakota, U.S.A. (PDF) 9.2.5A
Krister T. Smith
Gliridae (Rodentia, Mammalia) from the Late Miocene Fissure Filling Biancone 1 (Gargano, Province of Foggia, Italy) (PDF) 9.2.6A
Matthijs Freudenthal and Elvira Martín-Suárez
Source Code for Theoretical Morphologic Simulation of Helical Colony Form in the Bryozoa (PDF) 9.2.7A
David M. Raup, George R. McGhee Jr., and Frank K. McKinney
Positioning and Enhanced Sterographic Imaging of Microfossils in Reflected Light (PDF) 9.2.8A
M.W. Knappertsbusch, K.R. Brown, and H.R. Rüegg
Loosening the CLAMP: An Exploratory Graphical Approach to the Climate Leaf Analysis Multivariate Program (PDF) 9.2.9A
W.A. Green
PE NOTES: Within each article are links in the contents column to material that may be of further use to specific readers. There is a plain-language summary that is presented as text and in an oral version. There are multiple versions of the abstract in English, Français, Español, Italiano, Deutsche, Arabic, and Polski. Acrobat PDF versions of the articles are available (click on PDF beside the title) or from the contents column within the individual articles.

Dinosaur Provincial Park: A Spectacular Ecosystem Revealed (PDF) 9.2.3R
Edited by Philip J. Currie and Eva B. Koppelhus
Reviewed by: Andrew A. Farke
Evolving Form and Function: Fossils and Development
Proceedings of a symposium honoring Adolf Seilacher for his contributions to palaeontology, in celebration of his 80th birthday (PDF) 9.2.4R
Edited by Derek E.G. Briggs
Reviewed by: Stephen Q. Dornbos
Fossil Legends of the First Americans:
Paleontologists Among the First Peoples? (PDF) 9.2.5R
by Adrienne Mayor
Reviewed by Norman MacLeod
Les Planches Inédites de Foraminiféres d'Alcide d'Orbigny—À L'aube de la Micropaléontologie
The Unpublished Plates of Foraminifera by Alcide d'Orbigny—the Dawn of Micropaleontology (PDF) 9.2.6R
by Marie-Thérèse Vénec-Peyré
Reviewed by: Jere H. Lipps

Contents
A list of items available in this issue available in Acrobat PDF format for easier printing.
Suggested Form of Citation
How to cite articles, editorials, and book reviews appearing in this issue.
Nomenclature Statement
How Palaeontologia Electronica fulfills the requirements for the publication of formal taxonomy.


Index of Palaeontologia Electronica Volumes
Alphabetical list of articles
Alphabetical list of authors
Numerical list of articles
Keyword terms index


Archive Information
Information regarding repository libraries.
Archive & Mirror Sites
Back Issues
---
Copyright: Coquina Press
September 2006
http://palaeo-electronica.org