Anatomy of the very tiny:
FIRST DESCRIPTION OF THE HEAD SKELETON oF THE RARE
SOUTH AMERICAN CatFISH Sarcoglanis simplex
(SILURIFORMES: TRICHOMYCTERIDAE)
Small specimens of any animal, fossil or living, pose unique difficulties for researchers interested in knowing more about the anatomy and relationships of such animals. Sarcoglanis simplex, a rare and miniature catfish found in sandbars of the Amazon River in South America. This harmless fish is part of a group of catfishes called Trichomycteridae "the Pencil or parasitic catfishes" and it is related to the pesky candirú catfish Vandellia that is known to enter and lodge in the urethra in humans—a fatal mistake for the fish and medical emergency for the victim. Sarcoglanis is a perfect example of a small specimen that awaited a new technology to be developed in order to understand more about its anatomy. Our study explored how the relatively new technique of microfocus computed tomography (MicroCT) was used to examine the structures of this exceedingly tiny fish. Previous studies predicted the bone shapes and articulations that existed in Sarcoglanis by looking at its close relatives. Our study for the first time could confirm and falsify these predictions.
Something else that our study provided was a detailed method for additional studies on similarly sized specimens. Based on our results we know that recent specimens no larger than 5cm in diameter and length are the best candidates for use with MicroCT, especially those that have hardened skeletons. This is because they can be x-rayed easily in multiple directions and later turned into well-defined 3-dimensional models. Since our initial study, further work was conducted on many more catfishes using the same MicroCT machine designed by the Skyscan team with great results.
ANATOMIA DE LOS MUY PEQUEÑOS: PRIMERA DESCRIPCION DEL ESQUELETO CRANEAL DEL RARO PEZ GATO SUDAMERICANO Sarcoglanis simplex (SILURIFORMES: TRICHOMYCTERIDAE).
Se describe por primera vez la osteología de Sarcoglanis simplex, un raro y diminuto pez gato sudamericano, basándose en un único espécimen adulto de 17 mm, que fue limpiado y teñido con Alizarin, para ser visualizado con Tomografía Microfocus Computerizada (MicroCT). Previamente, los caracteres esqueléticos internos de esta especie habían podido predecirse únicamente en base a las condiciones observadas en sus parientes más cercanos dentro de la subfamilia Sarcoglanidinae , dentro de los Trichomycteridae. La relativamente nueva técnica de MicroCT revela con éxito detalles finos de la morfología esquelética de este pequeño pez. Tal y como se había predicho, Sarcoglanis comparte con Stauroglanis, Stenolicmus, Malacoglanis, Microcambeva y Ammoglanis una osificación anterior del palatino y un gran proceso dorsal en el cuadrado orientado posteriormente. Contrariamente a las predicciones, sin embargo, el mesethmoide de Sarcoglanis no posee el extremo distal de la cornua claramente más ancho que en su base, y el borde anterior del mesethmoide no es convexo.
PALABRAS CLAVE: miniatura, osteología, Sarcoglanidinae, Microcambeva, Stauroglanis.
Translator: Manuel Salesa
Anatomie du tres petit: Premiere description du crane du rare poisson chat d'amerique du sud Sarcoglanis simplex (SILURIFORMES: TRICHOMYCTERIDAE)
L'ostéologie de Sarcoglanis simplex, un poisson chat rare et minuscule d'Amérique du Sud, est décrite pour la première fois à partir d'un seul spécimen adulte de 17 mm qui a été nettoyé, teinté à l'Alizarine et visualisé par micro-tomographie (Micro-CT). Avant cette étude, les caractères squelettiques internes de cette espèce pouvaient être prédits uniquement à partir de l'observation de ses plus proches parents dans la sous-famille Sarcoglanidinae de la famille Trichomycteridae. La technique relativement récente du Micro-CT a révélé les détails précis de la morphologie du squelette de ce petit poisson. Comme prédit, Sarcoglanis partage avec Stauroglanis, Stenolicmus, Malacoglanis, Microcambeva, et Ammoglanis une ossification antérieure du palatin ainsi qu'un large processus dorsal orienté postérieurement sur l'os carré. Mais contrairement aux prédictions, la base des extrémités distales des cornua du meséthmoide de Sarcoglanis n'est pas particulièrement plus large et le bord antérieur du meséthmoide n'est pas convexe.
Mots-clefs: miniature, ostéologie, Sarcoglanidinae, Microcambeva, Stauroglanis.
Translator: Loïc Costeur
ANATOMIE DES WINZIGEN: ERSTBESCHREIBUNG DES KOPF-SKELETTES DES SELTENEN SÜD-AMERIKANISCHEN wELS Sarcoglanis simplex (SILURIFORMES: TRICHOMYCTERIDAE).
Die Osteology von Sarcoglanis simple, ein seltener, winziger süd-amerikanischer Wels, wird zum ersten Mal beschrieben, basierend auf einem einzelnen, 17mm langen Stück, welches sowohl gereinigt wie auch mit Alizarin gebleicht wurde. Die Bildgebung erfolgte mit Mikrofokus-Computer-Tomographie (MicroCT). Bisher konnten die internen Skelettmerkmale dieser Art nur durch Rückschlüsse anhand der Verhältnisse bei den nächsten Verwandten aus der Unterfamilie der Sarcoglanidinae der Trichomyteridae vorhergesagt werden. Die relativ neue MicroCT Technologie ließ deutlich feine Details der Skelettmorphologie dieses winzigen Fisches erkennen. Wie vermutet, hat Sarcoglanis wie Stauroglanis, Stenolicmus, Malacoglanis, Microcambeva und Ammoglanis eine anteriore Verknöcherung des Palatinums und einen großen, posteriad gerichteten posterioren Vorsprung am Quadratum. Entgegen den Vorhersagen sind die distalen Endes der Cornua des Mesethmoid von Sarcoglanis deutlich breiter als ihre Basis, außerdem ist der anteriore Rand des Mesethmoides nicht konvex.
SCHLÜSSELWÖRTER: Miniatur; Osteologie; Sarcoganidinae; Microcambeva; Stauroglanis.
Translator: Franziska Großmann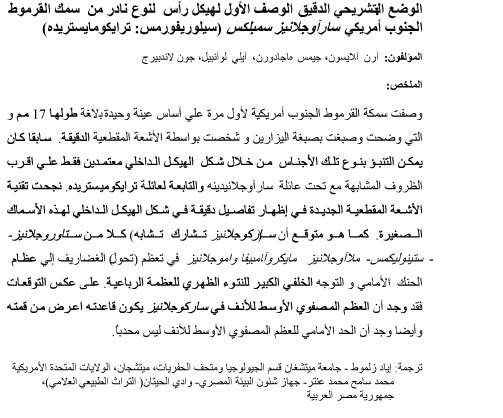 Translator: Iyad S. Zalmout, University of Michigan Museum of Paleontology, USA and Mohamed S.M. Antar, Wadi Al-Hitan, Egypt.
ANATOMIA BARDZO MAŁEGO: PIERWSZY OPIS SZKIELETU GŁOWY RZADKIEGO POŁUDNIOWOAMERYKAŃSKIEGO SUMA SARCOGLANIS SIMPLEX (SILURIFORMES: TRICHOMYCTERIDAE)
Osteologia Sarcoglanis simplex, rzadkiego, miniaturowego, południowoamerykańskiego suma, została opisana po raz pierwszy na podstawie pojedynczego, 17 mm okazu dorosłego osobnika, oczyszczonego I wybarwionego Alizariną oraz zwizualizowanego przy pomocy mikro tomografii komputerowej (MicroCT). Poprzednio wewnętrzne cechy szkieletowe tego gatunku można było domniemywać jedynie na podstawie cech zaobserwowanych u ich bliskich krewniaków z podrodziny Sarcoglanidinae z rodziny Trichomycteridae. Stosunkowo nowa metoda MicroCT skutecznie ukazała drobne detale morfologii szkieletu tej małej ryby. Jak przewidywano rodzaj Sarcoglanis, podobnie jak Stauroglanis, Stenoclimus, Malacoglanis, Microcambeva i Ammoglanis, posiada skostniałą przednią część kości podniebiennej oraz duży, skierowany do tyłu wyrostek kości kwadratowej. Jednakże, przeciwnie do przewidywań, kość mesethmoidale rodzaju Sarcoglanis nie posiada dalszego końców rogów tej kości wyraźnie szerszych u podstawy oraz przedni brzeg kości mesethmoidale nie jest wypukły.
SŁOWA KLUCZOWE: miniaturowy, osteologia, Sarcoglanidinae, Microcambeva, Stauroglanis
Translators: Dawid Mazurek and Robert Bronowicz