A NEW TITANOSAURIFORM SAUROPOD (DINOSAURIA: SAURISCHIA) FROM THE EARLY CRETACEOUS OF CENTRAL TEXAS AND ITS PHYLOGENETIC RELATIONSHIPS
A dense accumulation of sauropod bones from central Texas dating to approximately 112 million years ago has yielded a new genus and species of sauropod. The sauropod fossil record in North America is relatively incomplete. Therefore, description of this new sauropod sheds light on the skeletal anatomy and diversity of sauropod dinosaurs from this time period in North America. Although the Texas sauropod exhibits relatively few unique features that distinguish it from other closely related sauropods, it cannot with any confidence be referred to any previously described sauropod genus. A study of the evolutionary relationships of the new Texas sauropod among other sauropods demonstrates that it is most closely related to Brachiosaurus, known from older rocks of North America and Africa, and two recently described sauropods from rocks in the western U.S. that are similar in age to those in central Texas, in which the sauropod fossils that are the focus of this study occur. This has implications for how sauropods evolved and dispersed between continents at the end of the Jurassic and during the Cretaceous periods of Earth history.
UN NUEVO SAURÓPODO TITANOSAURIFORME (DINOSAURIA: SAURISCHIA) DEL CRETÁCICO INFERIOR DE TEXAS CENTRAL Y SUS RELACIONES FILOGENÉTICAS
Peter J. Rose
La colección de saurópodos titanosauriformes primitivos de la localidad Jones Ranch, del Cretácico inferior de la formación Twin Mountains (~112 Ma), Texas central, representa una de las más ricas acumulaciones de huesos de saurópodo en Norteamérica. Los caracteres autapomórficos del taxón incluyen arcos neurales craneales y medio-caudales con marcadas láminas intraprezygapofisiales (tprl), láminas vertebrales accesorias en arcos neurales dorsales craneales, y espinas dorsales neurales carentes de lamina postspinal.
Los elementos esqueléticos no vertebrales referidos al género Pleurocoelus, de la formación Arundel de Maryland y Virginia posee algunas características morfológicas diagnósticas, y puede compararse con el saurópodo de Jones Ranch. Este último difiere de Pleurocoelus en la forma del margen caudoventral del maxilar, la forma del borde escapular distal, y la forma del cóndilo proximal de la tibia. El saurópodo de Jones Ranch difiere morfológicamente del resto de saurópodos descritos y nombrados del Cretácico inferior de Norteamérica.
El análisis cladístico sitúa a este saurópodo dentro de los Titanosauriformes. El saurópodo de Texas carece de las sinapomorfías de Somphospondyli, al igual que de los caracteres derivados que han sido utilizados para definir a Titanosauria, apoyando su posición como titanosauriforme basal. El nuevo taxón de Texas se conoce por más material que cualquier otro saurópodo del Cretácico inferior norteamericano. LA descripción del taxón incrementa la diversidad de saurópodos en Norteamérica durante el Cretácico inferior, proporcionando un material asociado y más completo, que puede ser comparado con futuros descubrimientos de esta edad.
PALABRAS CLAVE: Cretácico, inferior, saurópodo, Titanosauriformes, nuevo género, nueva especie, cladística.
Translator: Manuel Salesa
UN NOUVEAU SAUROPODE TITANOSAURIFORME (DINOSAURIA : SAURISCHIA), DU CRÉTACÉ PRÉCOCE DU CENTRE DU TEXAS, ET SES AFFINITÉS PHYLOGÉNÉTIQUES
Une collection de sauropodes titanosauriformes primitifs de la localité de Jones Ranch, formation de Twin Mountains du Crétacé précoce (~112 Ma) du centre du Texas, constitue l'une des plus riches accumulations d'ossements de sauropodes en Amérique du Nord. Ce taxon possède les caractères autapomorphiques suivants : arches neurales des portions craniales et médianes de la queue pourvues de lames intraprézygapophyséales bien définies (tprl), lames vertébrales accessoires sur les arches neurales dorsales craniales et, enfin, épines neurales dorsales sans lame postspinale.
Des éléments du squelette non vertébral référés au genre Pleurocoelus, de la Formation d'Arundel du Maryland et de la Virginie, montrent certaines caractéristiques morphologiques diagnostiques permettant de les comparer à ceux du sauropode de Jones Ranch. Ce dernier diffère de Pleurocoelus par la forme de la marge caudoventrale du maxillaire, la forme de la partie distale de la lame de l'omoplate et, en dernier lieu, la forme du condyle proximal du tibia. En fait, le sauropode de Jones Ranch diffère morphologiquement parlant de tous les autres sauropodes décrits ou nommés dans le Crétacé inférieur d'Amérique du Nord.
Une analyse cladistique situe ce sauropode parmi les titanosauriformes. Il ne possède, par ailleurs, aucune des synapomorphies propres aux somphospondyles, ni aucun des traits dérivés caractérisant les titanosaures, confortant ainsi son statut de titanosauriforme basal. Ce nouveau taxon est connu par un matériel plus abondant que n'importe quel autre sauropode du Crétacé inférieur d'Amérique du Nord. Sa description accroît donc la diversité des sauropodes nord-américains du Crétacé inférieur et fournit un matériel associé plus complet que l'on pourra éventuellement comparer à de nouvelles découvertes du même âge.
Mots-clés: Crétacé inférieur; sauropode, titanosauriformes, nouveau genre, nouvelle espèce, cladisme.
Translators: Martin Dubreuil and Michel Chartier
EIN NEUER TITANOSAUROFORMER SAUROPODE (DINOSAURIA: SAURISCHIA) AUS DER FRÜHEN KREIDE ZENTRAL-TEXAS UND SEINE PHYLOGENETISCHEN BEZIEHUNGEN.
Eine Sammlung ursprünglicher, titanosauriformer Sauropoden von der Jones Ranch aus der unterkretazischen Twin Mountains Formation (~112 Ma) in Zentral-Texas stellt eine der reichhaltigsten Ansammlungen von Sauropodenknochen aus Nordamerika dar. Autapomorphe Merkmale des Taxons umfassen craniale und mittlere caudale Neuralbögen mit deutlichen intrapräzygapophysealen Laminae (tprl), zusätzliche Wirbel-Laminae an cranialen dorsalen Neuralbögen, sowie dorsale Dornfortsätze ohne Lamina postspinalis.
Weitere, nicht zu Wirbeln zählende Skelettelemente, die der Gattung Pleurocoelus aus der Arundel Formation von Maryland und Virginia zugeordnet werden, besitzen einige diagnostische morphologische Merkmale und sind mit dem Sauropoden der Jones Ranch vergleichbar. Der letztere unterscheidet sich von Pleurocoelus in der Form des caudoventralen Maxillar-Randes, der Form des distalen Scapula-Blattes und der Form des proximalen Tibia-Gelenkes. Der Jones Ranch Sauropode unterscheidet sich außerdem morphologisch von allen anderen Sauropoden, die aus der Unteren Kreide von Nordamerika beschrieben und benannt wurden.
Eine kladistische Analyse stellt diesen Sauropoden zu den Titanosauriformen. Der texanische Sauropode besitzt keine Synapomorphien mit den Somphospondyli, und abgeleitete Merkmale der Titanosauria fehlen ebenfalls, was seine Stellung als basaler Titanosauriformer bestätigt. Das neue Taxon aus Texas ist durch mehr Material bekannt als jeder andere nordamerikanische Sauropode aus der Unteren Kreide. Die Beschreibung des Taxons vergrößert die Diversität der Sauropoden in Nordamerika in der Unteren Kreide, und stellt vollständigeres, assoziiertes Material zum Vergleich mit neuen Funden aus dieser Zeit bereit.
SCHLÜSSELWÖRTER: Kreide, Untere; Sauropode; Titanosauriforme; neue Gattung; neue Art, Kladistik.
Translator: Franziska Großmann
UN NUOVO SAUROPODE TITANOSAURIFORME (DINOSAURIA: SAURISCHIA) NEL CRETACEO INFERIORE DEL TEXAS CENTRALE ED I SUOI RAPPORTI FILOGENETICI
Una collezione di sauropodi titanosauriformi di carattere primitivo e proveniente dalla Formazione delle Twin Mountains (Montagne Gemelle) del Cretaceo Inferiore (località Jones Ranch, Texas centrale) rappresenta uno dei più abbondanti depositi di ossa di sauropodi del Nord America. I caratteri autapomorfici del taxon comprendono archi neurali craniali e medio-caudali con distinte lamine intraprezigapofisali (tprl), lamine vertebrali accessorie sugli archi neurali dorsali craniali, e spine neurali dorsali dove la lamina postspinale è assente.
Gli elementi scheletrici non-vertebrali relativi al genere Pleurocoelus, proveniente dalla Formazione di Arundel del Maryland e della Virgina (Stati Uniti d'America), possiedono alcune caratteristiche morfologiche diagnostiche e possono essere paragonati al sauropode del Jones Ranch. Quest'ultimo differisce da Pleurocoelus nella forma del margine caudoventrale della mascella, nella forma della lama scapolare distale, e nella forma del condilo prossimale della tibia. Il sauropode texano è inoltre distinto morfologicamente da tutti gli altri sauropodi riconosciuti e catalogati nel Cretaceo Inferiore del Nord America.
L'analisi cladistica colloca questo sauropode tra i Titanosauriformi. Il sauropode texano non possiede sinapomorfie, o caratteri derivati in comune, con Somphospondyli, e sono anche assenti quei caratteri derivati che sono stati utilizzati per definire i Titanosauri, a confermare la sua collocazione come titanosauriforme basale. Questo nuovo taxon proveniente dal Texas é noto in base a più materiali di qualsiasi altro sauropode del Cretaceo Inferiore del Nord America. La descrizione del taxon accresce la diversità dei sauropodi in questo continente durante il Cretaceo Inferiore fornendo materiale più completo e collegato a quyello già esistente, che potrà essere paragonato con future nuove scoperte relative a questo intervallo temporale.
PAROLE CHIAVE: Cretaceo Inferiore, sauropode, Titanosauriformi, nuovo genere, nuova specie, cladistica
Translator: Alessandro Grippo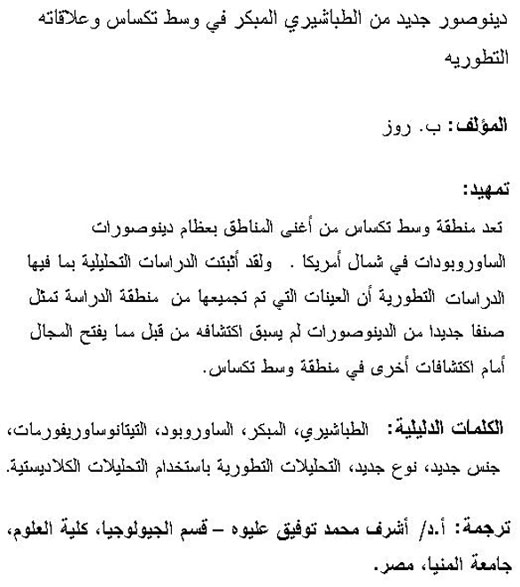 Translator: Ashraf M.T. Elewa
NOWY ZAUROPOD NALEŻĄCY DO TITANOSAURIFORMES (DINOSAURIA: SAURISCHIA) Z WZESNEJ KREDY ŚRODKOWEGO TEKSASU I JEGO ZWIĄZKI FILOGENETYCZNE
Kolekcja prymitywnych zauropodów należących do Titanosauriformes z lokalizacji Ranczo Jones, wczesna kreda Formacji Twin Mountains (~112 mln lat), środkowy Teksas, stanowi jedne z najbogatszych nagromadzeń kości zauropodów w Ameryce Północnej. Do cech autapomorficznych opisywanego taksonu zaliczają się łuki neuralne doczaszkowych i środkowych kręgów ogonowych z wyraźnymi laminami wewnątrzprezygapofyzalnymi (tprl), dodatkowymi laminami kręgowymi na łukach neuralnych doczaszkowych kręgów grzbietowych oraz wyrostki kolczyste kręgów grzbietowych nie posiadające lamin za tym wyrostkiem.
Elementy szkieletowe nie będące kręgami zaliczane do rodzaju Pleurocoelus z Formacji Arundel z Maryland i Virginii posiadają pewne diagnostyczne cechy morfologiczne i mogą być porównane z zauropodem z Rancza Jones. Opisywany takson różni się od rodzaju Pleurocoelus kształtem doogonowo-brzusznego brzegu kości zębowej, kształtem dalszej części trzonu łopatki oraz kształtem bliższego kłykcia kości piszczelowej. Zauropod z Rancza Jones jest również morfologicznie różny od innych zauropodów opisanych i nazwanych z wczesnej kredy Ameryki Północnej.
Analiza kladystyczna zalicza opisywanego zauropoda do Titanosauriformes. Nie posiada on synapomorfii taksonu Somphospondyli i zaawansowanych cech, których użyto do zdefiniowania Titanosauria, co potwierdza określenie go jako bazalnego tytanozauriforma. Nowy takson z Teksasu poznany został na podstawie najobszerniejszego materiału spośród jakichkolwiek innych północnoamerykańskich wczesnokredowych zauropodów. Jego opis powiększa zróżnicowanie zauropodów z Ameryki Północnej w czasie wczesnej kredy oraz dostarcza bardziej kompletnego, stowarzyszonego materiału, który może zostać porównany do nowych odkryć z tego okresu czasu.
SŁOWA KLUCZOWE: kreda, wczesna, zauropod, Titanosauriformes, nowy rodzaj, nowy gatunek, kladystyka
Translators: Dawid Mazurek and Robert Bronowicz