A NEW SPECIES OF CLADOCYCLUS (TELEOSTEI: ICHTHYODECTIFORMES) FROM THE CENOMANIAN OF MOROCCO
A new species of primitive teleost fish is described from Upper Cretaceous rocks of southern Morocco. It is very similar to a species already known from slightly older rocks in north-eastern Brazil. The presence of two closely related species on either side of the present south Atlantic adds to an increasing body of evidence suggesting that Africa was separating from South America during the mid Cretaceous.
UNA NUEVA ESPECIE de †CLADOCYCLUS (TELEOSTEI: ICHTHYODECTIFORMES) DEL CENOMANIENSE DE MARRUECOS
Se describe una especie de pez ichthyodectiforme, †Cladocyclus pankowskii sp.nov., basado en una caja craneana aislada procedente de las capas Kem Kem del Cenomaniense del sur de Marruecos. Se distingue de la especie tipo, †C. gardneri, en las proporciones del techo del cráneo. La presencia de una especie de †Cladocyclus en Marruecos añade otro taxón vicariante compartido entre Brasil y África en el Cretácico medio, cuando África estaba separada de Sudamérica durante la formación del Atlántico Sur.
Palabras clave: nueva especie; anatomía; Actinopterygios; Paleobiogeografía
Translator: Manuel Salesa
Une nouvelle espèce de Cladocyclus (teleostei: Ichthyodectiformes) du Cénomanien du Maroc
Une espèce de poisson Ichthyodectiforme, †Cladocyclus pankowskii sp.nov., est décrite à partir d'un seul spécimen de boîte crânienne bien préservé dans les Kem-Kem du Cénomanien au Sud du Marc. Elle diffère de l'espèce type, †C. gardneri, dans les proportions du toit crânien. La présence d'une espèce de †Cladocyclus au Maroc ajoute encore un taxon vicariant partagé entre le Brésil et l'Afrique au milieu du Crétacé, alors que l'Afrique se séparait de l'Amérique du Sud avec la formation de l'Atlantique Sud.
Mots-clés : nouvelle espèce, anatomie, actinoptérygien, paléobiogéographie
Translators: Loic Costeur and Martin Dubreuil
EINE NEUE ART VON †CLADOCYCLUS (TELEOSTEI: ICHTHYODECTIFORMES) AUS DEM cENOMAN VON MAROKKO
Eine Art eines ichthyodectiformen Fisches, †Cladocyclus pankowskii sp.nov., wird anhand eines einzelnen gut erhaltenen Hirnschädels aus den cenomanischen Kem Kem Schichten Südmarokkos beschrieben. Es unterscheidet sich von der Typusart †C. gardneri in den Proportionen des Schädeldaches. Diese †Cladocyclus-Art in Marokko stellt ein weiteres vikariantes Taxon dar, welches in Brasilien und Afrika während der mittleren Kreide vorkam, als sich Afrika und Südamerika durch die Öffnung des Südatlantiks voneinander trennten.
SCHLÜSSELWÖRTER: neue Art; Anatomie; Actinoperygier; Paläobiogeographie
Translator: Franziska Großmann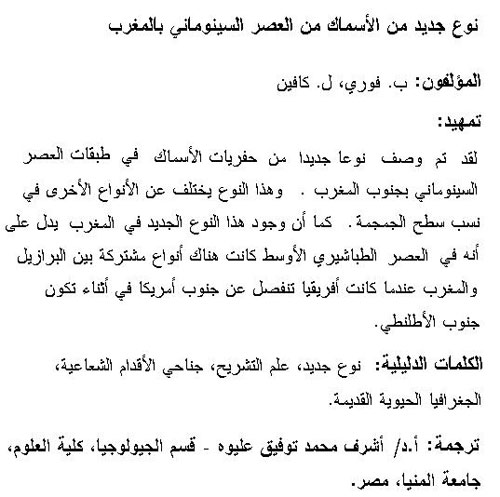 Translator: Ashraf M.T. Elewa
NOWY GATUNEK RODZAJU †CLADOCYCLUs (TELEOSTEI:
ICHTHYODECTIFORMES) Z CENOMANU MAROKA
Na podstawie pojedynczej dobrze zachowanej mózgoczaszki z cenomańskich pokładów Kem Kem z południowego Maroka, został opisany nowy gatunek ryby należącej do Ichthyodectiformes, †Cladocyclus pankowskii sp. nov. Różni się on od materiału typowego gatunku †C. gardneri proporcjami dachu czaszki. Obecność gatunku rodzaju †Cladocyclus w Maroku jest kolejnym przykładem taksonu wspólnego dla Brazylii i Afryki, we wczesnej kredzie, podczas procesu oddzielania się tej Afryki od Ameryki Południowej w trakcie otwierania się południowej części Oceanu Atlantyckiego.
SŁOWA KLUCZOWE: nowy gatunek, anatomia, aktinopterygi, paleobiogeografia
Translators: Robert Bronowicz and Dawid Mazurek