Seasonal Environmental and Chemical Impact on Thecamoebian Community Composition in an Oil Sands Reclamation Wetland in Northern Alberta
Communities of shelled amoebae (single-celled protozoans) appear to respond to a variety of conditions in lakes and wetlands affected by oil sands mining. Different species and subspecies of living protozoans (determined by staining to determine the presence of cell contents) were found in samples taken in spring, summer, fall and winter from a man-made pond at the Mildred Lake site of Syncrude Canada Ltd. in northeastern Alberta. The changes in the lakebed protozoan community appeared to reflect seasonal and small local environmental changes, because there was little change in the chemistry of bottom water, of water in the sediments, or in the sediments themselves between May 2008 and March 2009. The total number of shells (both those containing cell contents- or living at the time of collection, and empty- dead) on the lakebed changed relatively little over the study interval, suggesting that the fossil shell assemblage reflects long-term environmental conditions rather than short-term fluctuations. There was some variability in the fossil assemblage among the species of shelled amoebae more sensitive to environmental impact. The speed at which these protozoans responded to environmental changes suggests that their fossils would be useful as indicators of past environmental change. The difference between assemblages of living (stained) and total (living + dead) shells probably results from some species/subspecies having a lower likelihood of preserving as fossils and/or some species being more frequently preyed upon.
UN ESTUDIO ESTACIONAL (PRIMAVERA, VERANO, OTOÑO, INVIERNO) PARA DISTINGUIR ENTRE LOS EFECTOS DE LOS FACTORES MEDIOAMBIENTALES Y DEL IMPACTO QUÍMICO EN LA COMPOSICIÓN DE UNA COMUNIDAD DE TECAMEBAS EN UN HUMEDAL DE RESTAURACIÓN DE UNA EXPLOTACIÓN DE ARENAS BITUMINOSAS EN EL NORTE DE ALBERTA
Las comunidades de tecamebas (amebas con concha) parecen responder a diversos parámetros químicos en ecosistemas acuáticos perturbados por los trabajos de explotación de arenas bituminosas. En un estudio llevado a cabo a lo largo de las cuatro estaciones entre mayo de 2008 y marzo de 2009 (primavera, verano, otoño e invierno) en un ambiente acuático construido en el complejo de Syncrude Canada Ltd. en Mildred Lake, noreste de Alberta, se han identificado variaciones a nivel de especie y cepa entre las tecamebas vivas (teñidas con rosa de Bengala). Los cambios en esta comunidad epibentónica parecen reflejar cambios estacionales y microambientales ya que los cambios en la composición química del agua inersticial, los sedimentos o las aguas del fondo fueron pequeños a lo largo del intervalo estudiado. La asociación total de conchas de tecamebas (vivas y muertas) permaneció relativamente constante a lo largo del estudio, lo que sugiere que la asociación fósil es resultado de una promediación temporal. Sin embargo, se observó alguna variabilidad entre las especies que componían la población de difflúgidos. Además, la velocidad a la que estas especies responden a los cambios ambientales pone de manifiesto su utilidad potencial como indicadores ambientales. La diferencia entre asociaciones vivas y totales refleja un sesgo tafonómico probablemente debido a variaciones en el potencial de preservación y/o depredación selectiva de especies y cepas.
Palabras clave: tecamebas, arenas bituminosas, restauración, amebas con concha, estacionalidad, asociaciones vivas y totales.
Traducción: Miguel Company.
Une étude saisonnière (printemps, été, automne, hiver) distinguant les effets des facteurs environnementaux de l'impact chimique sur la composition de la communauté thecamoebienne, dans une exploitation de sables bitumineux de marécage dans le nord de l'Alberta.
La communauté thecamoebienne (testate amoeba) semble répondre à une variété de paramètres chimiques dans les écosystèmes aquatiques affectés par des exploitations de sables bitumineux. Une étude saisonnière, réalisée sur quatre saisons de mai 2008 à Mai 2009 (printemps, été, automne, hiver) dans un environnement aquatique structuré au lac Mildred de Syncrude Canada Ltd. dans le nord-est de l'Alberta, à identifié des variations au niveau spécifique et au niveau des lignées parmi les thecamoebiens vivants (i.e., coloration Rose Bengal). Les changements de cette communauté épibenthique semblent refléter les changements saisonniers et micro-environnementaux, tels que les petits changements de chimie de l'eau interstitielle, de la composition du sédiment ou de l'eau profonde observés au cours de la période d'étude. Le total des tests de l'assemblage thecamoebiens (vivants + morts) est resté constant tout au long de l'étude, suggérant que l'assemblage fossile reflète les conditions moyennes sur le temps. Des variabilités, ont été toutefois observées parmi les espèces qui composent la population de difflugiids. De plus, leur vitesse de réponse aux changements environnementaux met en évidence leur potentiel en tant qu'indicateurs paléoenvironnementaux. Cette observation est importante concernant l'utilisation des thecamoebiens comme indicateurs paléoenvironnementaux. La différence entre les assemblages vivant et total reflète un biais taphonomique vraisemblablement dû aux variations dans la préservation potentielle et/ou la prédation sélective des espèces ou des lignées.
Mots clés: thecamoebiens, sables bitumineux, exploitation, testate amoebae, saisonnalité, assemblage vivant vs. assemblage total
Translator: Olivier Maridet
Die Auswirkungen von Umgebungsfaktoren und chemischen Einflüssen auf die Zusammensetzung einer Thecamöben-Gemeinschaft in einem Ölsand-Rekultivierungs-feuchtgebiet in Nord-Alberta im Unterschied - Eine saisonale Studie (Frühling, Sommer, Herbst, Winter)
Lisa A. Neville, Francine M.G. McCarthy, Michael D. MacKinnon
Thecamöben (testate Amöben) –Gemeinschaften in aquatischen Ökosystemen, die Ölsand-Schürfungsarbeiten unterlagen, scheinen auf eine Reihe von chemischen Parametern zu reagieren. Die saisonale Studie wurde über vier Jahreszeiten von Mai 2008 bis März 2009 (Frühling, Sommer, Herbst und Winter) durchgeführt. In einer künstlich angelegten aquatischen Umgebung im Bereich der Syncrude Canada Ltd. am Mildred Lake im nordöstlichen Alberta wurden verschiedene Arten und Gruppen lebender Thekamöben (anhand von Bengalrosa-Färbung) beobachtet.
Die Veränderungen in dieser epibenthischen Gemeinschaft scheinen die saisonalen und mikro-umgebungs-Veränderungen wiederzuspiegeln, da über den Zeitraum der Studie nur geringfügige Verändungen in der Chemie des Porenwassers, der Sedimentzusammensetzung oder der tieferen Wasserschichten beobachtet wurden. Die vollständige Thecamöben Test-Gemeinschaft (lebende + tote) blieb im Verlauf der Studie relativ konstant, was die Vermutung nahe legt, dass die fossilen Vergesellschaftungen zeitlich gemittelte Zustände zeigen.
Einige Schwankungen wurden allerdings innerhalb der Arten der difflugiden Gruppe beobachtet. Ebenso ist die Geschwindigkeit, mit der sie auf Veränderungen der Umgebungsvariablen reagieren, als besonders nützlicher ökologischer Indikator anzusehen. Diese Erkenntnisse haben wichtige Auswirkungen für die Nutzung von Thecamöben als paläoökologische Indikatoren.
Die Unterschiede zwischen lebender und gesamter Gemeinschaft reflektieren eine taphonomische Schiefstellung. Diese ergibt sich wahrscheinlich aus Abweichungen im Erhaltungspotential und/oder selektiver Jagd auf bestimmte Arten und Gruppen.
Schlüsselwörter: Thecamöben, Ölsande, Rekultivierung, testate Amöben, Saisonabhängigkeit, lebende vs. gesamte Vergesellschaftung
Translator: Anke Konietzka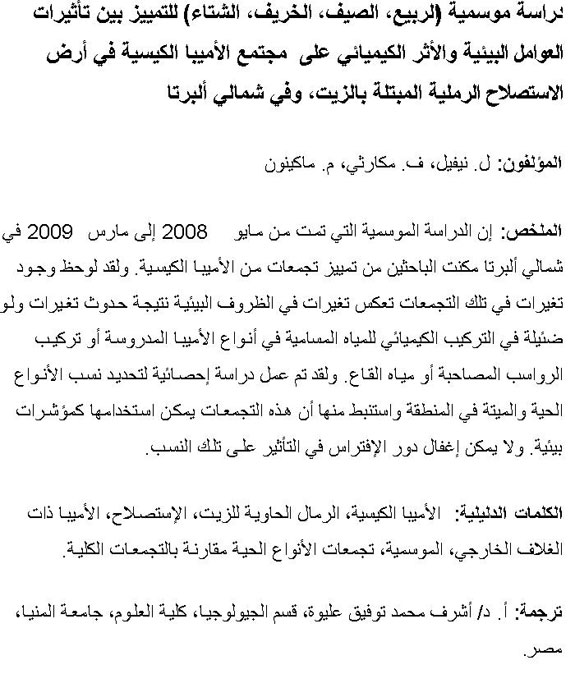 Translator: Ashraf M.T. Elewa
BADANIE SEZONOWE (WIOSNA, LATO, JESIEŃ, ZIMA) ROZRÓŻNIAJĄCE WPŁYW CZYNNIKÓW ŚRODOWISKOWYCH I CHEMICZNYCH NA SKŁAD ZESPOŁU RODZAJU THECAMOEBA W REKULTYWOWANYCH PIASKACH ROPONOŚNYCH NA OBSZARZE PÓŁNOCNEJ ALBERTY
Zespoły rodzaju Thecamoeba (ameby pancerzykowe) wydają się reagować na różnorodne parametry chemiczne w środowiskach wodnych dotkniętych działaniami związanymi z piaskami roponośnymi. Badanie sezonowe, przeprowadzone przez cztery sezony pomiędzy majem 2008 a marcem 2009 (wiosna, lato, jesień, zima) w skonstruowanym do tego celu środowisku wodnym na stanowisku Midred Lake należącym do Syncrude Canada Ltd. W północnej Albercie, wykazało obecność gatunków i wariacji na poziomie szczepów w obrębie żywych (zakonserwowanych metodą Rose Bengal) tekameb. Zmiany w obrębie tych epibentonicznych społeczności wydają się odzwierciedlać sezonowe i mikrośrodowiskowe zmiany, jak drobne zmiany w chemizmie wody porowej, składzie osadu lub wód przydennych zaobserwowane podczas badania. Całkowity (żywe + martwe) test zespołu rodzaju Thecamoeba pozostawał stosunkowo stały w trakcie badania, sugerując iż zespoły skamieniałości odzwierciedlają uśrednione warunki. Jednak pewne zróżnicowanie było widoczne w obrębie gatunków tworzących populacje rodzaju Difflugia. Dodatkowo prędkość z jaką te mikroorganizmy odpowiadały na zmiany środowiskowe podkreśla ich potencjalną użyteczność jako wskaźniki środowiska. Ma to ważne implikacje dla użyteczności rodzaju tekameb jako wskaźników środowiska. Różnica pomiędzy całkowitymi a żywymi zespołami odzwierciedla skrzywienie tafonomiczne wynikające prawdopodobnie z różnicy potencjału fosylizacyjnego i/lub wybiórczej prefacji na gatunkach i szczepach.
Słowa kluczowe: tekameby, piaski roponośne, rekultywacja, ameby pancerzykowe, sezonowość, żywe kontra całkowite zespoły
Translators: Dawid Mazurek and Robert Bronowicz
STUDIO STAGIONALE (PRIMAVERA, ESTATE, AUTUNNO, INVERNO) PER UNA DISTINZIONE TRA GLI EFFETTI DEI FATTORI AMBIENTALI E CHIMICI SULLA COMPOSIZIONE DELLA COMUNITà DI TECAMEbe IN UNA ZONA UMIDA SFRUTTATA PER IL RECUPERO DI SABBIE PETROLIFERE IN Alberta SETTENTRIONALE
Le comunità di tecamebe (amebe fornite di guscio) sembrano reagire ad una serie di parametri chimici in ecosistemi acquatici condizionati dall'estrazione di sabbie petrolifere. Uno studio stagionale condotto in quattro stagioni da maggio 2008 a marzo 2009 (primavera, estate, autunno, inverno) in un ambiente acquatico artificiale nell'impianto di Mildred Lake della Syncrude Canada Ltd. nell'Alberta nordorientale, ha permesso di rilevare variazioni delle specie e del livello di straindelle tecamebe in vita (colorate in Rosa Bengala). Le variazioni in tali comunità epibentoniche sembrano riflettere variazioni stagionali e microambientali, in quanto durante l'intervallo di studio sono stati rilevati cambi minori del chimismo delle acque interstiziali, della composizione dei sedimenti e delle acque di fondo. L'associazione di gusci di tecamebe nella sua interezza (esemplari vivi + morti) è rimasta relativamente costante durante lo studio: ciò potrebbe indicare che l'associazione fossile rispecchia condizioni mediate nel tempo. E' da rimarcare che una certa variabilità è stata osservata tra le specie della popolazione di difflugiidi. Inoltre, la velocità con cui rispondono a variazioni ambientali evidenzia la loro potenziale utilità come indicatori ambientali. Ciò ha importanti implicazioni nell'utilizzo delle tecamebe come indicatori paleoambientali. La differenza tra le associazioni in vita e l'associazione totale riflette distorsioni tafonomiche dovute a differenze nel potenziale di conservazione e/o a predazione differenziale delle specie e strain.
Parole chiave: tecamebe, sabbie petrolifere, recupero, amebe con guscio, stagionalità, associazioni viventi vs. associazioni totali
Translator: Chiara Angelone