NEW INFORMATION ON THE UPPER TRIASSIC ARCHOSAURIFORM VANCLEAVEA CAMPI BASED ON NEW MATERIAL FROM THE CHINLE FORMATION OF ARIZONA
Vancleavea campi is known from only a single badly preserved skeleton from the Chinle Formation of Petrified Forest National Park. Better preserved material has recently been discovered in the park and also from Ghost Ranch New Mexico. This new material from the park includes limb bones, pelvic bones, and vertebrae which are described in detail here and compared with the holotype specimen. Because the holotype material is so badly preserved description of the new Petrified Forest material will allow future reseachers to determine if other specimens such as the Ghost Ranch material do indeed represent Vancleavea campi and if the genus is even valid. An analysis of the relationships of Vancleavea shows that is belongs to a group of animals called archosauriforms.
NUEVOS DATOS SOBRE EL ARCOSAURIFORME DEL TRIÁSICO SUPERIOR VANCLEAVEA CAMPI BASADOS EN NUEVO MATERIAL DE LA FORMACIÓN CHINLE DE ARIZONA
Dos nuevos esqueletos parciales procedentes del Miembro Petrified Forest (Formación Chinle) del Parque Nacional Petrified Forest se adscriben a Vancleavea campi Long & Murry, 1995. Aunque se carece de buen material craneal, los nuevos especímenes poseen elementos postcraneales que están o pobremente representados o ausentes en el holotipo. El análisis filogenético sugiere tentativamente que Vancleavea campi representa un arcosauriforme basal más derivado que Erythrosuchus, Proterosuchus, y posiblemente Euparkeria. Se necesitan más comparaciones con material no descrito de la Formación Chinle, cerca de St. Johns, Arizona y de Ghost Ranch, Nuevo Méjico, para confirmar esta hipótesis y para determinar la validez del género Vancleavea.
PALABRAS CLAVE: Triásico superior; Vancleavea; Parque Nacional Petrified Forest; Archosauriformes; Formación Chinle; Análisis Filogenético.
Translator: Manuel Salesa
Nouvelles données sur l'archosauriforme Vancleavea campi du Trias Supérieur basées sur du nouveau matériel de la formation Chinle d'Arizona
Deux nouveaux squelettes partiellement complets provenant du membre 'Petrified Forest' (Formation Chinle) du Parc National de 'Petrified Forest' (forêt pétrifiée) sont attribuables à Vancleavea campi Long et Murry 1995. Bien que manquant de matériel crânien bien conservé, les nouveaux spécimens possèdent des éléments post-crâniens qui sont soit absents soit mal préservés dans le spécimen holotype. Une analyse phylogénétique tend à montrer que Vancleavea campi représente un archosauriforme basal plus dérivé que Erythrosuchus, Proterosuchus, et probablement que Euparkeria. Des comparaisons avec le matériel encore non décrit de la Formation Chinle près de St. Johns, Arizona et Ghost Ranch, Nouveau Mexique sont nécessaires afin de confirmer ce placement et également de déterminer la validité du genre Vancleavea.
Mots clés: Trias Supérieur; Vancleavea; Parc National de 'Petrified Forest'; Archosauriformes; Formation Chinle; analyse phylogénétique
Translator: Olivier Maridet
Neue Informationen über VANCLEAVEA CAMPI (Archosauriformes, Obertrias) basierend auf neuem Material aus der Chinle Formation, ARizona
Zwei neue Teilskelette aus dem Petrified Forest Member (Chinle Formation) des Petrified Forest National Parks werden Vancleavea campi Long and Murry 1995 zugeschrieben. Obwohl die neuen Stücke wenig Schädelmaterial beinhalten, weisen sie postcraniale Elemente auf, die bei dem Holotyp entweder fehlen oder schlecht erhalten sind. Vorläufige phylogenetische Analysen deuten darauf hin, dass Vancleavea campi eine basale Form der Archosauriformes repräsentiert aber höher abgeleitet ist als Erythrosuchus oder Proterosuchus und möglicherweise sogar Euparkeria. Vergleiche mit unbeschriebenem Material aus der Chinle Formation bei St. Johns, Arizona und Ghost Ranch, New Mexico werden dazu beitragen, diese Einordnung zu bestätigen und die taxonomische Gültigkeit der Gattung Vancleavea festzustellen.
Stichwörter: Obertrias; Vancleavea; Petrified Forest National Park; Archosauriformes; Chinle Formation; phylogenetische Untersuchungen
Translator: Eva Gebauer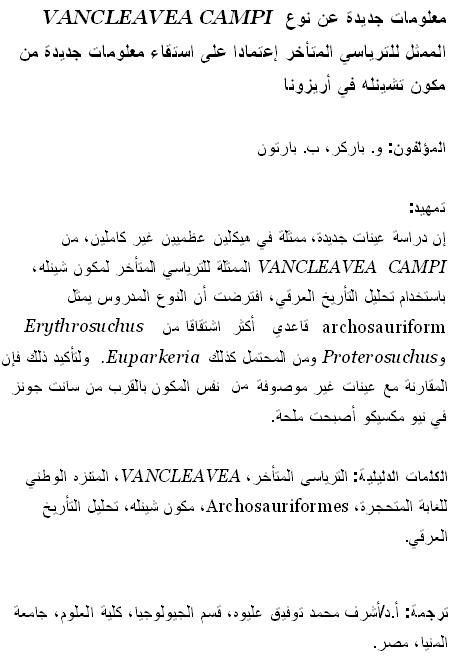 Translator: Ashraf M.T. Elewa
NOWE INFORMACJE DOTYCZĄCE GATUNKU VANCLEAVEA CAMPI NALEŻĄCEGO DO ARCHOSAURIFORMES, NA PODSTAWIE NOWEGO MATERIAŁU Z FORMACJI CHINLE W ARIZONIE
Dwa nowe niekompletne szkielety z Petrified Forest Member (Formacja Chinle) z Parku Narodowego Petrified Forest zostały zaliczone do gatunku Vancleavea campi Long & Murry 1995. Pomimo braku dobrego materiału czaszkowego, nowe okazy zawierają elementy pozaczaszkowe, które są słabo zachowane lub ich brak w okazie holotypowym. Analiza filogenetyczna wstępnie wskazuje, że gatunek Vancleavea campi należy do bazalnych Archosauriformes bardziej zaawansowanych niż Erythrosuchus, Proterosuchus i być może Euparkeria. Porównanie z nieopisanym materiałem z Formacji Chinle niedaleko St. Johns (Arizona) i Ghost Ranch (Nowy Meksyk) są niezbędne do potwierdzenia pozycji filogenetycznej i stwierdzenia czy rodzaj Vancleavea jest ważny taksonomicznie.
SŁOWA KLUCZOWE: późny trias, Vancleavea, Park Narodowy Petrified Forest, Archosauriformes, Formacja Chinle, analiza filogenetyczna
Translators: Dawid Mazurek and Robert Bronowicz