GEOLOGIC SETTING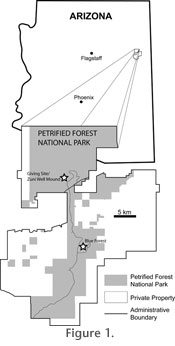 The holotype specimen of Vancleavea campi (PEFO 2427) was collected from a geographic area in Petrified Forest National Park known as the Blue Forest (Figure 1). Although the exact discovery site for the material is uncertain, an unpublished written communication from the discoverer records its general stratigraphic provenance (Long and Murry 1995). This horizon is extremely fossiliferous and contains several productive localities that are likely sources of the holotype of Vancleavea (Camp 1930; Long and Murry 1995). Based on this information, Long and Murry (1995) suggested that the type material came from at or near the 'Crocodile Hill' locality (PFV 124), a site first worked by Charles Camp in 1923 (Camp 1930; Murry and Long 1989; Long and Murry 1995; Parker 2005). Another possibility is the nearby 'Dying Grounds' locality (PFV 122), which is located in the same stratigraphic horizon and represents a productive microvertebrate site (Murry and Long 1989; Long and Murry 1995; Parker 2002; Heckert 2004). Both of these localities are in a greenish-gray mudstone in the upper portion of the Blue Mesa Member of the Chinle Formation ( sensu Woody 2006) (Unit 14 of the Blue Mesa Member [Petrified Forest Formation, Chinle Group] type section of Lucas 1993).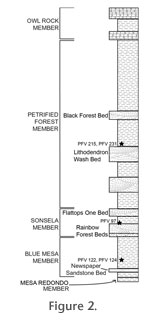 This horizon is situated approximately 14 meters above the Newspaper Rock Bed and approximately 9 meters below the base of the overlying Sonsela Member (Figure 2; Lucas 1993; Heckert and Lucas 2002; Parker 2006; Woody 2006). Palynomorphs recovered from this horizon are considered to be latest Carnian in age (Fischer and Dunay 1984; Litwin et al. 1991), but recent recalibration of the Triassic timescale based on magnetostratigraphy and a new radiometric date from European marine sections suggest that most of the Chinle Formation, including this horizon, may be Norian in age (Muttoni et al. 2004; Furin et al. 2006).
The two skeletons described herein (PEFO 34035 and PEFO 33978) were collected from two sites in the younger Petrified Forest Member ( sensu Woody 2006), Zuni Well Mound (PFV 215) and the Giving Site (PFV 231), respectively. Both of these sites are roughly stratigraphically equivalent and are approximately 54 meters below a prominent tuffaceous sandstone bed known as the Black Forest Bed (Ash 1992). Riggs et al. (2003) have determined a maximum age for this bed, and thus a minimum age for the quarries, of 213 +/- 1.7 based on U-Pb ages of detrital zircons. Other referred specimens from the park (listed below) are from the Blue Mesa and Sonsela Members of the Chinle Formation and were collected by researchers or park staff in the 1930s and 1980s.