Articles
This email address is being protected from spambots. You need JavaScript enabled to view it.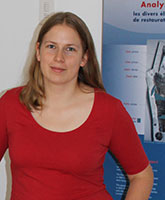 Department of Cytology and Evolutionary Biology
Zoological Institute and Museum
University of Greifswald
Soldmannstrasse 23
17487 Greifswald
Germany
Carolin Haug studied biology at the Julius-Maximilians-Universität Würzburg with animal ecology as major subject and sociobiology and palaeontology as minor subjects. She received her Diplom in 2005 and moved to the University of Ulm for her PhD thesis. In the work group Biosystematic Documentation she investigated the ontogeny and evolution of the arthropod head shield on a wide spectrum of fossil and extant specimens. Due to the very different demands of the material, she developed new imaging techniques or modified existing methods together with her collaborators, for example, composite imaging, stereo photography or autofluorescence macro- and microscopy. In 2011, Carolin defended her PhD thesis. She was a postdoctoral researcher at Yale University and is currently at the Ernst-Moritz-Arndt-Universität Greifswald. Besides optimising imaging techniques, she is interested in fossilised development (see also http://www.palaeo-evo-devo.info) and in the evolution of tagmosis. For this purpose, she investigates mainly arthropods from different deposits yielding exceptional preservation, such as Rhynie chert, Solnhofen Lithographic Limestones, the 'Orsten', Burgess Shale, or Mazon Creek, always in comparison to their extant relatives. Carolin will move to Munich in September 2013 to continue her research there at the Ludwig-Maximilians-Universität.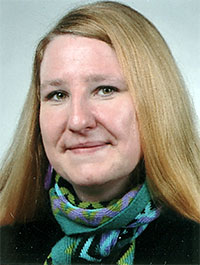 This email address is being protected from spambots. You need JavaScript enabled to view it.
Biosystematic Documentation
University of Ulm
Helmholtzstrasse 20
89081 Ulm
Germany
Verena Kutschera studied biology and philosophy at the University of Ulm. She finished her diploma in 2009 in the Biosystematic Documentation at the University of Ulm where she is working on her PhD now. Ever since, Verena was interested in the phylogeny of Crustacea, especially the Malacostraca. For contributing to this interesting topic, she became an expert in morphology: she is an exquisite drawer, very experienced in many kinds of microscopical techniques (fluorescence microscopy, transmitted light microscopy, scanning electron microscopy, all combined with composite imaging), and three-dimensional reconstruction taking also advantage of stereoscopic effects. Thematically, Verena focuses on the hindbody of malacostracan Crustacea, the pleon, in her dissertation. She studies the pleon morphologically to reveal the phylogenetic significance of the hindbody, which has been neglected for phylogenetic considerations so far.

This email address is being protected from spambots. You need JavaScript enabled to view it.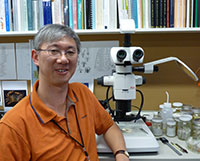 Australian Museum
6 College Street
Sydney, NSW 2010
Australia
Shane Ahyong is a Senior Research Scientist and Manager of Marine Invertebrates at the Australian Museum, Sydney. He received his Ph.D from the University of New South Wales in 2000, and held posts at the Sydney University and the Australian Museum, prior to joining the National Institute of Water and Atmospheric Research, New Zealand, in 2006 to head the Marine Biodiversity and Biosecurity Group, and manage the Marine Invasives Taxonomic Service. In 2010, moved his current position at the Australia Museum. Shane is a world authority on the phylogeny and systematics of stomatopod and decapod Crustacea, on which he publishes extensively, investigating all parts of the phylogenetic system. Studies span alpha-taxonomy of modern and fossil species to high level phylogenetic analyses using morphological and molecular data. Current projects include molecular phylogenetics of the stomatopod crustaceans and worldwide distributions of squat lobsters. Other research interests include phylogenetic methods and biological invasions. Together with Gary Poore and Joanne Taylor, Shane recently co-edited a major book, The Biology of Squat Lobsters (2011, CSIRO Publishing & CRC Press). Shane serves as a Subject Editor for the World Register of Marine Species (WoRMS) and in 2012, was elected President-Elect of The Crustacean Society.

This email address is being protected from spambots. You need JavaScript enabled to view it.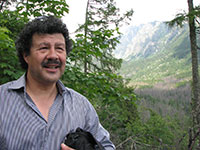 Instituto de Geología
UNAM
Ciudad Universitaria
Coyoacán
México DF 04510
Mexico
Francisco J. Vega was born in Mexico City, 1960. He studied Biology at the Sciences School, UNAM, where he got his PhD in 1988. Full time professor at the Instituto de Geología, UNAM, since 1987.
His contributions deal with the fossil record of decapod crustaceans, mainly fom Mexico, but also has papers on fossil crustaceans from the USA, Belize, Colombia, Venezuela, Morocco, Iran and India.
He is currently interested in the fossil crustacea embedded in Miocene amber from Mexico.
Editor of three journals and past-president of the Mexican Paleontological Society.
He teaches Animal Biology at the Sciences School, UNAM.

This email address is being protected from spambots. You need JavaScript enabled to view it.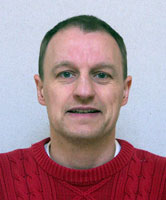 Biosystematic Documentation
University of Ulm
Helmholtzstrasse 20
89081 Ulm
Germany
Andreas Maas is a research assistant at the University of Ulm. He studied biology at the Christian Albrechts University of Kiel, Germany and graduated in 1998 with a diploma thesis on the larval development of the Antarctic krill Euphausia superba. In 2002 he made his PhD in zoology at the University of Ulm. Andreas studied a Cambrian group of crustaceans, the Phosphatocopina; their systematic position within Crustacea could be established as the sister group of the crustacean crown group, the Eucrustacea. The material of his study is part of the so-called 'Orsten' type of preservation that leads to three-dimensional fossils of mainly less than 1 mm in size. Since 2002 Andreas is also involved in teaching at the University of Ulm and did his habilitation in 2008. He was part of a German-Chinese research cooperation and was able to work on fossils from the famous lower Cambrian Chengjiang fauna. With this Andreas consolidated his main research subject in the early evolution and phylogeny of arthropods. He could widen this subject also on the question of the phylogenetic position of arthropods within the Bilateria. Andreas worked on very early, worm-like arthropods without sclerotised dorsal tergites that were from the same Cambrian material as the phosphatocopines before. Another important Cambrian fossil he described was a minute, Cambrian, possibly immature stage of a new species of Cycloneuralia. Shergoldana australiensis gives some clues about the evolution of larval forms within Nemathelminthes. This is especially important since arthropods are regarded as close relatives of round worms nowadays. Andreas' research techniques comprise mainly scanning electron microscopy due to the small size of the fossils. Important other skills are computer-aided imagery and computer-aided phylogeny analyses. Andreas teaches evolutionary biology including history and background of Darwin's important work and evolution, systematics and phylogeny of animals, Metazoa.

This email address is being protected from spambots. You need JavaScript enabled to view it.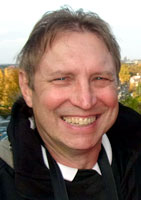 Biosystematic Documentation
University of Ulm
Helmholtzstrasse 20
89081 Ulm
Germany
Dieter Waloszek is working as a professor at the University of Ulm. He studied biology in Hamburg and finished his dissertation with a thesis on a scallop from Argentinian offshore waters. In 1982 Dieter moved to the Institute of Palaeontology in Bonn to work together with Klaus J. Müller, the discoverer of the Cambrian 3d-preserved, so-called 'Orsten' fossils, mainly arthropods. After his habilitation in 1991 on one of the faunal elements, the crustacean Rehbachiella kinnekullensis, and the phylogeny of Branchiopoda and Crustacea and one year in Kiel, Dieter received a professorship in Ulm in 1995. Since then, he and his workgroup continue the studies of 'Orsten' fossils. Major method remains the SEM, but the workgroup expanded their investigations to other localities worldwide, material from extant and other fossil sources and their methodological range for improving the documentation of this important evolutionary data source.
More recent highlight: foundation of the international C.O.R.E. group of scientists with a specific interest in 'Orsten' studies.
Main interests: morphology, incl. functional aspects, ontogeny, phylogeny and evolution – no taxonomic restriction in general, but due to capacity problems, focus on Arthropoda. Output (incl. team work): more than 100 papers in international journals. Main hobbies: family, fistball, holidays in Sweden, incl. fishing and waterskiing.

This email address is being protected from spambots. You need JavaScript enabled to view it.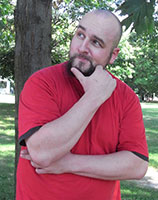 Department of Cytology and Evolutionary Biology
Zoological Institute and Museum
University of Greifswald
Soldmannstrasse 23
17487 Greifswald
Germany
Joachim T. Haug studied animal ecology (major), sociobiology and palaeontology (minors) at the Julius-Maximilians-Universität Würzburg. After the receipt of the Diplom in 2005, he moved to the work group Biosystematic Documentation at the University of Ulm for his PhD thesis. There he worked on the early crustaceans from the Cambrian 'Orsten', which are preserved three-dimensionally and with minute details. To make the entire morphology clearly visible, Joachim produced computer-based 3D models for each developmental stage of a species, resulting in a 4D model of the species. With 4D models reconstructed for the different species, differences in the developmental pattern between the species became visible. These changes in the developmental timing, so-called heterochronic events must have occurred several times during early crustacean evolution. Due to these findings, Joachim got interested in studying such evolutionary changes of development also in fossils from other deposits and focussed on Palaeo-Evo-Devo (see also http://www.palaeo-evo-devo.info). After his defense in 2009 and two further years as postdoctoral researcher in Ulm, he received two Feodor Lynen research fellowships from the Alexander von Humboldt-Foundation, with which he was doing research at Yale University and at the Ernst-Moritz-Arndt-Universität Greifswald. Besides 3D modelling, Joachim is also interested in different methods of imaging (documentation and presentation). In September 2013, he will relocate to the Ludwig-Maximilians-Universität in Munich.

Re-evaluation of the Mesozoic mantis shrimp Ursquilla yehoachi based on new material and the virtual peel technique
Carolin Haug, Verena Kutschera, Shane T. Ahyong, Francisco J. Vega, Andreas Maas, Dieter Waloszek, and Joachim T. Haug
Plain Language Abstract
The find of a new well-preserved specimen of a fossil mantis shrimp, Ursquilla yehoachi, from the Upper Cretaceous (ca. 75 million years old), led us to compare it with the original four specimens and to re-evaluate this species using the new data. All five specimens were documented with a new technique, which is introduced here and termed virtual peel technique. This technique includes two steps: 1) The fossils have a low relief, so it is possible to document their three-dimensional surface; this is done with a standard flat-bed scanner. 2) The originally negative relief of the fossils documented with the flat-bed scanner is inverted on the computer; the resulting positive relief allows a better understanding of the fossil. In contrast to the original four specimens, the new specimen of Ursquilla yehoachi has the last pair of legs (= uropods), especially the outer ramus (= exopod) preserved. This is an important feature for the internal relationships of mantis shrimps (stomatopods). Direct comparison of this outer leg ramus with that of modern mantis shrimps reveals striking similarities: In living mantis shrimps and in Ursquilla yehoachi the uropodal exopod has two elements; the distal one of these elements is paddle-shaped. This supports earlier assumptions that Ursquilla yehoachi is a relatively modern mantis shrimp, more exactly belongs to Squilloidea. The reason of observable variation among the available specimens of Ursquilla yehoachi is interpreted in a way that the specimens are representatives of different growth stages, and the body proportions change at different growth rates (allometric growth). We present this effect on the telson, which is the last part of the body and forms the tail fan together with the last pair of legs. The telson in Ursquilla yehoachi becomes relatively broader with increasing size.
Resumen en Español
Re-evaluación del camarón mantis mesozóico Ursquilla yehoachi, con base en nuevo material y en la técnica de peel virual.
Re-evaluamos el camarón mantis mesozóico Ursquilla yehoachi, con base en los cuatro ejemplares originales y uno nuevo, exquisitamente preservado. Todos los ejemplares fueron documentados mediante la aplicación de una nueva técnica, que es aquí presentada y denominada técnica del peel virtual. Esta técnica incluye dos pasos: 1) Documentación de fósiles de bajo relieve, incluyendo su información 3D con la ayuda de un escáner estándar plano. 2) Inversión virtual del relieve negativo de los fósiles; el relieve positivo resultante facilita una mejor comprensión del fósil. A diferencia de los ejemplares previamente conocidos, el nuevo ejemplar de U. yehoachi preserva la mayoría de los detalles del urópodo, incluyendo el exópodo, un carácter importante en la filogenia de los estomatópodos. De manera notable, éste exópodo tiene importantes similitudes con el de los estomatópodos modernos, ya que es bipartita y posee una porción distal en forma de remo, apoyando inferencias previas sobre la posición sistemática de U. yehoachi dentro de los Squilloidea. Las diferencias morfológicas que se observan entre el material disponible de U. yehoachi pueden ahora ser identificadas como variación ontogénica. El telson, por ejemplo, adquiere una forma proporcionalmente más amplia conforme se incrementa el tamaño, un resultado del crecimiento alométrico.
Palabras clave: técnica de peel virtual; documentación de tercera dimensión; Stomatopoda; Cretácico; abanico caudal.
Traducción: Authors
Résumé en Français
Révision de la crevette-mante mésozoïque Ursquilla yehoachi sur la base de matériel nouveau et d'une technique de décorticage virtuel
Nous révision la crevette-mante mésozoïque Ursquilla yehoachi, sur la base des quatre spécimens originaux et d'un nouveau magnifiquement préservé. Tous les spécimens on été étudiés par l'application d'une nouvelle technique que nous présentons ici et nommée technique de décorticage virtuel. Cette technique comprend deux étapes : 1) étude des fossiles à relief modéré, incluant les informations 3D, à l'aide d'un scanner standard plat. 2) inversion virtuelle du relief négatif du fossile ; le relief positif obtenu permettant une meilleur compréhension du fossile. Contrairement aux autres spécimens précédemment connus, le nouveau spécimen de U. yehoachi a préservé la plupart des détails de l'uropode, incluant l'exopode, un caractère important dans la phylogénie des stomatopodes. Remarquablement, cet exopode montre des similarités frappantes avec ceux des stomatopodes modernes, étant biparti et ayant une partie distale en forme de pagaie, supportant les hypothèses précédentes concernant la place systématique de U. yehoachi au sein des Squilloidea. Les différences morphologiques observables parmi le matériel d' U. yehoachi disponible peuvent maintenant être identifiées comme des variations ontogénétiques. Le telson, par exemple, acquière une forme proportionnellement plus large quand la taille augmente, le résultat d'une croissance allométrique.
Mots clés: technique de décorticage virtuel; étude 3D; Stomatopoda; Crétacé; queue en éventail
Translator: Olivier Maridet
Deutsche Zusammenfassung
Neue Betrachtung des mesozoischen Fangschreckenkrebses Ursquilla yehoachi auf der Grundlage neuen Materials und der virtuellen Abguss-Technik
Neuuntersuchungen des mesozoischen Fangschreckenkrebses Ursquilla yehoachi wurden durchgeführt an den vier ursprünglichen Stücken und einem neuen, besonders gut erhaltenem Exemplar. Alle Stücke wurden mit Hilfe einer neuen Technik dokumentiert, der 'virtuellen Abguss'-Technik. Die Technik umfasst zwei Schritte: 1) Die Dokumentation von Fossilien mit flachem Relief einschließlich ihrer 3D-Information mit Hilfe eines gewöhnlichen Flachbettscanners. 2) Die virtuelle Tiefenumkehr des negativen Reliefs der Fossilien; das resultierende positive Relief erleichtert das Verständnis des Fossils. Im Gegensatz zu den bisher bekannten Exemplaren sind am neuen Stück von U. yehoachi die meisten Details des Uropoden einschließlich des Exopoditen erhalten, welcher ein wichtiges Merkmal für die Stomatopodenphylogenie darstellt. Dieser Exopodit weist starke Ähnlichkeit mit dem moderner Stomatopoden auf; er ist zweiteilig und besitzt einen paddelförmigen distalen Teil. Dadurch werden frühere Annahmen zur systematischen Stellung von U. yehoachi innerhalb der Squilloidea untermauert. Die morphologischen Unterschiede zwischen den verschiedenen bekannten Stücken von U. yehoachi können nun durch ontogenetische Variation erklärt werden. Das Telson beispielsweise wird mit wachsender Größe verhältnismäßig breiter, eine Folge allometrischen Wachstums.
Schlüsselwörter: virtuelle Abguss-Technik; dreidimensionale Dokumentation; Stomatopoda; Kreide; Schwanzfächer
Translator: Authors
Arabic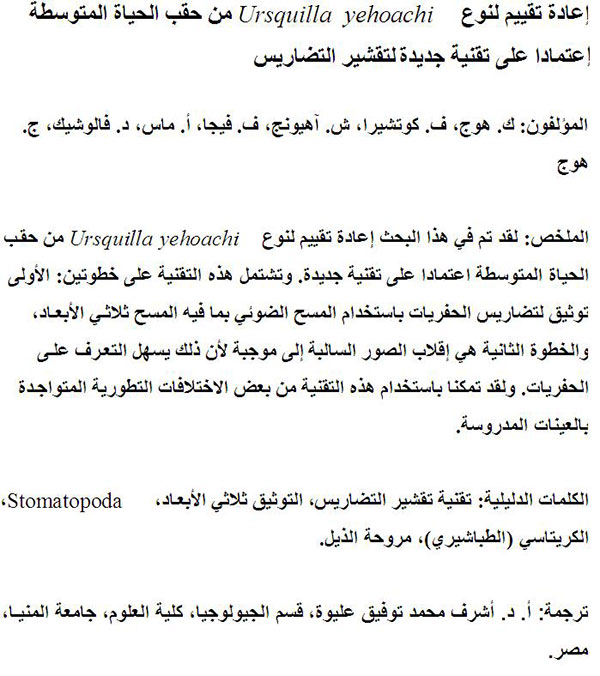 Translator: Ashraf M.T. Elewa
Figure 1. A virtual peel, i.e., an inverted red-cyan stereo image, of the new specimen of Ursquilla yehoachi (Remy and Avnimelech, 1955), SMNS 67703. The specimen represents the posterior part of the body, including the telson and the three posterior pleomeres. Use red-cyan stereo glasses to view. Abbreviations: bs? = possible basipodal spine; dex = distal part of exopod; plm = pleomere; tel = telson; tpl = tergopleura; urp en = uropodal endopod; urp ex = uropodal exopod.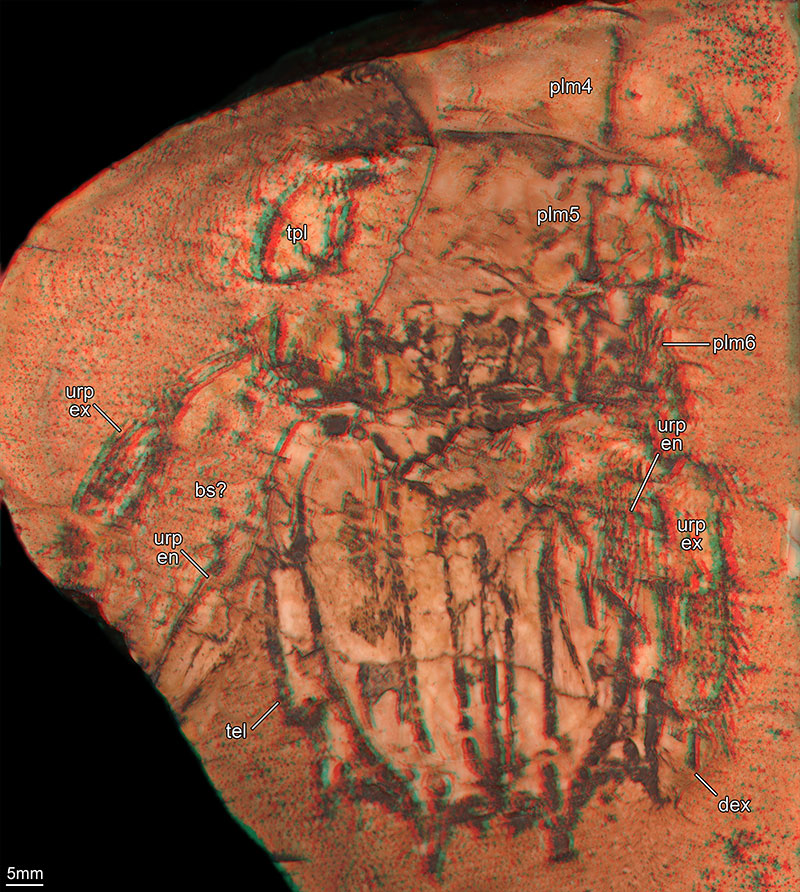 Figure 2. Details of the new specimen of Ursquilla yehoachi (Remy and Avnimelech, 1955), SMNS 67703. 2.1–2. Composite autofluorescence images (e.g., Haug, J.T. et al., 2008). Note that under fluorescence settings there are details visible, e.g., exact shape of the spines on the uropodal exopod, which are not visible under white-light conditions (see Figures 1, 2.3). 2.1. Part of the possible endopod of the left uropod and left part of the telson. 2.2. Right uropod with the articulated distal part of the exopod. 2.3. Virtual peel of the same area as in Figure 2.2. Use red-cyan stereo glasses to view. Abbreviations as before.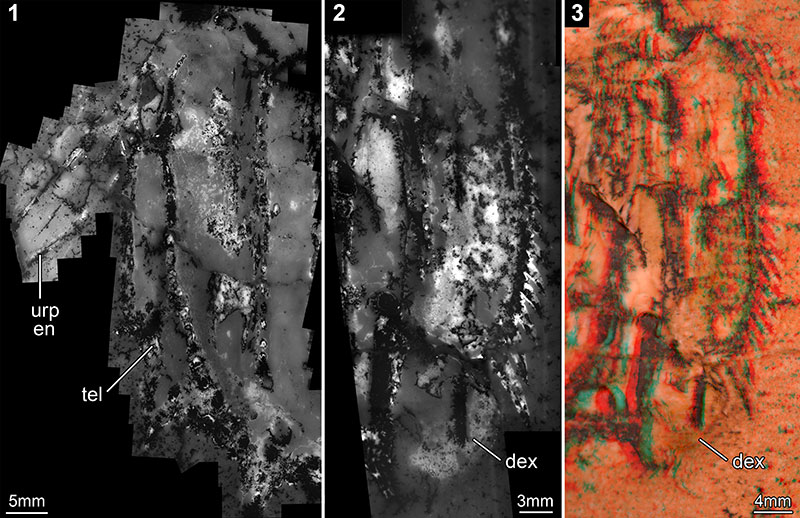 Figure 3. Red-cyan stereo images of all other known specimens of Ursquilla yehoachi (Remy and Avnimelech, 1955). 3.1, 3.2 and 3.4 are virtual peels, 3.3 is a normal stereo image. Use red-cyan stereo glasses to view. 3.1. Two specimens on one slab, BMNH I 7316, collections of the Natural History Museum London. 3.2. Specimen from the collections of the Geological Survey of Israel, Jerusalem, GSI M-8113. 3.3. Resin cast of the holotype (see Figure 3.4), BMNH I 15472, collections of the Natural History Museum London. 3.4. Holotype, MNHN R. 62691, from the collections of the Muséum national d'Histoire naturelle Paris.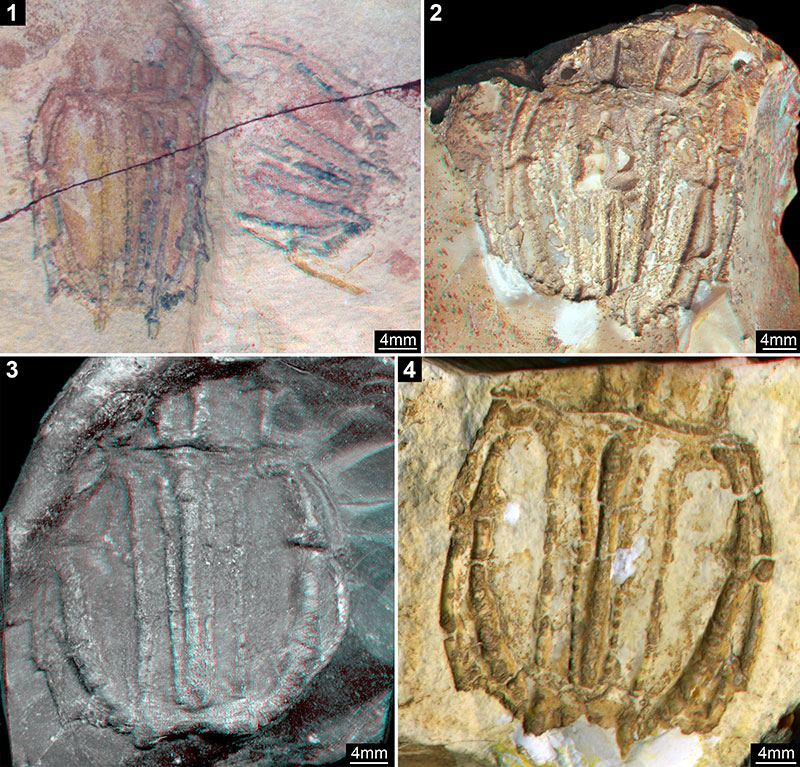 Figure 4. Method comparison and comparison with an extant specimen. All images are red-cyan stereo images, use red-cyan stereo glasses to view. 4.1–3. Specimen SMNS 67703 of Ursquilla yehoachi (Remy and Avnimelech, 1955). 4.1–2. Virtual surface models. 4.1. Surface model based on a micro-CT scan. 4.2. Surface model based on a surface scan of a peel out of dental casting compound of the fossil. 4.3. Virtual peel (same as Figure 1) for comparison. 4.4. The posterior region of an air-dried specimen of Squilla mantis (Linnaeus, 1758) for comparison, processed as the specimen in Figure 3.3, i.e., without depth inversion (normal stereo image). Images not to scale.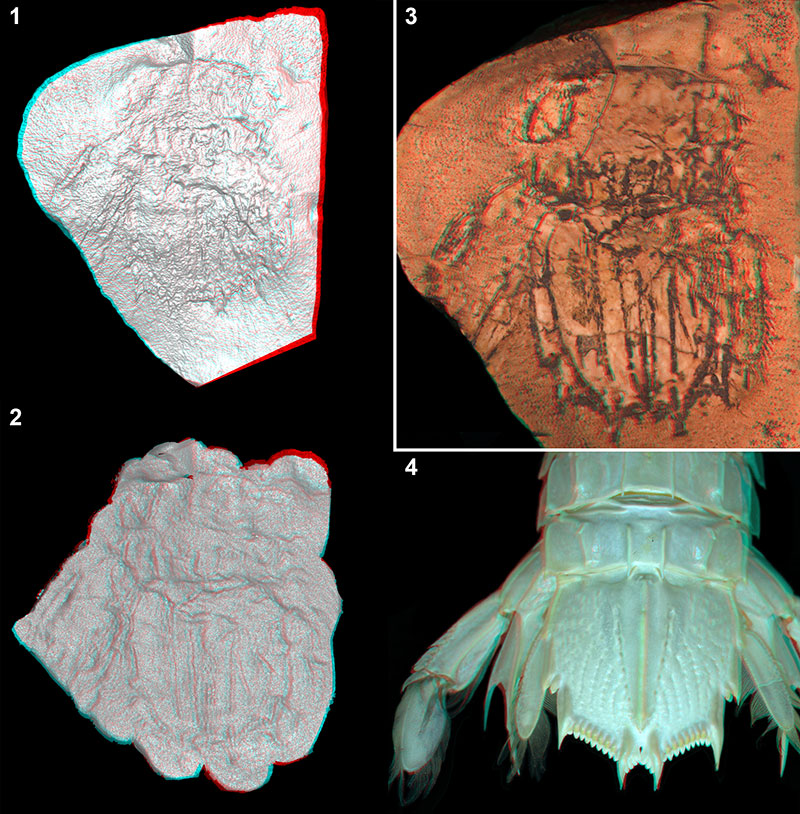 Figure 5. Tentative reconstruction of Ursquilla yehoachi (Remy and Avnimelech, 1955), represented as a scientific pencil drawing.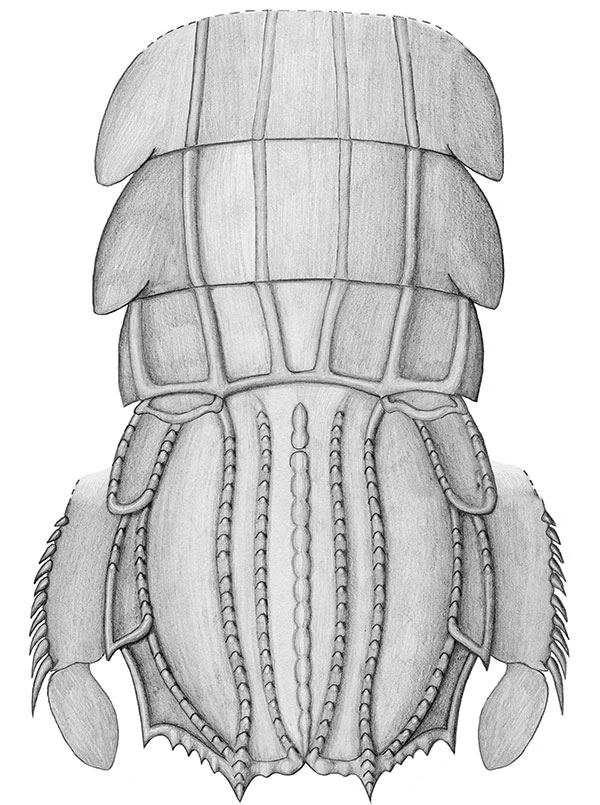 Figure 6. Uropod exopods of different Mesozoic and extant stomatopods and their phylogenetic positions within Unipeltata s. l. Arrow marks the occurrence of a bipartite uropodal exopod. 6.1. Sculda pennata Münster, 1840. 6.2. Pseudosculda laevis (Schlüter, 1874). 6.3. Supposed pseudosculdid from the Cretaceous of Mexico (Vega et al., 2007). 6.4. The herein re-evaluated Ursquilla yehoachi (Remy and Avnimelech, 1955); reconstruction, based on the new data. 6.5. Squilla mantis (Linnaeus, 1758). See Haug, J.T. et al. (2010) for details on relationships within Stomatopoda.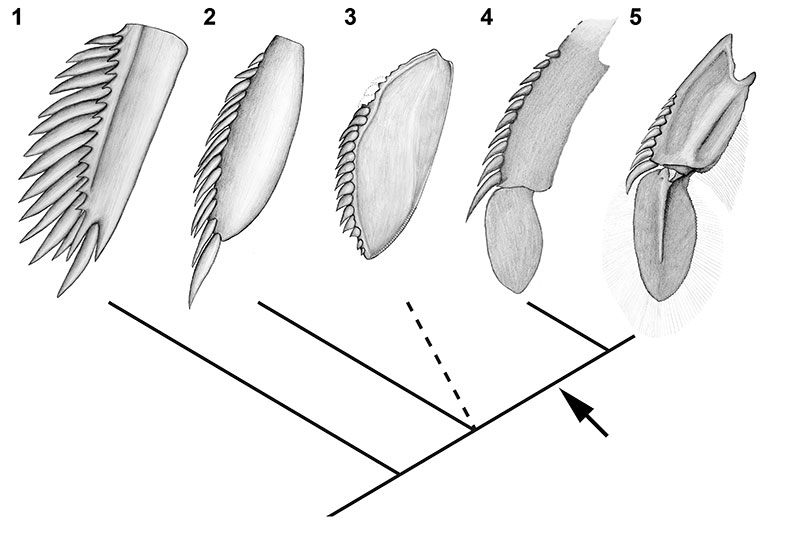 Figure 7. Size comparison of the known specimens of Ursquilla yehoachi (Remy and Avnimelech, 1955). To compare the length-to-width ratios, the reconstruction of the new specimen (SMNS 67703) was deformed according to the measured sizes of each of the other specimens. Lengths and widths given according to the illustrated part. 7.1. BMNH I 7316 (both specimens on this slab are of the same size; length: 3.1 cm, width: 1.9 cm, ratio: 1.6). 7.2. SMNS 67703 (length: 4.0 cm, width: 3.0 cm, ratio: 1.3). 7.3. GSI M-8113 (length: 4.2 cm, width: 3.2 cm, ratio: 1.3). 7.4. MNHN R. 62691 (Holotype) (length: 4.4 cm, width: 3.3 cm, ratio: 1.3).