Articles
Healed antler fracture from a giant deer (Megaloceros giganteus) from the Pleistocene in Poland
Plain Language Abstract
Our manuscript, "Healed antler fracture from a giant deer (Megaloceros giganteus) from the Pleistocene in Poland" presents studies of trauma-induced pathology of an antler from an ancient species. The outcomes of macroscopic observation, radiography, computed tomography, and histology, facilitated a reconstruction of the possible origin of the injury and the healing process, in the light of annual growth cycles of deer antlers.
Resumen en Español
Sanado de la fractura de una cornamenta de un ciervo gigante (Megaloceros giganteus) del Pleistoceno de Polonia
Evaluamos el cráneo de un antiguo ciervo gigante (Megaloceros giganteus Blumenbach 1799) con una deformidad en una cornamenta. El cráneo fue encontrado en la década de 1930 en el río San, cerca de Barycz, en el sureste de Polonia. Su datación (39.800 ± 1.000 años AP) corresponde a MIS-3, cuando el ciervo gigante estaba muy extendido por Europa. Nuestros diagnósticos para la cornamenta incluyen morfología general, radiografía, tomografía computarizada, e histopatología. Observamos signos de curación de la fractura en la cornamenta afectada, incluyendo una disposición desordenada de laminillas, la ausencia de osteonas, y la presencia de numerosos canales de Volkmann remanentes de la pérdida de vasos sanguíneos. La deformidad de la cornamenta parece que tuvo un origen traumático, con un componente de curación. No se ha descrito previamente ningún proceso de evaluación similar para esta especie.
Palabras clave: ciervo gigante; Megaloceros giganteus; paleopatología; Pleistoceno; Polonia
Traducción: Enrique Peñalver
Résumé en Français
Fracture guéri de bois de cerf géant (Megaloceros giganteus) du Pléistocène de Pologne
Nous avons évalué le crâne d'un ancien cerfs géants (Megaloceros giganteus Blumenbach 1799 ) avec une malformation d'un bois. Le crâne a été trouvé dans les années 1930 dans la rivière San près de Barycz, dans le sud-est de la Pologne. Sa datation (39 800 ± 1000 ans BP) correspond à MIS- 3, lorsque le cerf géant était très répandue en Europe. Nos diagnostics pour le bois inclus la morphologie générale, la radiographie, la tomodensitométrie et l'histopathologie. Nous avons constaté des signes de guérison de la fracture du bois touchés, y compris un arrangement désordonné de lamelles, l'absence d'ostéones, et de nombreux canaux de Volkmann restants après la perte de vaisseau sanguin. La déformation du bois semble être d'origine traumatique, avec une composante de guérison. Aucun processus d'évaluation similaire n'a été décrit précédemment pour cette espèce.
Mots-clés: cerf géant; Megaloceros giganteus; paléopathologie; Pléistocène; Pologne
Translator: Kenny J. Travouillon
Deutsche Zusammenfassung
Eine verheilte Geweihfraktur bei einem Riesenhirsch (Megaloceros giganteus) aus dem Pleistozän von Polen
Wir evaluierten den Schädel eines urzeitlichen Riesenhirsches (Megaloceros giganteus Blumenbach 1799) mit einer deformierten Geweihstange. Der Schädel wurde in den 1930ern im Fluss San in der Nähe von Barycz im südöstlichen Polen gefunden. Seine Datierung (39,800±1000 Jahre vor heute) korrespondiert mit MIS-3, als der Riesenhirsch zahlreich in Europa vorkam. Unsere Diagnose für die Geweihstange beinhaltet eine grobe Morphologie, Radiographie, Computertomographie und Histopathologie. Wir bemerkten Anzeichen einer Bruchheilung der betroffenen Geweihstange, zusammen mit einem ungeordneten Lamellenarrangement, der Abwesenheit von Osteonen und zahlreiche Volkmann's Kanäle, die nach dem Verlust der Blutgefäße übriggeblieben waren. Die Deformation der Geweihstange scheint traumatischer Herkunft zu sein, mit einer heilenden Komponente. Für diese Art ist bisher kein ähnlicher Evolutionsprozess beschrieben worden.
Schlüsselwörter: Riesenhirsch; Megaloceros giganteus; Paläopathologie; Pleistozän; Polen
Translator: Eva Gebauer
Arabic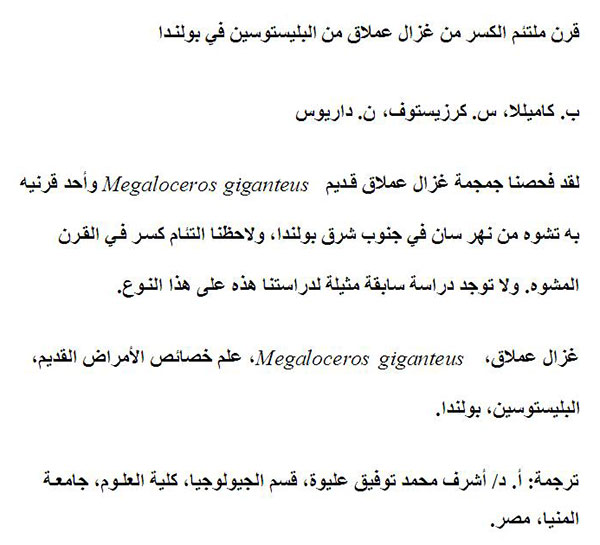 Translator: Ashraf M.T. Elewa
FIGURE 1. Giant deer skull. 1. frontal view. 2. back view of the boney outgrowth with scanned plane.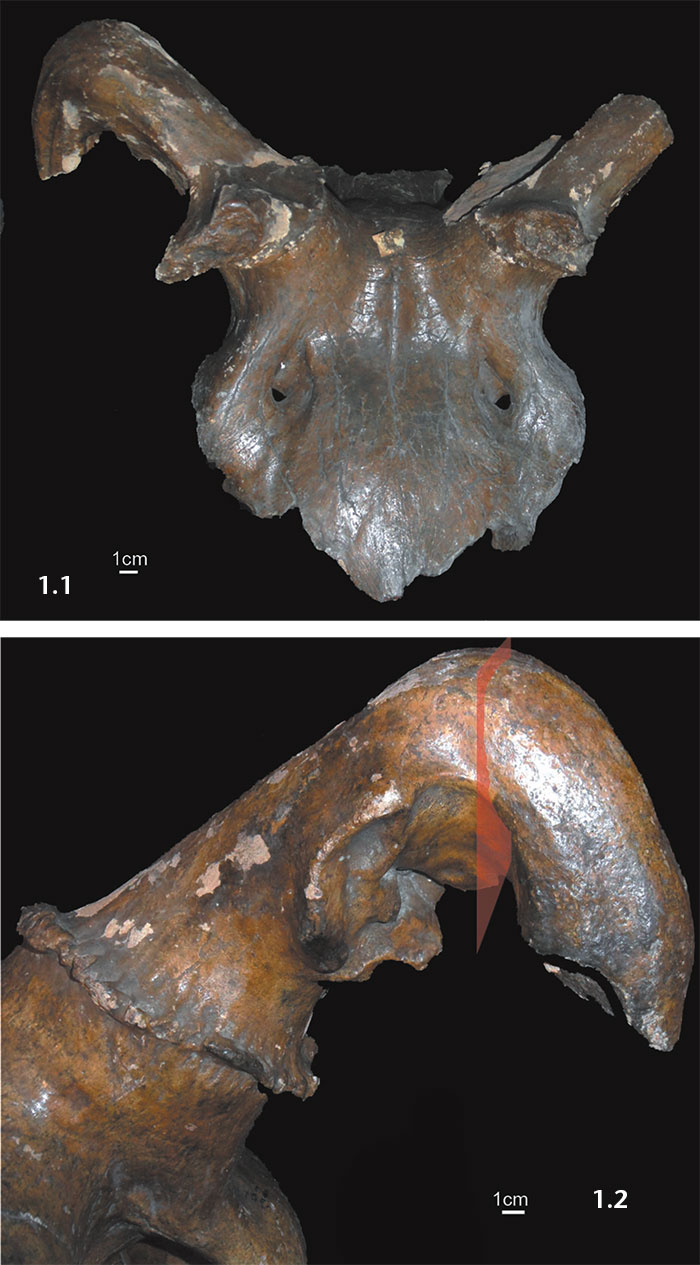 FIGURE 2. 1. Radiography of giant deer antler (explanations see text). 2. CT images of giant deer antler (explanations see text).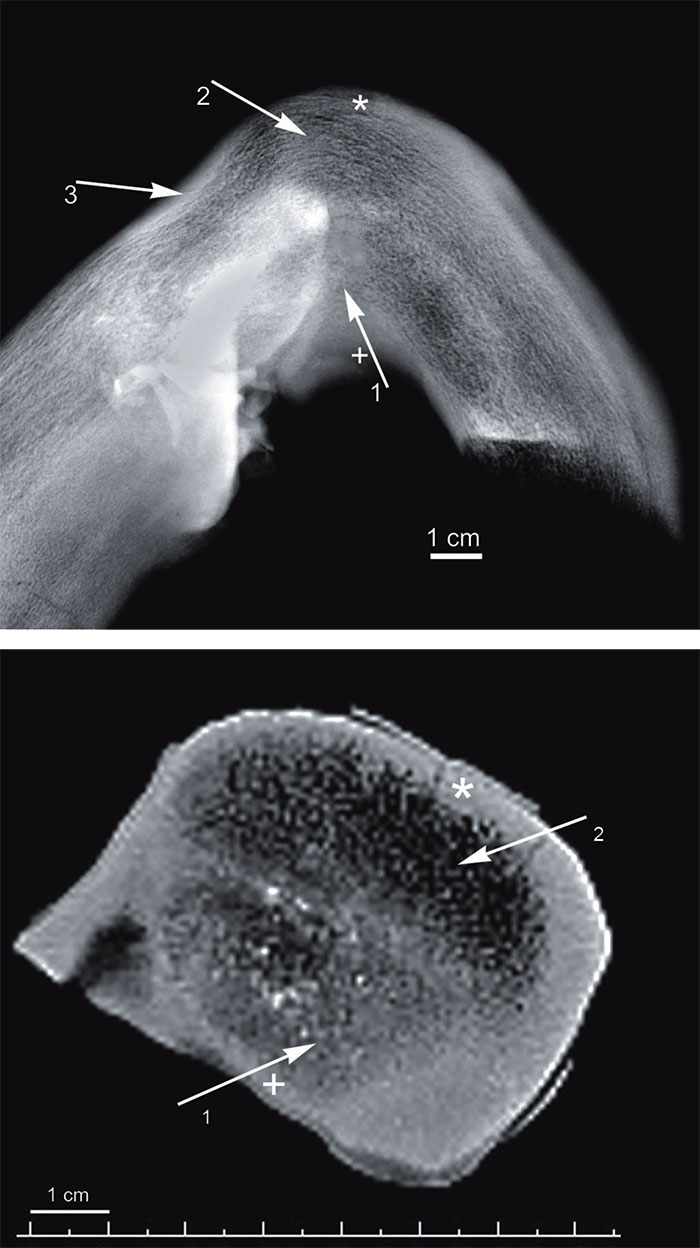 FIGURE 3. 1. Histological image of giant deer antler, normal tissue in white light (explanations see text). 2. Same fragment in polarised light (explanations see text). 3. Tissue of abnormal structure in white light (explanations see text). 4. Same fragment in polarized light (explanations see text).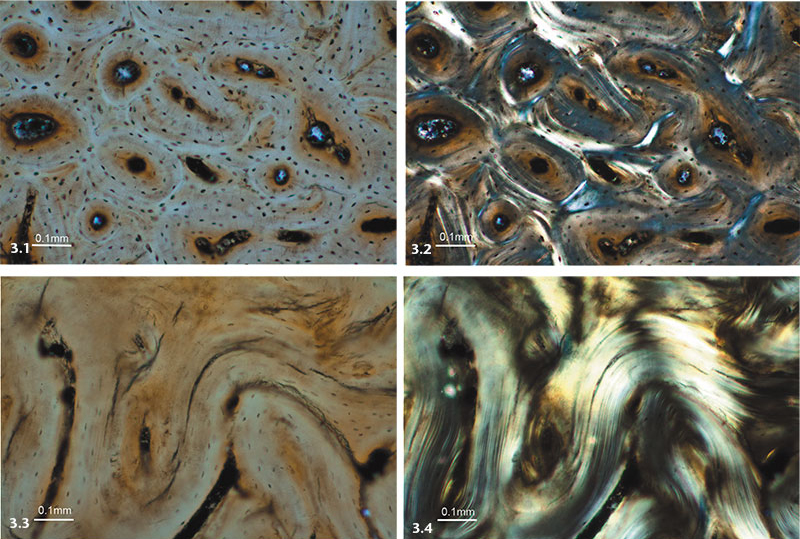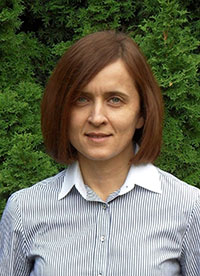 Kamilla Pawłowska
Institute of Geology
Adam Mickiewicz University
Maków Polnych 16
Poznań 61-606
Poland
This email address is being protected from spambots. You need JavaScript enabled to view it.
Dr. Kamilla Pawłowska is an assistant professor at the University of Adam Mickiewicz, Poland, where she works as a vertebrate paleontologist and zooarcheologist. Her research focuses on understanding the pattern and the process of the extension of Pleistocene mammals in Europe, especially of mammoths and woolly rhinoceros, as well as on climate reconstruction using stable isotope analysis. Her participation in the Çatalhöyük Research Project allows her to study animal bones in their environmental, economic, and social context, and to undertake research into human–animal relations from the Neolithic onwards. An additional area of research is in understanding the formation of bone deposits. Her teaching work includes evolutionary and adaptive aspects of both vertebrates and invertebrates. Research interests include pleistocene fauna; animal domestication; subsistence strategies; animal exploitation; the social and economic significance of animals; taphonomy; and paleopathology.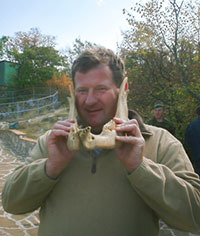 Krzysztof Stefaniak
Division of Palaeozoology
Department of Evolutionary Biology and Ecology
Faculty of Biological Sciences
University of Wrocław
Sienkiewicza 21
Wrocław 50-335
Poland
This email address is being protected from spambots. You need JavaScript enabled to view it.
Krzysztof Stefaniak graduated from the Wrocław University, Poland in 1986 and received his PhD in 2001. He has been working at the Department of Palaeozoology, Zoological Institute, University of Wroclaw, Poland since 1984. His interests are focused on fossil mammals, especially mammals ungulates, including Neogene and Queternary deer. Further areas of research archaeozoology, caves and research recent study of fossil DNA. Next investigative domains archaeozoology, research of caves and last time research of ancient DNA in Quaternary Mammals from Poland and Ukraine. He participates from 30 years and it leads research (excavation) on karst area Polish and Ukraine. He lectures to students of Palaeontology, Archaeozoology, and Quaternary of the University of Wroclaw.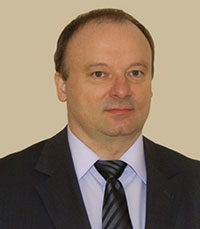 Dariusz Nowakowski
Department of Anthropology
Wroclaw University of Environmental and Life Sciences
Kożuchowska 6/7
Wrocław 51-631
Poland
This email address is being protected from spambots. You need JavaScript enabled to view it.
Dr. Dariusz Nowakowski graduated from the Department of Paleozoology, University of Wroclaw, Poland. in 1993 and received his PhD in 2000. He is also a graduate of jet the Postgraduate study, Environmental Protection; Faculty of Biological Sciences, University of Wroclaw and Medical Vocational School of Wroclaw. He has been working at the Department of Anthropology, Wroclaw University of Environmental and Life Sciences, Poland since 2000. His interests of paleopathology; analysis of pathologic changes of bones in humans from early medieval cemeteries in Poland and paleopathology study of human and mammals bones based on morphological, X-ray and histological analysis. Further areas of research archaeozoology, paleopathology of animals from Holocene and Pleistocene; analysis of subfossil and fossil bones in Quaternary mammals; taxonomy, systematic and phylogenies of Rodentia mammals from Pliocene of Ukraine and Poland, studies of tooth enamel in scanning microscopy. He is also research 3D reconstructions of human heads and forensics of physical anthropology. Hi is a member of the Paleopathology Association, European Anthropology Association and Polish Association of Anthropology.