Articles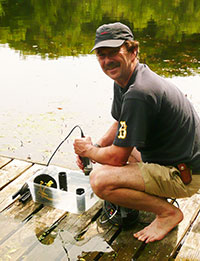 Sitting on the dock in the bay. Or collecting water property data from a dock on a lake in southern Ontario.R. Timothy Patterson
Ottawa-Carleton Geoscience Centre and Department of Earth Sciences
Carleton University
Ottawa, Ontario, K1S 5B6
Canada
This email address is being protected from spambots. You need JavaScript enabled to view it.
Dr. Tim Patterson is Professor of Geology at Carleton University in Ottawa, Ontario, Canada. As a child he was infatuated with dinosaurs, assorted other extinct beasts and ancient hominids, which continued into university. After meeting professors Franco Medioli and David B. Scott of Dalhousie University he was convinced to go small. Subsequent to micropaleontologic research on freshwater thecamoebian paleoecology at Dalhousie, he was trained in foraminiferal systematics at UCLA by professors Alfred R. Loeblich Jr. and Helen Tappan. For the next 20 years he primarily specialized in paleosealevel, paleoclimate, and paleoecologic studies using foraminifera. Then one day he looked at a map and realized that Ottawa is no where near an ocean, unless one counts the Great Lakes. So he has returned to his thecamoebian roots. His current research interests include the use of thecamoebians as indicators of nutrient loading and metal contamination. With the help of a freeze core microtome he also carries out time series analysis at near annual resolution on thecamoebian assemblages to detect the influence of cyclic ocean-atmosphere climate drivers on limnologic hydroecology.
FIGURE 1. Specimens of Difflugia protaeiformis Lamark, 1816, the type species of Difflugia. 1. Difflugia protaeiformis Lamarck, 1816 as illustrated in Lamarck, 1816, pl. 17, figure. 5. 2. and 3. Scanning electron micrographs of hypotypes of Difflugia protaeiformis Lamark strain "protaeiformis" from Mytopo Lake, eastern Ontario (Latitude 44°40.179N, Longitude 77°3.397W). Scale bar equals 100 μm. 2. side view of typical specimen with characteristic broad base and narrow, elongate neck; 3. side view of a relatively common morphology characterized by heavy agglutination on neck.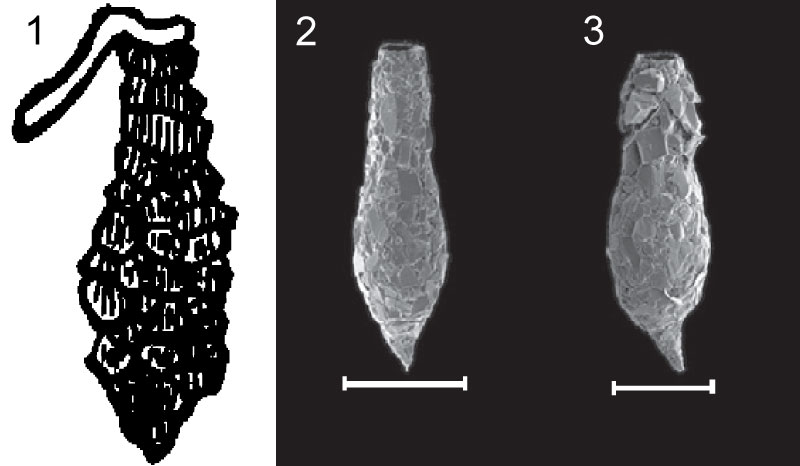 FIGURE 2. Specimens of Mediolus corona from Wallich, 1864.1. illustrated as figure 19 in the original publication, Wallich described the specimen as "front view, showing crenulate margin of aperture; a six-horned variety"; 2. illustrated as figure 20 in the original publication, Wallich described the specimen as "a somewhat smaller four-horned variety; side view."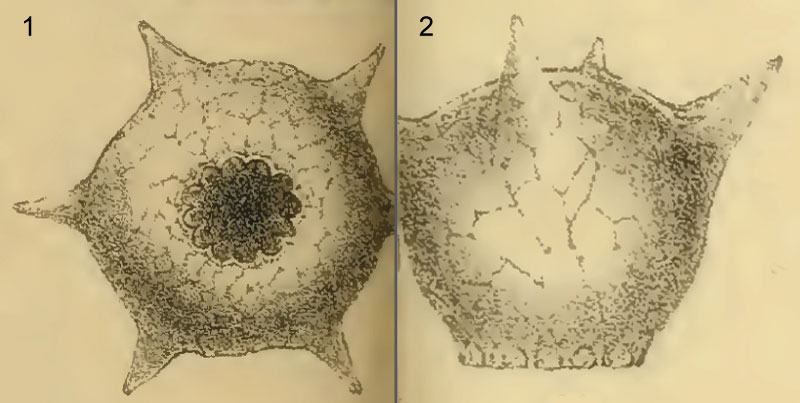 FIGURE 3. Specimens of Mediolus corona from lakes in the Subarctic ("Lake 10" near Yellowknife, Northwest Territories; 62°30.924'N, 113°46.817'W); temperature region (Mew Lake, Algonquin Park, Ontario; 45°34.575'N, 78°31.087'W, Bell's Lake, King (Greater Toronto Area), Ontario; 43°N56.597, 79°39.762W); and equatorial regions (Holocene core from Laguna de Quistococha, Iquitos, Peruvian Amazon; 3°49.746'N, 73°19.157'W). 1. side view of typical spheroidal hypotype (CANA 91905) from sediment-water interface in Mew Lake showing orientation of basal spines and thin narrow apertural rim; 2. oblique apertural view of same specimen showing crenulated aperture; 3, apertural view of hypotype (CANA 87197) from sediment-water interface in Bell's Lake showing round aperture; 4. Closeup of individual crenulation in Bell's Lake specimen showing spiny projections; 5. Side view of globular hypotype (CANA 87186) from "Lake 10" showing distribution of spines; 6. oblique apertural view of same specimen showing narrow apertural rim; 7. apertural view of same specimen showing rounded apertural opening and regular distribution of basal spines; 8. Gobular hypotype (CANA 87198) from Holocene core collected from Laguna de Quistococha with relatively few short spines; 9. apertural view of different hypotype (CANA 87199) from Laguna de Quistococha showing typical rounded and crenulated aperture but with considerably reduced basal spines than shown in "Lake 10" specimen (7 above); 10. oblique apertural view of same specimen showing typical narrow crenulated apertural lip; 11. close up of apertural region on same specimen showing regular spacing and uniform structure of crenulations; 12. close up of a single crenulation showing typical spiney ultrastructure, which are nearly identical to those of temperature latitude specimens (4 above).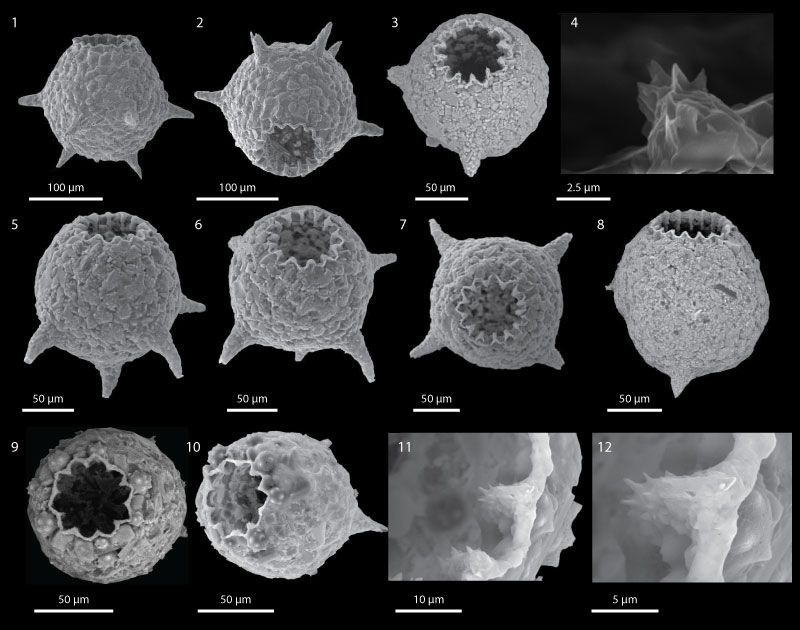 FIGURE 4. Line drawings of Mediolus corona clones produced within six of Jennings (1916) broods, redrafted and reaarranged by Medioli and Scott (1983). The figure shows that although there is little variation within broods through only a few generations there is considerable variation in both size and process number and arrangement between broods. The research of Jennings (1916) indicated that although the crenulated aperture was a constant feature in all clones, some morphotypes can be processless.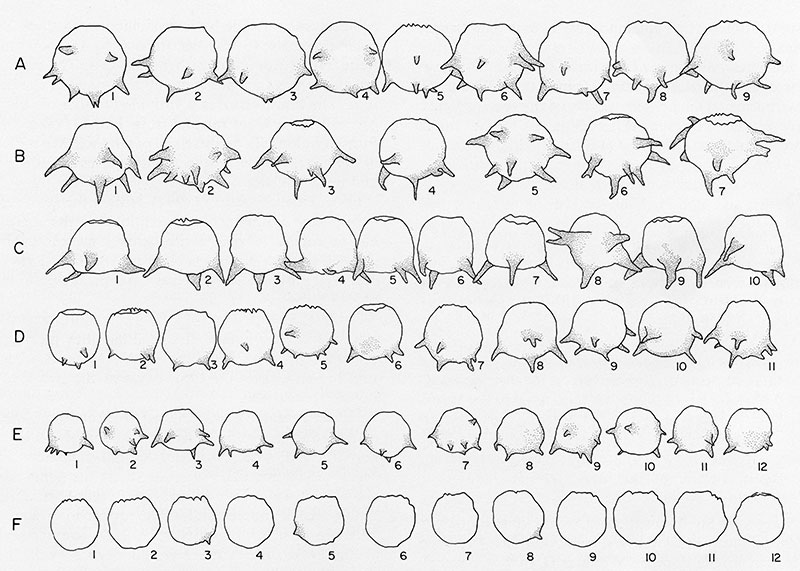 Mediolus, a new genus of Arcellacea (Testate Lobose Amoebae)
R. Timothy Patterson
Plain Language Abstract
Arcellacea are a group of shelled protists that are common in lake, bog, and other freshwater environments from the equator to the poles. Considerable progress has been made in developing the group as a sensitive indicator of climate change and land use influences, particularly in paleolimnologic research and as paleohydrologic indicators in peatlands. Ongoing taxonomic uncertainty within the group is hindering further paleoecologic advances. The arcellacean genus Difflugia encompasses more than 500 fossil and modern species and subspecies, which are characterized by a myriad of morphologies and ecological niches. Difflugia corona (Wallich, 1864), bears no resemblance to the type species of the genus Difflugia protaeiformis Lamarck, 1816 aside from both having a unilocular test. The new genus Mediolus, with type species D. corona, is proposed to encompass species with inward oriented crenulated tooth-like structures rimming their apertures and shells generally adorned with hollow spines.
Resumen en Español
text
Traducción: Enrique Peñalver
Résumé en Français
Text
Translator: Kenny J. Travouillon
Deutsche Zusammenfassung
In progress
Translator: Eva Gebauer
Arabic
in progress

Translator: Ashraf M.T. Elewa