Articles
New records of the bryozoan Metrarabdotos from the Pirabas Formation (Lower Miocene), Pará State, Brazil
Plain Language Abstract
Invertebrates that can be found in different aquatic environments from where they are recorded from the Ordovician to the present-day. The Pirabas formation crops out discontinuously in the northern Brazilian states of Pará, Maranhão, and Piauí. It provides some of the best marine Cenozoic outcrops in Brazil as it contains abundant and varied fossils, which include representatives of main marine animal phyla: mollusks, foraminifera, echinoids, and fish. Bryozoan fauna from these Brazilian sediments has been so far neglected. The results presented here are part of a project that aims at describing bryozoan that thrived in the Lower Miocene Pirabas sea. Three species of the genus Metrarabdotos are described, namely M. aquaeguttum sp. nov., M. elongatum sp. nov., and M. capanemensis sp. nov. to science. These species were collected from two outcrops in the Pirabas Formation (Atalaia Beach at Salinópolis city and B-17 Mine at Capanema city).
Resumen en Español
Nuevos registros del briozoo Metrarabdotos de la Formación Pirabas (Mioceno Inferior), Estado de Pará, Brasil
La Formación Pirabas en el Estado de Pará, Brasil, contiene una fauna muy rica y diversa de edad Mioceno temprano, incluyendo varios grupos de invertebrados y vertebrados. Los estudios previos de briozoos de Brasil incluyeron dos especies de Metrarabdotos, pero necesitan ser revisados. El presente estudio describe tres nuevas especies de Metrarabdotos (M. aquaeguttum sp. nov., M. elongatum sp. nov., M. capanemensis sp. nov.) obtenidas en dos afloramientos: Playa Atalaia en la ciudad de Salinópolis y Mina B-17 en la ciudad de Capanema.
Palabras clave: nuevas especies; Mioceno Inferior; Brasil; Provincia Biogeográfica del Caribe; Bryozoos
Traducción: Enrique Peñalver (Sociedad Española de Paleontología)
Résumé en Français
text
Translator: Antoine Souron
Deutsche Zusammenfassung
In progress
Translator: Eva Gebauer
Arabic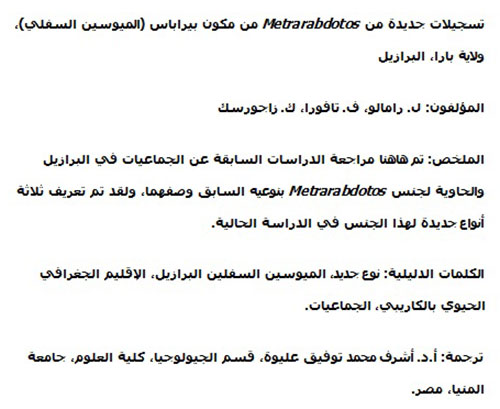 Translator: Ashraf M.T. Elewa
FIGURE 1. Map of the study area showing the four outcrops (arrows).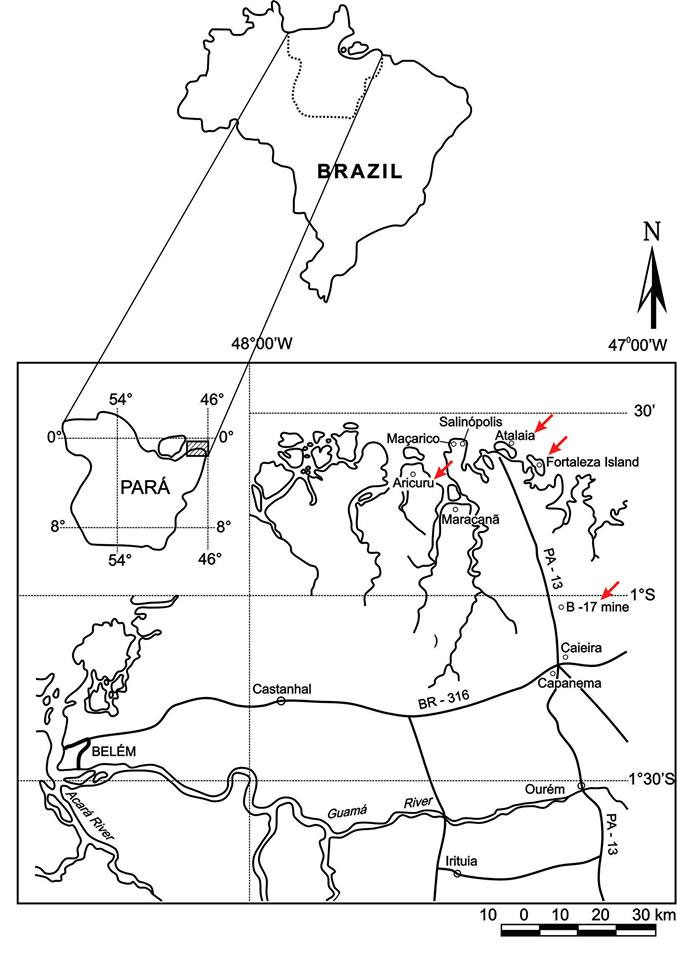 FIGURE 2. Metrarabdotos aquaeguttum sp. nov. 1. General view of the colony fragment with infertile and fertile zoecia. 2. Detail of a branch edge showing special and ordinary avicularia. 3. Detail of zooids adjacent to a maternal one showing orifice, special avicularium paired with an ordinary one, and part of the ooecium. 4. Detail of maternal zooid with a complete ooecium, ordinary avicularia, and a zooid adjacent to maternal one, with a special avicularium. Scale bars equal 1: 500 µm; 2: 100 µm; 3: 40 µm; 4: 200 µm. 1, 4: MG-6303-I-b; 2: MG-6303-I-c; 3: MG-6303-I-a.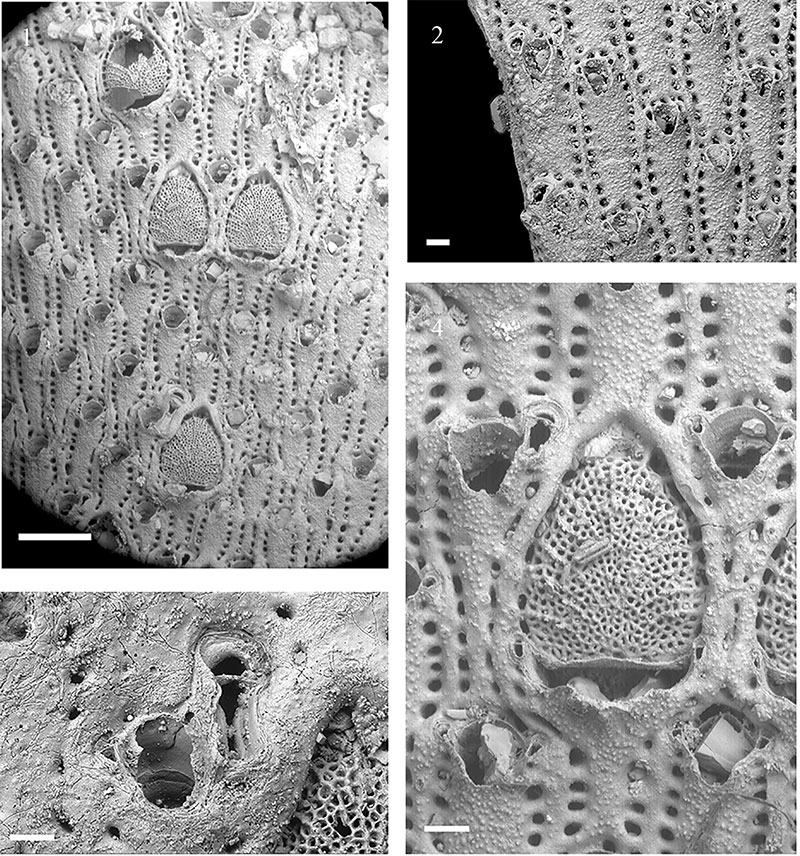 FIGURE 3. Metrarabdotos elongatum sp. nov. 1. General view of a fragment showing some fertile and infertile zooecia. 2. Detail of some zooecia showing orifice with median denticles, paired avicularia, and areolar pores. 3. Detail of the secondary orifices showing a median denticle and a pair of laterally ordinary avicularia. 4. Internal view of some zooecia showing tridenticulate orifices. 5. Detail of the branch edge showing zooecia with large ordinary avicularia. 6. A maternal zooid with complete ooecium and paired ordinary avicularia surrounded by zooecia, each with a special avicularium paired with an ordinary one, and by infertile zooecia with paired ordinary avicularia. Scale bars equal 1: 500 µm; 2, 4-5: 200 µm; 3: 20 µm; 6: 100 µm. 1, 6: MG-6303-I-i; 2: MG-6303-I-p; 3: MG-6303-I-s; 4: MG-6303-I-l; 5: MG-6303-I-h.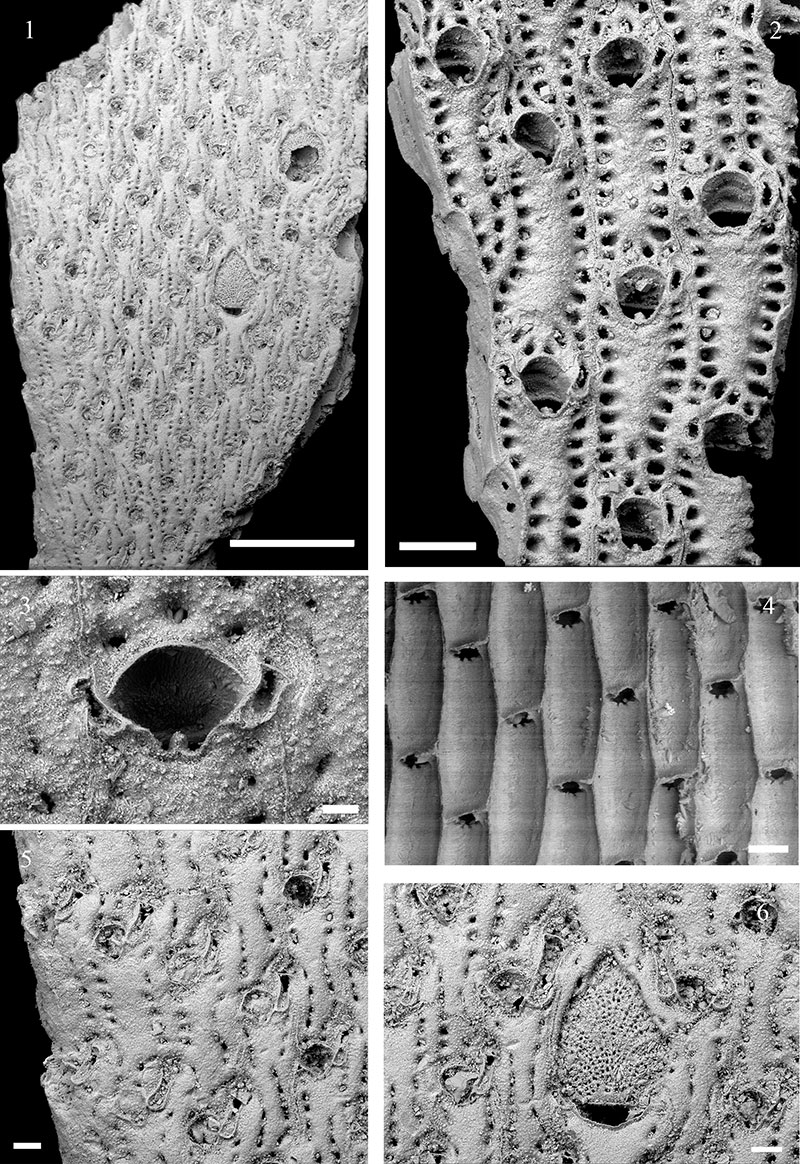 FIGURE 4. Metrarabdotos capanemensis sp. nov. 1. General view of a colony showing fertile and infertile zooecia. 2. Detail showing two maternal zooecia bearing complete ooecia, flat ordinary zooecia and a large special avicularium below the maternal zooid. 3. Some zooecia with paired, ordinary proximally located avicularia and one elongated special avicularium. Note the frontal shield with elliptical areolar pores and a median longitudinal keel. Scale bars equal 1: 1000 µm; 2-3: 200 µm. 1-3: MG-6303-I-t. Arrows indicate special avicularia.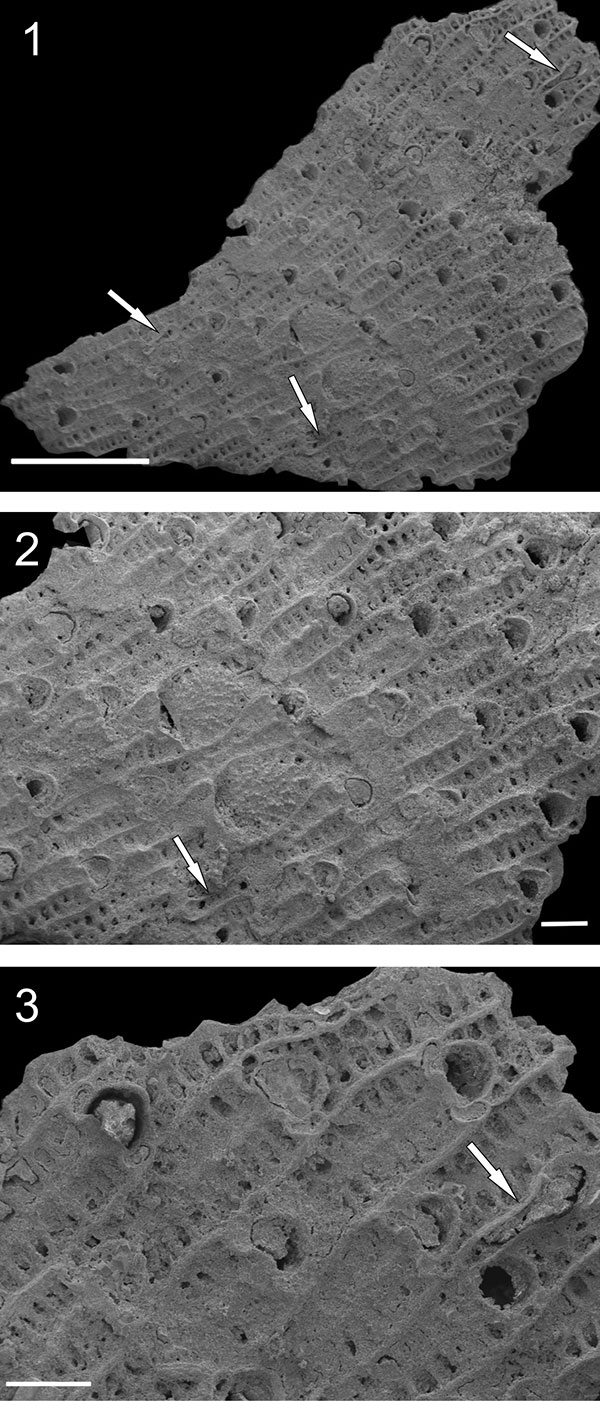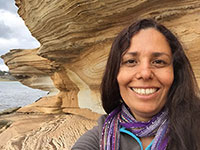 Laís V. Ramalho. Instituto Español de Oceanografia - IEO, Puerto Pesquero, s/n, Fuengirola. 29640; and Universidad de Málaga, Málaga - España. This email address is being protected from spambots. You need JavaScript enabled to view it.
Doctor in Zoology specialized in Bryozoan taxonomy from Cenozoic and Recent.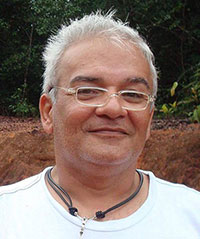 Vladimir A. Távora. Laboratório de Paleontologia, Faculdade de Geologia, Instituto de Geociências, Universidade Federal do Pará, Caixa Postal 1611, Belém, Pará, Brazil. This email address is being protected from spambots. You need JavaScript enabled to view it.
Geologist, a master and Ph.D. degrees in Paleontology from the Universidade Federal do Rio de Janeiro. He is currently associate professor of the Universidade Federal do Pará, and has experience in Paleontology and paleobiology of fossil invertebrates of Cretaceous and Tertiary ages, as well as Paleontology teaching.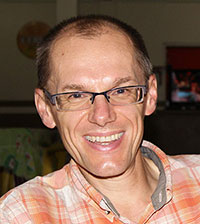 Kamil Zagorsek. Department of Geography, Technical University of Liberec, Studentská 2, CZ-461 17 Liberec, Czech Republic. This email address is being protected from spambots. You need JavaScript enabled to view it.
Zagorsek is working on Department of Geography in Technical University of Liberec (from 2017 as a head) and specialized to biogeography, especially of paleobiogeography, taxonomy, biology and ecology of bryozoans.