Articles
Relationships of the Cambrian Protomonaxonida (Porifera)
Plain Language Abstract
Sponges are among the earliest recognisable animals in the fossil record. Although it is generally agreed that they were one of the earliest groups of animals to evolve, the relationship of sponges to other animals is uncertain: we do not yet know whether the earliest animal was a sponge, or whether they are specialised organisms that evolved from an earlier animal. Understanding the early evolution of fossil sponges is critical to resolving these uncertainties, but although living sponges are readily divided into four distinct classes, the earliest fossil sponges are often ambiguous. One major group of early fossil sponges are the protomonaxonids, which are usually regarded as early examples of demosponges (the dominant living class). In this paper we have studied undescribed protomonaxonid material from the early Cambrian (approximately 520 million years ago) of China, and restudied known material from the middle Cambrian (approximately 510 million years ago) Burgess Shale of Canada. We conclude that the protomonaxonids include two probably separate evolutionary lineages: one does indeed include the ancestors of modern demosponges, but the other is a much older group and shows more primitive characteristics.
Resumen en Español
Afinidades de los Protomaxonida (Porifera) del Cámbrico
Los Protomonaxonida son un grupo heterogéneo de esponjas fósiles primitivas habitualmente incluidas en las desmosponjas. Sin embargo, también se han ligado ocasionalmente al orden Reticulosa, un grupo de afinidades hexactinélidas, por lo que sus relaciones son fundamentales para comprender los orígenes de las distintas clases de esponjas actuales. En este artículo se reconsideran las afinidades de las esponjas protomonaxónidas con otros grupos de esponjas a partir del estudio de ejemplares ya descritos y de otros nuevos procedentes de Burgess Shale (Canadá) y de Hetang (sur de China). Las esponjas se pueden reunir en dos grupos coherentes, uno formado por taxones con espículas largas, básicamente sublongitudinales, y otro con complejos entramados de pequeñas monaxonas (de escala milimétrica) que pasa gradualmente a formas desprovistas de espículas como los Vauxiidae. Este segundo grupo encaja con las ideas previas de una relación de los Protomonaxonida con las desmosponjas actuales, mientras que el primer grupo confirmaría la descendencia a partir de un ancestro hexactinélido. Por el momento, se mantienen las dudas sobre si ambos grupos estuvieron directamente relacionados o desarrollaron la espiculación monaxónida de forma paralela.
Palabras clave: Burgess Shale; Demospongiae; Biota de Hetang; litístidas; esponjas
Traducción: Miguel Company
Résumé en Français
Les relations de l'Ordre Protomonaxonida (Porifera) du Cambrien
L'Ordre Protomonaxonida est composé d'un groupe hétérogène d'éponges fossiles, traditionnellement attribué aux démosponges. Cependant, une affinité avec Reticulosa, ressemblant aux hexactinellides, a également été suggérée, et leurs relations sont potentiellement cruciales pour comprendre les origines des classes d'éponges existantes. Dans cet article, les relations entre les éponges protomonaxonides les unes aux autres et à d'autres groupes d'éponges ont été réévaluées en utilisant des spécimens décrits précédemment, ainsi que de nouveaux matériaux fossiles provenant des schistes de Burgess au Canada et du biote de Hetang au Sud de la Chine. Les éponges se répartissent en deux groupes cohérents, l'un composé de taxons avec des spicules longs et surtout sous-longitudinales, et l'autre avec des ensembles complexes composées de tracts à un axe minuscules (échelle millimétrique), qui pourrait être qualifié de taxons sans spicules comme la famille Vauxiidae. Plusieurs théories énoncées précédemment, mettant en relation l'Ordre Protomonaxonida avec les lignées de démosponge existantes, sont supportées dans le cas du deuxième groupe, tandis que le premier groupe confirme le point de vue de la dérivation à partir d'un ancêtre ressemblant aux hexactinellides. Si les deux groupes étaient directement liés ou s'ils ont évolué des spicules à un axe en parallèle, reste actuellement incertain.
Mots-clés: Schistes de Burgess; Demospongiae; Biote de Hetang; lithistides; éponge
Translator: Kenny Travouillon
Deutsche Zusammenfassung
Verwandtschaftsbeziehungen der kambrischen Protomonaxonida (Porifera)
Die Protomonaxonida bestehen aus einer heterogenen Gruppe von frühen fossilen Schwämmen, die traditionsgemäß den Demospongiae zugeordnet werden. Jedoch wurde ebenso eine Ähnlichkeit mit den hexactinelliden-ähnlichen Reticulosa vorgeschlagen. Ihre Verwandtschaftsbeziehungen sind unter Umständen wesentlich, um die Ursprünge der heutigen Schwammklassen zu verstehen. In diesem Artikel wurden die Beziehungen der protomonaxoniden Schwämme zueinander und zu anderen Schwammgruppen neu bewertet, indem bereits beschriebene Stücke, genauso wie neues Material aus dem Burgess Shale von Kanada und dem Hetang Biota von Südchina miteinbezogen wurden. Die Schwämme können in zwei einheitliche Gruppen unterteilt werden. Die eine besteht aus Taxa mit langen, meist sub-longitudinalen Nadeln, die andere zeigt komplexe Anordnungen mit Zonen von winzigen Monoxonen im Millimeter-Bereich, die in aspiculate Taxa wie die Vauxiidae übergehen. Bisherige Überlegungen, die die Protomonaxonida mit den heutigen Demospongiae-Linien in Verbindung bringen, werden durch die zweite Gruppe unterstützt, wohingegen die erste Gruppe eine Abstammung von einem hexactinelliden-artigen Vorfahren bekräftigt. Ob jedoch die beiden Gruppen unmittelbar miteinander verwandt sind oder ob die monaxonide Benadelung eine Parallelentwicklung ist, ist momentan noch unklar.
Schlüsselwörter: Burgess Shale; Demospongiae; Hetang Biota; lithistid; Schwamm
Translator: Eva Gebauer
Arabic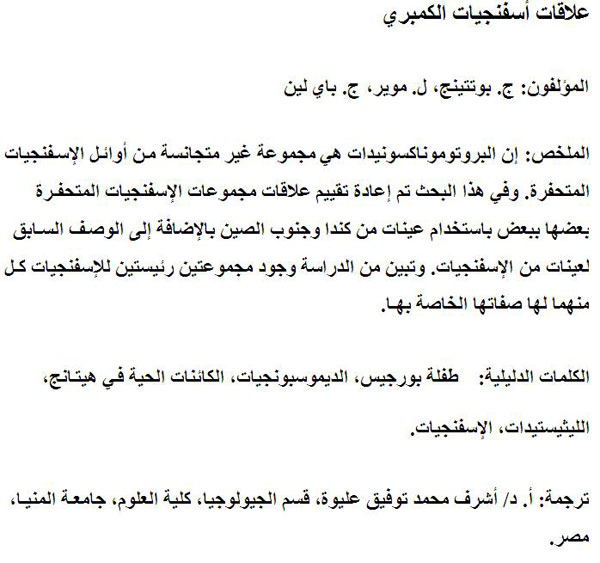 Translator: Ashraf M.T. Elewa
This email address is being protected from spambots. You need JavaScript enabled to view it.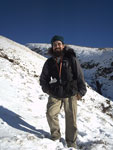 State Key Laboratory of Palaeobiology and Stratigraphy
Nanjing Institute of Geology and Palaeontology
Chinese Academy of Sciences
39 East Beijing Road
Nanjing 210008, China
Dr. Joseph Botting has recently completed a fellowship for Young International Scientists at the Nanjing Institute of Geology and Palaeontology. He started working in the Builth Inlier as an undergraduate at Cambridge, and completed his PhD, which was partly on faunas from the area, at the University of Birmingham in 2000. Most of his publications have been on sponges, but he has also worked on echinoderms, worms, trilobites, palaeoecology and several Ordovician Lagerstätten. His research is currently focused on the early evolution of sponges, with forays into exceptionally preserved biotas in China, Morocco, the UK and North America.

This email address is being protected from spambots. You need JavaScript enabled to view it.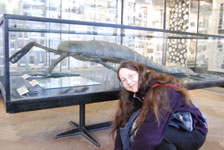 State Key Laboratory of Palaeobiology and Stratigraphy
Nanjing Institute of Geology and Palaeontology
Chinese Academy of Sciences
39 East Beijing Road
Nanjing 210008
China
Dr. Lucy Muir is primarily a graptolite worker and palaeoecologist, but has published on a variety of other things, including museum collections and modern ecology. She received her undergraduate degree from the University of Cambridge (1997) and then undertook an MSc in Palaeobiology at the University of Bristol (1999). Since gaining her PhD from the University of Edinburgh in 2004, she has worked as a museum curator and a freelance geological consultant. She has recently returned to the UK after a two-year postdoctoral position at the Nanjing Institute of Geology and Palaeontology, where she worked on a comparison of Ordovician Lagerstätten in Wales, China and Morocco.

This email address is being protected from spambots. You need JavaScript enabled to view it. (corresponding author)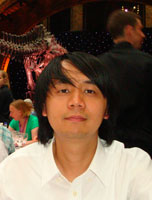 State Key Laboratory of Palaeobiology and Stratigraphy
and Key Laboratory of Economic Stratigraphy and Palaeogeography
Nanjing Institute of Geology and Palaeontology
CAS, 39 East Beijing Road
Nanjing 210008
China
(Alex) Jih-Pai Lin is a professor working on Burgess Shale-type deposits worldwide at the CAS Nanjing Institute of Geology and Palaeontology. He graduated and completed his PhD work at the Ohio State University and conducted a postdoctoral position at Yale University. After arriving at the Nanjing he has actively recruited young scientists to join his research team (bst.uua.cn), supported by the Chinese Academy of Sciences Project-Oriented Hundred Talents Programme. He and his research group mainly focus on the early evolution of echinoderms and related animals.
FIGURE 1. Basal protomonaxonids and a primitive hamptoniid from the early Cambrian Hetang Biota, South China. 1-2, NIGP154828 Hyalosinica sp.; 1, overall view with examples of hexactines arrowed; 2, magnification of hexactines in central part of (1); 3, NIGP155891 apparently undescribed genus (new genus B) with mass of minute, inflated and short-rayed hexactines (visible as tiny shadowed cavities) amongst irregularly-arranged, fine monaxons; 4-5, NIGP155892 undescribed genus (new genus A) with dense wall of minute, inflated-rayed hexactines and no monaxons; 4, overall view showing body form; 5, detail showing mass of minute, short-rayed hexactines preserved as external moulds; 6, NIGP155893 probably undescribed genus (new genus C) with irregular, dense array of sub-longitudinal monaxons but lacking hexactine-based spicules, interpreted as a primitive hamptoniid-like sponge due to the lack of hexactine-based spicules; 7-8, NIGP155894 probably undescribed genus with conical body wall containing mostly diagonally-oriented monaxons, and non-inflated hexactine-based spicules. Scale bars equal: 1, 3: 5 mm; 2, 5, 8: 1 mm; 4, 6-7: 10 mm.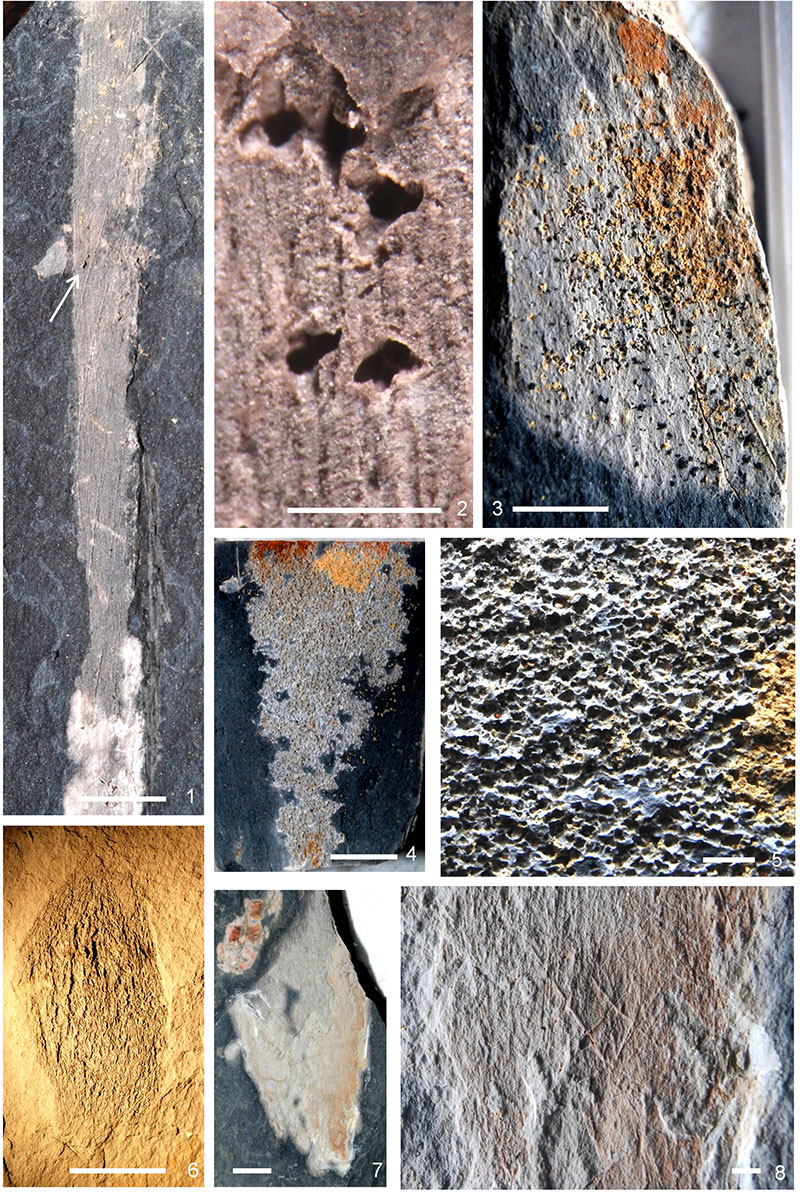 FIGURE 2. Leptomitidae, from the Burgess Shale (middle Cambrian, Canada).1, 3 Leptomitus lineatus ROM 53558; 1, apex of sponge showing longitudinal monaxon bundles converging towards narrowed osculum, and short transverse monaxons; 3, basal region with linear skeletal nucleation centre; 2, 4 Wapkia elongata; 2, ROM53549, showing fundamental architecture of longitudinal spicules with prominent development of transverse monaxon bundles, distorted into plumose array in left half; 4, ROM 53544, apical region of holotype showing skeletal architecture. 5, 7, ROM6l9l5, probably undescribed leptomitid-like sponge with thick wall and complex architecture from Burgess Shale locality S7; 6, ROM6l9l0, undescribed protomonaxonid from the Burgess Shale locality S7; previously named as Leptomitus but lacks transverse spicules (photograph: J.-B. Caron, ROM). 1-3, 5, 7 photographed under crossed polarisers, with high-angle illumination; 4 photographed with low-angle illumination. Scale bars equal: 1, 7: 1 mm; 2-5: 5 mm; 6: 50 mm. ].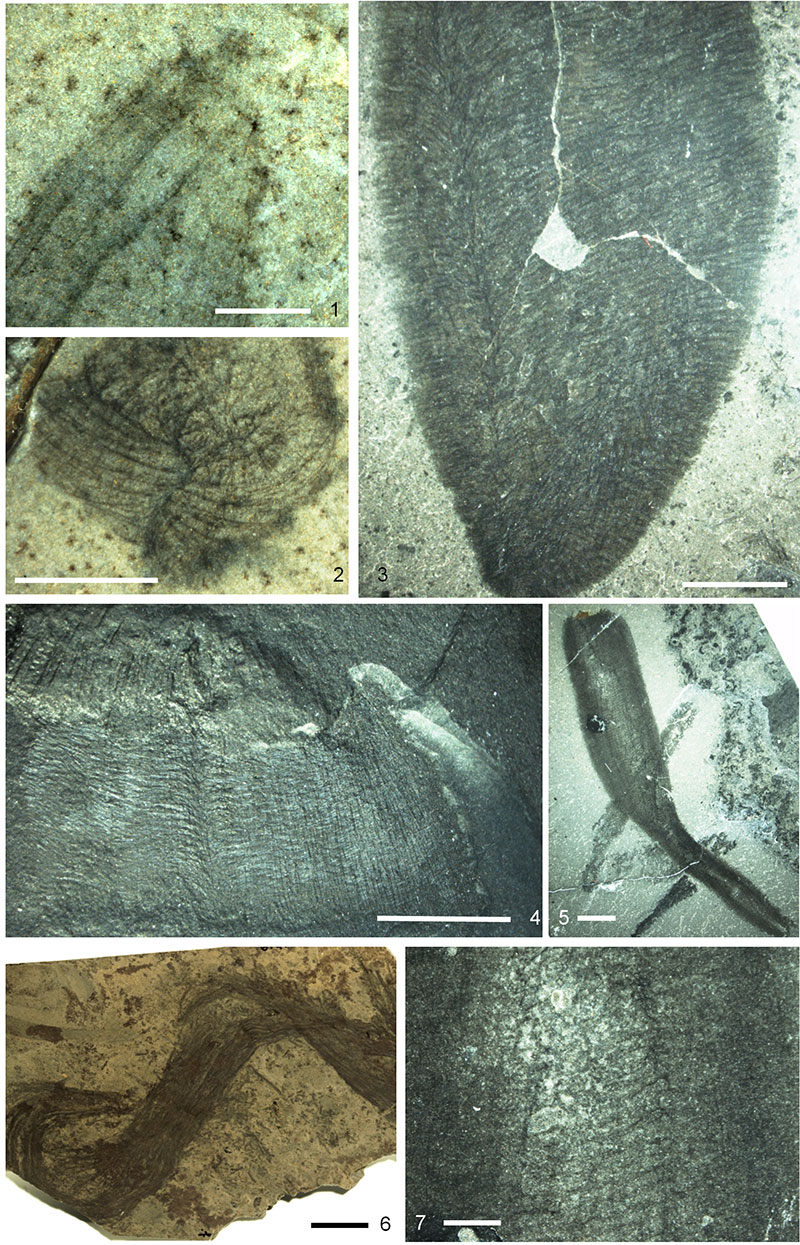 FIGURE 3. Hamptoniidae and 'Choiidae'. 1, Hamptonia bowerbanki, ROM6l9l4 from Monarch Cirque, British Columbia (ROM), with bimodal array of monaxons including relatively large, prominent spicules embedded in finer thatch; 2-3, NIGP155895 Choia sp. from the Hetang Biota; 2, overall view showing projecting monaxons; 3, magnified view of central body showing acicular coronal spicule bases (compare with Figure 4); 4, Lenica sp. NIGP154161, detail showing conical, organic-walled spicules preserved as flattened, partly pyritised moulds. Scale bars equal: 1: 10 mm; 2, 4: 5 mm; 3: 2 mm.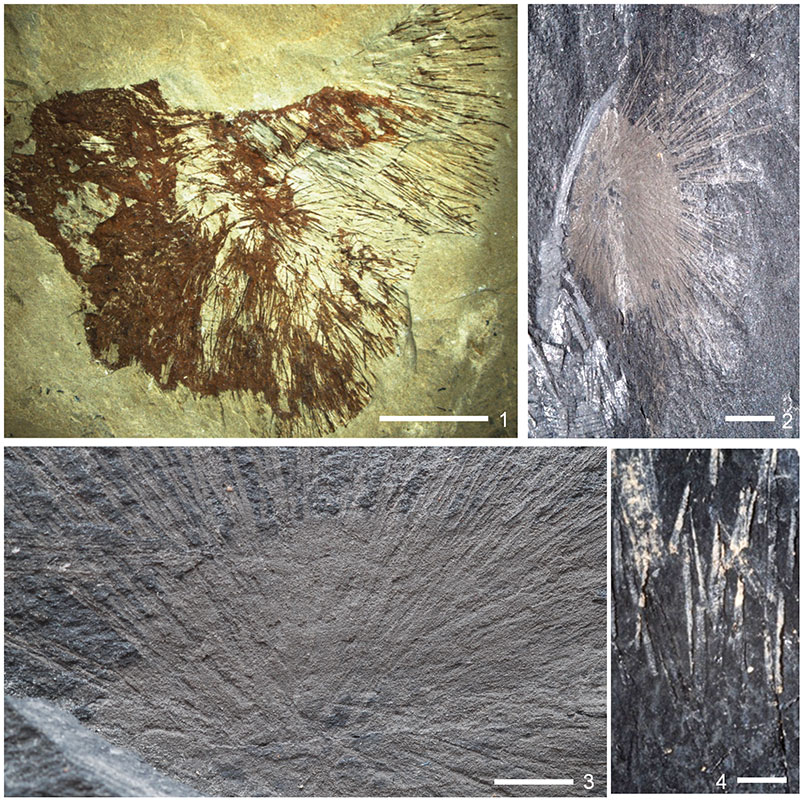 FIGURE 4. Halichondritid and piraniid sponges from early and middle Cambrian Lagerstätten. 1,3, apparently undescribed halichondritid-like sponge NIGP155896, Hetang Biota (early Cambrian, Anhui, South China); 1, view of partial specimen, showing architecture of fine monaxons and open-based, conical spicules; 3, detail with single conical spicule; 2, 4, Choia hindei (ROM53563) from the Burgess Shale, showing bimodal spicule sizes, the flattened open bases of large spicules shown in D; 5-6 Pirania muricata; 5, ROM6l9l3, details of central parts of spicules with preserved axial regions, dissolved middle layer, and organic preservation of outer film; 6, ROM53589, detail showing insertion of spicules into sponge wall, with poorly-defined, apparently open bases. Scale bars equal: 1-2: 5 mm; 3, 5-6: 1 mm; 4: 2 mm.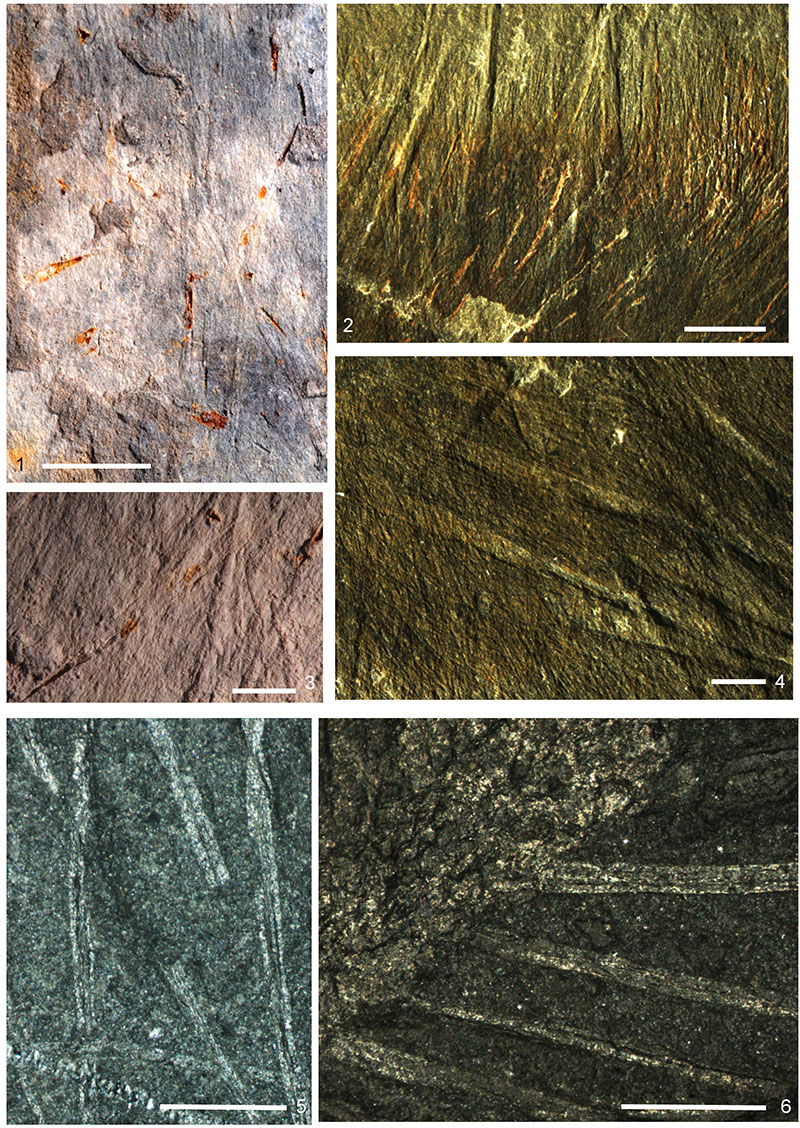 FIGURE 5. Hazeliidae from the Burgess Shale (middle Cambrian, British Columbia, Canada). 1, Hamptoniella foliata ROM44283, with sub-longitudinal array of spicule tracts and irregular cross-branching and reticulation; 2, Hazelia palmata ROM56247, distal part of large frondose specimen showing continuation of spicule tracts beyond margin; 3, ROM6l9l2, an undetermined hazeliid with a moderately thick, but disorganised wall and no reticulation; 4-5, ROM53578, new taxon described as Crumillospongia frondosa (Rigby and Collins, 2004) but showing echinating spicule tracts incompatible with that genus, visible in both cross-polarised (4) and low-angle light (5); 6-7, Hazelia delicatula ROM56258, with detail of upper right region (7) showing reticulate skeleton. Scale bars equal: 1, 6: 5 mm; 2, 4-5, 7: 1 mm; 3: 10 mm.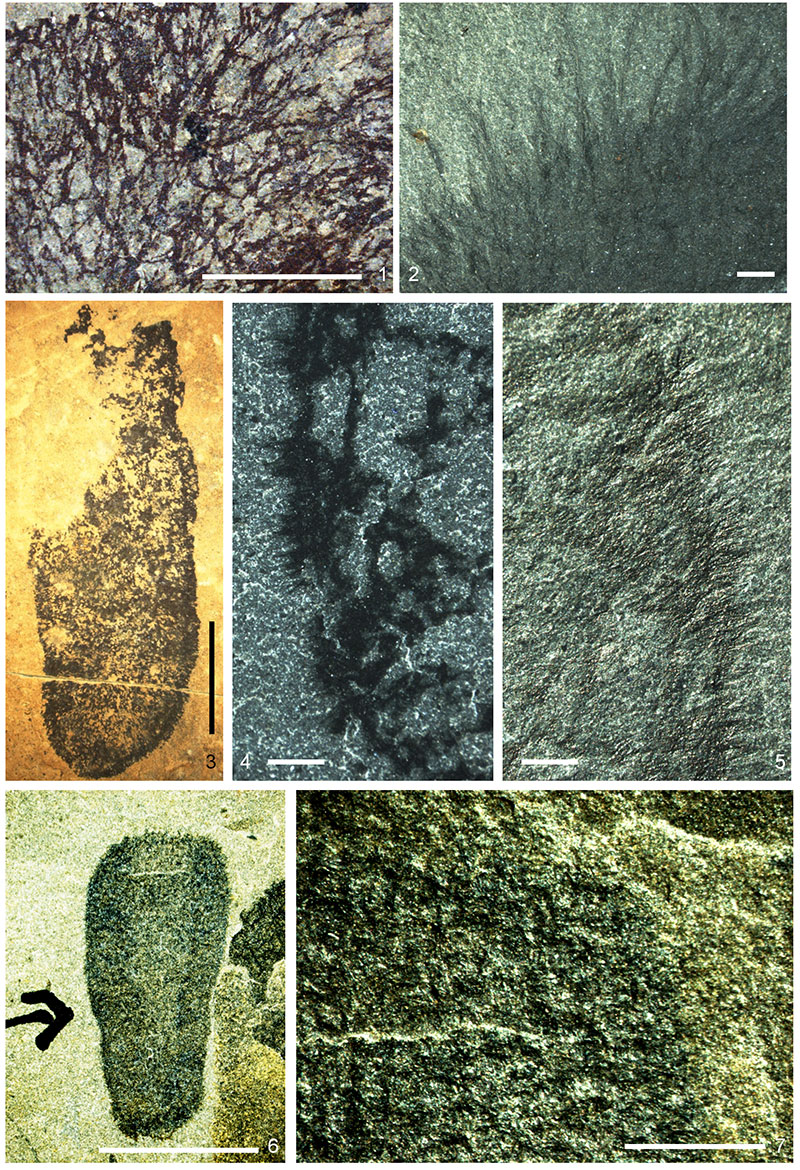 FIGURE 6. Members of the vauxiid-anthaspidellid complex, from the Burgess Shale (middle Cambrian, British Columbia, Canada). 1, detail of Hazelia conferta ROM56253, with sub-regular reticulation of primary skeleton; 2,4, Vauxia cf. bellula ROM6l 9l l, showing regular hexagonal (pseudo-rectangular) reticulation of longitudinal columns, lateral parts complicated by superposition of the dermal layer, and detail (4) showing framework composed of discrete, usually paired and sometimes misaligned spicules; 3, Vauxia bellula ROM 56243; 5, Fieldospongia bellilineata ROM53602, showing regular arrangement of single and double monaxons to form hexagonal (sub-rectangular) reticulation; 6, undescribed fragment of anthaspidellid lithistid on same slab as ROM44283, with more complex skeletal architecture. Scale bar equals 1 mm.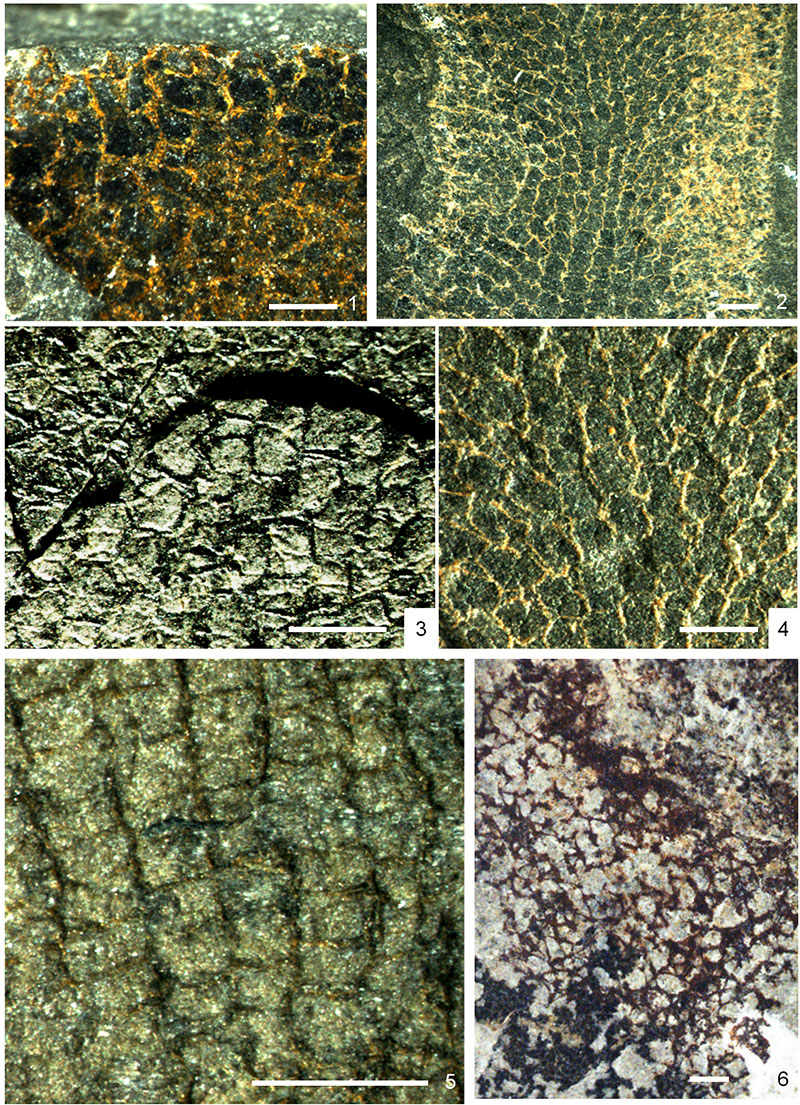 FIGURE 7. Phylogenetic hypothesis for the protomonaxonids, divided into two major groups: 1, large-spiculed taxa, including links to basal, hexactine-bearing sponges; 2, small-spiculed taxa with relationships to modern demosponge lineages. New genera A, B, and C are described briefly in the text. This reconstruction includes most of the genera described from Cambrian deposits, but a few poorly-understood or potentially problematic taxa are excluded. Vertical axis represents evolution; no scale of time or morphology is implied.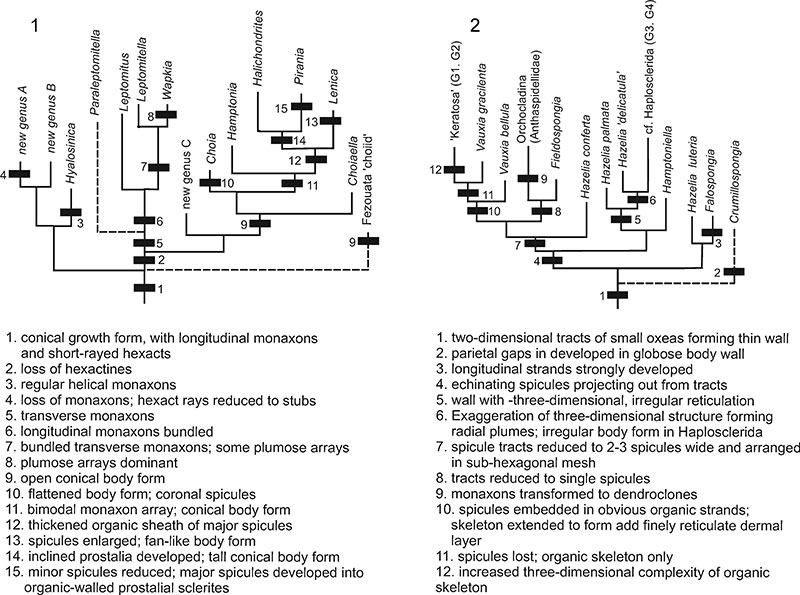 FIGURE 8. Schematic illustration showing primary skeletal development in protomonaxonids, referring to the most fundamental changes described in Figure 7.1, Group One (refers to Figure 7.1); 2, Group Two (refers to Figure 7.2).