Articles
The earliest occurrence and remarkable stasis of the family Bostrichidae (Coleoptera: Polyphaga) in Cretaceous Charentes amber
Plain Language Abstract
A new species of beetle (Stephanopachys vetus) has been found embedded in opaque fossil resin. The fossil was collected in a quarry from the south-west of France, which is Cretaceous in age (100 m.y.a.). The biological inclusions entombed in opaque resin are inaccessible with conventional optical methods, so a methodological process with high potential X-ray to obtain a three-dimensional (3D) reconstruction of the specimen is used in this work. The resulting images permit the description of the new species and comparison with extant species from the same genus. It is possible to conjecture an effect of the palaeofires regard to the resin production mechanisms and the ecology of this beetle family. A bibliographic review of the fossil record of the family is also offered.
Resumen en Español
El primer registro y la estasis morfológica remarcable de la familia Bostrichidae (Coleoptera: Polyphaga) en el ámbar Cretácico de Charentes
Una especie nueva de escarabajo (Stephanopachys vetus) ha sido hallada en el interior de resina fósil opaca. El fósil fue colectado en un yacimiento del Sur-Oeste de Francia, del periodo Cretácico (100 millones de años). Las inclusiones biológicas sepultadas por resina opaca son inaccesibles por métodos ópticos convencionales, por ello se usa en este trabajo una metodología con rallos X de alta potencia para obtener una reconstrucción tridimensional (3D) del ejemplar. La imagen resultante permite la descripción de la nueva especie y la comparación con especies actuales del mismo género. Es posible suponer un efecto de los paleo-fuegos como mecanismo de producción de resina debido la ecología de esta familia de escarabajos. Se ofrece también una revisión del registro fósil de la familia.
Palabras clave: escarabajo; nueva especie; Charente-Maritime; Francia; paleoambiente; imágenes de sincrotrón
Traducción: authors and Enrique Peñalver
Résumé en Français
La plus ancienne présence et la remarquable stase de la famille Bostrichidae (Coleoptera: Polyphaga) dans l'ambre du Crétacé des Charentes
Une nouvelle espèce fossile de coléoptère (Coleoptera: Bostrichidae), conservée dans de l'ambre du Crétacé moyen (Albien - Cénomanien) du sud- ouest de la France, est décrite comme Stephanopachys vetus Peris, Delclos et Perrichot sp. n. L'espèce est le plus ancien bostrichide fossile découvert à ce jour, mais elle est remarquablement semblable aux espèces récentes du genre Stephanopachys, soutenant une longue conservation morphologique chez les coléoptères xylophages. Le spécimen est fossilisé dans de l'ambre opaque et a été imagé en 3D en utilisant la microtomographie en contraste de phase par rayonnement X synchrotron. En se basant sur l'écologie des espèces actuelles apparentées, il est suggéré que S. vetus sp. n. a été un recolonisateur précoce suite aux feux de forêt dans les forêts du Crétacé moyen. Le registre fossile de la famille est passé en revue.
Mots-clés: Coléoptère; nouvelle espèce; Charente–Maritime; France; paléoenvironnements; imagerie synchrotron
Translator: authors and Kenny J. Travouillon
Deutsche Zusammenfassung
Das früheste Auftreten und die bemerkenswerte Stasis der Familie (Coleoptera: Polyphaga) im kretazischen Charentes Bernstein
Eine neue fossile Art von Bohrkäfern (Coleoptera: Bostrichidae) aus dem mittel-kretazischen (Alb-Cenoman) Bernstein von Südwest-Frankreich wird als Stephanopachys vetus Peris, Delclòs et Perrichot sp. n. beschrieben. Diese Art ist das bis dato früheste entdeckte bostrichide Fossil. Es ist jedoch den heutigen Arten der Gattung Stephanopachys bemerkenswert ähnlich, was eine lange morphologische Konservation bei Holz bohrenden Käfern unterstützt. Das Stück ist in vollständig opakem Bernstein fossilisiert und wurde in 3D abgebildet, indem Propagations-Phasenkontrast-synchotronstrahlung mit Microtomographie benutzt wurde. Basierend auf der Ökologie und dem Verhalten von heutigen verwandten Arten wird vorgeschlagen, dass S. vetus sp. n. ein Primärsukzessions-Pionier war, der Wildfeuern oder Lavaströmen in mittel-kretazischen Wäldern folgte. Der Fossilbericht der Familie wird überprüft.
Schlüsselwörter: Käfer; neue Art; Charente-Maritime; Frankreich; Paläoenvironment; Synchrotron Aufnahme
Translator: Eva Gebauer
Arabic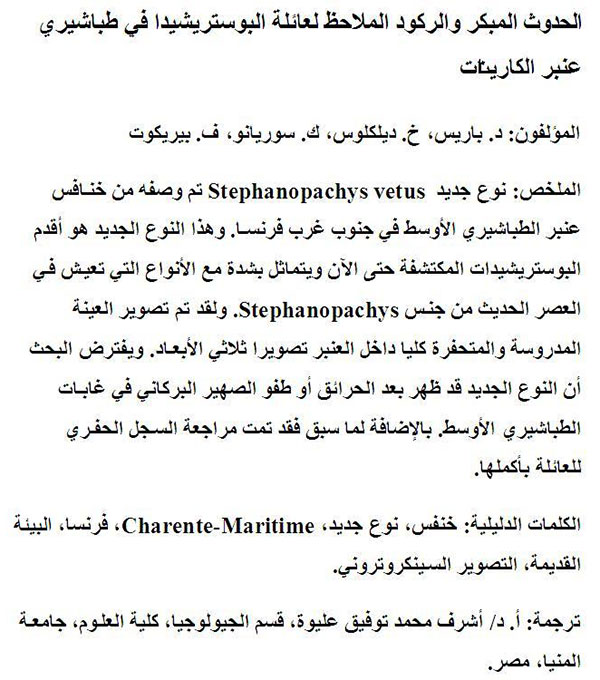 Translator: Ashraf M.T. Elewa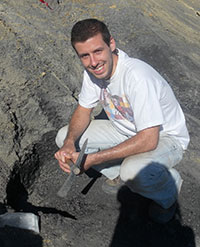 David Peris
Departament d'Estratigrafia
Paleontologia i Geociències Marines and Institut de Recerca de la Biodiversitat (IRBio)
Facultat de Geologia
Universitat de Barcelona (UB)
Martí i Franquès s/n
08028 Barcelona
Spain
This email address is being protected from spambots. You need JavaScript enabled to view it. and This email address is being protected from spambots. You need JavaScript enabled to view it.

David Peris is born in Valencia, Spain in 1986. He was graduated in Biology at the Universitat de València in 2009 and he obtained his MSc in Evolutionary Biology between the University Complutense of Madrid and the Autonomous University of Madrid, in 2010. In 2011 he started a PhD at the Universitat de Barcelona and he is currently coursing his third age. David is interesting in all concerning "amber world". Although his first incursion with the palaeontology was with Holocene subfossil mites, along his MSc research, he has published his most relevant papers on Cretaceous fossil beetles in amber, the aim of his PhD studies. He is currently focused on Early Cretaceous beetles (Insecta: Coleoptera) embedded in Spanish amber and other ambers worldwide.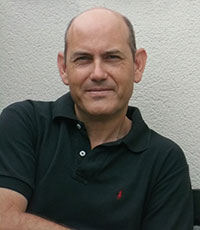 Xavier Delclòs
Departament d'Estratigrafia
Paleontologia i Geociències Marines and Institut de Recerca de la Biodiversitat (IRBio)
Facultat de Geologia
Universitat de Barcelona (UB)
Martí i Franquès s/n
08028 Barcelona
Spain
This email address is being protected from spambots. You need JavaScript enabled to view it.

Xavier Delclòs is born in Lleida, Spain in 1962. He studied Geology in the University of Barcelona where he graduated in 1986. In 1991 he obtained his doctorate in the University of Barcelona, and became Lecturer in 1993. In Barcelona he focused his research on fossil insect's palaeobiology and the exceptional fossil preservation. He started his work on Cretaceous insects preserved in rocks in 1985, and from 2000 he combines with the palaeobiological studies of arthropods preserved in Mesozoic and Cainozoic ambers. Since 2005 he has been coordinating the team that studied the Early Cretaceous amber of Spain. Today he is author of 125 publications on fossil insects and invertebrate palaeontology. His last research is focused in the amber-bearing deposits formation, in comparison with the recent tree resin producer's ecosystems, and the palaeoecology of the Early Cretaceous insects.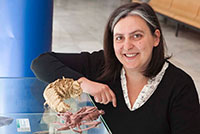 Carmen Soriano
European Synchrotron Radiation Facility
6 rue Jules Horowitz, BP 220
Grenoble 38000
France
This email address is being protected from spambots. You need JavaScript enabled to view it.

Carmen Soriano is born in Madrid, Spain in 1976. She studied Biological Sciences (specialty Zoology) in the Universidad Autonoma de Madrid where she graduated in 1999 and achieved her Master Science Degree in Paleontology in 2001. She obtained her doctorate with honors in Geology in 2006 in the Universitat de Barcelona, supervised by Dr. Xavier Delclos, with a project title "Coleopterans from the Lower Cretaceous of Spain: Paleobiology and taphonomy". In 2008 she had her first doctoral stage in the Universite de Rennes I, France. In 2009-2010 she worked at the European Synchrotron Radiation Facility in Grenoble. Since then, she has been coordinating the different amber related projects at the ESRF.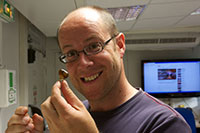 Vincent Perrichot
Université de Rennes 1
UMR CNRS 6118 Géosciences & OSUR
35042 Rennes cedex
France
This email address is being protected from spambots. You need JavaScript enabled to view it.This email address is being protected from spambots. You need JavaScript enabled to view it.">
Vincent Perrichot is born in Brittany, France in 1976. He obtained his Ph.D. in biology at the University of Rennes in 2003, on the study of Cretaceous amber deposits from France and their corresponding forest ecosystems. He spent two years at the Natural History Museum of Berlin as a Humboldt research fellow, working with Alexander Schmidt on the paleoecology of resin-producing forests through the study of arthropods and microorganisms fossilized in amber. He then became a postdoctoral fellow at the Paleontological Institute of the University of Kansas, where he worked on the systematics, phylogeny, and biogeography of hymenopteran insects from various Mesozoic and Cenozoic ambers. In 2009 he returned to the University of Rennes as a full time assistant professor. Since then he has been studying the paleobiota and paleoenvironments of various Mesozoic and Tertiary ambers, using synchrotron imaging at the ESRF on a regular basis to visualize fossils in opaque amber. In parallel with his main research topic on the evolution of insects, he is studying modern resin-producing forests in order to understand the processes involved in the trapping of organisms by tree resins.

FIGURE 1. Three-dimensional reconstruction of Stephanopachys vetus sp. n., (holotype IGR.ARC-270), from Cretaceous French amber, as obtained from PPC-SRµCT at BM19 beamline, in the ESRF, Grenoble. 1.1 Right lateral view; 1.2 dorsal view; 1.3 ventral view; 1.4 left lateral view; 1.5 antennae detail' by '1.1 Ventral view; 1.2 left lateral view; 1.3 right lateral view; 1.4 dorsal view; 1.5 antennae detail.