Articles
Methods for isolation and quantification of microfossil fish teeth and elasmobranch dermal denticles (ichthyoliths) from marine sediments
Plain Language Abstract
Microfossil fish teeth and elasmobranch scales (together called "ichthyoliths") are preserved in deep-sea and other marine sediments around the world. We describe a methodological framework for isolating and working with this unique fossil resource, which can greatly improve our understanding of both fish evolution and the response of ecosystems response to global change events. We outline methods to isolate ichthyoliths from a wide variety of deep-sea sediment types and present a novel protocol for dyeing ichthyoliths pink using Alizarin Red S stain, which greatly facilitates the identification and separation of teeth from clastic material. Finally, we present a series of metrics for quantifying fish community structure and production in the fossil record, and discuss potential future applications of the ichthyolith record.
Resumen en Español
Métodos para el aislamiento y cuantificación de dientes de peces y dentículos dérmicos de elasmobranquios (ictiolitos) microfósiles de sedimentos marinos
Los ictiolitos —dientes de peces y escamas dérmicas de tiburones microfósiles—se encuentran en casi todos los sedimentos marinos. Su pequeño tamaño y baja abundancia relativa en comparación con otros grupos de microfósiles explican por qué han sido ampliamente ignorados por las comunidades paleontológica y paleoceanográfica, excepto como portadores de determinados sistemas isotópicos. Aún así, cuando se encuentran apropiadamente concentrados, los ictiolitos son suficientemente abundantes como para revelar patrones de abundancia y diversidad de peces a una resolución temporal y espacial sin precedentes, en contraste con las interrupciones de millones de años del registro de fósiles corpóreos de vertebrados. Adicionalmente, los ictiolitos son altamente resistentes a la disolución, permitiendo la reconstrucciones de comunidades enteras de peces a escalas temporales muy precisas y virtualmente continuas. Aquí presentamos métodos para aislar y utilizar ictiolitos preservados en el registro sedimentario para rastrear estructuras de comunidades de peces y productividad de ecosistemas a través de intervalos temporales geológicos e históricos. Estos métodos incluyen técnicas para el aislamiento y concentración de estos microfósiles a partir de un amplio rango de sedimentos incluyendo carbonatos marino profundos y de arrecifes de coral, arcillas, pelitas y sedimentos ricos en silicatos. También presentamos un protocolo novedoso para el teñido de ictiolitos utilizando Alizarín Rojo S para visualizar fácilmente y distinguir pequeños dientes de otros restos en la muestra. Finalmente, discutimos varias medidas para la cuantificación de la estructura de la comunidad y abundancia de ictiolitos, y sus aplicaciones en la reconstrucción de cadenas tróficas y ambientes del pasado.
Palabras clave: dientes de peces; dentículos; ictiolitos; arrecifes de coral; ecología histórica; micropaleontología
Traducción: Diana Elizabeth Fernández
Résumé en Français
Des méthodes pour isoler et quantifier les microfossiles de dents de poissons et de denticules dermiques d'élasmobranches (ichthyolithes) dans les sédiments marins
Les ichthyolithes — des microfossiles de dents de poissons et d'écailles dermiques (denticules) de requins — sont trouvés dans presque tous les sédiments marins. En raison de leur petite taille et de leur rareté relative par rapport aux autres groupes de microfossiles, ils ont été généralement ignorés par les communautés de paléontologues et paléo-océanographes, sauf en tant que porteurs de certains systèmes isotopiques. Pourtant, si on les concentre correctement, les ichthyolithes sont suffisamment abondants pour révéler des schémas d'abondance et de diversité des poissons à une résolution spatiale et temporelle encore inégalée, ce qui contrasterait nettement avec les hiatus de plusieurs millions d'années du registre fossile des vertébrés. De plus, les ichthyolithes sont très résistants à la dissolution, ce qui rend possible de reconstruire l'ensemble des communautés de poissons à des échelles de temps très précises et quasi-continues. Nous présentons ici des méthodes pour isoler et utiliser les ichthyolithes préservés dans le registre sédimentaire pour suivre la structure des communautés de poissons et la productivité des écosystèmes au cours des temps géologiques et historiques. Ces méthodes incluent des techniques pour isoler et concentrer ces microfossiles dans une grande variété de sédiments, notamment dans des carbonates de barrière corallienne et d'eau profonde, des argiles, des schistes argileux, et des sédiments riches en silicates. Nous présentons également un nouveau protocole pour colorer les ichthyolithes en utilisant de l'alizarine rouge S pour visualiser et distinguer facilement les petites dents des débris dans l'échantillon. Enfin, nous explorons plusieurs métriques permettant de quantifier la structure des communautés d'ichthyolithes et leur abondance, et leurs applications à la reconstruction des anciens environnements et chaines alimentaires marins.
Mots-clés : dents de poissons ; denticules ; ichthyolithes ; récifs coralliens ; écologie historique ; micropaléontologie
Translator: Antoine Souron
Deutsche Zusammenfassung
Methoden zur Isolierung und Quantifizierung mikrofossiler Fischzähne und elasmobrancher Dermaldentikel (Ichthyolithen) aus marinen Sedimenten
Ichthyolithen - mikrofossile Fischzähne und Dermalschuppen (Dentikel) von Haien – werden in fast allen marinen Sedimenten gefunden. Wegen ihrer geringen Größe und ihrer Seltenheit im Vergleich zu anderen Mikrofossilien wurden sie unter Paläontologen und Paläoozeanographen weitestgehend ignoriert, außer als Träger bestimmter isotopischer Systeme. Wenn sie jedoch ordnungsgemäß konzentriert werden, sind Ichthyolithen ausreichend vorhanden um Verteilungsmuster von Fischen und ihre Diversität in beispielloser zeitlicher und räumlicher Auflösung zu zeigen, im Gegensatz zu den typischen Jahrmillionen langen Lücken im Wirbeltierbericht von Körperfossilien. Daneben lösen sich Ichthyolithen sehr schwer auf, was die Rekonstruktion gesamter Fischgemeinschaften über hochpräzise und virtuell kontinuierliche Zeitskalen möglich macht. Hier stellen wir Methoden zur Isolierung und dem Gebrauch von Ichthyolithen aus Sedimenten vor, mit denen Strukturen von Fischgemeinschaften und Ökosystemproduktivität während geologischer und historischer Zeiträume nachgewiesen werden können. Diese beinhalten Techniken die Isolierung und Konzentration dieser Mikrofossilien aus einer großen Bandbreite von Sedimenten, inklusive Tiefwasser-und Korallenriff-Karbonate, Tone, Schiefer und silikatreiche Sedimente. Darüber hinaus stellen wir ein neues Protokoll von Ichthyolithen-Färbung mit Alizarin Red S vor, womit kleine Zähnchen sichtbar gemacht und leicht vom Sediment in der Probe unterschieden werden können. Schließlich diskutieren wir verschiedene Maße zur Quantifikation der Strukturen und Häufigkeiten von Ichthyolithen-Gemeinschaften und ihre Anwendungen auf die Rekonstruktion früherer marinen Nahrungsnetze und der Umgebung.
Schlüsselwörter: Fischzähne; Dentikel; Ichthyolithen; Korallenriffe; historische Ökologie; Mikropaläontologie
Translator: Eva Gebauer
Arabic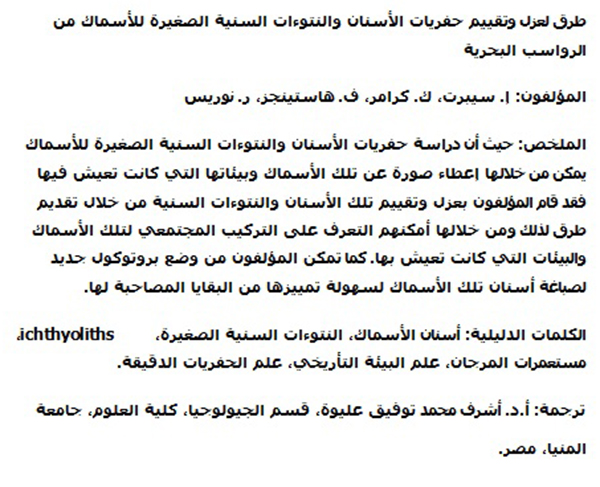 Translator: Ashraf M.T. Elewa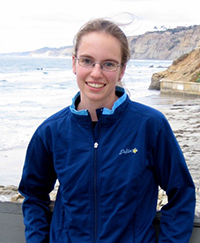 Elizabeth C. Sibert. Society of Fellows, Harvard University, 78 Mount Auburn Street, Cambridge, Massachusetts 02138, USA; Scripps Institution of Oceanography, University of California, San Diego, 9500 Gilman Drive MC 0208, La Jolla, California 92093, USA. This email address is being protected from spambots. You need JavaScript enabled to view it.
Elizabeth C. Sibert is a Junior Fellow in the Harvard Society of Fellows, affiliated with the Organismic and Evolutionary Biology Department and the Earth and Planetary Sciences Department at Harvard University. She received her PhD from Scripps Institution of Oceanography in 2016. She works on ichthyoliths, and the structure, function, and evolution of pelagic ecosystems during the Cretaceous and Cenozoic.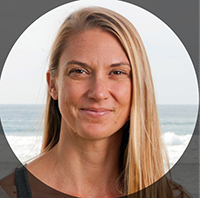 Katie L. Cramer. Scripps Institution of Oceanography, University of California, San Diego, 9500 Gilman Drive MC 0208, La Jolla, California 92093, USA. This email address is being protected from spambots. You need JavaScript enabled to view it.
Katie L. Cramer is a Postdoctoral Fellow at Scripps Institution of Oceanography, UC San Diego studying the historical ecology of coral reefs from the analysis of young fossil assemblages, historical archives, and archaeological data. Other research interests include marine biogeography, fisheries science, and marine policy and conservation. She received her Ph.D. from Scripps Institution of Oceanography in 2011.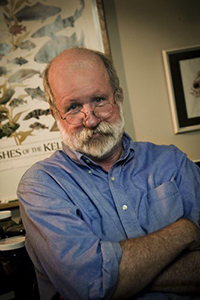 Philip A. Hastings. Scripps Institution of Oceanography, University of California, San Diego, 9500 Gilman Drive MC 0208, La Jolla, California 92093, USA. This email address is being protected from spambots. You need JavaScript enabled to view it.
Philip A. Hastings is Professor of Marine Biology and Curator of the Marine Vertebrate Collection at Scripps Institution of Oceanography, University of California San Diego, where he studies the systematics, evolution, ecology and behavior of fishes. http://scrippsscholars.ucsd.edu/phastings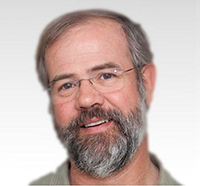 Richard D. Norris. Scripps Institution of Oceanography, University of California, San Diego, 9500 Gilman Drive MC 0244, La Jolla, California 92093, USA. This email address is being protected from spambots. You need JavaScript enabled to view it.
Richard D. Norris is professor and curator of the geological collections at Scripps Institution of Oceanography. He got his PhD in 1990 from Harvard University and works on the biological and physical processes that structure marine biodiversity using the deep sea microfossil record. He also studies human impacts on marine ecosystems and past analogs for future Earth systems.
FIGURE 1. An assortment of large (>106 μm fraction) denticles (elasmobranch scales; left) and fish teeth (right) from DSDP Site 596, a red clay core in the South Pacific. These ichthyoliths are approximately 52 million years old. Image was taken on the Hull Lab Imaging System, Yale University. Scale bar is 500 μm.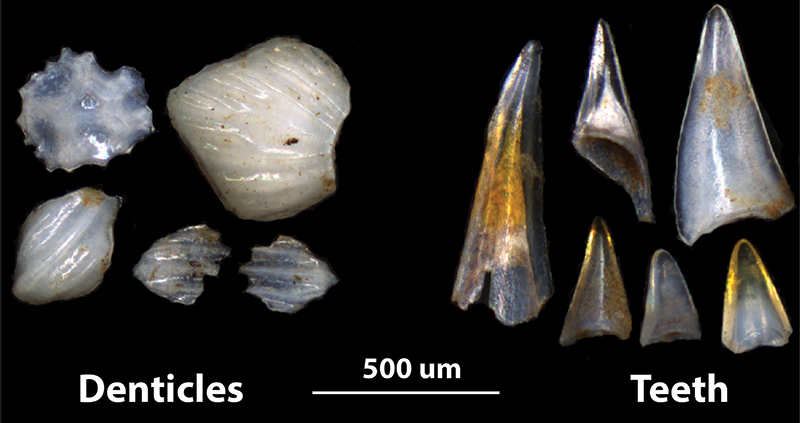 FIGURE 2. A flowchart showing the steps for sediment processing for efficient and effective ichthyolith isolation from a variety of sediment types. Sediment types are in boxes, while processing steps are shown in ovals.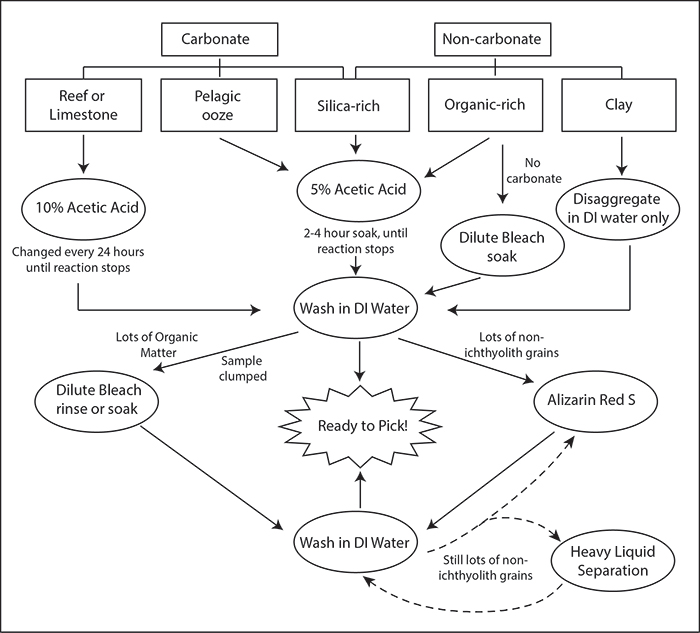 FIGURE 3. Paleocene-aged ichthyoliths from ODP Site 1262, stained with Alizarin Red S. The scale bar is 500 μm, with teeth >106 μm in the upper row and teeth <106 μm in the lower. Note that in the coloring effect is present in all teeth, however, the degree of staining varies.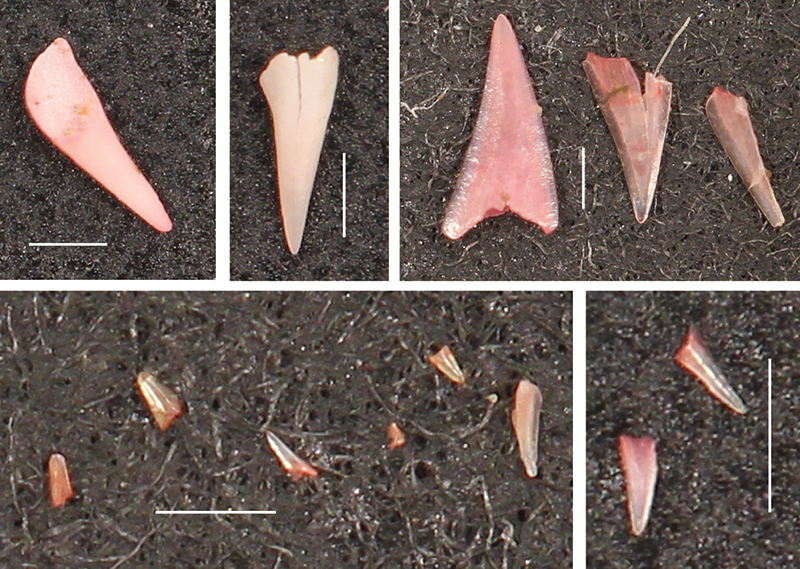 FIGURE 4. Examples of select taxonomically identifiable fossil ichthyoliths and modern counterparts. All modern ichthyoliths were isolated from specimens in the Scripps Marine Vertebrate Collection. The fossil Myctophidae and Triakidae specimens are from ODP Site 1262, and are 62 million years old. The Scaridae modern teeth are from Smithsonian National Museum of Natural History's Fish Collection and subfossil teeth are from coral reef sediment cores taken off of the coast of Bocas del Toro, Panama, and are approximately 1200 years old.