Articles
First record of extinct Paraconularia (Cnidaria, Scyphozoa) from Tethyan sequence (Upper Permian) of Spiti valley,
Himachal Himalaya, India
Plain Language Abstract
A rare conulariid fossil specimen has been discovered for the first time from the lower part of the Siltstone Member of the Gungri Formation, about 500 m to the west of village Guling, on the left bank of the Pin River (a tributary of Spiti River), in Lahaul and Spiti district of Himachal Pradesh, India. The nature of the specimen is quite well preserved and adds to knowledge of Permian conuarliids from the India.
Resumen en Español
Primer registro del género extinto Paraconularia (Cnidaria, Scyphozoa) de la secuencia relacionada con el Tetis (Pérmico Superior) del valle de Spiti, Himalaya Menor, India
Una sucesión casi completa de sedimentos marinos relacionados con el Tetis se extiende desde el Precámbrico hasta el Cretácico y queda expuesta en el valle de Spiti en el Himalaya Menor, India. Por primera vez, el presente estudio cita y describe Paraconularia sp., perteneciente a los conularios, de la Formación Gungri de edad Pérmico Superior, en el valle del río Pin (afluente del río Spiti) en Himachal Pradesh. El espécimen está bastante bien conservado, y su descubrimiento de la secuencia relacionada con el Tetis aporta nuevo conocimiento sobre los conularios del Pérmico de la India.
Palabras clave: Pérmico Superior; Formación Gungri; Paraconularia; Spiti; Límite PT
Traducción: Enrique Peñalver (Sociedad Española de Paleontología)
Résumé en Français
text
Translator: Antoine Souron
Deutsche Zusammenfassung
Erster Nachweis der ausgestorbenen Paraconularia (Cnidaria, Scyphozoa) aus der Tethys-Sequenz (Oberes Perm) des Spiti Tals, Himachal Himalaya, Indien
Im Spiti Tal (Himachal Himalaya, Indien) ist eine nahezu komplette marin-sedimentäre Tethys Abfolge vom Präkambrium bis in die Kreide aufgeschlossen. Die gegenwärtige Untersuchung erfasst und beschreibt zum ersten Mal das Auftreten von Paraconularia sp., die zu den Conulariiden gehört, aus der Gungri Formation des Oberen Perms, im Tal des Pins (ein Nebenfluss des Spiti ) im Himachal Pradesh. Das Stück ist sehr gut erhalten und seine Entdeckung in der Tethys Sequenz trägt zum Verständnis der permischen Conulariiden aus Indien bei.
Schlüsselwörter: Oberes Perm; Gungri Formation; Paraconularia; Spiti; PT Grenze
Translator: Eva Gebauer
Arabic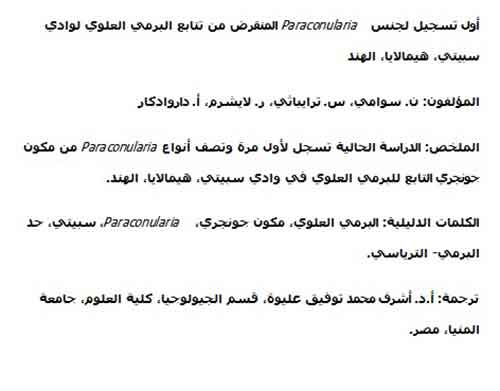 Translator: Ashraf M.T. Elewa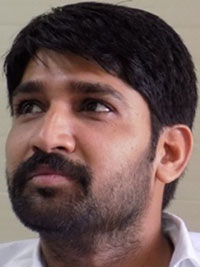 Narendra K. Swami. Himalayan Geology Division, Geological Survey of India, Sector-E, Aliganj, Lucknow, 226024, Uttar Pradesh, India. This email address is being protected from spambots. You need JavaScript enabled to view it.
Dr. Narendra K. Swami is Geologist who has extensively worked on Jurassic sequence of Kachchh, Jaisalmer, Spiti and Uttarakhand. He has published one scientific paper in international journals and three abstract presented in national seminars. He has also worked on Dhoosa oolite of Kachchh and presently worked on hardground, ammonoids and Ichno-fossils of Jurassic.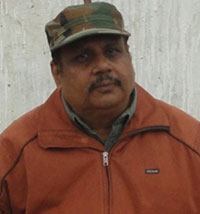 Satish C. Tripathi. Himalayan Geology Division, Geological Survey of India, Sector-E, Aliganj, Lucknow, 226024, Uttar Pradesh, India. This email address is being protected from spambots. You need JavaScript enabled to view it.
Dr. Satish C. Tripathi has contributed immensely to the geology of Kumaon-Garwhal Himalaya and Trans-Himalayan sector of Northwestern Himalaya. He has published 36 scientific papers in International and national journals. Dr. Tripathi is editor of open access e-Journal Earth Science India and Series Editor of Society of Earth Scientists Series by Springer.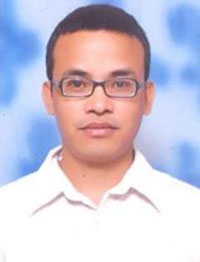 Ramesh Laishram. Geological Survey of India, Plot no. 3, Sector- 33B, Chandigarh, 160020, Chandigarh, India. This email address is being protected from spambots. You need JavaScript enabled to view it.
Mr. Ramesh Laishram has carried out intensive work in Himachal Pradesh, including National Geochemical Mapping program and Tethyan Sequence of Spiti Valley.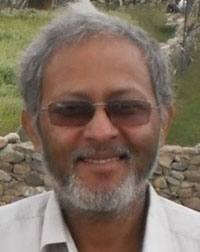 Amit Dharwadkar. Geological Survey of India, Sector-E, Aliganj, Lucknow, 226024, Uttar Pradesh, India. This email address is being protected from spambots. You need JavaScript enabled to view it.
Mr. Amit Dharwadkar has extensively worked in Antarctic and Arctic regionsfor over 15 years participating in eight geo-scientific expeditions and augmented our knowledge of Polar regions. His work in various glaciological investigations and climate change has yielded valuable insights in Polar Ice recession pattern and mass-balance characteristics. His contributions have been incorporated and resulted in the publications of two maps apart from several research articles in national and international journals.
FIGURE 1. Geological map of the Pin River valley, Lahaul and Spiti district of Himachal Pradesh, India, showing location of the fossil specimen demarcated by star.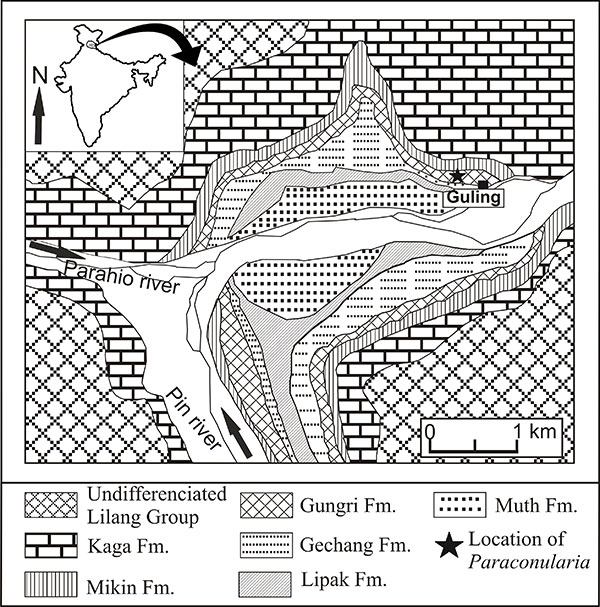 FIGURE 2. Litholog showing the stratigraphic level of the Paraconularia sp. with respect to Gungri Formation.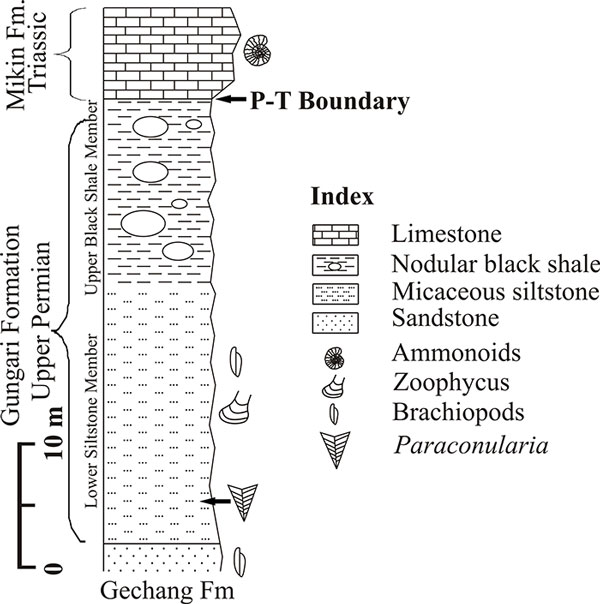 FIGURE 3. 1, Paraconularia embedded in the Micaceous siltstone of the lower part of Gungri Formation, Guling village. 2, Upper Nodular Black Shale Member of the Gungri Formation. 3, Permian-Triassic boundary, Guling village. 4, Ammonite bearing Triassic limestone of Mikin Formation, opposite to Guling village.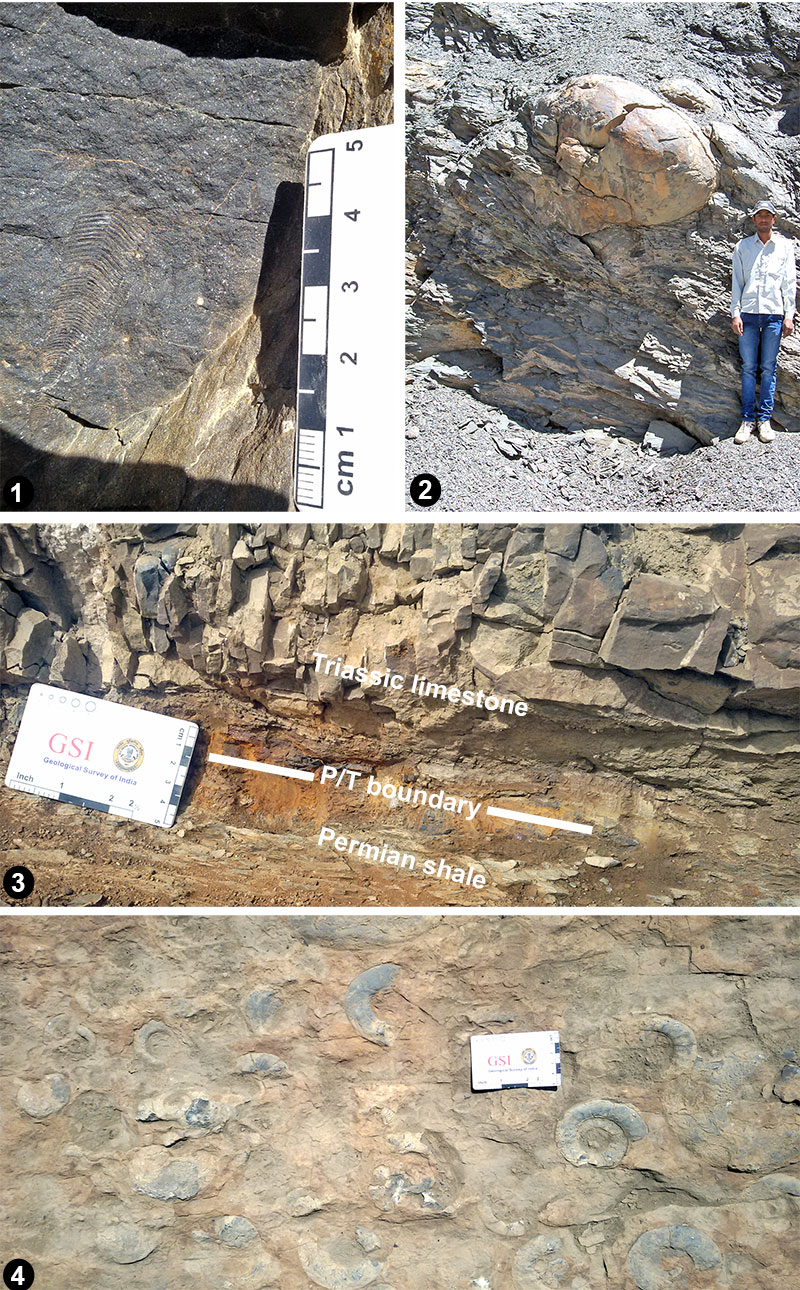 FIGURE 4. Paraconularia sp. embedded in the micaceous siltstone of the Gungri Formation. 1, View of single face. 2, Close-up view showing well-developed nodes on facial ridge (transverse rib) and interspace. 3, Apertural side showing widely spaced facial ridges, which alternately arranged either side of the midline. 4, Close-up view of the apertural side showing nodes on facial ridge.